Swansea City 2023-24 season ticket renewals now open
16th December 2022
Ticketing News
Every seat has a story. Mae gan bob sedd stori.
Swansea City can confirm that season ticket renewals are now available for the 2023-24 season.
It has been an exciting season so far at the Swansea.com Stadium, with Russell Martin's side sitting just three points off the play-off places going in to the second half of the campaign.
Since the return of full capacity crowds last season, our supporters have backed us vociferously both at home and on our travels. Your support has been magnificent and, as a result, the club will once again offer an early bird window for renewals with our best available pricing to thank you for your support.
Since our return to the Championship in 2018, the club has reduced season ticket prices significantly. The 2022-23 season saw an increase in price from the previous season, where prices were slashed to as little as £99 to thank season ticket holders for their support during the Covid-19 pandemic.
And following extensive research comparing prices across the division in 2022-23, we are pleased to once again offer one of the most affordable season ticket pricing structures in the Championship.
Supporters will notice an increase to season ticket prices for the 2023-24 campaign, but they still remain lower than those from previous seasons in the Premier League, whilst also remaining £60 cheaper on the average adult price compared to the 2019-20 season before the Covid-19 pandemic.
For the 2023-24 season, we have added a new pricing category for young adults. Under-21's are now eligible to purchase a season ticket for the same price as a student, with the club identifying an opportunity for this age bracket. 
Our most expensive season ticket in the early bird window is our adult ticket priced at £370, equating to just over £16 per home Championship fixture. This is significantly lower than the league's average adult price of £426.
Meanwhile, Under-18s tickets work out at just over £5 and under-12s from just £2.57 per game.
Adult tickets remain cheaper in the South Stand for those purchasing with a child under the age of 12. This is a change from last season where adults could purchase a cheaper adult rate with a junior aged 12-17, with the aim of bringing new, young supporters into the club.
Supporters who paid the full adult rate for the 2022-23 season and are now entitled to the reduced adult for attending with an under-12 for the 2023-24 season are advised to contact the Ticket Office directly, who will update your reservations.
The early bird window for season ticket renewals will be re-introduced for this campaign, with 60 per cent of our ticket holders historically renewing during this period. Supporters who renew before Friday, 17 February 2023 can take advantage of discounted prices on their season tickets.  
We are also pleased to announce that all under-18 season tickets are less than £119 if renewed in the early bird window.
"We have prided ourselves on having one of the lowest pricing structures in the Championship for several seasons," said Swansea City chief executive Julian Winter.
"Like many other businesses, with the rising cost of inflation, we are facing increasing costs at all levels, and a lot of clubs are still recovering from the effect that the Covid-19 pandemic had on the industry.
"It was during this time that we, as a club, showed appreciation for those supporters who kept their money in the club during such a difficult time, as well as significantly reducing season ticket prices ahead of a return to capacity crowds, to reward supporters for their loyalty in what were unprecedented times.
"Since then, however, the club has had to make informed financial decisions with the aim of bridging that financial gap, whilst also ensuring that our pricing structure ensures value for money.
"I'd like to thank you all for the support you continue to show for the club. We are now approaching the second half of what has been a really positive season, so please continue to give the Russell and the players the backing they deserve for the rest of the campaign."
PRICING
Early bird prices can be seen below and these are valid until Friday, 17 February 2023.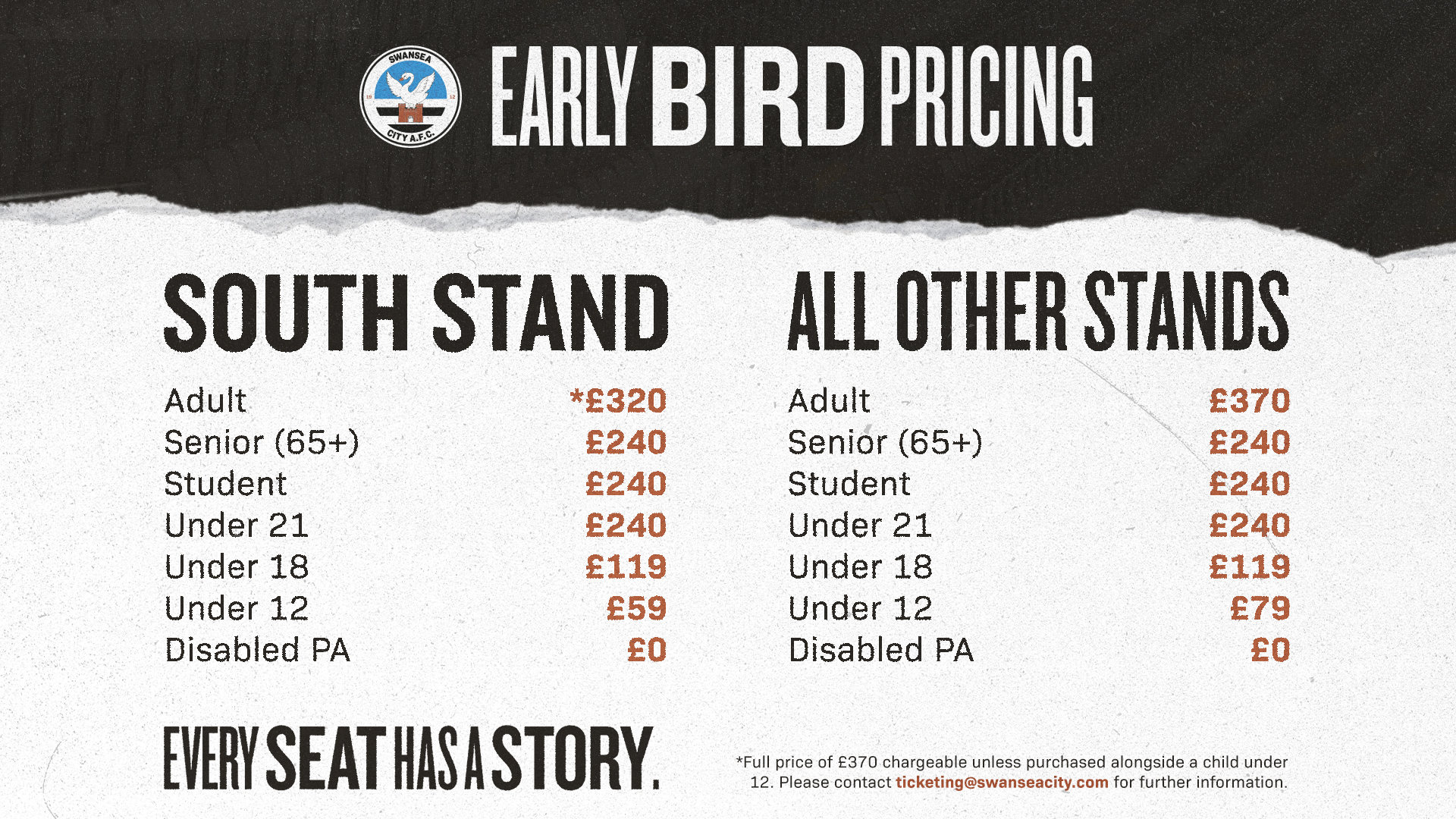 General sale prices are below and these will be valid from Saturday, 18 February 2023.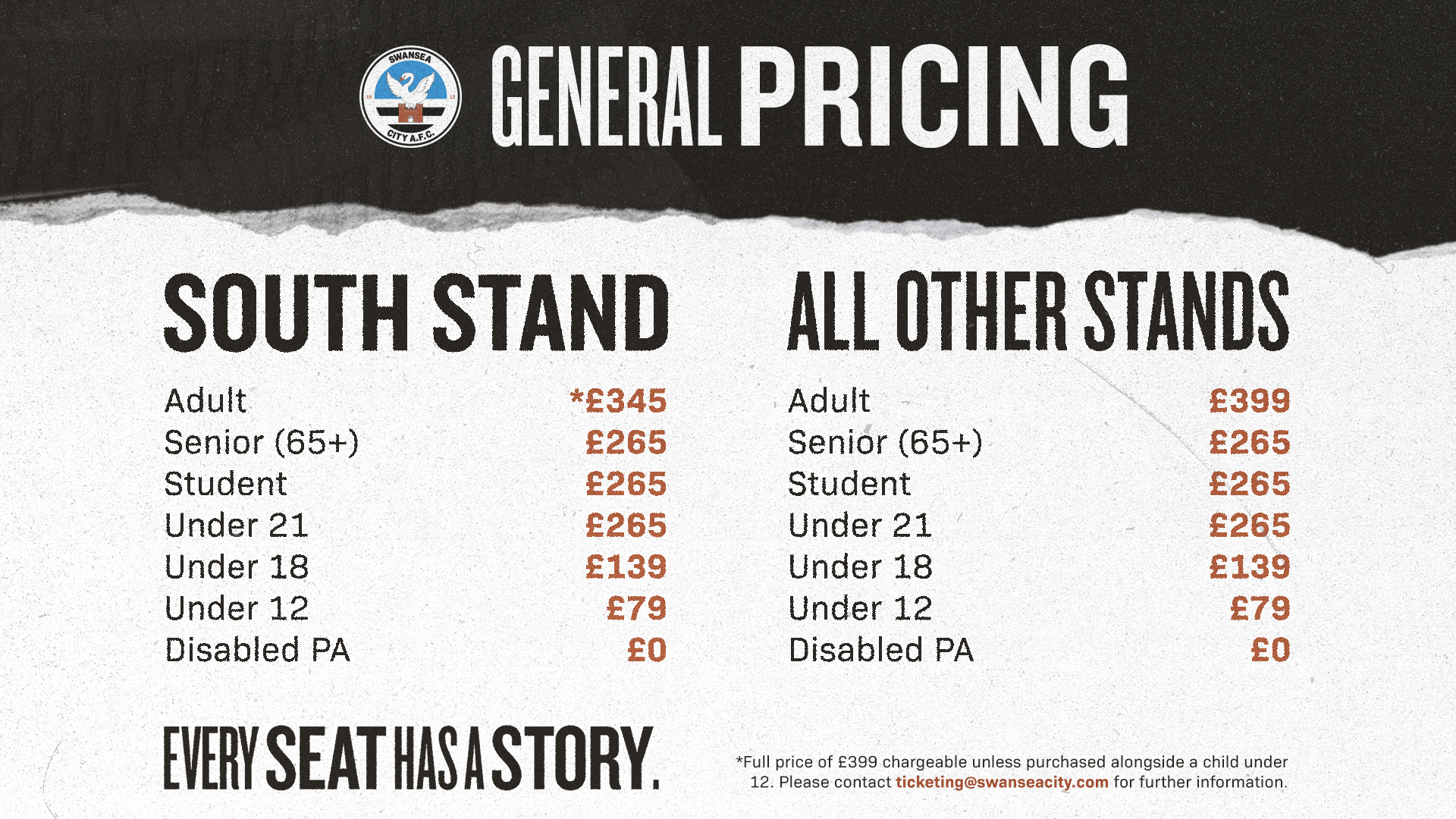 *Full prices stated are chargeable unless purchased alongside a child under 12. Please contact ticketing@swanseacity.com for further information.
Please note that a £3.50 booking fee will apply to all season ticket purchases.
Click the below sections for full information on season ticket renewals.
Information regarding season ticket renewal
Thank you for your continued support.
Diolch yn fawr.