Swansea City AFC Foundation help Premier League Kicks participants complete coaching journey
16th November 2022
Foundation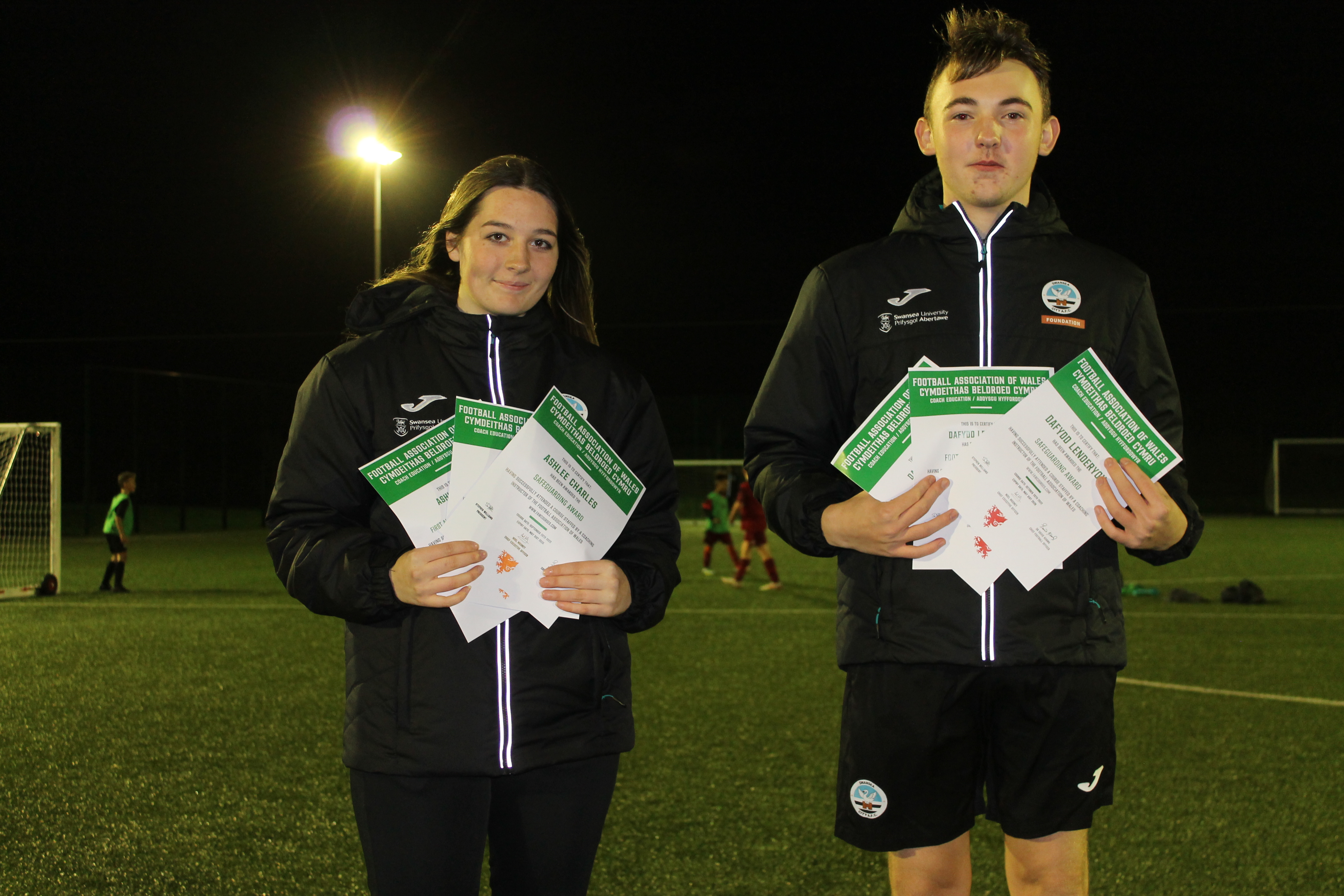 Ashlee Charles and Dafydd Lenderyou were once participants at Swansea City AFC Foundation's Premier League Kicks sessions in Llwynhendy. Now, their story has come full circle after qualifying to coach and assist in the delivery of those very same sessions.
Ashlee and Dafydd have both completed their Duke of Edinburgh award, which included volunteering with the Premier League Kicks project following the Covid-19 lockdowns.
On the back of that experience, Swansea City AFC Foundation provided support to help them earn their FAW Football Leaders, Safeguarding and First Aid awards.
Those qualification allows the 16-year-olds to assist in the coaching and delivery of the programme which they enjoyed so much as children.
And the pair feel their journey with the Foundation and Premier League kicks has been invaluable to their development.
"When I started on Kicks, I was the only girl who took part in my age group but I really enjoyed myself," said Ashlee.
"At the time I was doing my Duke of Edinburgh award, so I started volunteering with Premier League Kicks as part of my award.
"I really enjoy the different places I have been to with Kicks, I've been to sessions all over south Wales and even travelled to Swindon to take part in a tournament.
"The best part of coaching is definitely seeing the children's development. I've gained the trust of many of the children and formed a great coaching relationship with them. The children are excited for the sessions, and it is amazing to see.
"On a personal level, the biggest benefit of Kicks for me has been how much more confident I feel.
"I have learnt so much through the sessions and the courses I have done since joining Kicks. It is helping me with my college studies and also on my career path."
And Dafydd echoes Ashlee's sentiments when it comes to the element of delivering the Kicks sessions that provides the most satisfaction.
"I first got involved with Kicks while I was in school whilst I was doing my Duke of Edinburgh and, for one of the tasks, I needed to do some voluntary work," he said.
"I spoke to my local Councillor to see if there was anything I could do to help within my community, and it was suggested I would enjoy helping with the football sessions on a Wednesday evening.
"What I enjoy most is teaching the younger children new skills and helping them progress. I know I'm young myself, but hopefully by helping the younger generation they can go on and be an inspiration to others.
"There are so many benefits but the main one for me is Kicks has helped me build my confidence.
"Building my confidence has helped me choose what I want to do for the future. The coaches have helped me grow as a person, and learn new skills.
"They have given me advice when I needed it, but most of all they have encouraged me to follow what I want to do.
"Knowing they are always there when I need their advice is a big help to me."
To find out more about Premier League Kicks and to sign up, click HERE.