Swansea City and Joma launch 2023-24 third kit | Tackling Cancer Together
2nd August 2023
Club
Swansea City and Joma are proud to unveil the club's third kit for the 2023-24 season, which is launched with the goal of 'Tackling Cancer Together'.
The vibrant, eye-catching pink design includes spots of various colours, which represent some of the most common types of cancer.
The kit will be worn for the first time when the Swans face West Bromwich Albion at The Hawthorns on Saturday, August 12,
But we hope this kit will resonate beyond the football field and play a part in helping people living with cancer in our community and further afield.
Swansea City has joined with cancer charity Maggie's for the 'Tackling Cancer Together' campaign, and our third kit is dedicated to the initiative.
Maggie's will also have their logo featured on the kit's pink shorts during the forthcoming season, with local businesses Westacres and Swansea Building Society featuring on the front and back of the jersey respectively.
Previous links between the club and Maggie's include honorary club president Alan Curtis MBE – whose own cancer story you can hear in the video accompanying this launch – and Leon Britton serving as ambassadors for the local centre.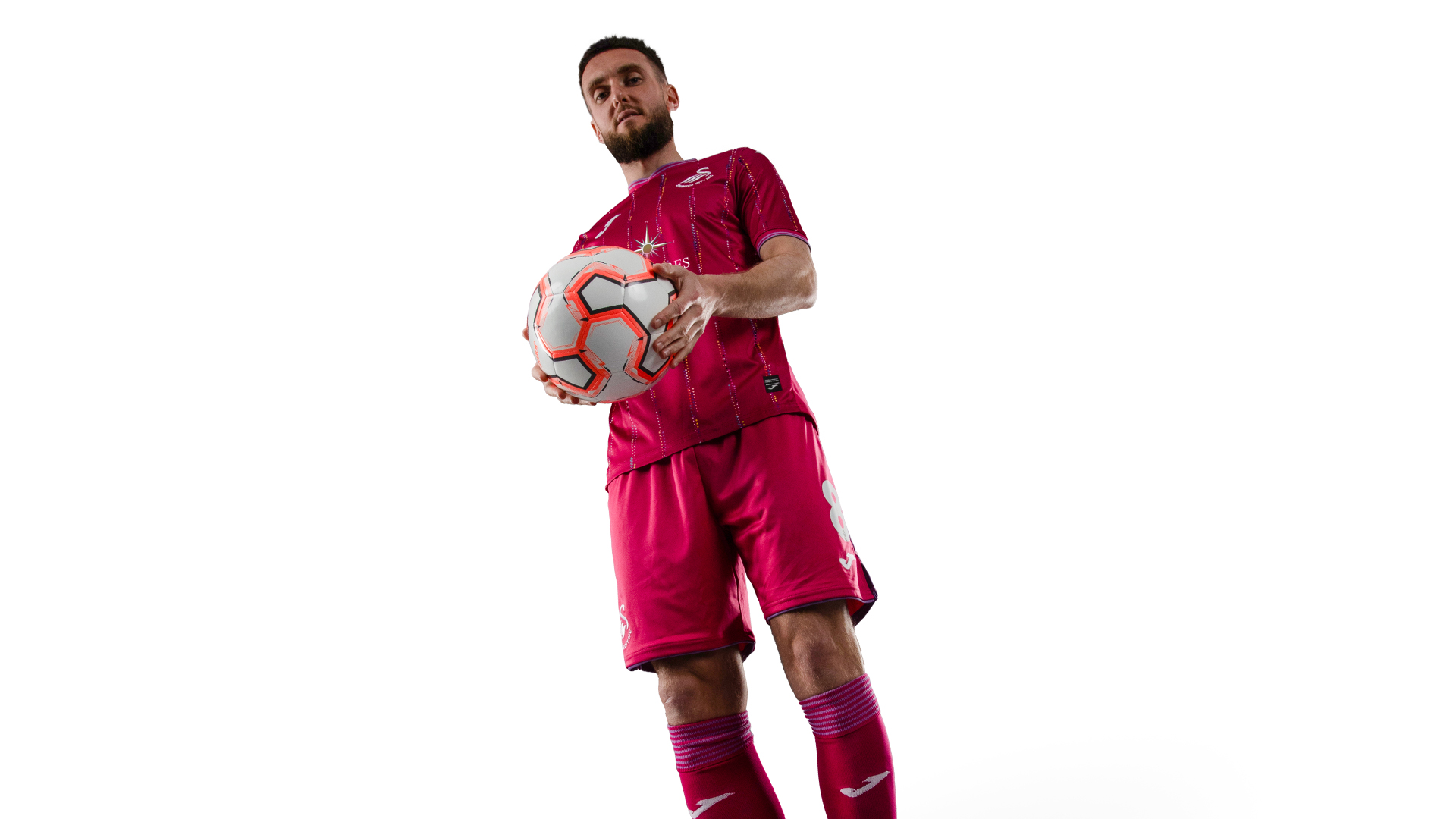 Joma's design is made from 100 per cent recycled polyester, with the aim to stop ocean pollution and eliminate plastic waste through the development of recycled products, aligning with the club's own drive to be increasingly sustainable.
The fabric provides excellent breathability thanks to the state-of-the-art micromesh finish, while Joma's flatlock seam system provides elasticity and freedom of movement.
An amount from each sale of the jersey will be donated to Maggie's in order to aid the outstanding work they do at their Swansea centre, located in the grounds of Singleton Hospital, and across the UK and further afield, while two local businesses who will also feature on the third kit this season – Westacres and Swansea Building Society – will make donations of their own.
Katie Doyle, head of marketing at Swansea City said: "This is more than just a shirt. This shirt – and the wider campaign around it – has the power to raise awareness for something close to us all.
"With the help of our supporters, the local community and Maggie's, we hope to draw attention to all forms of cancer through fundraising efforts across the 2023-24 season.
"Most of us have sadly been touched by cancer, be it a family member, a friend, a colleague or even people who have been diagnosed themselves.
"The incredible team at Swansea City have been working tirelessly on this project for the best part of 12 months, and are extremely passionate about encouraging people to talk and raise awareness.
"Our dedicated webpage will allow fans of all clubs to share their stories, because whether you have been personally affected or a loved one has, you are not alone.
"I know this campaign will resonate with fans of all football clubs, with the aim that we can all tackle cancer together."
Lucia Osmond, centre fundraising manager at Maggie's Swansea, said "Maggie's is thrilled to feature on Swansea City's third kit, which has launched ahead of the 2023-2024 season.
Aside from fundraising plans, the focus on cancer awareness is so important and we will work with the club this year to bring lots of relevant information to the fans and the wider community around what Maggie's can do to support people with cancer."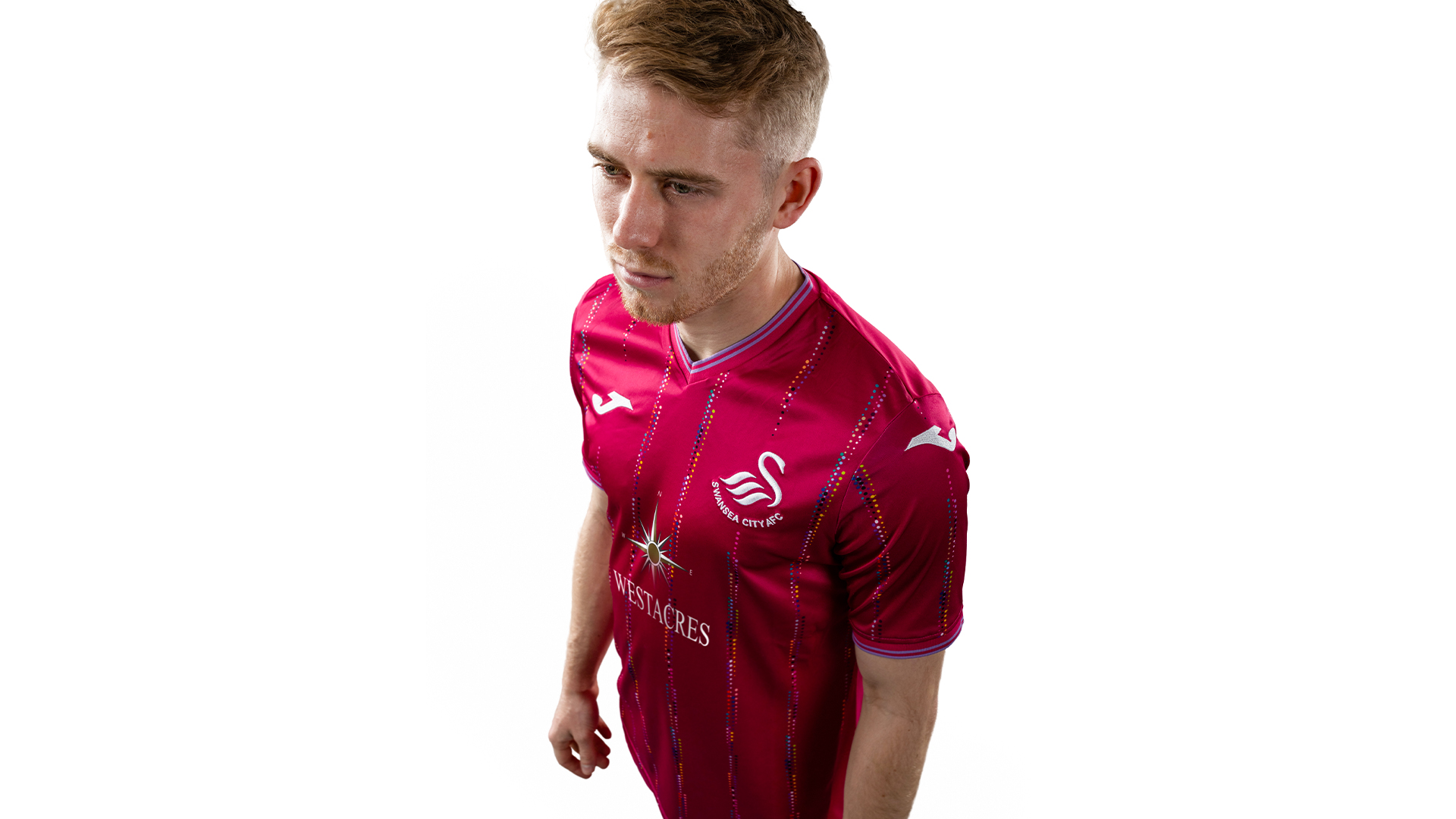 PRICING
Supporters should be aware that replica kit products have seen a slight increase for the 2023-24 season.
Adult shirts are priced at £53, while children's shirts are priced at £42.
HOW TO BUY
The Jack Army can purchase the 2023-24 third kit online now through the Swans store.
https://www.store.swanseacity.com/
The club shop at the Swansea.com Stadium will be open from 9.30am to 5.30pm  on Thursday, August 3, and on Friday, August 4. The opening hours will be 9.30am to 6pm on Saturday, August 5 for our first home fixture of the season against Birmingham City.
CLICK AND COLLECT
Our click and collect service is now available.
Supporters will be able to purchase online and collect their order from the Cwmdu Warehouse on Monday to Friday, 7am - 2.30pm. 
We ask fans to wait until they receive a confirmation email to say their order is ready for collection before attending the warehouse. We are expecting a high volume of orders and hope to minimise queues where possible. We thank supporters for their understanding and patience with this process.
EXCHANGES & RETURNS
Supporters now have 28 days to return their items if they are unhappy with them to get a refund or to exchange the goods with a valid receipt as proof of purchase. Terms and conditions apply.
SHIRT PRINTING & SIZING
Supporters are advised they will not be able to have the names and numbers of current players printed on their jerseys until the start of the season, this is in order to protect supporters should any of the current squad elect to change numbers for the 2023-24 campaign.
Squad numbers will be formally submitted to the EFL this week and numbers confirmed shortly.
However, printing is already available for supporters wanting to personalise kit with their own names.
Printing will be available online and in-store - queues are likely at the club shop and fans may be asked to wait during busier periods.
Sizes for this season can run a size small; therefore, please order a size bigger if in doubt.
SWANS CASH
Swans cash refreshed for the 2023-24 season on June 1, with season ticket holders and corporate members able to collect cash back on merchandise purchased.