Swansea City Catering & Events announce Wales v Austria viewing event
27th January 2022
Hospitality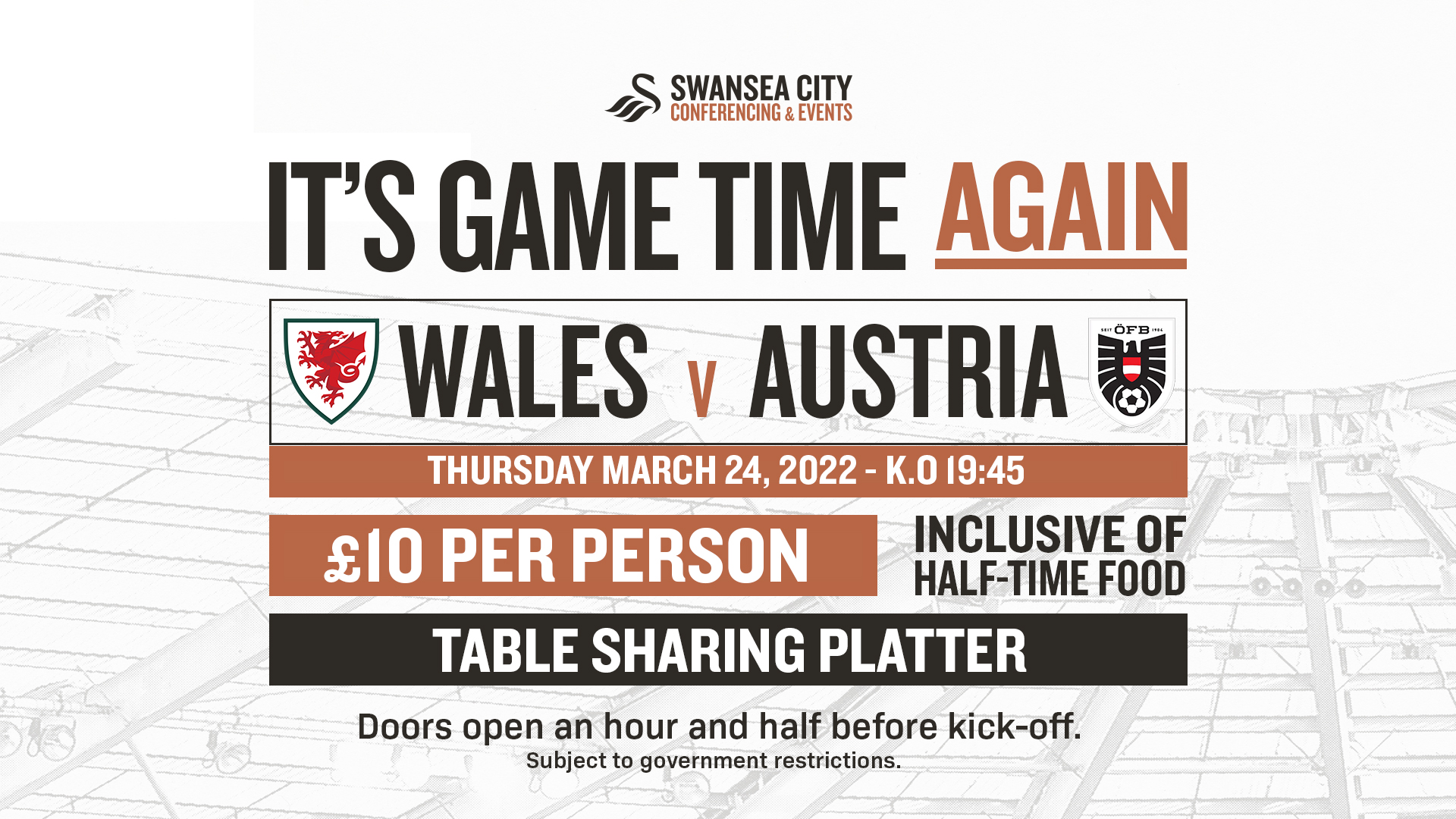 Swansea City Conferencing and Events are pleased to announce the return of our viewing events at the Swansea.com Stadium.
Following the success of our Euro 2020 evenings that we hosted last year, you can now join us for Wales' crucial World Cup play-off fixture against Austria on Thursday, March 24.
Kick-off for that game is 7.45pm and doors will open an hour and a half before. Guests can expect a sports bar experience with a relaxed atmosphere, where you can enjoy the game on our large screen in the our Morfa Lounge.
Tickets for this event are £10 per person, with booking essential. The ticket is inclusive of entry and a sharing platter, which will be served at half time to ensure you don't miss any of the action. 
 
The platter will consist of maple gammon rolls served with sausage swirls, dipping roasties and gravy. 
The vegetarian option is a spicy cauliflower burger in a brioche bun with tomato salsa, served with onion bhaji roasties, plain stuffing balls and vegetable gravy. Please note that pre-order is required for the vegetarian option and we also ask all guests to make us aware of any special dietary requirements.
Guests will be able to visit the bar for drinks, with a reminder that the Swansea.com Stadium is now a cashless venue.
 
The feedback for our Euro 2020 events were glowing, with one guest commenting: "Excellent service, really well organised and managed effectively on the day. The atmosphere was great and we would definitely do it again."
Another guest said: "We attended two games during the Euros and thoroughly enjoyed both events, which was thanks to the friendly staff and their good organisation." 
 
How to book
 
There are a number of ways to book your table. 
 
Enquire online
 
Complete the form below with your details and a member of the team will be in touch.
Call
 
Call the events team between the hours of 9am and 5pm on 01792 616445.
 
Email
 
Email the events team at events@swanseacity.com and a member of the team will get back to you.
 
Future event
 
If Wales triumph over Austria on March 24, Rob Page's side will then face either Ukraine or Scotland on Tuesday, 29 March for a place at the World Cup which takes place in Qatar later this year.
More information on this potential event will be released in due course.