Swansea City DSA mark Level Playing Field's Unite for Access with visit to Fairwood Training Ground
27th February 2023
Fans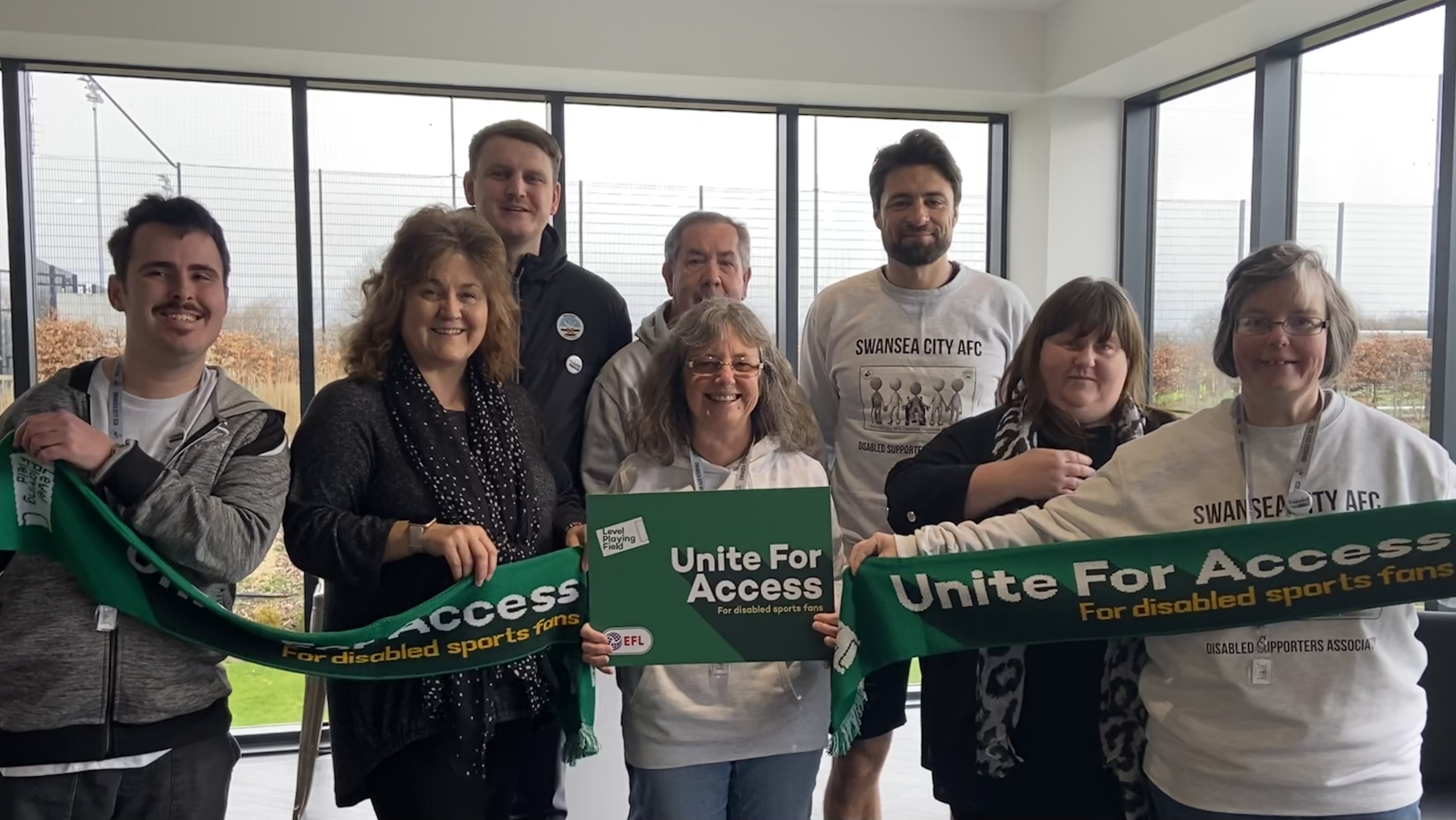 To mark Level Playing Field's United for Access, Swansea City Disabled Supporters' Association's committee members were invited to the Fairwood Training Ground to attend the pre-match press conference for tonight's game against Rotherham.
The committee met Swans head coach Russell Martin and midfielder Joe Allen, listened to them answer questions from the media, and had a tour of the facilities as they look to shine a spotlight on the importance of making football accessible for disabled sports fans.
The Swans boss even arrived wearing a DSA jumper to show his appreciation for the hard work and commitment shown by the committee to help make Swansea City an inclusive and welcoming football club.
Level Playing Field (LPF) launched United for Access as a way to highlight the good work of football clubs across the country who are striving to break down barriers to watching football and for DSA chair Andrew Brayley, raising awareness is an important part of what the DSA do.
"There may be some disabled fans who don't know about us or the support we can offer," he explained.
"This week is really good because it highlights inclusion and anti-discrimination and it puts the spotlight on it and raises awareness.
"One of our aims is that every fan considers the needs of everyone around them. It's about inclusion and awareness."
As well as raising awareness, the DSA work tirelessly all year round to make the Swansea.com Stadium as welcoming as possible for supporters with disabilities.
They've worked with the club to make key improvements, such as the opening of a sensory room and an inclusion room, as well as the introduction of audio descriptive commentary and the donation of ear defenders.
"Unite for access is to raise awareness of ability and inclusion, particularly in football," Andrew added.
"It's extremely important to be able to include everyone. Nobody should be apprehensive about coming to a football game, the stadium should be welcoming and easily accessible so that football is there for everyone to enjoy.
"The DSA work with the fans and the club to make sure that the Swansea.com Stadium is the best it can be.
"The club are very supportive. It's a two-way street because we go to each other with ideas."