Swansea City fan Scott celebrates success of Gwyl Wal Goch fringe festival
14th November 2022
Fans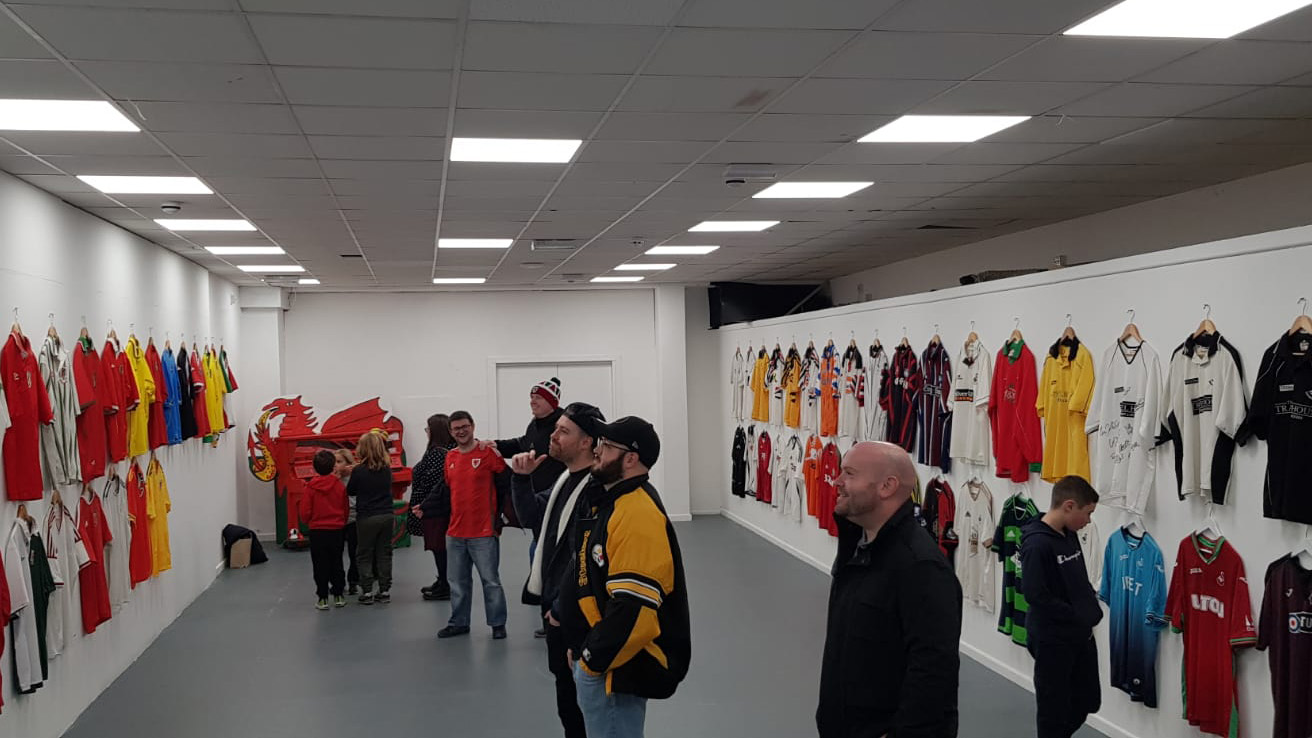 Swansea City fan and football shirt collector Scott McKay brought a piece of the Gwyl Wal Goch festival to our city at the weekend as the country prepares to celebrate Wales' first appearance at a World Cup in 64 years.
The festival is staged in Wrexham but McKay - venue manager at Elysium Gallery - joined up with the team to host a 'fringe event' at the High Street location, giving football fans in south Wales an opportunity to enjoy just a taste of what the north Wales festival has to offer.
For four days, the Elysium has been given football fans a walk down memory lane by displaying Wales and Swansea City football shirts from the past 50 years.
In addition it ran family activities and hosted talks and live music, while evenings saw the venue host film showings of documentaries such as 'Tosh' and 'Don't Take Me Home'.
While the event's showpiece was undoubtedly the impressive assortment of historic shirts - which delighted collectors and fans - there was also a moving gallery of images on arrival celebrating the success of the Homeless World Cup, which was held in Cardiff in 2019, showing the diversity and inclusivity of Welsh football on the world stage.
McKay has been really pleased with the number of people who have attended the event and hopes that it's something they can do again.
"We started planning for the Saturday and building a day of events which would cover Welsh football and – with me being a Swansea fan – the Swans are involved too," he explained.
"I have a vast amount of football shirts in the house, I work in a gallery, so it was a case of thinking 'let's make something happen'.
"The reaction has been really positive. It's interesting to see the memories it evokes. Everyone who comes in here can attach a shirt to a moment or a memory.
"We try to be an inclusive venue so I'd like to think that there's something for everyone here and it's about the cultural aspect as well, because culture in sport is important. As an art gallery it's excellent for us because I feel like it brings a new audience.
"I've been in my element just talking about old football matches so I'm definitely hoping to do something like this again."
Elysium will also be showing Wales' World Cup matches later this month, with McKay as excited as the rest of the nation by the chance to finally see Wales feature on the game's biggest stage once again.
"We'll be showing the Wales games here as well," he added.
"I can't wait now. I never thought I'd get to see Wales at a World Cup in my lifetime so I am very, very excited."