Swansea City great Angel Rangel reflects on his retirement
20th April 2021
Club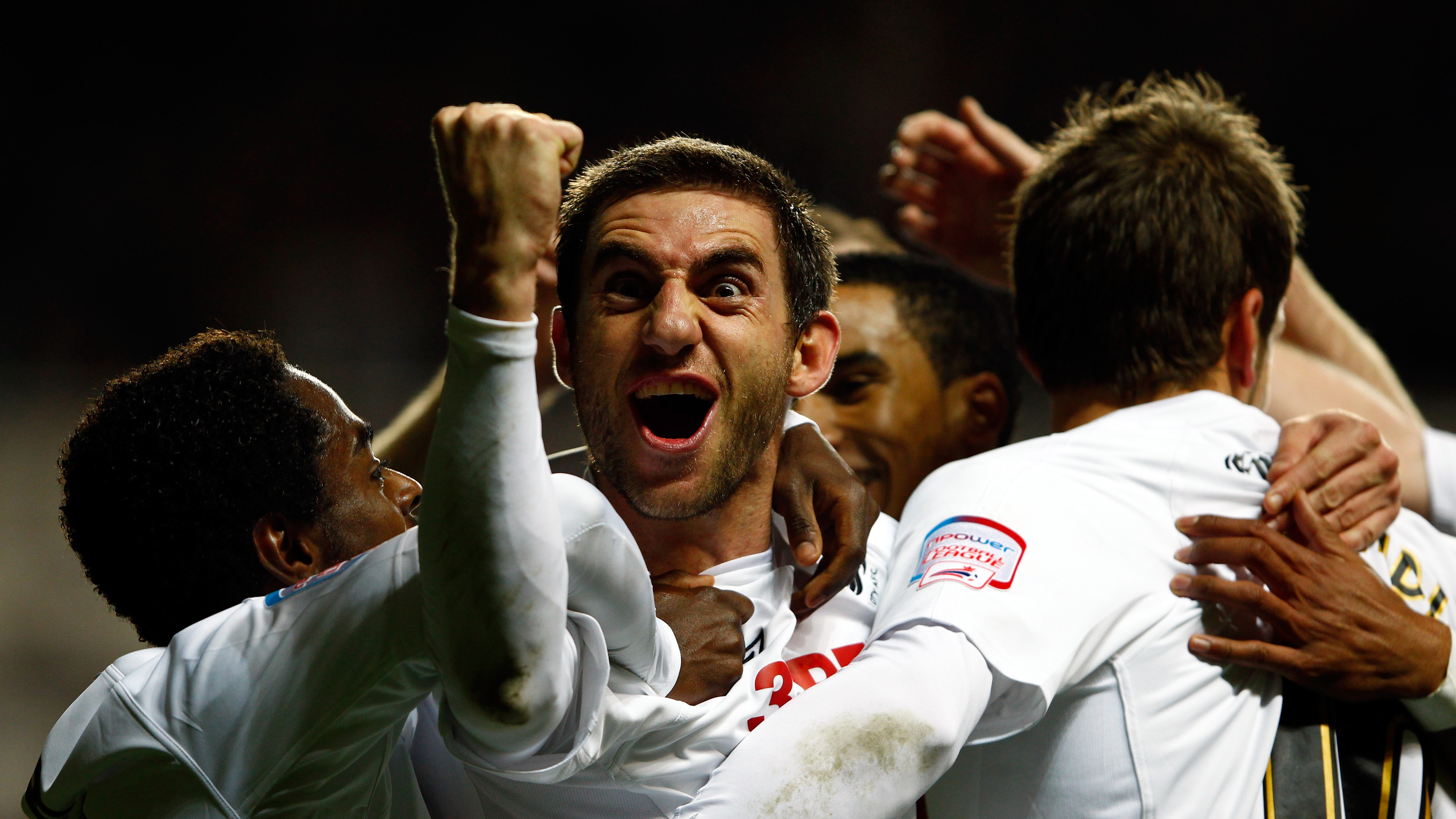 "Swanselona wasn't just a playing style, it was a legacy, it was a way of life. Swansea City is my life and always will be."
An emotional Angel Rangel reflects on his career in south west Wales after officially announcing his retirement from football, aged 38.
His story from part-time footballer in the lower leagues in his homeland to "achieving the impossible" with Swansea City is one that brings the Spaniard close to tears.
A delayed plane ride from Barcelona to Wales led to his unlikely signing – a move he helped finance as then boss Roberto Martinez explained his club simply didn't have the funds available to pay Terrassa's £15k fee.
Arriving in Wales, a country he admits he knew very little about, he headed to Swansea without a word of English.
From then, he, like the Swans, didn't look back.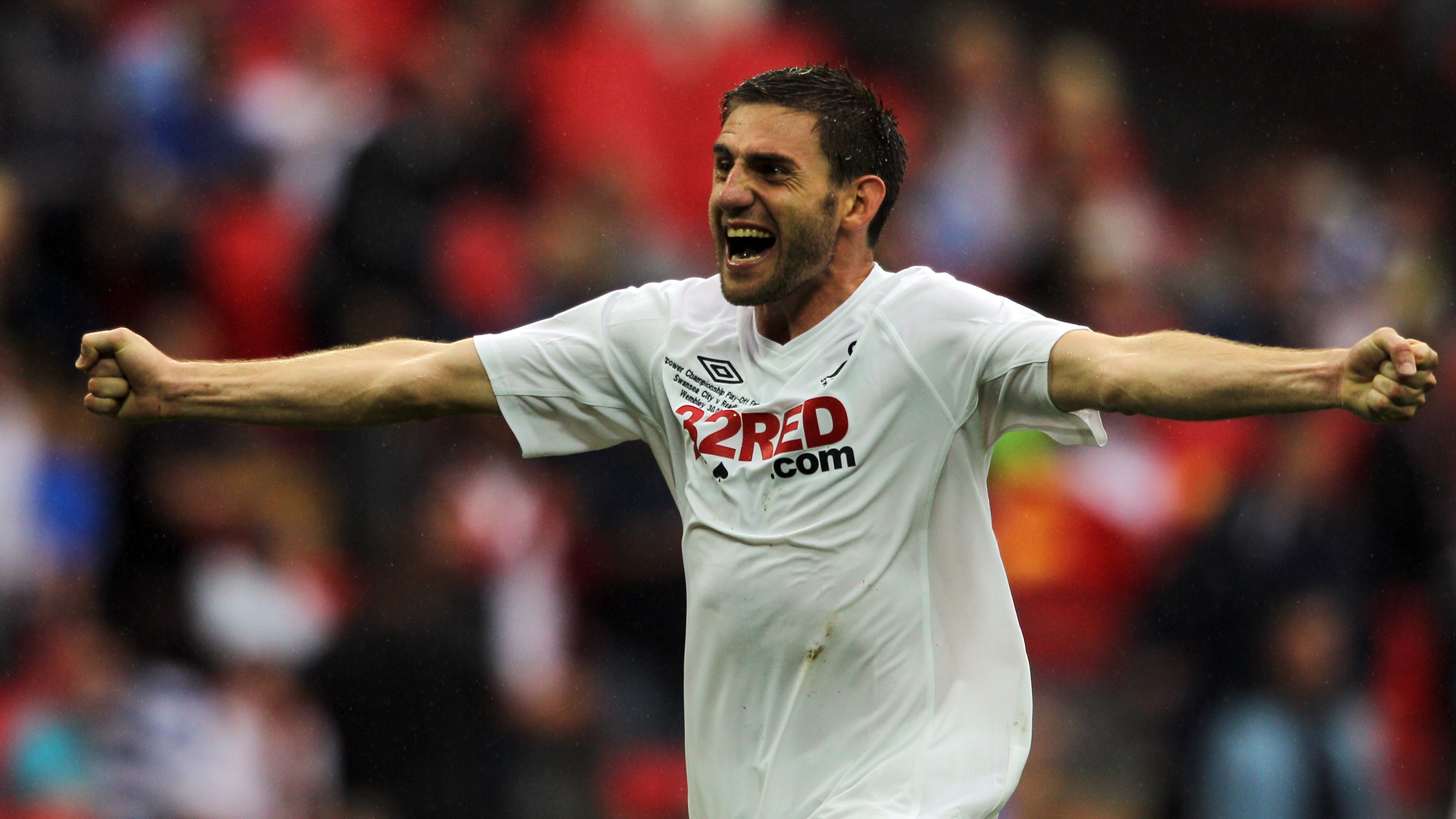 A League One title winner in his first season at the Liberty, along with being named in the division's team of the year, the success confirmed that leaving behind his life in Spain and a part-time job as an accountant had paid off.
His one-year performance-related contract was quickly improved.
Another promotion followed as the Swans became the first Welsh team to play Premier League football, but the success didn't end there.
A first major trophy came in the form of the EFL Cup – then known as the Capital One Cup – with an adventure in the Europa League following as a result.
A particular highlight came at the Mestalla – an hour from the right-back's home in Spain – as Rangel captained the Swans to a truly remarkable 3-0 win over Valencia.
He would become club captain in later years, but the Premier League adventure came to an end in 2018, along with his time as a Swan, for whom he scored 10 goals in 373 appearances and played under 11 managers - Martinez, Paulo Sousa, Brendan Rodgers, Michael Laudrup, Garry Monk, Alan Curtis (caretaker), Francesco Guidolin, Bob Bradley, Paul Clement, Leon Britton (caretaker) and Carlos Carvalhal.
An 11-year stay in Swansea was over, and a three-year spell in London with QPR followed prior to his retirement.
After recovering from ruptured Achilles, he had looked set to play another year before hanging up his boots. But one conversation made him realise that now was the time to retire.
"I was ready to go back to train with QPR, but my youngest - he's 10 - said he missed me, and I was his best friend. That broke my heart. I've been away from home for three years, so I just thought what am I doing? I'm 38, just enjoy family time," said Rangel, whose announcement fittingly comes on the day his former clubs - Swansea and QPR - go head-to-head at the Liberty.
"I'm healthy and I've got lots of incredible memories, so it's the right time for me to retire.
"I just want to take time to spend with my family and enjoy that. Of course, football has been a major part of my life and I've learned a lot, so I think I can give back.
"I'll take time to speak to some of the coaches I've played under, and then get my badges. Then we'll see what happens."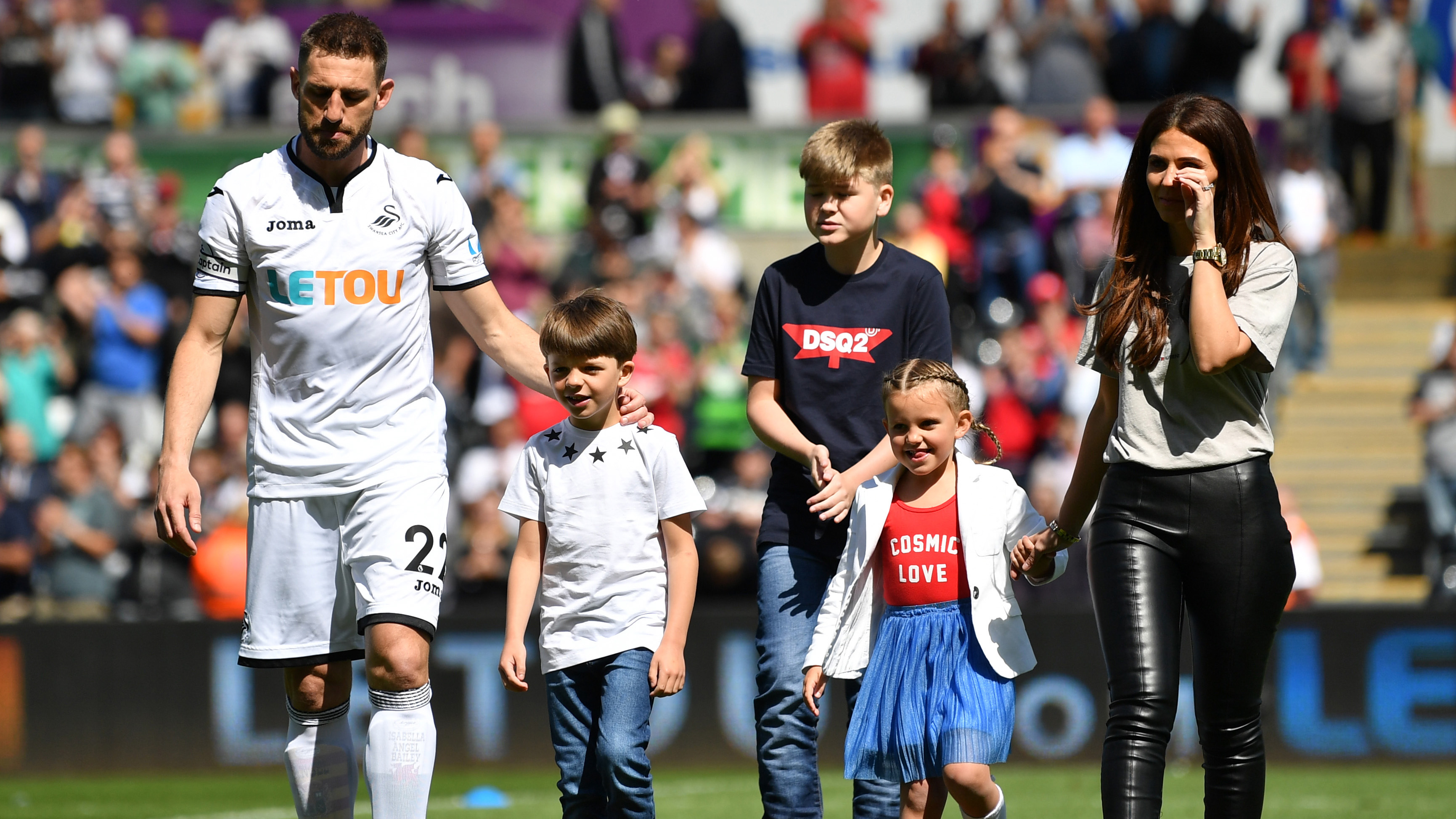 This week, Rangel will pack his bags and will return home. Home now being Swansea, rather than Spain.
For this is where he met his wife, Nikki, and has a family of three children. It is a city that has given him far more than just success in football, but also in life.
Football and family, he says, have been a marriage made in heaven.
"I came to Wales not knowing any English, I didn't know anything about Swansea, but it was the chance I had to take, and it's paid off in so many ways for me,," he says.
"I was taking a risk, but I had to follow my dream. I was only scouted because the scouting team's plane journey from Barcelona was delayed a few hours, so they watched another game and signed me – even though they were watching someone else. It was destiny I suppose.
"I went on YouTube and saw Lee Trundle's tricks, and the EFL Trophy final at the Millennium Stadium with 80,000 fans or so. So I was sold on Swansea. The next thing I knew, I was walking around the Liberty Stadium at around 3am with (player liaison officer) Huw Lake - I was living a dream!
"When you retire, you reflect a lot and look back on what you've won. We all know what we achieved in that time, and it was amazing. It makes me feel really emotional thinking back.
"But it wasn't just what we achieved, it was how we did it."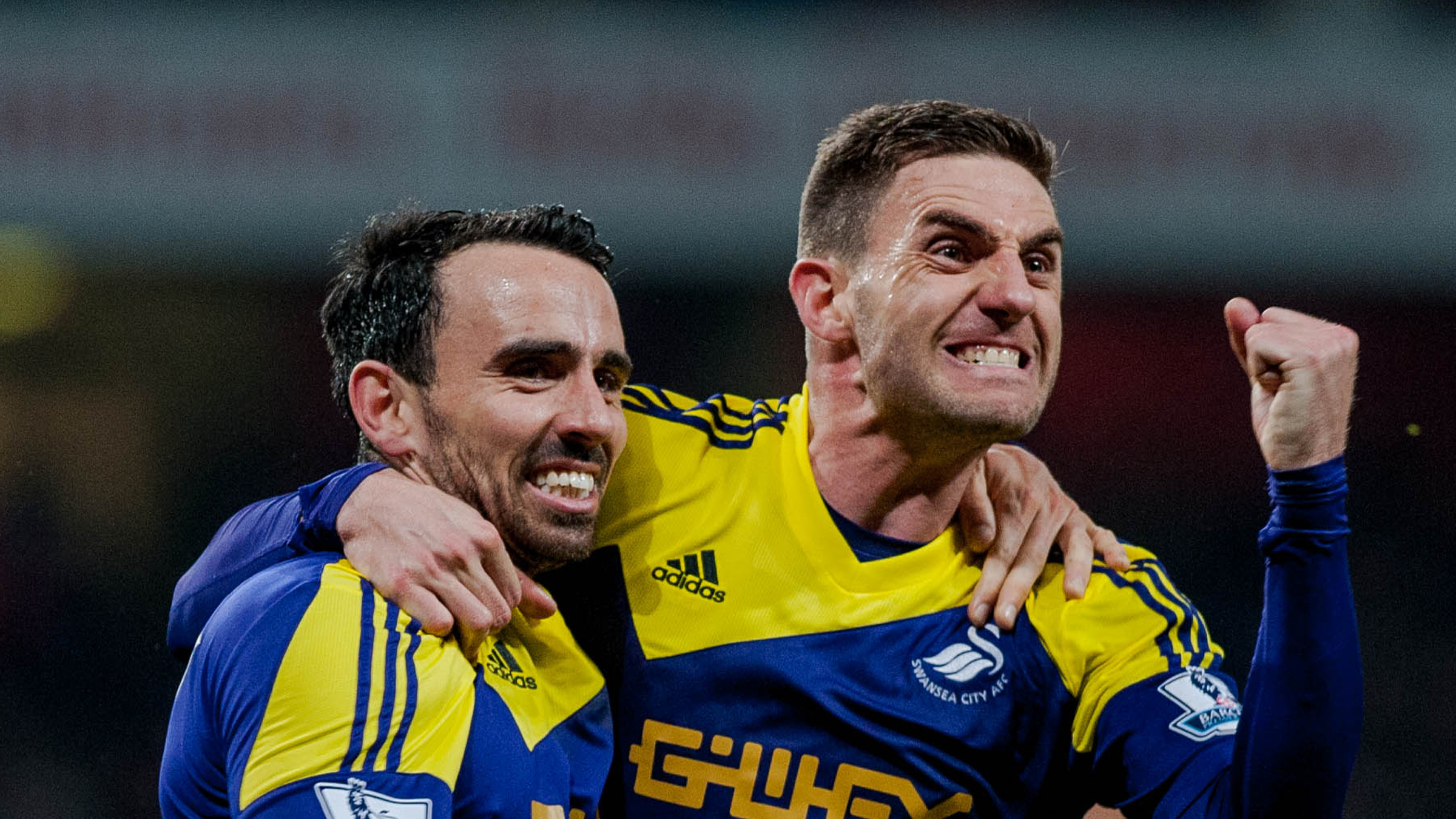 The Mumbles, rather than the Mediterranean, is where his heart lays, as Rangel takes time to pan out his next steps.
The Spaniard with a Swansea twang in his accent, who once hit the national headlines for spending his time feeding the homeless within the city, will forever cherish one particular relationship from his time wearing the Swan on his chest.
"The fans are amazing, and I'll never forget the noise they used to make," he adds. "The Liberty is a special place with special fans, and the roar from the Jack Army – the play-off semi-final against Nottingham Forest still gives me goosebumps just thinking about it – was unique.
"This club is a family. The city smells of football, it is so engrained in the community.
"The relationship with the fans was always second to none from day one. Not just from hearing them sing my name at the Liberty, I could feel their love up and down the country and in the streets.
"And, of course, looking up at 40,000 Jacks at Wembley during the play-off final was just incredible. They are moments that will never leave me.
"Knowing that we had delivered Premier League football to the fans and the city meant so much to us. Not since the legends of Alan Curtis and John Toshack had the club played in the top flight, and we were so proud to be among that group of players."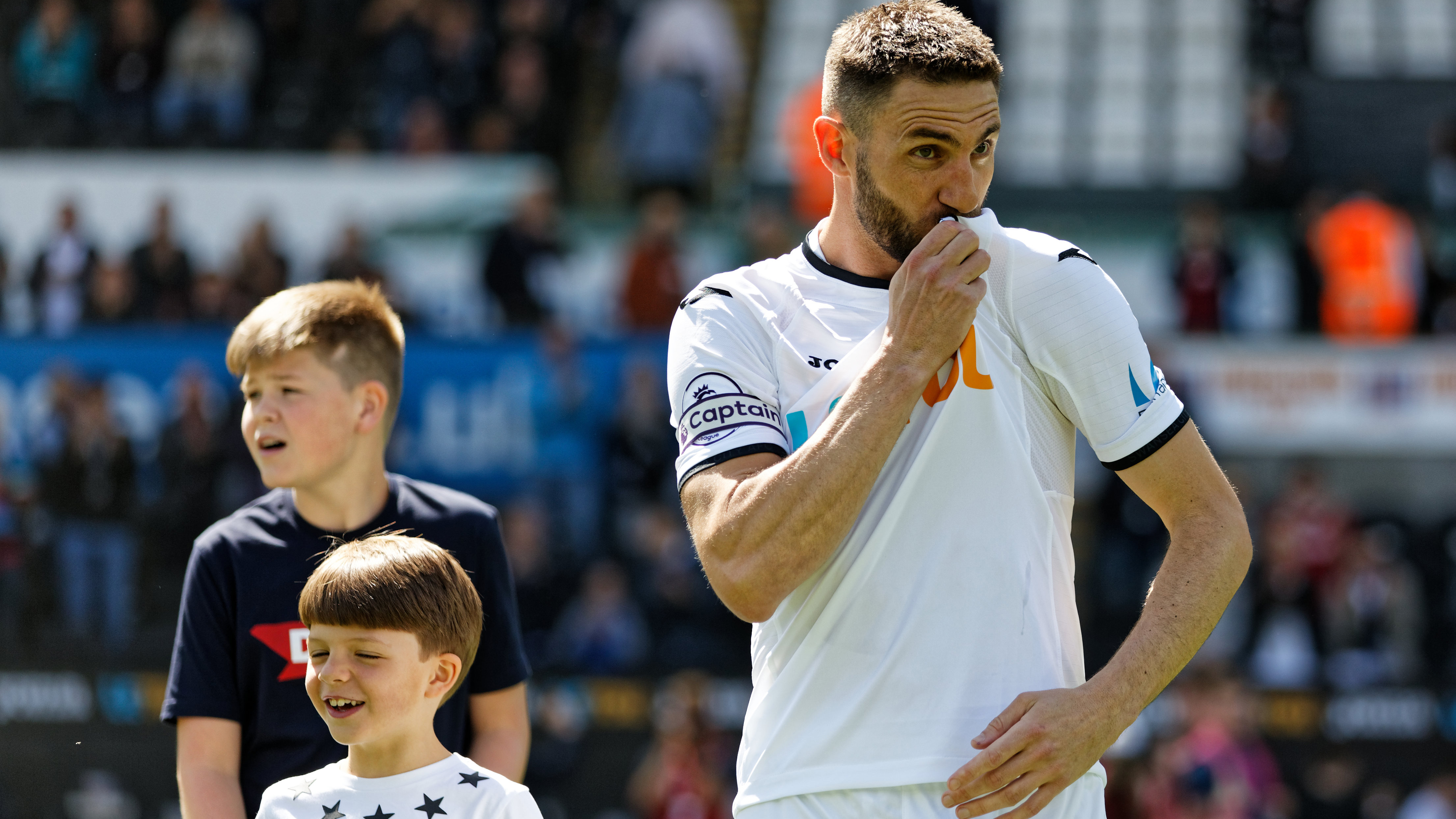 For now, Rangel returns to Swansea watching on as the season enters its climax. Yet, despite his move to London, he's still been an avid fan.
"I still watch the games, of course," he said. "I've watched all of Swansea's games this season, along with QPR.
"I'm hoping we can get back to where we belong – the Premier League. Whether it's in the top two, or via the play-offs, it would be an incredible season under Steve Cooper if we could do it.
"I've experienced it as a player, and it would be amazing to experience it as a fan."
Once a Jack, always a Jack.