Swansea City join with Talking Hands to host BSL stadium tour
16th March 2023
Club
Swansea City midfielder Joe Allen surprised group of children and young people from Talking Hands as they took part in a British Sign Language (BSL) stadium tour.
Talking Hands is a charity for Deaf children, young people and their families based in Swansea Deaf Centre on Neath Road. As well as providing support for families and guidance on things such as schools, they also host fun activities.
And recently, the group were invited to the stadium for a tour of the changing rooms and facilities. Not only was it a chance for the children to enjoy the tour interpreted into BSL, they were also joined by former-Wales international Allen who has a personal connection to the Deaf community.
"My brother Harry is Deaf and signs so this is close to me on a personal level," he explained.
"It was great to meet them. They're a great group of kids and they seem really excited to be here, do the tour and see the ins and outs of the stadium.
"It's great that the club have got an initiative like this. You can see how important it is for them and that they've got the chance to be included at the stadium and at games.
"It's all about inclusion and anything we can do to offer support and help is great."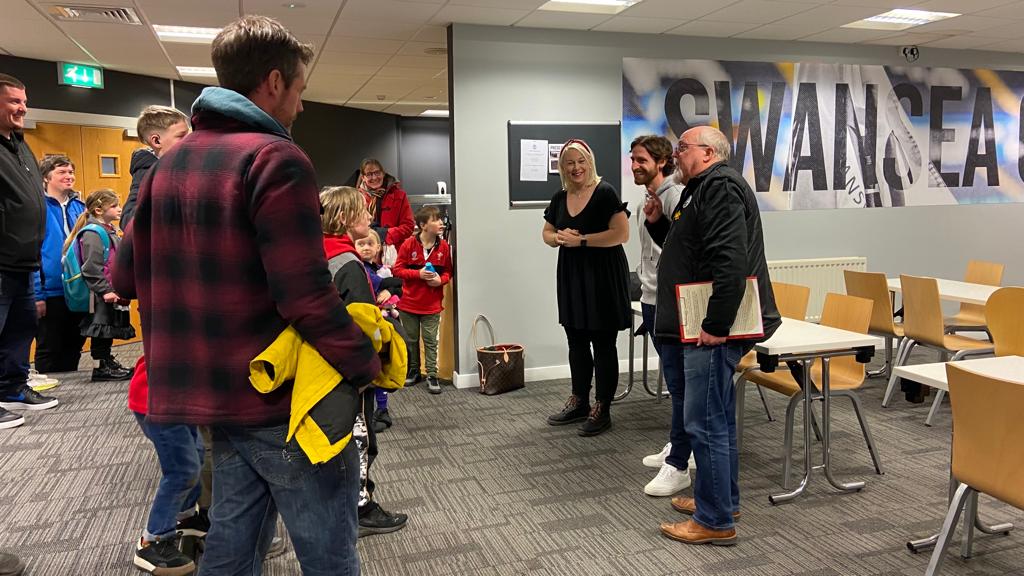 "It was lovely to see Joe," added Talina Jones who works for Talking Hands and interpreted the tour.
"He has a connection to the Deaf community so it was nice that he was able to give back. The children – and the adults – were in awe of him.
"This trip was the first time some of them have stepped inside the football stadium so the fact that Swansea City has links with Talking Hands and we've been able to set this up, it's been absolutely amazing.
"We're really looking forward to coming to the game against Bristol City especially as the children now know that the Swans are embracing their culture, language and community."