Swansea City team up with anti-gambling campaign group The Big Step
26th October 2020
Club
Swansea City has teamed up with gambling harm reduction charity The Big Step in a trailblazing new partnership.
The Big Step is a football-focused gambling education project and part of the Gambling with Lives charity, which has people with lived experience of gambling harm delivering a community-based education, training, awareness and signposting programme in conjunction with the Swans.
The 18-month Gambling Harms Prevention programme will be delivered by Swans' fan Nick Phillips, himself a recovering gambling addict.
In addition to the support of the club, the scheme has also been backed by the Swansea City Supporters Trust, Swansea City Community Trust and has been positively received by local MP Carolyn Harris.
"I would like to thank the club and the supporters trust in giving us the opportunity to talk about gambling and, in particular, the harms that are attached with it," said Nick.
"As a lifelong fan of the club, I am excited about this education project and believe it will have a significant positive impact amongst the fans and the local community."
James Grimes, senior programme manager at Gambling with Lives and Founder of The Big Step, added: "I am so proud to announce our partnership with Swansea City, whose community scheme is renowned for improving lives.
"As a recovering gambling addict, I am passionate about preventing young people going through the same thing that I did. During 12 years of addiction, football failed to provide adequate warnings or the help that I so desperately needed.
"This partnership will show how football can be a positive social vehicle in preventing and reducing gambling harms in its community through our education, awareness and signposting work."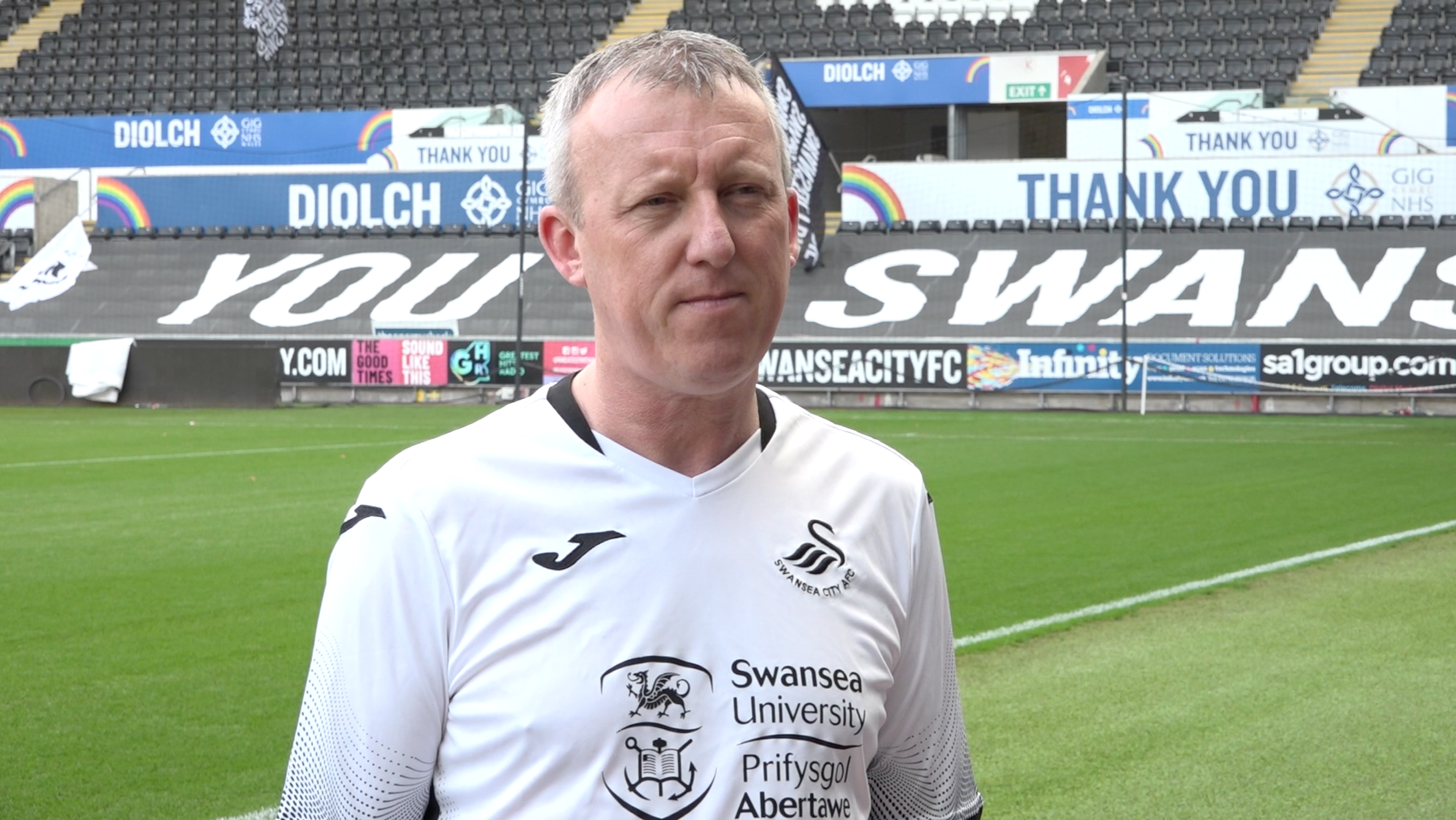 Swansea City's head of commercial, Rebecca Edwards-Symmons, said: "We are delighted to be able to lend our full support to the fine work of The Big Step.
"At Swansea City, our supporters and their welfare are at the centre of our values, so we were quick to pledge our backing to this project, which can help the lives of not just individuals, but their families and friends too.
"Aside from backing The Big Step, this season we have moved away from having a gambling company as our main kit sponsor, which allows our junior Jacks to proudly wear the same shirts as their heroes.
"These are the big steps we are making to help strengthen the battle against gambling addiction."
Helen Elton, head of community at Swansea City's Community Trust, said: "As the charitable arm of the club we have health and wellbeing at the heart of everything we do, and are always keen to work with other charities who can help us in that work.
"The Big Step has expertise in the area of protecting young people from the harms associated with gambling addiction.
"We are very happy to be able to work together with them to combat the normalisation of gambling, and to improve the lives of our community's young people."
Carolyn Harris, MP for Swansea East, added: "I am delighted that the Swans, my local football club, are taking the issue of gambling-related harm seriously and is forming this important partnership with The Big Step.
"This programme will play a critical role in ensuring that young people are made aware of the real risks of gambling and gambling addiction."
Further information
James Grimes' story
James Grimes is a lifelong football fan and recovering gambling addict. Born in 1990, he grew up in Norfolk supporting Peterborough United and got hooked on gambling aged 16. In 12 years of addiction he lost around £100,000, admitting that he couldn't watch football without betting.
In December 2019, James was nearly two years clean and had moved to Manchester. That same year he founded the Big Step charity project, which walks and talks football clubs through the dangers of gambling to protect the next generation of fans.
James' addiction caused him to lose two jobs, relationships, trust within his family and career prospects, as well as seeing him rack up 20 different pay-day loans.
Watch James' story on You Tube at https://youtu.be/f6HeERlhSLs
Nick Phillips Story
Nick Phillips gambling started in his late teens, playing fruit machines in his local snooker club. He joined the army at 19 and had a turbulent short career there. His gambling significantly increased whilst on base, from fruit machines to betting on sports and playing other squaddies for money in cards and snooker. After leaving the army at 21, Nick's gambling escalated, and he was gambling every day.
Nick's 20-year gambling addiction had a huge impact on not just Nick himself, but his family and friends. The financial consequences led to two bankruptcies and the loss of their family home. The emotional damage of Nick's gambling addiction led to two failed suicide attempts, the last being in November 2016.
Nick has had support from Gamblers Anonymous alongside his family and a few friends which has led him down the path of recovery. Football had a huge part to play in his gambling and he lost the love of the game because of gambling. Nick has now stopped gambling and has rekindled his passion for the sport.
By sharing his story alongside others, Nick hopes it reduces the stigmas attached to gambling addiction and encourages others to seek support if they feel they have been negatively impacted by gambling.
The Big Step
The Big Step is a Gambling with Lives charity project formed from lived experience of gambling harm. They advocate for a public health approach to preventing gambling harm through campaigning, education and awareness work in football. Visit www.the-bigstep.com
Gambling with Lives
Gambling with Lives was set up by the families and friends of young people who had taken their own lives as a direct result of gambling. They support families bereaved by gambling related suicide and raise awareness of the suicide and mental health risk of gambling. Visit www.gamblingwithlives.org
Contacts
For The Big Step contact James Grimes, Senior Programme Manager
Call: 07518 347610
Email: james@gamblingwithlives.org
For Nick Phillips
Call: 07477877562
Email: nick@gambling-guardian.com