Swansea City v Bristol City (FA Cup) | Matchday guide
16th January 2023
Fans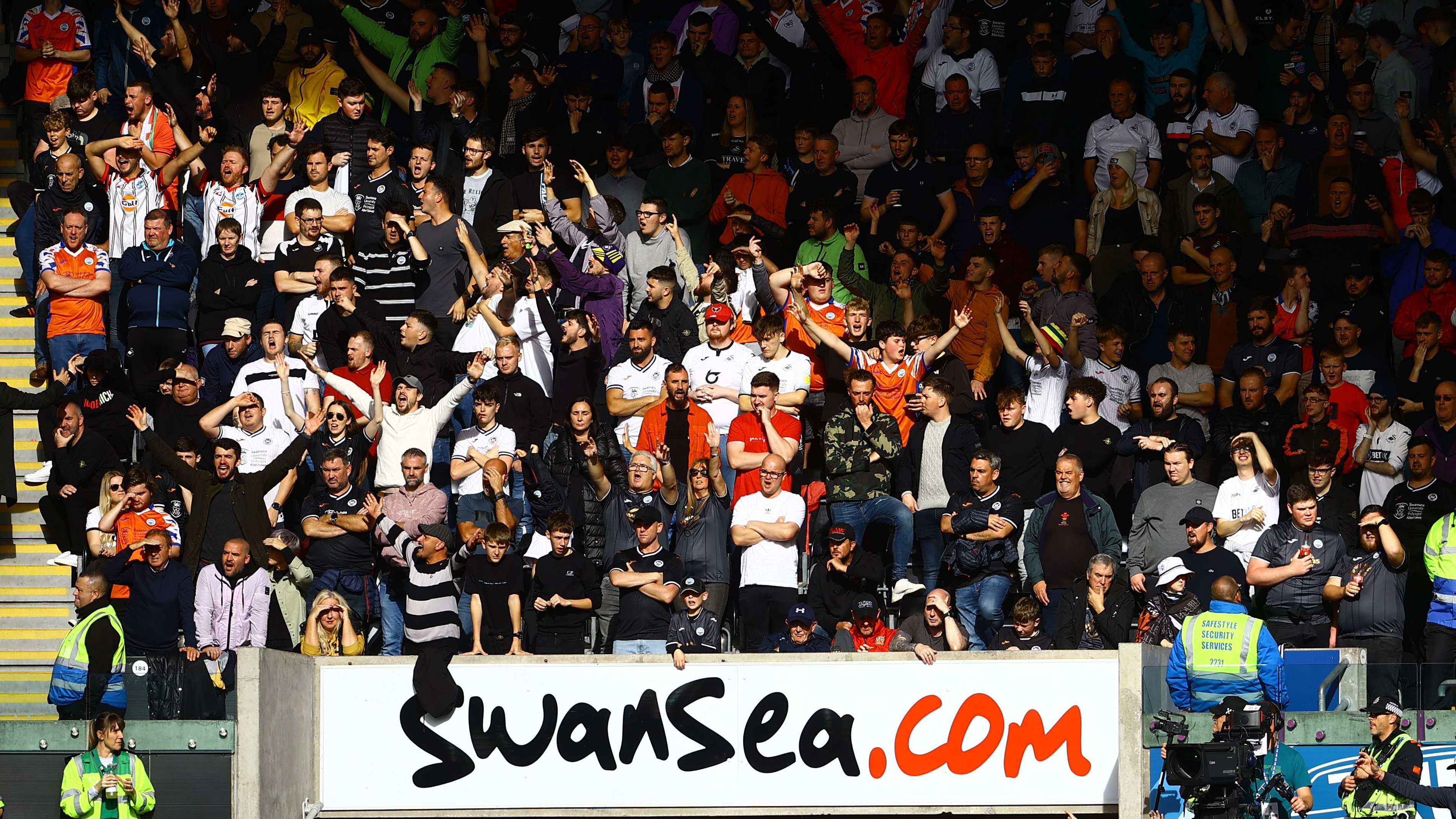 Swansea City will host Bristol City in the Emirates FA Cup third-round replay tomorrow evening (Tuesday January 17), with kick off set for 7.45pm.
There are a number of things which will differ from the usual Championship matchday, so we have created a guide for supporters and we urge those attending to review the below information about ticketing, stadium access and parking before travelling.
TICKETING INFORMATION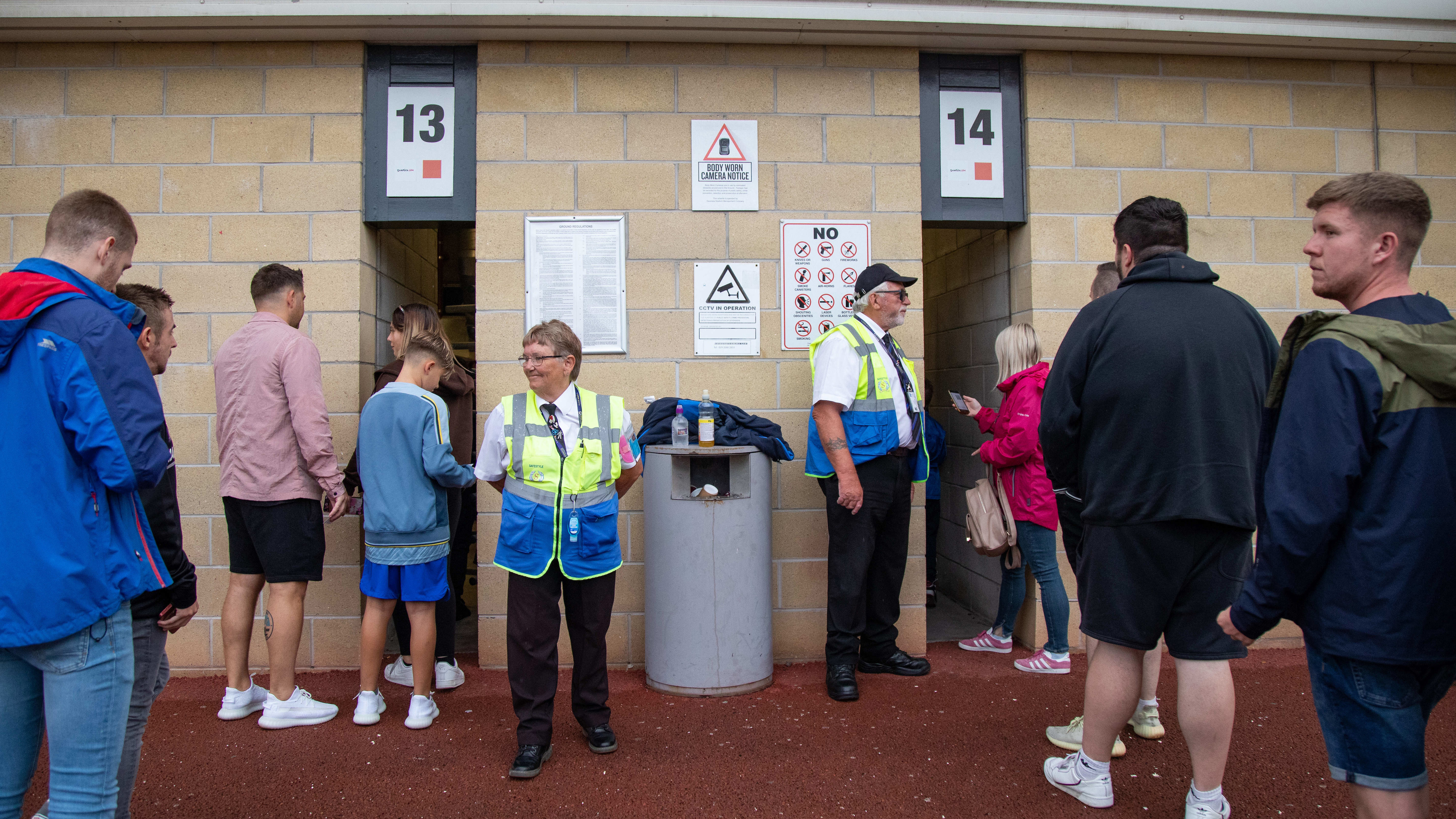 Season Ticket Holders who have purchased their seat
Season ticket holders who have purchased their seat for this fixture, using the same customer number as on their season ticket, should use their season ticket card to gain entry to the Swansea.com Stadium.
Season ticket holder who have purchased a different seat
Season ticket holders who have purchased a seat, which is different from their usual seat or under a different customer number will receive a print at home ticket.
All tickets which were purchased as print at home tickets before 9.30am on January 16 have been emailed to supporters.
The ticket will be sent to you via a 'donotreply@ticketmaster.co.uk' email address and if you have not received this, we urge you to check your spam or junk folders before contacting the ticket office.
Using the Swansea City app.
If your Swans Club Account and ticketing account are linked correctly, you should also be able to access a digital ticket through the Swansea City App.
When on the app, visit the 'Jacks' tab and click 'View matchday tickets'. Your ticket should appear on this page.
If you have not received your ticket, you should contact the ticket office by email (ticketing@swanseacity.com) or phone (01792 616400 and select option 1).
The ticket office is also open for in-person queries during the following times:
Monday January 16 - 9.30am-5pm
Tuesday January 17 - 1pm-8pm
ACCESS TO THE EAST STAND
Ticket holders in the East Stand should be aware of an alternative route to access their seats for this fixture.
Access is either by walking around the South Stand, or by taking the route identified on the map below in green.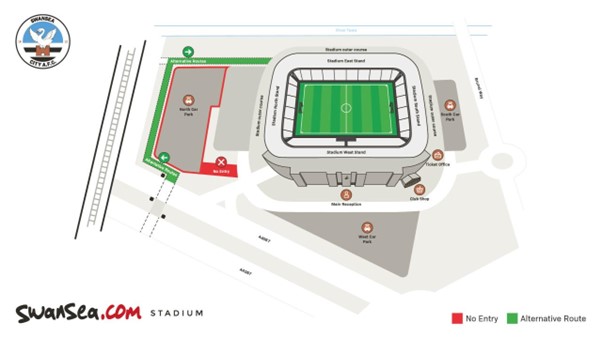 HOSPITALITY  
Guests should be aware that their seasonal hospitality accreditation will not be valid for this fixture.
Seasonal guests MUST have requested a ticket before midnight on Thursday, January 12 to access this fixture.
All guests were contacted via email with details relating to their package and tickets have been posted to those guests who opted to receive their tickets via this method.
Hospitality guests who requested for tickets to be collected can either collect from the Swansea City ticket office between 9am and 5pm on January 16), or two hours prior to kick-off from the hospitality collection office on the ground floor of the stadium on match day.
Please ensure you and your respective guests have the necessary tickets and wristbands, as aforementioned seasonal passes and lanyards will not be valid for this fixture
If you have any queries, please contact the team directly on 01792 616628 or email hospitality@swanseacity.com.
Doors will open two hours prior to kick off as usual (5.45pm for this fixture).
Certain packages are entitled to a ticket and lounge access only, however guests should be aware that a pay bar and options to purchase food will be available on the evening.
Other ticketing information
Purchase tickets
Tickets for this fixture are still available to purchase, and the quickest and easiest way to do so, is online. Click HERE to buy tickets.
Tickets can be accessed in a number of ways: print at home, collection from the ticket office, or as an in-app digital ticket.
The ticket office is open until 5pm today for any supporter queries.
You can also speak to the club's ticket office staff by calling 01792 616400 and selecting option one.
Tickets are also available to purchase on matchday from the ticket office, however, the club strongly recommends that supporters purchase tickets as early as possible to avoid any delays on matchday.
Click HERE for help buying tickets.
Digital tickets
Supporters are reminded that they can also access a digital copy of their season ticket or matchday ticket via the Swansea City app. 
To use the in-app ticketing service, supporters should ensure their app is up to date and that they are running the latest version to ensure the correct tickets are pulling through. This may involve visiting your relevant app store.
Ticket holders will need to use their Swansea Club Account to access their ticket and ensure it is linked to the correct season ticket account. For more information on this and a walkthrough of the steps needed, please visit our FAQs.
Eligible supporters can access the 'Jacks' tab of the Swans app and click 'view your matchday ticket'. This may prompt users to log in with their Swans Club Account, before displaying their ticket(s).
Swansea City would like to remind supporters who wish to use this service that it is the responsibility of ticket holders to check that their in-app ticket is visible before they travel to the Swansea.com Stadium. You will need internet connection for your season ticket to appear and we highly recommend adding your ticket to your smartphone wallet if possible.
Supporters are reminded that season tickets and print at home tickets will also remain fully operational, and ticket holders are welcome to use whichever option is most suitable for them.
Click HERE for our FAQs.
More ahead of this match...