Ticket details for Championship play-off final
23rd May 2021
Ticketing News
Swansea City is pleased to confirm ticket information for the Championship play-off final against Brentford at Wembley Stadium on Saturday, 29 May (3pm).
Following the 2-1 aggregate victory over Barnsley at the Liberty, Steve Cooper's side now face the Bees for a place in the Premier League.
The club has been allocated 3,951 tickets for the West End of Wembley and tickets will be sold from the North Stand round to the South Stand via a ballot system outlined below.
To ensure a speedy ticket buying process, supporters are advised to ensure they read all information below thoroughly.
Pricing categories at Wembley are split into three sections and there is also a concession rate for over-65's and children aged 16 and under.
No children under the age of two years old are permitted to this event.
The club will be selling its allocation of tickets via the ticketing platform with Ticketmaster. The whole allocation will be ONLINE ONLY as the process needs to include a full ballot which is integrated with Wembley.
It is also important to add that you will NOT need to undertake a health questionnaire online, as supporters were required to do for the semi-final second leg.
If you are successful in the ballot then your tickets will be sent to you before Friday to the email address attached to your online account.
PRICES
Category 1 - £65 adults and £32.50 concessions
Category 2 - £55 adults and £27.50 concessions
Category 3 - £45 adults and £22.50 concessions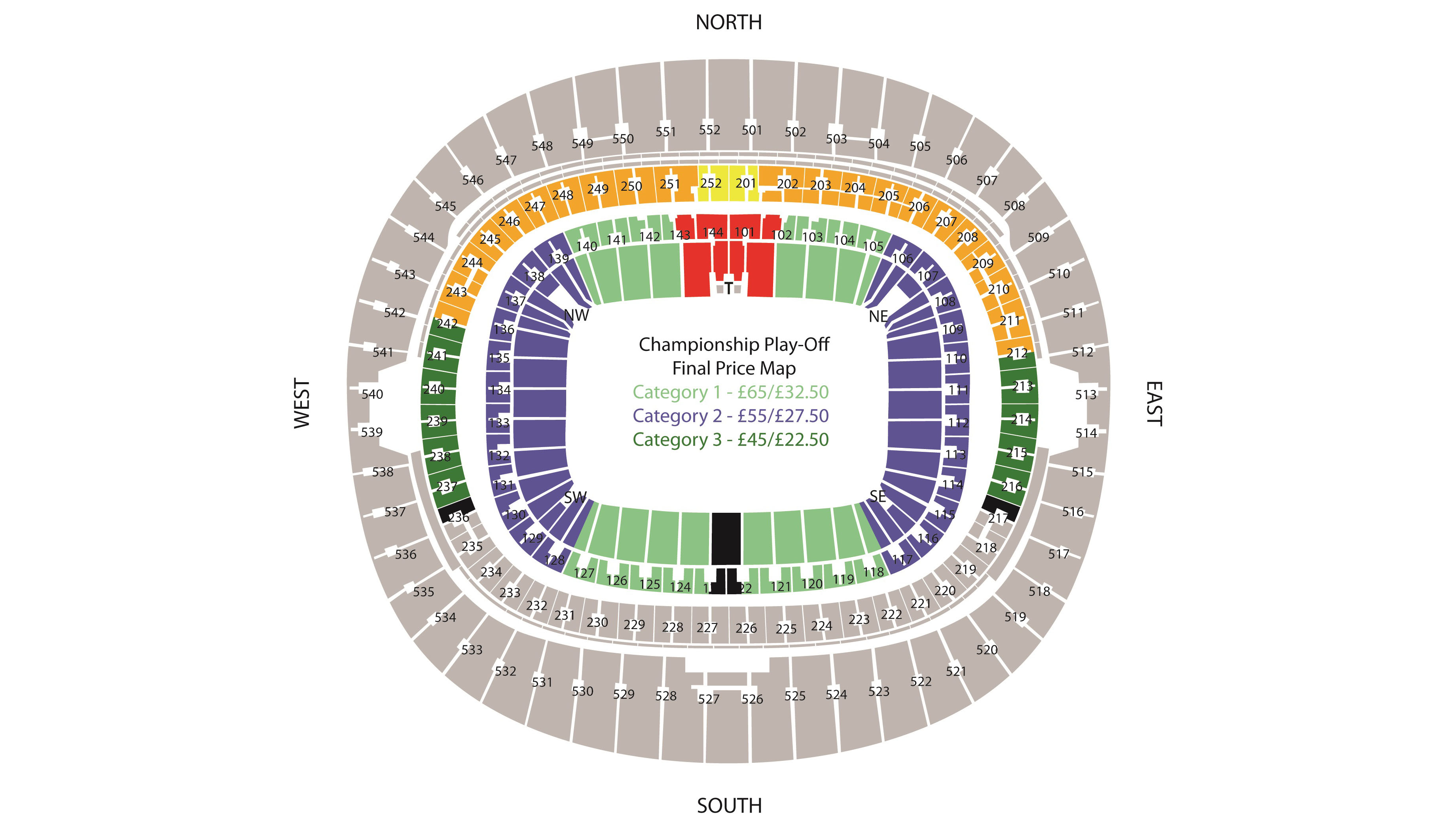 Ballot system
As there is a reduced capacity attendance for this fixture, Swansea City invites all 2020-21 season ticket holders who did not take a refund to enter a ballot for this game by no later than midnight on Monday, May 24. Supporters will be advised on Tuesday, May 25 if they have been successful in their application or not.
Tickets will not be available in person at the Liberty Stadium ticket office and the ballot process must be completed online via our ticketing website HERE.
If any supporter is having trouble accessing their club account they must immediately email accountquery@swanseacity.com and a member of staff will respond by 6pm on Monday, May 24.
Tickets will be allocated on a single basis, and will be socially distanced by 1m from each other. To clarify, this means there will be a space between you and everyone in your party. This even applies to children 16 and under and has been directed to us by Wembley Stadium. For example, you will not sit directly next to anyone. If you have family and friends in your network who match the above criteria, you can include them in our ballot entry so that tickets close to each other can be accommodated.
The ballot is now open for general admission and will close at midnight on Monday, May 24.
Seasonal hospitality guest information
2020-21 seasonal hospitality guests will be contacted separately by email, as this ballot will be separate to the general admission ballot. This will also be a ballot for general admission seats as there is no hospitality seating available. For clarification, as we did in the home leg of the semi-final fixture it will be a fair ratio based on the numbers. Therefore, successful general admission numbers will be significantly higher than hospitality because we have vastly more general admission season ticket holders than seasonal hospitality guests.
Payment information and English Government rules
At the ballot stage you will have to select the category ticket you wish to have and enter your card details. If successful, the payment will automatically be taken from your card when the ballot is drawn. If you are unsuccessful, no money will be taken from your account. Therefore if you do not have sufficient funds in your account you will immediately be withdrawn from the process with no right to appeal.
It is vital that at the point of entering the ballot that you add the people that you want to sit near to, and that all of those added are existing 2020-21 season ticket holders who didn't take a refund.
As the fixture will be played in England, the social distancing measure is only 1m and you can add to your network friends, as well as family members, who meet the above criteria.
The maximum number per ballot entry is six people. The same rule applies from the semi-final second leg that supporters are not able to submit more than one application.
Disabled tickets
There are a number of wheelchair and ambulant disabled tickets with accompanying personal assistant tickets available. These are part of the ballot system mentioned above and we ask supporters to enter the ballot applicable to their requirements (i.e. general admission, wheelchair bay, ambulant seating). EFL regulations and Swansea City terms and conditions apply, including the availability of age-related concessions.
Disabled supporters who require a carer do not need their carer ID when entering the ballot. Swansea City supporters who receive a carer are client typed as such and so will automatically be provided with a carer if successful in the ballot. Their ticket will show as zero value. 
There are a number of seats which have step free access that are recommended for persons with mobility difficulties which are positioned in Level 1 rows 30/31. Please note that headsets and mini induction loops need to be booked in advance. Please enquire via accessibility@swanseacity.com for details.
Important Information
Should you have any problems accessing your account please email the club via accountquery@swanseacity.com. Supporters' account numbers are displayed on season tickets so please check before emailing.
Supporters should note that due to the large volume of calls expected, the best way to have assistance with your query is to email us as detailed above.
There is a £2.50 per ticket booking fee for every ticket sold online. Tickets will be delivered digitally via email for you to print at home. Supporters will receive their tickets by Thursday, May 27.
All children aged 16 years and under must be accompanied by a responsible adult.
Children under two years old are not permitted into the stadium.
Ground regulations & Conditions of Issue Apply can be found HERE.
Official Coaches – Swansea City will not be organising official coach travel and we ask supporters to make their own way to Wembley.
Car Parking – Parking for supporters and supporter vehicles can be purchased via www.wembleyofficialparking.com or by telephone on 020 8903 6966. Car Parking is charged at £90 per coach and £30 per car if booked in advance. Parking is subject to availability and may be subject to price increases on the day of the game.
Blue badge parking is available to purchase at a discounted cost of £15 per space. This is subject to availability and may be subject to price increases on the day.
Hospitality – There is no hospitality available for this event.
No re-sale of tickets – It is an offence under Section 166 of the Criminal Justice and Public Order Act 1994, for any unauthorised person to sell tickets.