Vetch Field | The Final Season | Part Five
15th May 2020
Club
May 11 marked 15 years since Swansea City played their final game at their old Vetch Field home. To mark the anniversary we are running a series of features about that final 2004-05 campaign under the guidance of Kenny Jackett.
Today, we move on to part five, which deals with the final league game at the Vetch; a crunch meeting with Shrewsbury.
So, it all came down to this. April 30, 2005.
Two games to go, one of them an emotional final league outing at the club's storied home of 93 years, and promotion on the line.
It was fiendishly tight at the top. Yeovil led the way on 77 points, sitting level on points but ahead of Southend on goal difference.
Scunthorpe were a point further back in third, while the fourth-placed Swans were tantalisingly just two points off an automatic promotion place as they prepared to welcome Shrewsbury for the final league game at The Vetch.
Inevitably, this was not going to be just another league game.
Emotions swirled as Max Boyce led the crowd in song while clad in a Swans kit, while John Toshack and his 1981 side – at that time the only Swansea squad to reach the top flight – did a lap around the ground accompanied by club legends from all eras, including Mel Nurse and Cliff Jones among others.
"There was a load done with the ex-players, it was like a full weekend," recalls Alan Curtis.
"We had a marquee up in the car park and there were events on the Friday, Saturday and Sunday. There were three dinners and a few of the old players certainly enjoyed it.
"We were paraded on the pitch before the game, there were speeches and we were all introduced to the crowd.
"The dinner after the game was a bit more drunken, and then on the Sunday there was an auction of memorabilia with signed shirts, footballs and other things.
"I felt leaving on the Sunday that was it, even though there was a league game at Bury and the FAW Premier Cup final to go."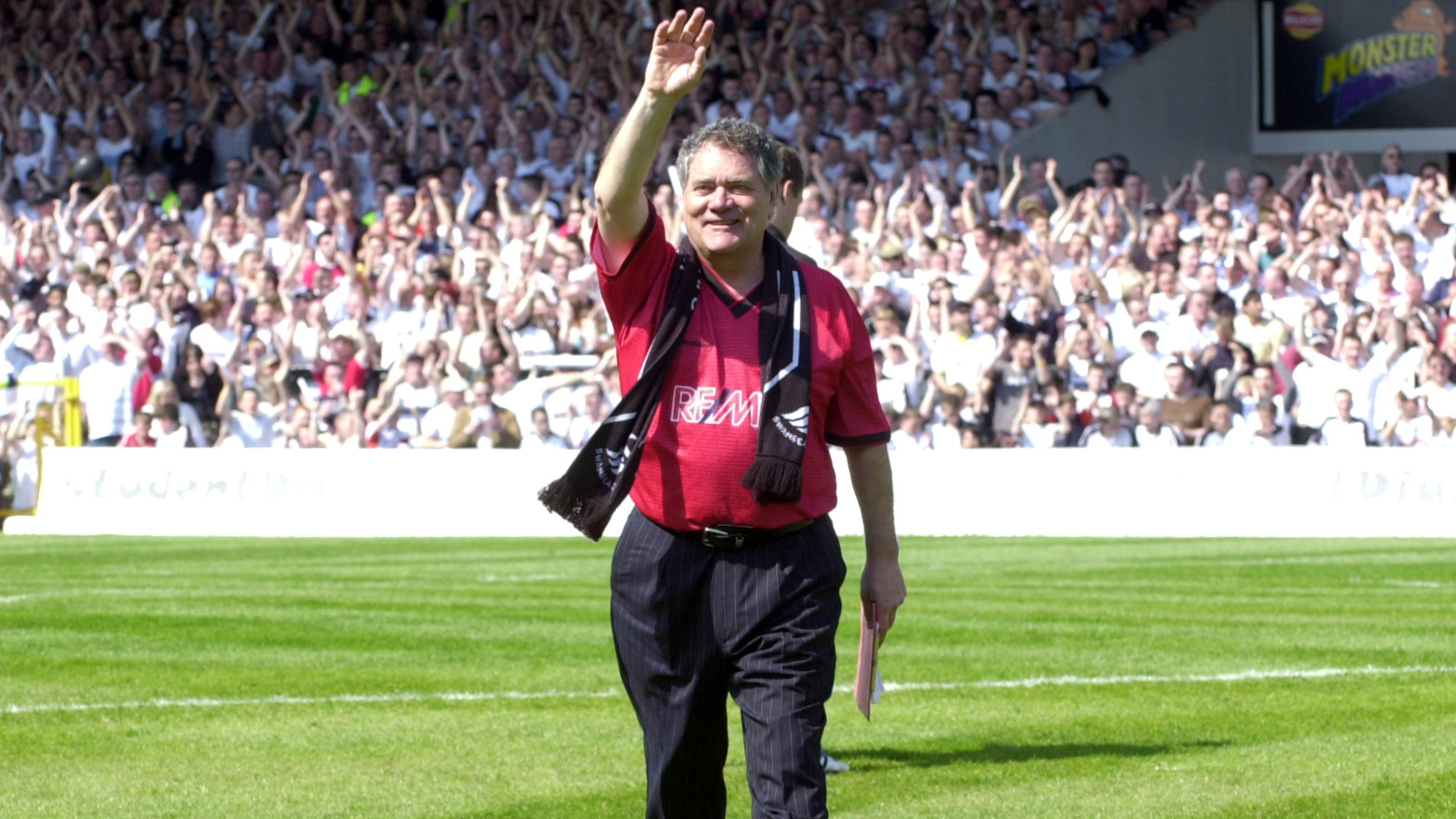 For the players there was a high level of pressure and expectation. There was not just the need to try and give the old ground a fitting send-off, but points dropped could prove crucial in the final promotion analysis.
Having come this far, going through the play-offs was not a route anyone was keen to take.
The Swans' form since January had been rather hit and miss and, ironically given the significant role he was about to play, one man was concerned he was about to be left out.
"There was a lot of pressure and expectation. From a personal point of view I felt my performances in the lead up to that game were atrocious, I knew they were," says Adrian Forbes.
"You talk about spirit and camaraderie, but I expected to be dropped.
"Kenny called me in and said 'Forbesy, you're a big-game player. I need you to perform this weekend, you're starting'.
"That showed me that he knew me and could see I was having a crisis of confidence, but his words lifted me and gave me the chance to try and lift everyone else.
"There was so much built into that game, a packed house, you could hear the noise of what was going on on the pitch.
"They were reading out the 1981 side, I knew a lot of the names but I will be honest and say I did not know all of them, but you heard the response they were getting from the fans.
"I heard it and thought 'this could be us'. If we win here and get promoted, this could be what we mean to these supporters in years to come.
"We could be paraded around at a stadium in the future, let's make it happen'."
But one man who would only be able to watch was Andy Robinson. The midfielder, so often the foil for topscorer Lee Trundle, was suspended after being sent off for a headbutt at Bristol Rovers the previous weekend.
"I got a six-game ban for the sending off at Bristol Rovers and that carried over to the following season," he says.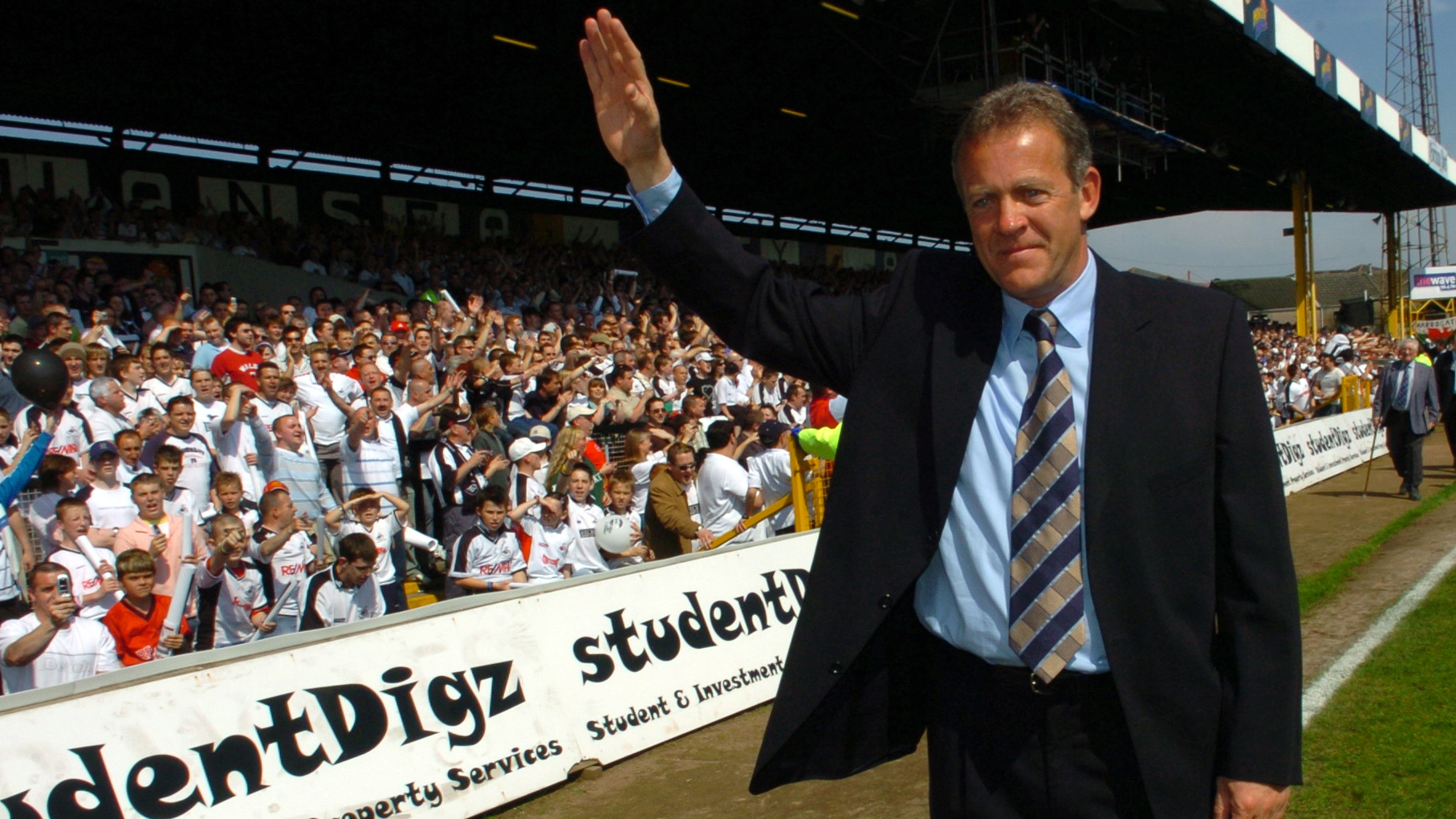 "It was a nightmare. I was fiery, hot-headed and it was still just my second season in professional football.
"I went head-to-head with Ryan Williams, he squared up to me but I never touched him. I knew that I was getting sent off when the ref started running over to me quickly.
"It's actually quite comical now when I look back at it. As well as a six game ban, I got a fine from the Welsh FA, a fine from the English FA and then Kenny pulled me to his office to say they were going to fine me a week's wages.
"But I didn't have a week's wages to give them as they had taken seven weeks' wages off me. Kenny let me off that one then, but the English FA and Welsh FA took seven weeks' worth off me combined as we were in the Welsh FA playing in the English leagues."
Even without his partner in crime, Trundle was loving the glare of the spotlight, knowing that he would be among the players the supporters would look to on a big day such as this.
"I loved those types of games because on the day it sort of felt like a cup final day," he recalls.
"I loved the sense of occasion. It was sunny, you had all the older players from the Toshack era walking around the pitch so it was great to see that, and I enjoyed seeing that while we were warming up.
"It was like a carnival atmosphere and everyone was enjoying themselves. If you think about the Vetch Field and all of the unbelievable players who played there and that was all going to come to an end in the last league game there. It was right to give it the send-off like it received.
"For me, I enjoyed those occasions although it was tense. We knew that if we were moving to this new stadium we had to be promoted, the ball was rolling so we had to carry on and get into that league.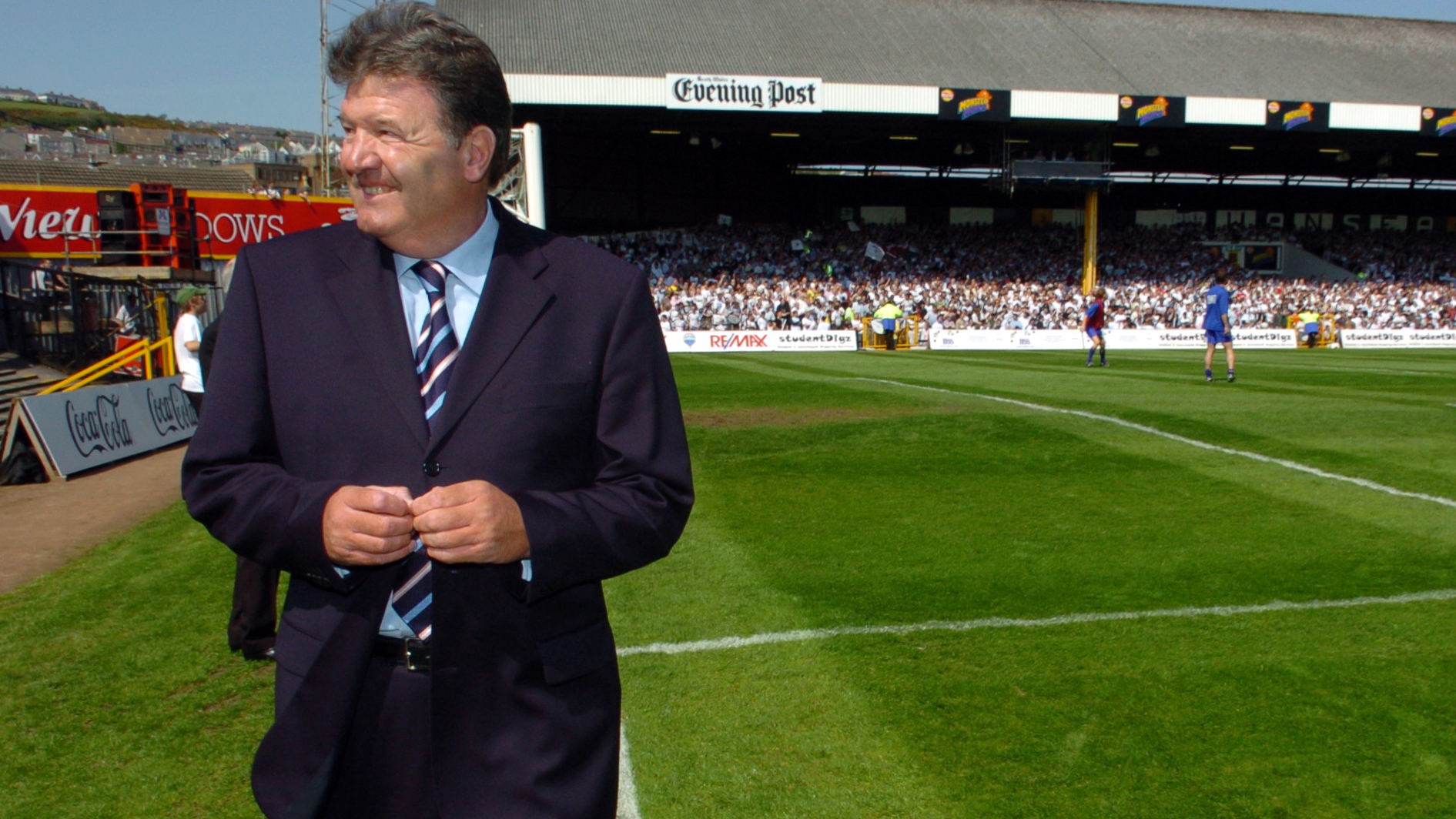 "I would say there was a little bit of pressure there but I liked playing under that pressure rather than a game that means nothing."
The fanfare taking place out on the pitch as the players warmed up and then returned to the changing rooms had different impacts on different members of the squad.
For local boy Kris O'Leary, it was hard not to get caught up in it all.
"I remember the old car park having a big marquee which was sold out, while there was a lot of things going on off the pitch," he said.
"It shouldn't affect you, but it does because you're aware of it.
"I lived outside of the city, so I got about 20 per cent of it while the rest of the lads probably had 80 or 90 per cent of it.
"I remember Max Boyce singing before the game and Curt and the legends walking around the pitch."
But for defender Alan Tate, who would be an unused substitute that day, it did not intrude upon his pre-match focus.
"There were no nerves and, personally, I never ever knew what was going on before the game or around a game," says the current first-team coach.
"I cannot remember Kev Johns and his speech before the Reading game in 2011. You focus on the job at hand.
"Everything else is background. Other lads might be different, but I did not pay attention.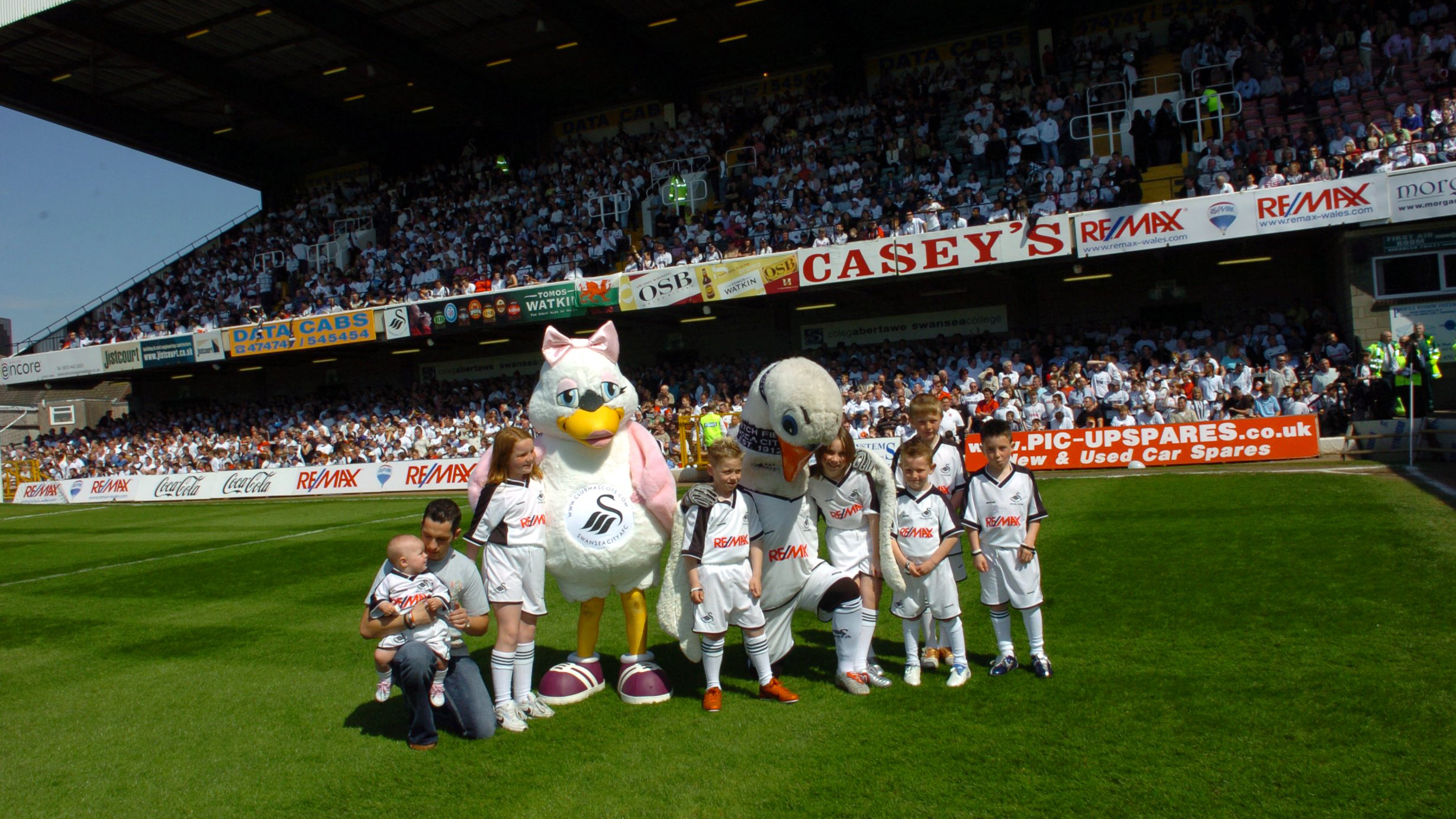 "It's the same with the team-talk, I could not tell you about them. I would not have a clue.
"I never needed words from others, I was self-motivated. I think that's probably why."
By all accounts, it was quite some team talk.
Roberto Martinez was the club captain, but it was Garry Monk who took the opportunity to say a few words as the players huddled in the changing room with the sounds of the crowd all around them under the stand at The Vetch.
The speech from the future Swansea manager left an indelible mark in the memory of Forbes.
"I saw a change in us that day, and that was the day I saw what a leader Garry Monk was," he says.
"You can see what he has gone on to achieve.
"I cannot remember exactly what he said, but when we left that dressing room we were ready."
Whether you were tense or not, whether you were nervous or anxious or not, there remained every likelihood that this would be a close contest.
Kenny Jackett's men had lost the reverse fixture 2-0, seeing Monk and Robinson dismissed in quick succession.
What they needed was a fast start, and they got it with Forbes finding the net past a future England international and Premier League winner.
"Before I know it, I'm picking up the ball outside the box. I was unsure whether to chip the keeper, go round him or curl it," remembers Forbes.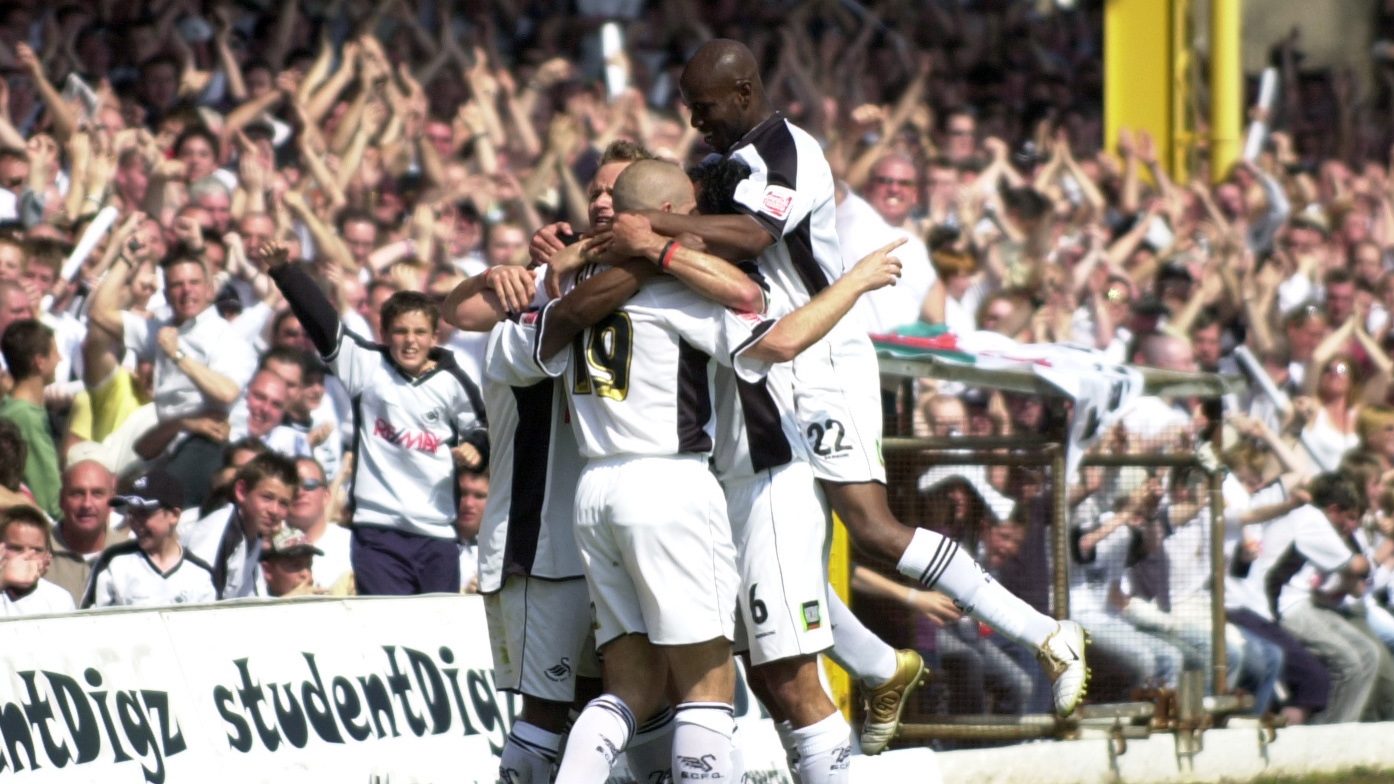 "I go to curl it and, all of a sudden, it's in the top corner. North Bank, here I come!
"I've got the picture at home of me jumping up in front of the fans and it sums the Vetch up, the look on the faces in that sea of bodies.
"I'll never forget it, I'm not sure I understood I had scored past Joe Hart.
"He was just another keeper at the time, but there's not many who can say they stuck one in the top corner past him with what he went on to achieve."
If that settled things down, it did not necessarily remove the degree of difficulty. Shrewsbury had their chances, with Willy Gueret making a handful of important saves to maintain a scoreline which had been so familiar all season.
It was the 10th time that season the Swans had kept a clean sheet and won by a solitary goal.
"Forbesy scored a good few important goals that season, and to get off to that start was brilliant," recalls Trundle.
"Although I think we scored too early because you sort of just want to hang on to that lead then because you have the three points.
"You then play within yourselves as a team and you don't take chances going forward. Looking back at it, I don't remember having any chances myself and the game doesn't stand out to me as I game I played well in.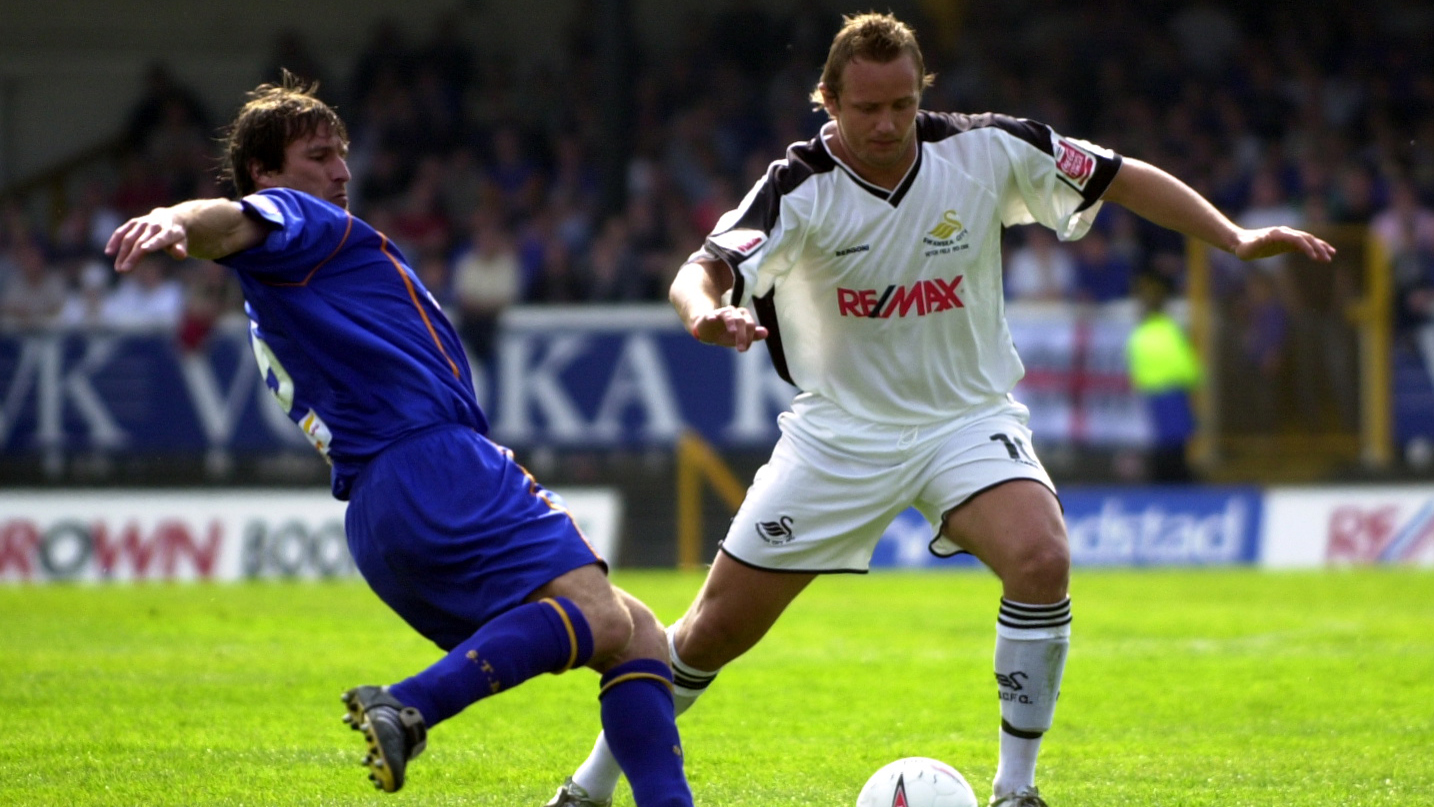 "I don't know whether we sat back because we had that goal and we didn't want to lose it. We knew how important it was to hold on to those three points to stand us in good stead to get promoted."
Nevertheless, O'Leary can clearly remember a moment in the second half where, feeling distinctly second-hand, he glanced over at the old clock and felt a growing sense of dread.
"It was the only game where I felt emotionally drained after 60 minutes. I was thinking 'oh no, there's still 30 minutes left here.' I was absolutely shattered," he says.
"We wanted to win the last league game at the Vetch, while we had to win to make sure we could get promoted.
"The Hull game in 2003 was different. You felt anxious during that game, but when we went 4-2 up it was game over as Hull were in mid-table and weren't going to bust a gut.
"Against Shrewsbury, it was saying goodbye to the Vetch.
"The build up to the game was quite normal in terms of Kenny's prep. We knew our roles and what we had to do.
"Promotion was the big thing in his head, rather than the last league game at the Vetch.
"It wasn't the greatest game, but the early goal settled the nerves.
"We had to win and we did. The ground deserved that."
It certainly did, and the full-time whistle was greeted by a full-blown pitch invasion – which was to be a recurring theme of those final few games – as the players scrambled to get down the tunnel before being engulfed by their jubilant supporters.
Some decided to take a few souvenirs with them, even though there would be another game to come at the Vetch in the form of the FAW Premier Cup final against Wrexham.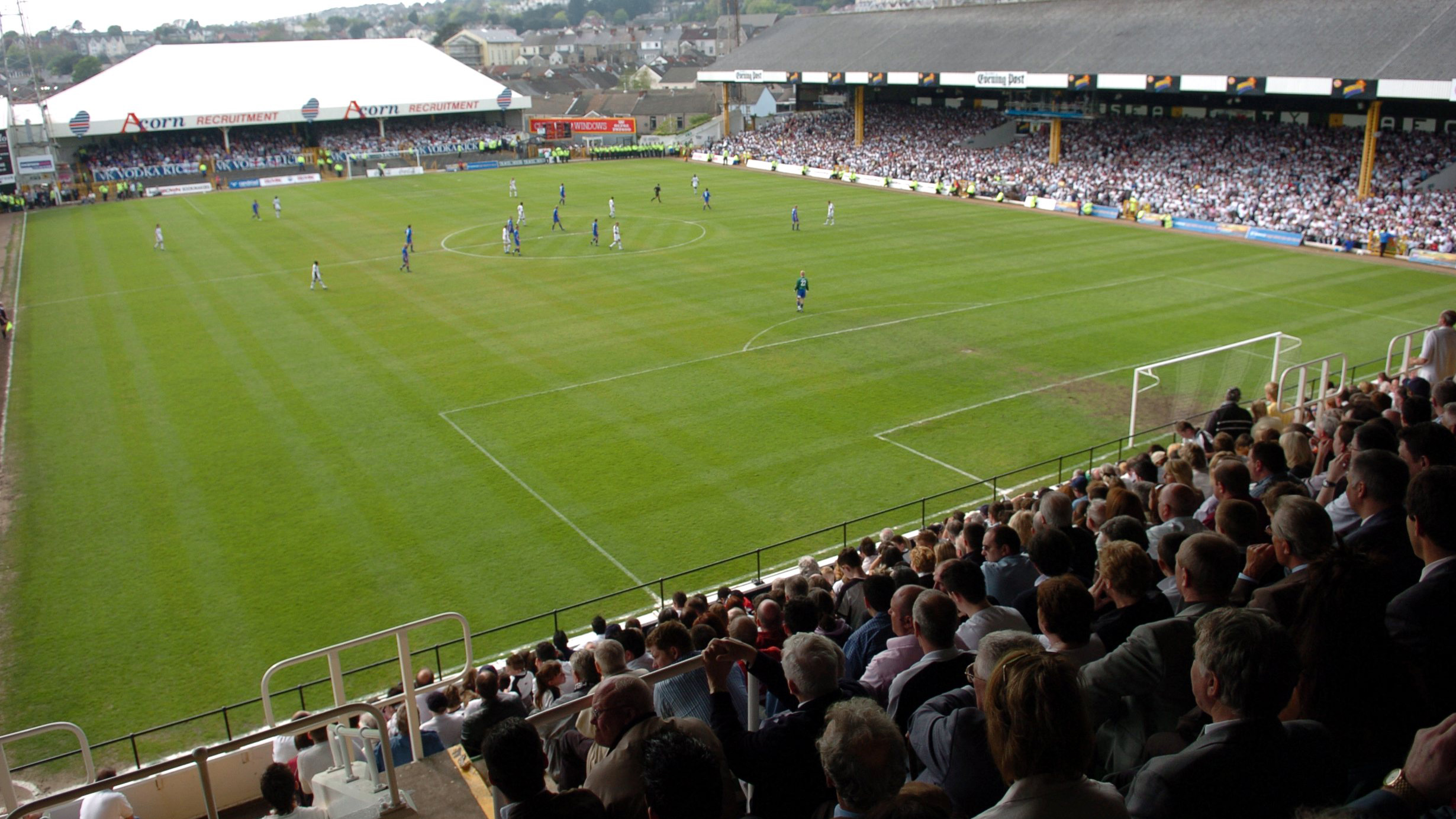 Forbes recalls how he encountered a supporter clutching a seat from the stadium as he walked through the city centre towards the end of a night of celebrating.
"At the end you have the pitch invasion, but I'll be honest and say I was maybe a little ignorant of the importance of the Vetch," says Forbes.
"But the significance really hit home that night when I was walking down Wind Street and there was a guy walking down the road with a seat from the ground in his hands.
"I asked him what he was doing, and he explained that four or five generations of his family had sat in that seat.
"I loved it, and to hear that story and be the person to score that last league goal and to see what it meant to people was so special."
The celebrations that night were enjoyed, and the squad also attended a function at the Vetch on the Sunday where a range of memorabilia was auctioned off.
But once those festivities were done, attentions quickly turned to the final game of the season away at Bury.
"We all went out afterwards to celebrate, then we had another event in the marquee in the car park," says O'Leary.
"Then it was all about focusing on Bury."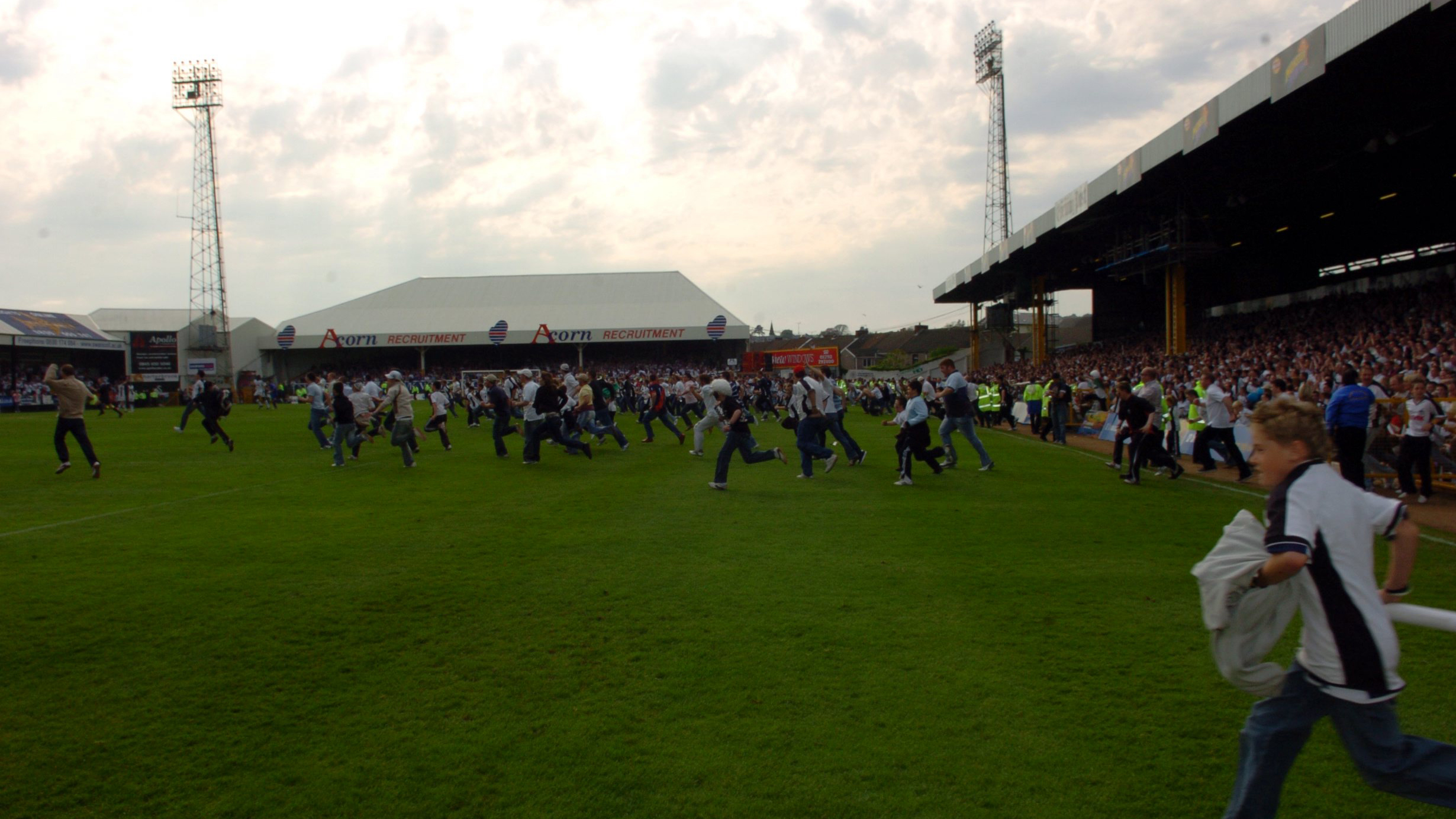 Garry Monk adds: "We saw the game out and it was huge in terms of the three points, but an even bigger relief that we had won the final league game at the Vetch.
"Then it was all eyes on Bury. We knew if we didn't get promotion, then all our good work was wasted."
When Jackett and his men returned to the changing room after that win over Shrewsbury they would have taken heart from some of the other results that day.
Southend had lost to leaders Yeovil, and the Swans were now level on points with the Shrimpers although behind them on goal difference.
Scunthorpe had climbed to second with a 4-0 victory over Bristol Rovers.
If Swansea could better the result of the Essex club on the final weekend, they would be promoted.