Vital Statistics | The numbers behind the season so far
12th September 2022
First team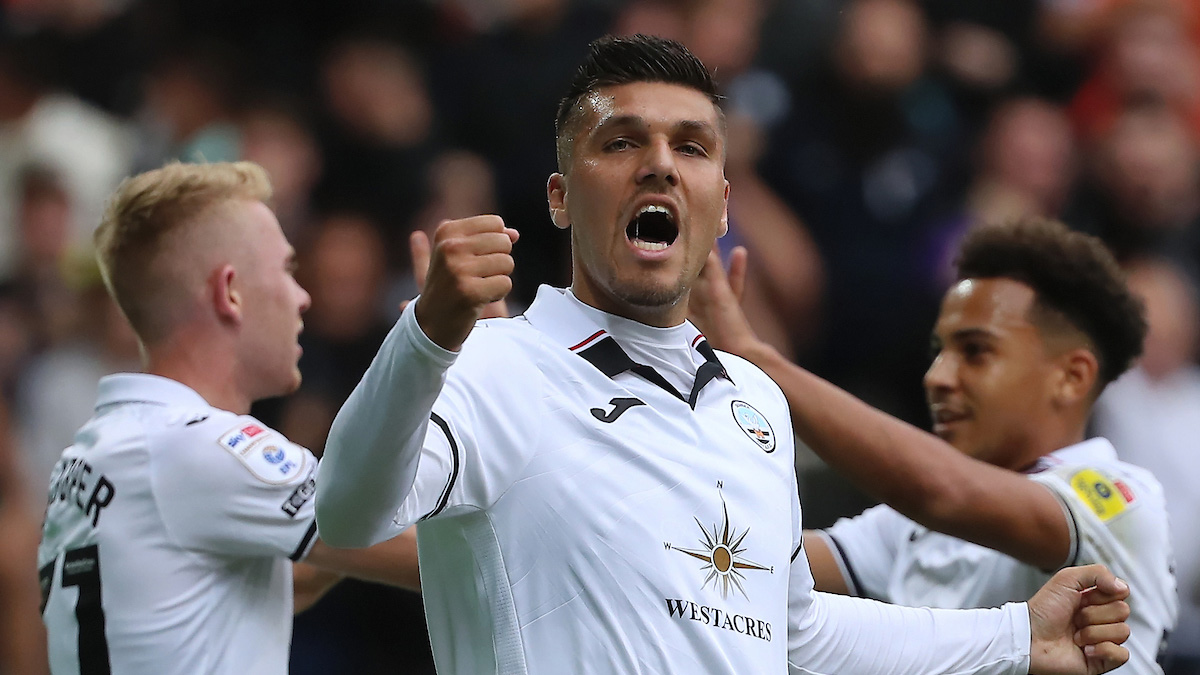 When the final whistle blew at the Swansea.com Stadium on Saturday afternoon, it sparked a release of emotions on and off the field borne out of frustration and relief.
The 1-0 victory over Queens Park Rangers came via a performance that showcased the aspects of the Swans play that are rarely talked about.
There was no shortage of grit and determination as a side including four players aged 20 and under, stood up to a period of concerted pressure in stoppage time.
Perhaps fittingly, it was the youngest player on the pitch – Fin Stevens – who made one of the final vital contributions with a terrific sliding challenge on the edge of his area cutting out a through ball.
The exhortations of the crowd and the roar of delight that greeted the final whistle told its own story.
Given that late heartbreak has struck so often in recent months, it felt like an important moment for this young squad to see out a narrow victory.
For Russell Martin and his staff it also served in underlining what they have believed throughout the season to date; that results would follow provided performance levels and metrics remained high.
When the coaching and analysis teams looked back on the opening games of the season they saw clear indicators of improvement over the closing weeks of last term, and massive steps forward when compared to the opening games of Martin's tenure a year earlier.
It should be pointed out that neither Martin, his staff, nor his players would ever dispute that the statistic that matters most on any given day is the scoreline. However, given all teams inevitably go through good spells and bad spells, positive and negative moments, there also have to be other factors taken into consideration when assessing a game or a sequence of fixtures.
That is why Swans fans will be familiar with the head coach talking about the need to take the emotion out of a game when properly assessing a display.
If there have been positives undone by the concession of a late goal, or if a tough day at the office has ended with a point or three on the board, it is the performance – or performances – that the coaching staff will be looking at.
With that in mind, we take a look at the underlying trends that show the strides Swansea have actually made in carrying out the head coach's gameplan – underlining his belief that a full pre-season would make a difference to performances – the youth of the squad at his disposal, and also the aspects where they will want to see improvement.
With the ball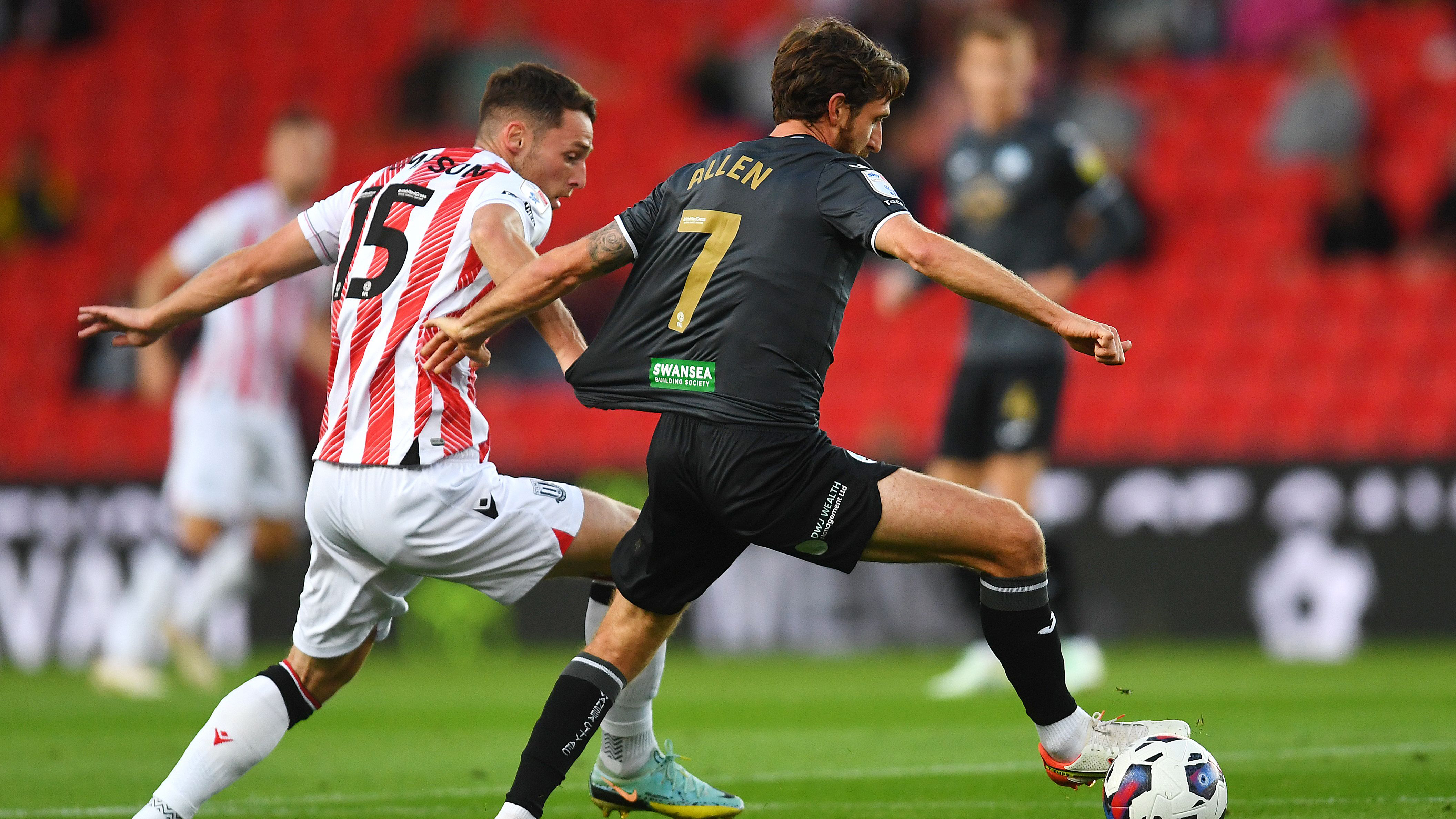 From day one at Swansea City, Russell Martin has been clear that dominating possession, and controlling games with the ball is going to be part of the team and the club's DNA. It's not new to Swansea fans, who watched the likes of Roberto Martinez, Brendan Rodgers, Michael Laudrup, Graham Potter et al follow similar principles.
It is remarkable to think that in a division including heavily-resourced sides such as Fulham and Bournemouth, also renowned for a progressive style of play, it was the Swans who had the greatest share of possession in the Championship last term. Indeed, even from game one of season one for Martin, with barely three training sessions in the books, the change in style of play was clear to see.
It has only developed from there. Over the first five games of last season Swansea averaged 62 per cent possession, over the first five of this season that figure was up to 70 per cent. An eight per cent increase, although the figure has since dropped to 61.5 per cent following games against Stoke and QPR.
This increased dominance of the ball correlates with a rise in the number of passes. Swansea average 65 more passes a game during the first five games of this season than the first five of last term. That represents a 12 per cent increase.
This also allows Swansea to have greater control over the ball in play time as they seek to wear opponents down, and the Swans are one of just three sides to average over 53 minutes of ball in play time per game.
Some will view possession as a commodity that does not necessarily win you games. This is correct as a bold statement with no context, after all Swansea had a lower share of the possession than QPR at the weekend and emerged victorious.
But, when having the ball is such an intrinsic element of the way the Swans want to play, these figures represent clear signs of progression.
Only Burnley had more possession or completed more passes than Swansea over the first quintet of Championship fixtures.
Swansea City average share of possession figures
2018-19 - 57.4 per cent
2019-20 - 52.9 per cent
2020-21 - 50.6 per cent
2021-22 - 63.9 per cent
2022-23 (after first five games) – 70 per cent
2022-23 (after first eight games) – 61.5 per cent
Playing forward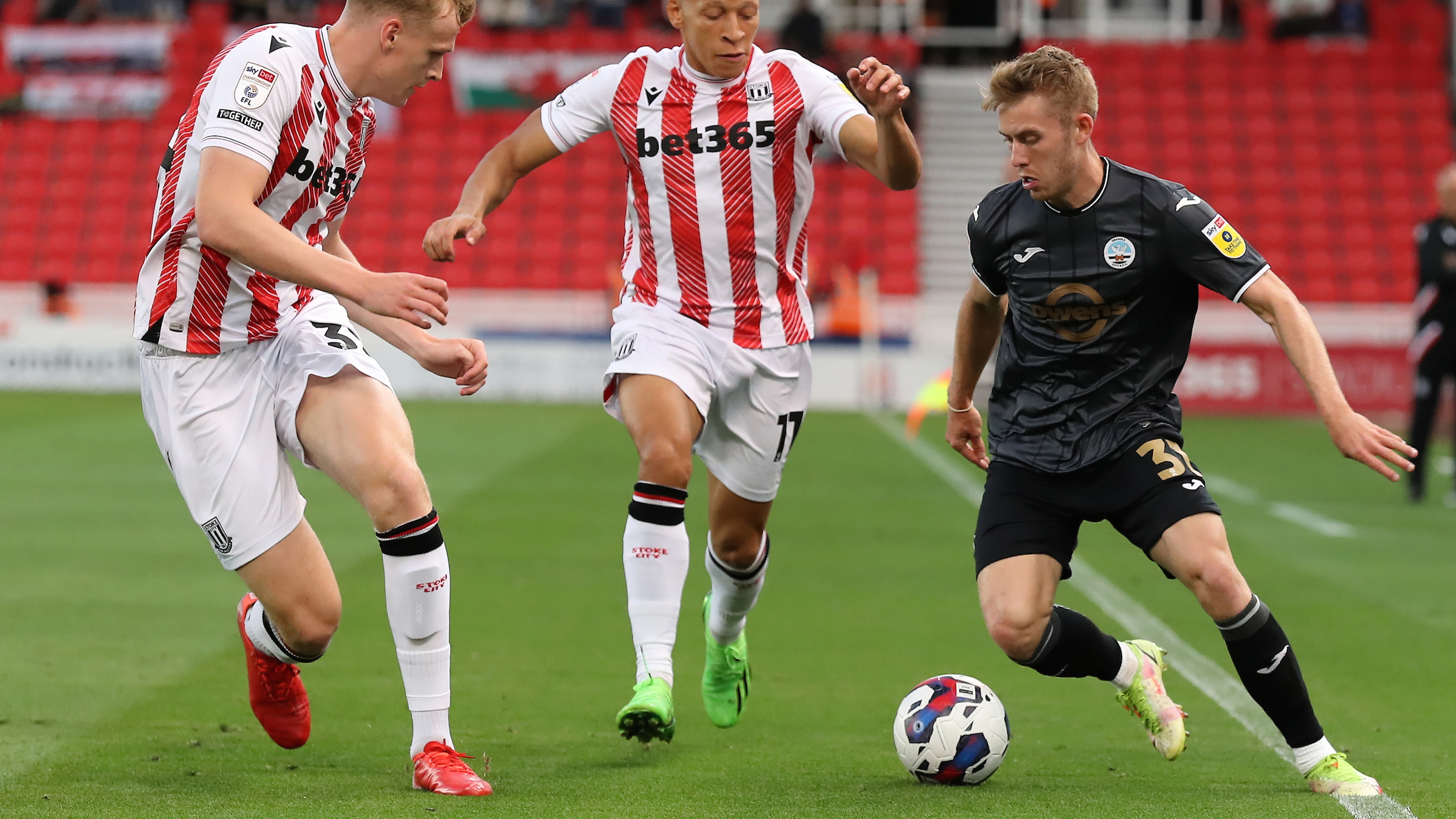 One criticism levelled at the Swans is that much of their passing is either sideways or backwards, and no-one is suggesting Martin's side are not prepared to go back in order to recycle possession and try and make the pitch larger by encouraging opponents to come and press higher up the field.
Anyone watching Antony's goal for Manchester United against Arsenal recently will have noticed Erik ten Haag's side go backwards to open up space and passing opportunities between the lines. It's as graphic an illustration as any of the logic and merit behind being prepared to play backwards when required.
Already this term it has been noticeable how some sides are happy to camp in their own half without the ball, offering little in the way of a press and compacting the game into a third of the field.
This can inevitably put space at a premium and can clog up passing lanes, so the need to go sideways or back to try and force players to lose concentration or discipline and jump into an area that leaves a spare man means this is necessary.
Even so, no side played more forward passes than the Swans, and no side has played more passes into the attacking third.
Swansea City's Championship rank for:
Forward passes - First
Successful passes into the attacking third - First 
Successful passes into the opposition half - First
Final Third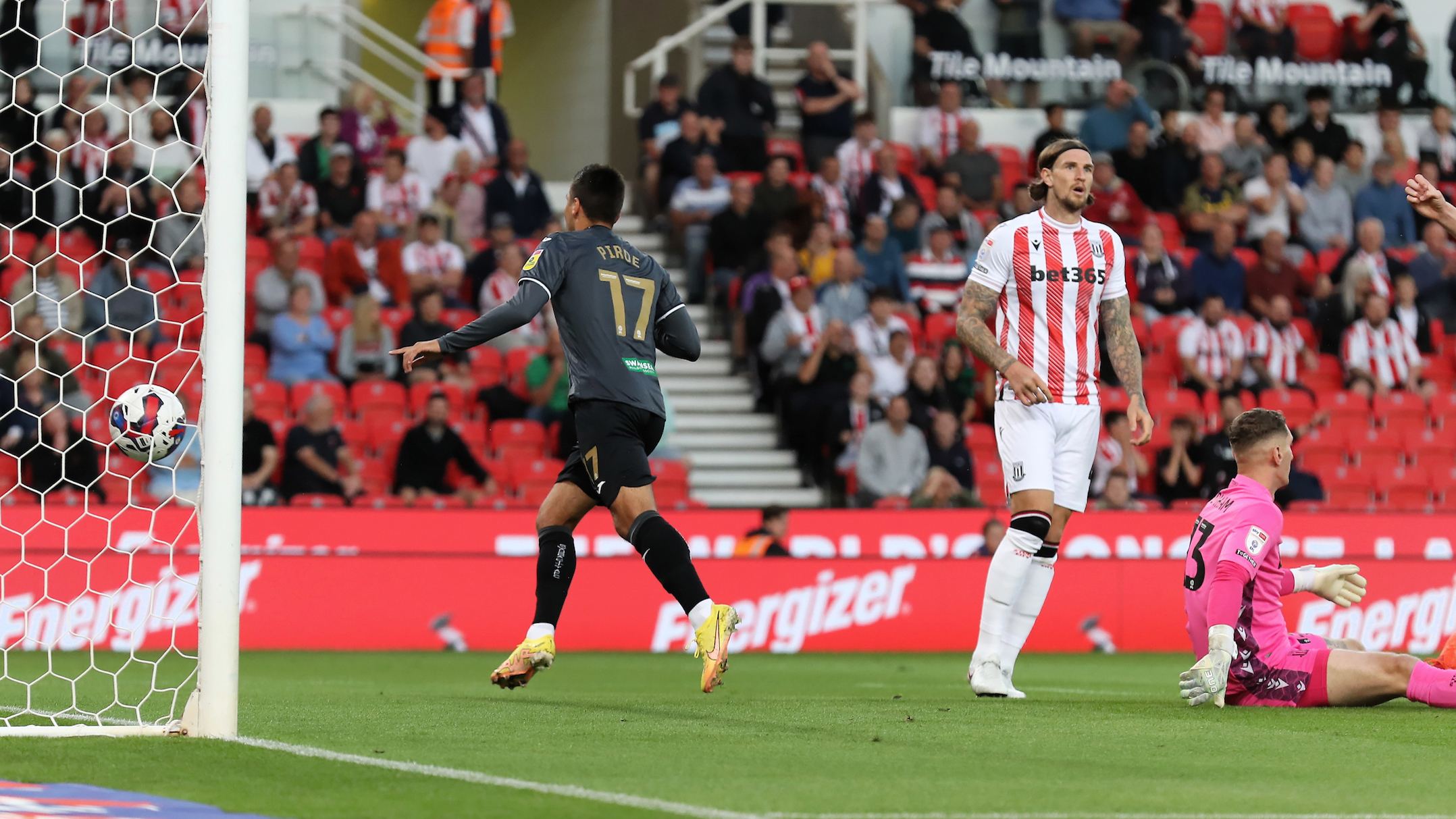 One area Swans boss Martin and assistant Matt Gill have spoken of wanting to improve is the amount of aggression and risk their side are prepared to show in the final third.
Long periods of performances against Millwall, Oxford and Stoke showed the chances the Swans are capable of crafting out when they showed that willingness to take risks and run to create space elsewhere.
Again there has been a year-on-year improvement in expected goals. Swansea's average xG per game stood at 1.03 over the first eight league games of the season, considerably up on the 0.71 figure of a year previous, although down on the final five games of last term where that metric stood at 1.28 goals per game.
There has been an astronomical rise in chances created.
The average of 10 per game over games one to five in the Championship this season is some 150 per cent up on the average of four per game over Martin's first quintet of games in charge.
Even over the final five games of last term, at the end of a nine-game unbeaten run, the Swans created an average of 7.8 chances per game.
Swansea also now average almost twice as many touches in the opposition penalty area as a year ago (23 against 12.2).
Swansea had also had the fifth most shots in the Championship after five games of this season, but one area Martin and his squad will be keen to improve on will be the quality of final shot on goal they are creating.
Nevertheless, a quick look at the figures for recent seasons shows Swansea are broadly averaging as many shots on goal and more shots on target per 90 minutes than in any Championship season since being relegated from the Premier League.
They also average the second-highest number of clear shots on goal per game in the second tier, only Luton Town can top their average of 2.25.
2018-19 - 13.3 and 4.6
2019-20 - 12.7 and 4.3
2020-21 - 10.2 and 3.4
2021-22 - 10.8 and 4.0
2022-23 (over first five games) – 13.6 and 4.8
2022-23 (over first eight games) – 12.5 and 4.8
Without the ball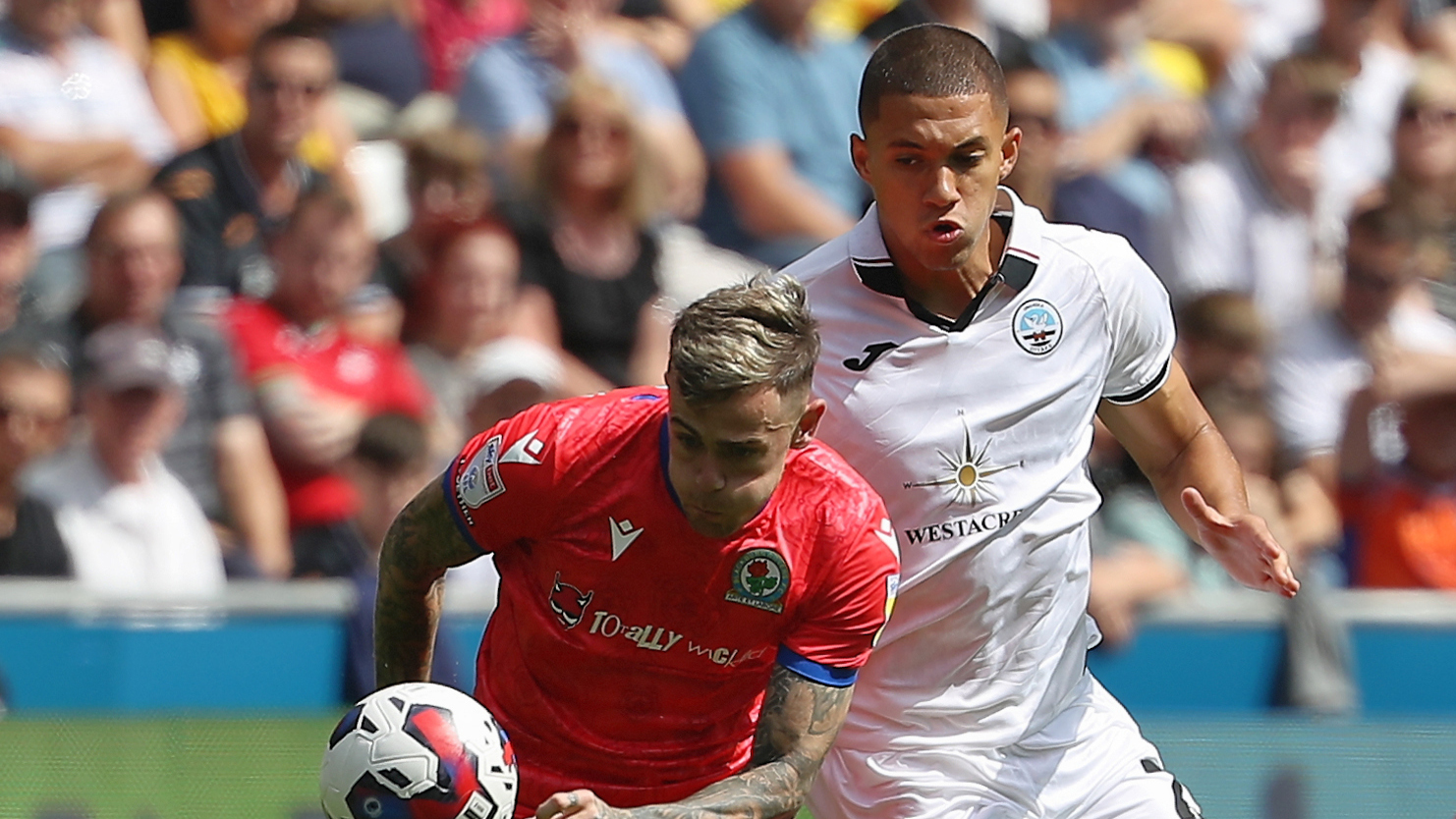 Arguably one of the most curious statistics around Swansea's start to the season has revolved around the goals they have conceded.
Swansea allowed just four shots on target against Blackburn, but conceded three goals. Only one was allowed against Millwall before the events of stoppage time. Luton scored twice from three shots on target.
A look at Swansea's expected goals against over the first five games of this season compared to a year previously reveals a drop from an average of 1.86 expected goals against per game to just 0.89.
Yet Swansea have conceded 11 goals so far this season, despite allowing just 32 shots on target to date this term.
This clearly suggests that on the reasonably rare occasions Swansea give up chances, notably in transition after losing possession, they are proving to be clear goalscoring opportunities that opponents are clinically taking.
Martin has outlined the need for Swansea to be better in both boxes, and the fact they have allowed the fifth-lowest number of shots per game and the seventh-lowest amount of xG against per game, emphasises the belief of players and coaching staff alike that it is those key moments which are costing Swansea and ensuring so much of their good work has not been reflected in results.
Swansea City's Championship rank for:
Lowest expected goals against per 90 minutes: 7th
Lowest number of total shots faced per 90 minutes: 5th
A young team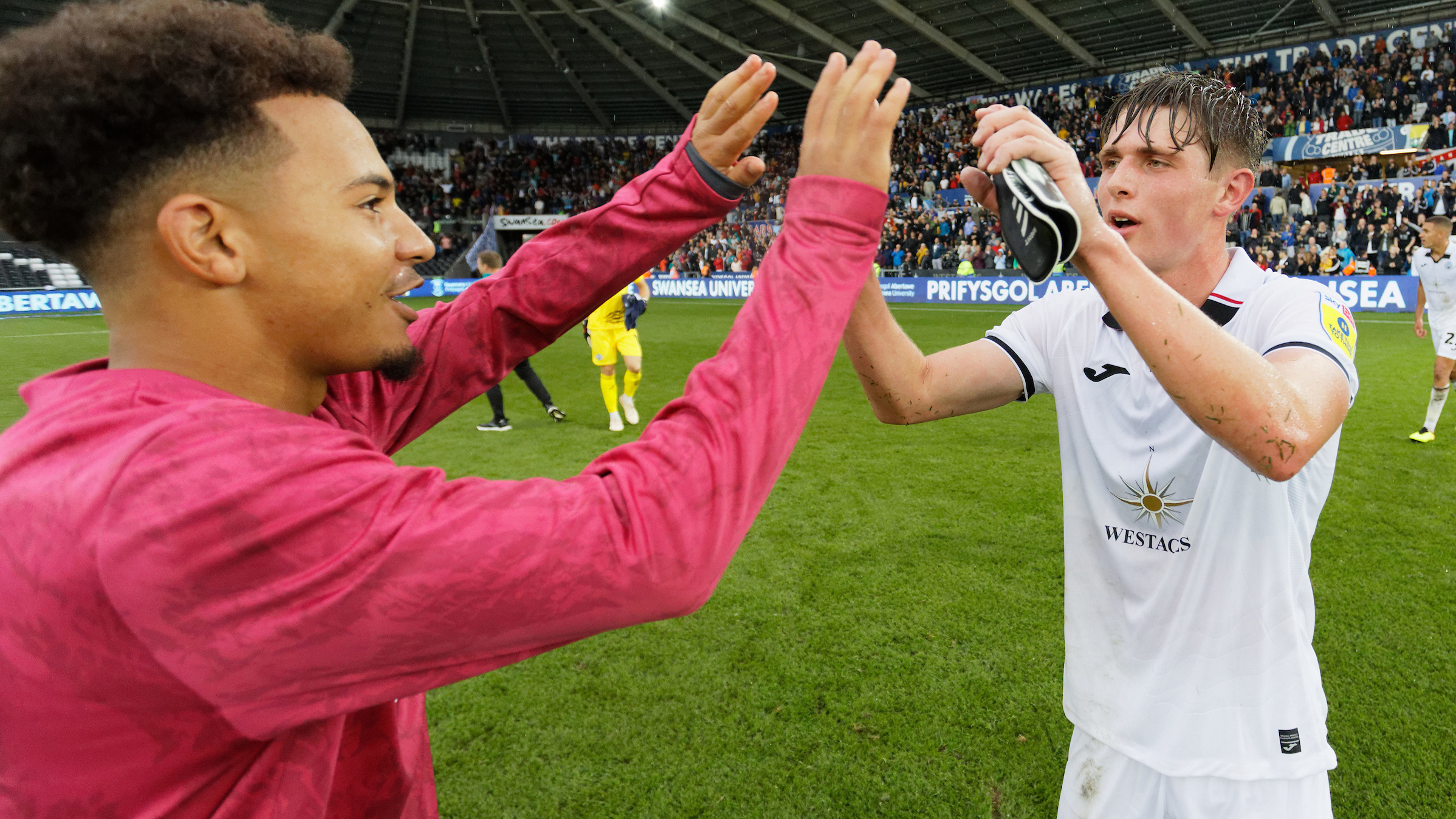 Martin and his senior players, including captain Matt Grimes, have made the point that this is a young squad that will inevitably take time to gel. Of the seven signings Swansea made over the course of the summer, only Joe Allen was older than the age of 23.
This chimes with one of the remits Martin and his staff were given upon their arrivals; to reduce the average age of the squad and bring in hungry, ambitious young players to develop and aid the club's efforts to establish a successful, player trading model.
There can be no doubt that they are delivering on that score with Flynn Downes the foremost example of what that model can look like.
Since Martin's appointment, only four players have been signed who have been over the age of 23 at the time of their arrival in SA1: Jamie Paterson, Olivier Ntcham, Cyrus Christie and Allen.
In just two years the Swans have gone from having an average starting line-up age of 26.3 years to the average age of all players used in the Championship this season being just 24.5 years.
The Swans do possess one of the youngest squads in the Championship, with Blackpool and Blackburn the only two sides regularly naming starting line-ups with a lower average age.
Of all the starting XIs named in the Championship so far this term (185), all of Swansea's rank inside the 50 with the lowest average age.
Indeed, the Swansea team on the pitch at the end of the win over QPR included four players aged 20 and under (Nathan Wood, Luke Cundle, Armstrong Oko-Flex and Fin Stevens), and had an average age of 23.
The Swans have regularly fielded teams including seven players aged just 23 or under, with a number of those also youthful in terms of Championship experience.
Of all players signed for the first team since the start of the 2021-22 season, only two have had more than 50 Championship appearances to their name upon their arrival at Swansea.
Hence, there is a steep learning curve for many players to overcome, with experienced heads such as Grimes, Allen, Kyle Naughton and Jamie Paterson key on providing support for those taking their formative steps at this level.
Additionally, it has to be factored in that player development is never linear, it is never simply just an upward trajectory. However, those who can learn and adapt quickly – Joel Piroe is an obvious example – underline what can be achieved.
Swansea City's Championship rank for:
Youngest average age of players used: 3rd (24.5 years of age)
Lowest average age of a starting XI per club: 3rd (only Blackpool and Blackburn have fielded younger XIs).
Conclusion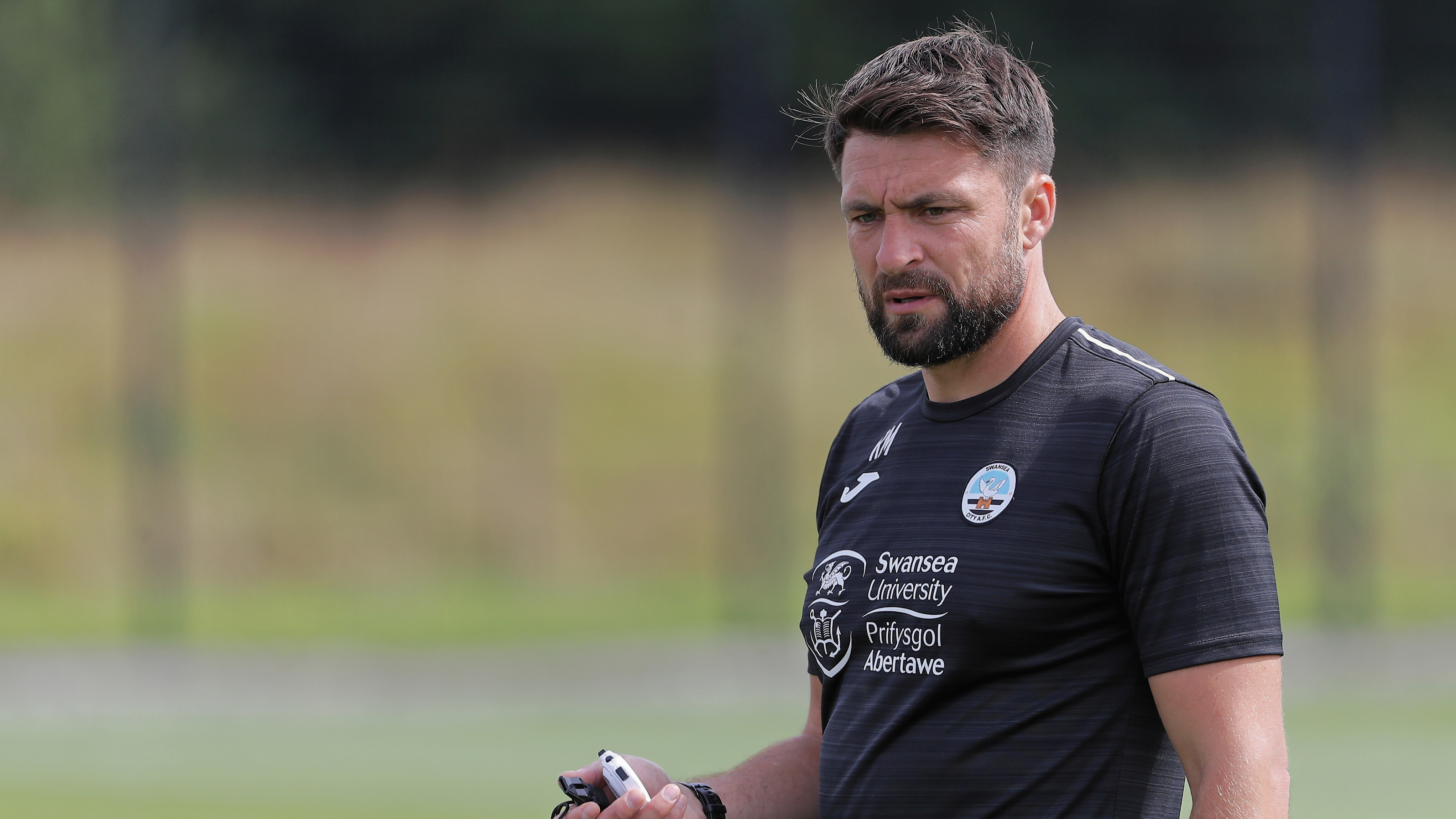 The numbers back up head coach Martin's assertion that there are clear signs of progression from his team this season, and that the benefits of a full pre-season – as opposed to the non-existent preparations for last term – can be seen.
Swansea clearly boast an increased attacking threat, and are creating more chances and having more efforts on goal.
Similarly, the defensive statistics suggest a side that is allowing fewer opportunities to opponents.
The frustration for all concerned comes from the fact results have not reflected that progression…yet.
When you put those figures into the big picture alongside results so far this term it is hard to avoid drawing the same conclusion as the first-team squad and coaching staff. It's those fine margins, and those key moments that are proving the difference.
Not that it will come as news to a coaching team who, it's worth remembering, have getting on for 1,500 senior appearances in the game under their belts.
Swansea are doing plenty of good work between the two boxes. The key will be to build on the showing at QPR, where they backed up that good work by taking their opportunities and showing a ruthless edge at both ends of the field.