What is a Supporters' club? How can I become a Global Jack?
8th January 2021
Fans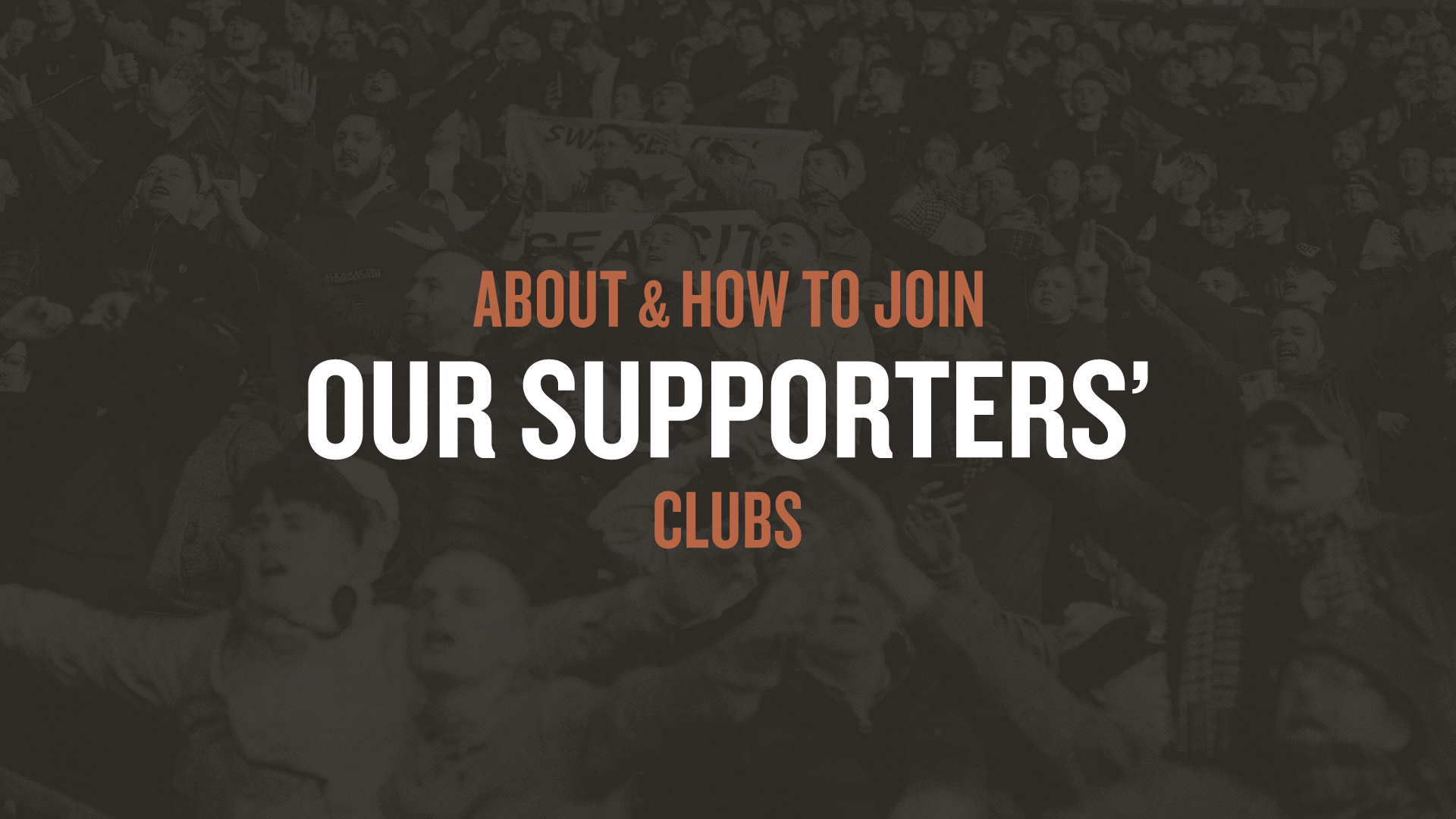 Our supporters, the mighty Jack Army, are the lifeblood of our club.
We have the best supporters, and we know Swansea City has followers all around the globe.
So, whether you are a regular attendee at the Swansea.com Stadium, or support us from afar; we thank you for your support and want to recognise your commitment to the club through these pages.
The purpose of the supporter groups section is so that you, our fellow Jacks, can get in touch and stay connected with the club and each other.
If you are within the vicinity of any of the groups listed among our supporters' groups HERE, why not get in touch with them and see how you can join?
If you have a group that is not recognized here, please complete our form HERE and email it to the club's supporter liaison officer and head of fan engagement, Catherine Thomas, at catherinethomas@swanseacity.com.
Fan Forums
The Club is committed to hosting fan forums and Structured Dialogues with its supporters. This can be facilitated in person for local supporter groups but also via video calls for international supporter groups. So, there is no reason not to get involved.
When these events are arranged they will be posted on the club website and shared with the supporter groups officially registered with us.
Get involved
Back a Jack
Back a Jack is a campaign launched in October 2020 to recognise the amazing efforts of supporters in contributing to their community and going above and beyond for each other. This campaign has been sponsored by local law firm, Peter Lynn & Partners.
Every month supporters are simply asked to nominate a fellow Jack they feel deserves recognition for their efforts. They will receive a prize and feature on the club's website, social media channels and in a matchday programme.
Entries must be submitted prior to the 20th of every month and emailed to support@swanseacity.com.
Jacks at home
Follow us on our social channels:
Send us in your pictures of your support while watching the Swans in action.
International supporters – planning a visit?
Get in touch with the club support liaison officer and head of fan engagement Catherine Thomas: catherinethomas@swanseacity.com.
We will give advice of what you can do whilst you visit:
Stadium visits
Matchdays – we will help with group ticket purchases and ensure you have tickets in the right section of the ground to match your matchday expectations i.e. if you are travelling with a family with children, we would recommend you purchase tickets in our family stand, which is run by the Swansea City AFC Foundation and has a variety of games to keep the whole family entertained.

Stadium tours – when visiting, why not try to book in for a stadium tour to see behind the scenes of all the action?
Exploring Swansea and Wales
We would be happy to provide information on where to stay and places of interest to make your visit truly memorable.
Holding an event?
Get in touch to let us know the date and what the event is for – if it's just a get together or an event for charity – let us know and we will see what we can do to help support you further.
We love feedback and suggestions! If you want to give us feedback or have a suggestion you think may help your supporters groups and fellow fans, please email Catherine Thomas on catherinethomas@swanseacity.com.
Thank you very much - diolch yn fawr.
Supporters Groups Working Group
To help our 50+ Swans Supporters Groups develop still further, a working group has recently been established to ensure they are provided with a direct voice to the club.
The group meet up with Swansea City head of fan engagement Catherine Thomas at least once a month and have representatives from local, international and Stateside Jacks Supporters Groups as well as the Swansea City Supporters Trust to ensure the needs of all our groups are provided for.
All of our affiliated Supporters Groups are regularly kept updated of the outcome of these meetings and invited to raise any concerns of their own by emailing globaljacks@swanstrust.co.uk
If you'd like some help or advice about how to set up your own affiliated Swans Supporters Group then again don't hesitate to get in touch! We have Jack Army supporters all over the world and the more groups available to help bring them together the better!
 #GlobalJacks
As a further initiative to help bring members of all our 50+ Swans Supporters Groups together , there are established social media accounts which supporters are encouraged to join and get involved with:
Wherever possible use #GlobalJacks in posts. The group also occasionally run competitions and features as well as encouraging followers to join up and use the platforms to get to know other Swans supporters from all over the world.