Pricing and finance options
Over the past four seasons, the club has reduced season ticket prices significantly, and we are pleased to offer one of the cheapest season ticket pricing structures across the Championship.
As a club, we hope to continue to build with the momentum this season and get as many of our supporters to back our boys at our home for the 2022-23 campaign.
The club can also confirm it has been in regular dialogue with the Supporters' Trust over the 2022/23 season ticket pricing and they welcome the positive pricing strategy on behalf of the fans.
For next season we have updated our pricing structure to align adult pricing across the stadium, whilst introducing a lower adult price, for adults with children in our South Stand.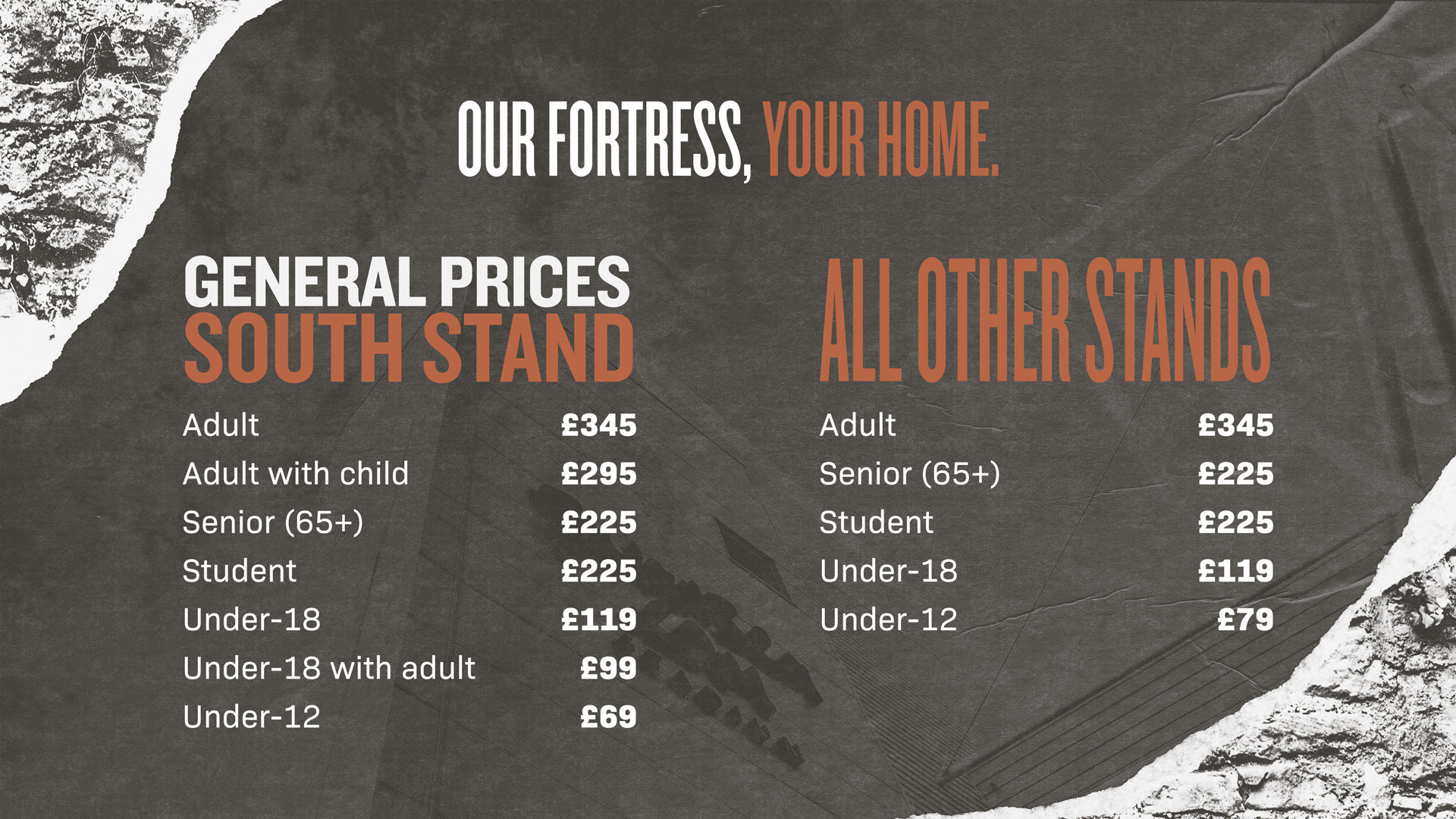 Please note that a £3.50 booking fee will apply to all season ticket purchases.
Finance options
Finance options are available on our 2022-23 season tickets. There is a minimum spend of £150 applicable.
Supporters can pay for their season ticket(s) over 5 or 10 months, with an admin fee added onto the first month's payment. The admin fee will be £26 for a 5-month plan and £38 for a 10-month plan.
Supporters who wish to purchase their season ticket using a finance option must do so online. To do this, simply visit our eTicketing website. When checking out, you will have the option to purchase via 'Debit/Credit Card' or via 'V12 Finance Instalment Plan Application'.
If you wish to take out the finance option, please click 'V12 Finance Instalment Plan Application' and follow the steps required. 
Representative Example:
Amount of Credit £322.00. Total amount repayable £360.00.
If one adult season card purchased at a cash price and amount of credit is £322.00, this would be repaid by one monthly payment of £70.20 (which includes arrangement fee of £38.00), followed by nine monthly payments of £32.20. The rate of interest is 0% per annum; the total amount payable is £360.00 and the total charge for credit is £38.00. Representative 31.31% APR.