Andre Ayew | To achieve promotion with Swansea City would be a career highlight
21st May 2021
First team
Andre Ayew says helping Swansea City return to the Premier League would be among the finest achievements of his glittering career as he looks to help them complete a play-off semi-final victory over Barnsley.
The Swans host the Tykes in Saturday's second leg holding a 1-0 advantage thanks to Ayew's stunning finish in Monday's first game at Oakwell.
It was the 17th goal of the season for the Ghanaian, who has been Swansea's top scorer in each of the last two seasons.
The vice-captain has been an inspirational figure since returning to the squad following a loan spell with Fenerbahce in Turkey in the summer of 2019.
The 31-year-old has played and scored in World Cup and Champions League games, won silverware in France with Marseille and reached the African Cup of Nations final with Ghana.
But he believes helping Swansea reach Wembley, and hopefully taking the final step back to the top-flight, would be every bit as special.
"It would be among the tops for me," he said.
"I have grown to love the club and the fans. It's very special for me. It would be a big achievement for me because it would prove I can do it at any level.
"I've followed a lot of players who have played at a really high level, come down to the Championship, and not succeeded.
"For me, this has been a test to prove I can do it at any level. I have done it at every level and I've never doubted myself. I need to keep going.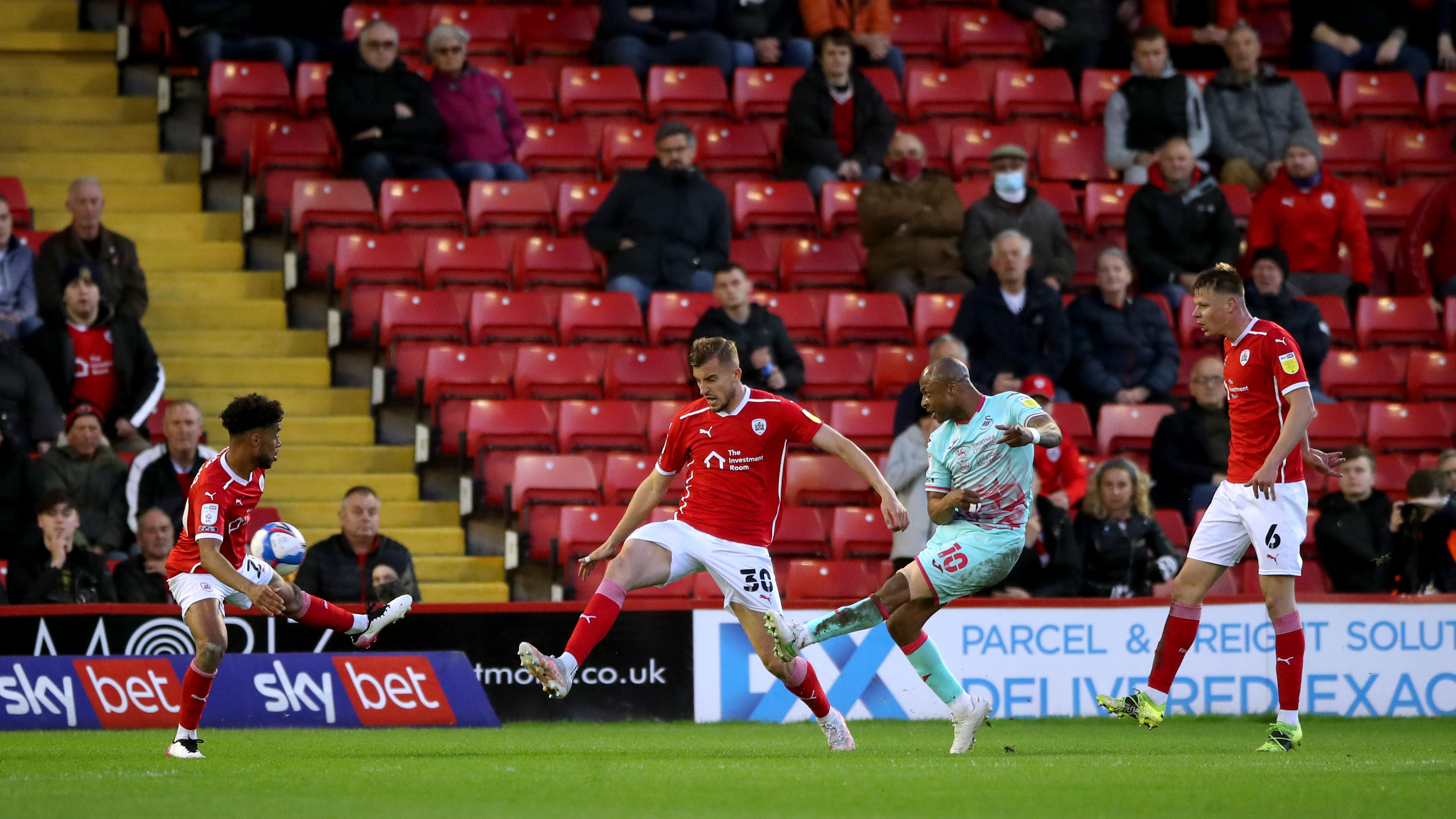 "If you work hard, you get rewarded and I want to make Swansea happy. In terms of me personally, this (promotion) would be very big.
"That's the reason why I stayed with this team. If there was no ambition to try and go up, then there would have been no point."
Ayew and his team-mates will play in front of the Jack Army for the first time in 14 months against the Tykes, with 3,000 set to attend the Liberty.  
Football without supporters has made for an eerie and flat atmosphere within grounds but, having had a sample of the return of fans at Barnsley, Ayew simply cannot wait to experience the support of the Jack Army in person once again.
"We can't wait – we just want to feel them back," he said.
"It's funny because whenever you go out to a stadium normally for the warm-up, the fans are not there yet. There are maybe a few, but when we got to Barnsley the 4,000 were already in! We were like 'Gosh, it's back!'
"You know some decisions are going to be weird because the pressure is more. We just want our stadium to be more than what it was at Barnsley.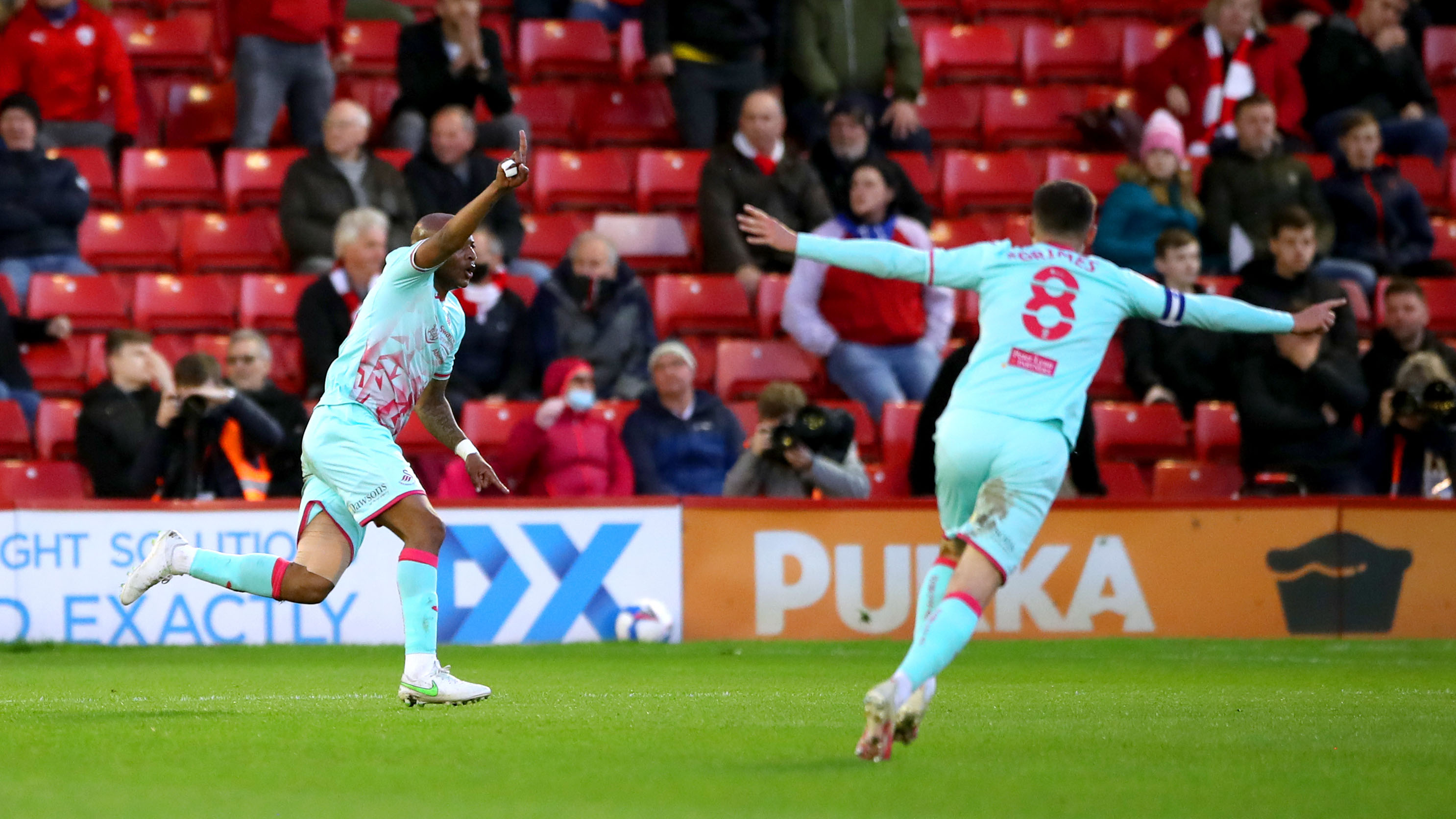 "We know what the Liberty is like when we are in these moments and have these big games coming up.
"It's something different. We know everybody isn't going to be there and as players we would love a full stadium for this game, but it's not the case.
"We are lucky to have a few in and it's the start of something. Hopefully we will have more back soon.
"I can guarantee all of the players can't wait for Saturday to feel the fans. We also want to feel they are happy with where we are.
"We are going to need them if we are going to go through on Saturday. It's a fact, because what is coming on Saturday is going to be very tough."