Arctic Monkeys | Concert Guide
8th June 2023
Latest News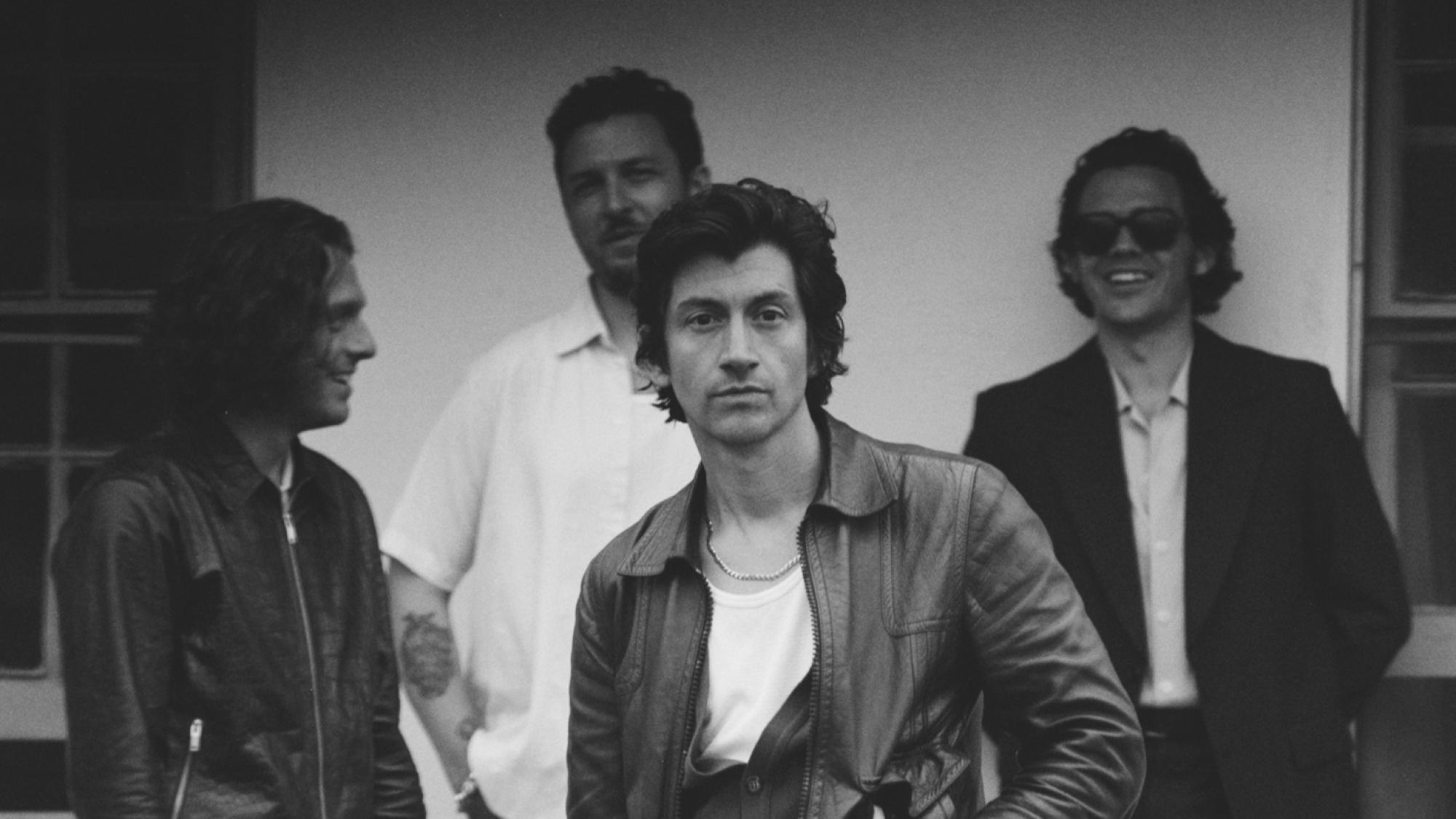 The Swansea.com Stadium will host Arctic Monkeys on June 12. On this page, you will find all the relevant information to help plan your trip to SA1. 
Please note that the Swansea.com Stadium is a cashless venue and will only accept card payments. 
Key timings
The north car park will be open from 3pm for those with pre-booked on-site parking. Please note this car park will close at 5.30pm and will reopen after the concert when it is deemed safe to do so. Parking outside of the 3pm-5.30pm window will not be permitted. 
Catering Village: 4pm–10.50pm 
Doors open: 5pm
Pitch Bars: 5pm–10.30pm
Concourse Food and Drink Kiosks: 5pm–10.30pm 
The Day's Lounge: 5pm-10.30pm 
Riverside: 5pm-10.30pm 
Hospitality: 5pm entry 
Concert-goers should be in the stadium bowl area for 6.30pm in preparation for the first support act. 
Please note all timings listed above are approximate and subject to change. 
Ticketing 
Your e-ticket will identify your allocated seat and entry point – enter the stadium via the entry gate specified on your ticket. 
If you are collecting your ticket, the box office is situated in the south west corner of the stadium. Please bring your confirmation email and reference number with you, along with proof of ID.  
Travel 
Please take into consideration the following: 
On Monday June 12 there will be a partial road closure in place from 2pm on Brunel Way.
Concert-goers who have parking on-site must access the car park via the A0467 dual carriageway. A vehicle drop-off lane will also be in place on the A4217 southbound at the junction of Brunel Way. 
There will also be a temporary road closure in place at the end of the concert.
Closure of the A4067 dual carriageway (opposite the stadium) will take place for at least 45 minutes, and roads will be re-opened once safe to do so. 
Please see the below pre-concert map to plan your trip: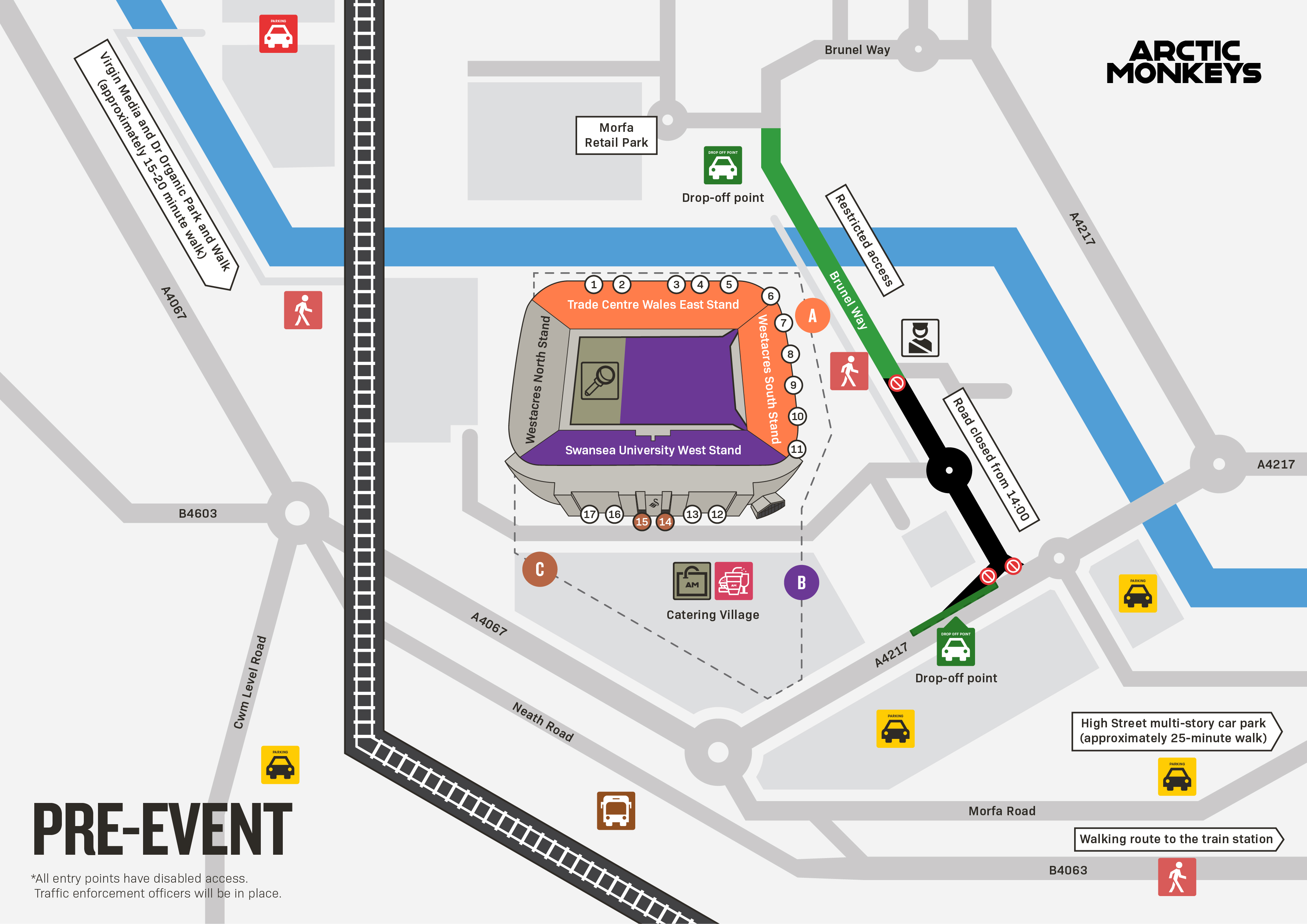 To plan your post-event journey please see our post-concert map below: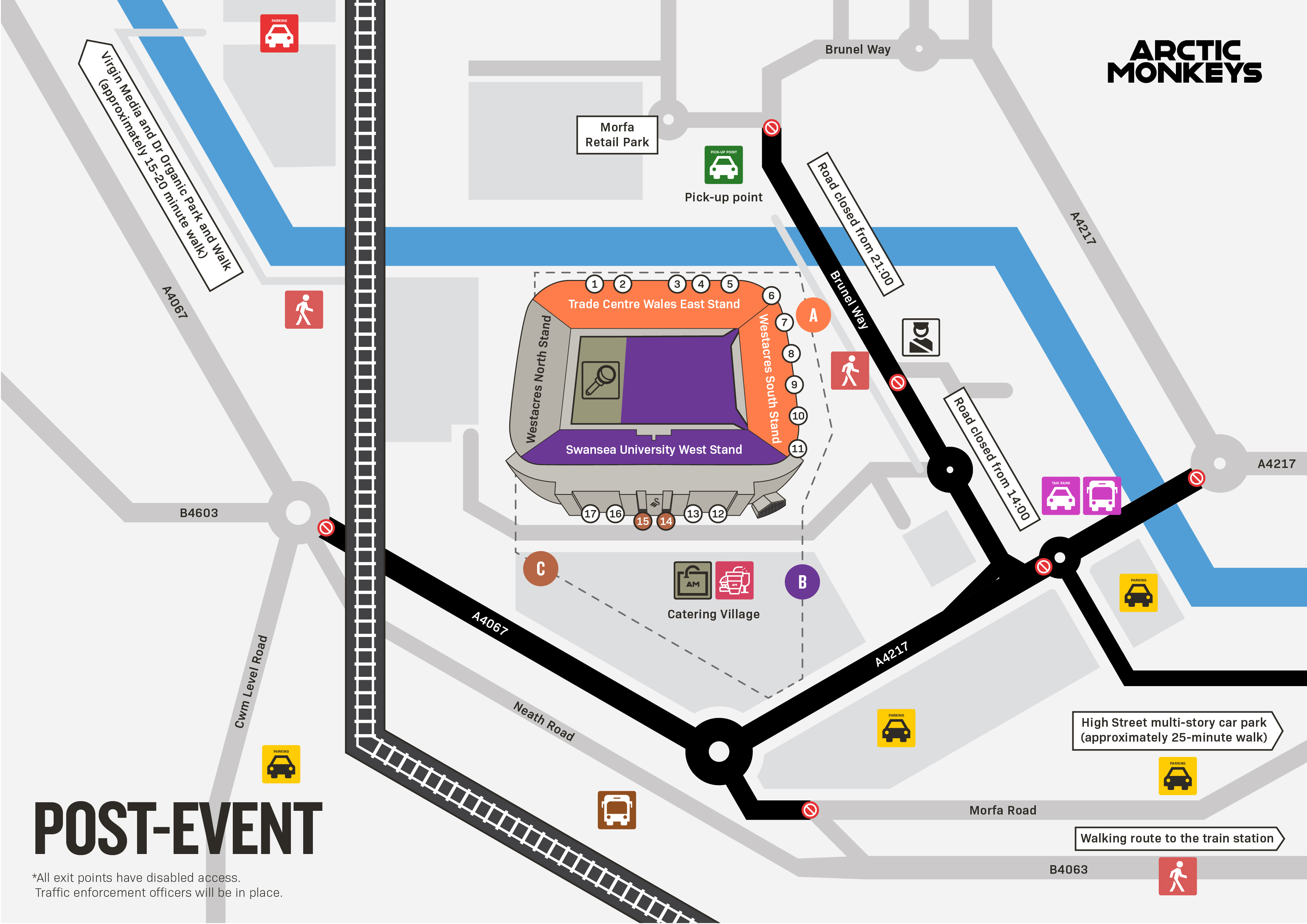 Turners will be operating a shuttle bus service from Swansea train station on High Street, between the hours of 4.30pm and 7pm, and then again from 10pm until 11.30pm. The cost of this service is £5 per seat.
Please note as it currently stands, there are limited train services departing Swansea after the concert. We highly recommend checking this prior to booking your travel.
Parking 
A limited amount of on-site parking is now available to purchase for this event at a cost of £20 per vehicle. Spaces will be in the north car park of the Swansea.com Stadium.
Last entry for this car park will be 5.30pm due to road closures. All access points for this car park will be closed from this time. 
This parking option is sold directly by the Swansea City ticket office and therefore if you have any queries, please do not hesitate to contact the ticket office via email ticketing@swanseacity.com or calling 01792 616400 and selecting option 1. 
For further information on parking, including alternative car parks, click here 
If you are travelling by coach, train, bus or shuttle please see here 
Prohibited items 
All event ticket holders are prohibited from bringing any bag into the stadium unless it is smaller than an A4 piece of paper (height: 297mm width: 210mm depth: 210mm). 
One bottle of water (500ml or smaller) in transparent plastic will be permitted, but these must be sealed on entry. 
The following items are prohibited and will not be allowed into the stadium: 
Glass (including perfume bottles)

Alcohol 
Drugs 

Flares/pyro/fireworks/smoke cannisters 

Unmanned Aerial Vehicles (i.e drones) or other similar articles 

Tin cans 

Hard plastic cups 
Banners with poles, flags or political/crude banners/flags 

Professional cameras (with large telephoto/detachable lenses)  

Selfie sticks 

Lasers/laser pens 

Video recording equipment 
Audio recording equipment 

Animals (other than assistance/support) 

Anything deemed dangerous or a possible weapon that could cause injury or compromise safety 
Any person in possession of any such articles may be refused entrance. 
Please note, we reserve the right to search everyone upon entry of the concert.  
Food & drink 
The catering village will offer a selection of food that ranges from burger, carvery and chicken units to noodle and pizza vans. A vegan unit offering a meat and dairy-free menu will also be on-site. 
Alcoholic beverages will also be available in the Catering Village, with guests able to choose from the cocktail bar, the AU Vodka van or the large marquee beer tent.  
Photo ID may be requested at the time of purchase.
Beverages will also be available from the concourses where concert-goers can choose from a variety of both alcoholic and soft drinks. Food will be on offer at selected kiosks, with hot dogs, burgers or dirty fries available. 
The Day's Lounge, located on level 2 of the stadium, will be open for public access to those situated in the West Stand, with a variety of street food and alcoholic beverages available, including AU Vodka slushies. 
Guests located in the East Stand will have access to the Riverside Lounge, with beverages and confectionary available to purchase. 
Hospitality 
Hospitality guests are reminded that entry will begin at 5pm. 
The hospitality lounges will remain open post-concert with guests able to enjoy beverages after the event has finished. 
Accessibility 
Please note that there are only a few wheelchair bays available to purchase. These can be purchased over the phone via the ticket office 01792 616400 (option 1).  
Please note, we do not have capacity to move tickets into wheelchair bay areas on the day. 
If you have any queries regarding the event, we ask you to please get in touch with our team via email on accessibility@swanseacity.com. 
For any further information on the Arctic Monkeys concert please visit the official Concert Information page here