Ben Cabango | Road to Recovery | Part Two
22nd September 2022
First team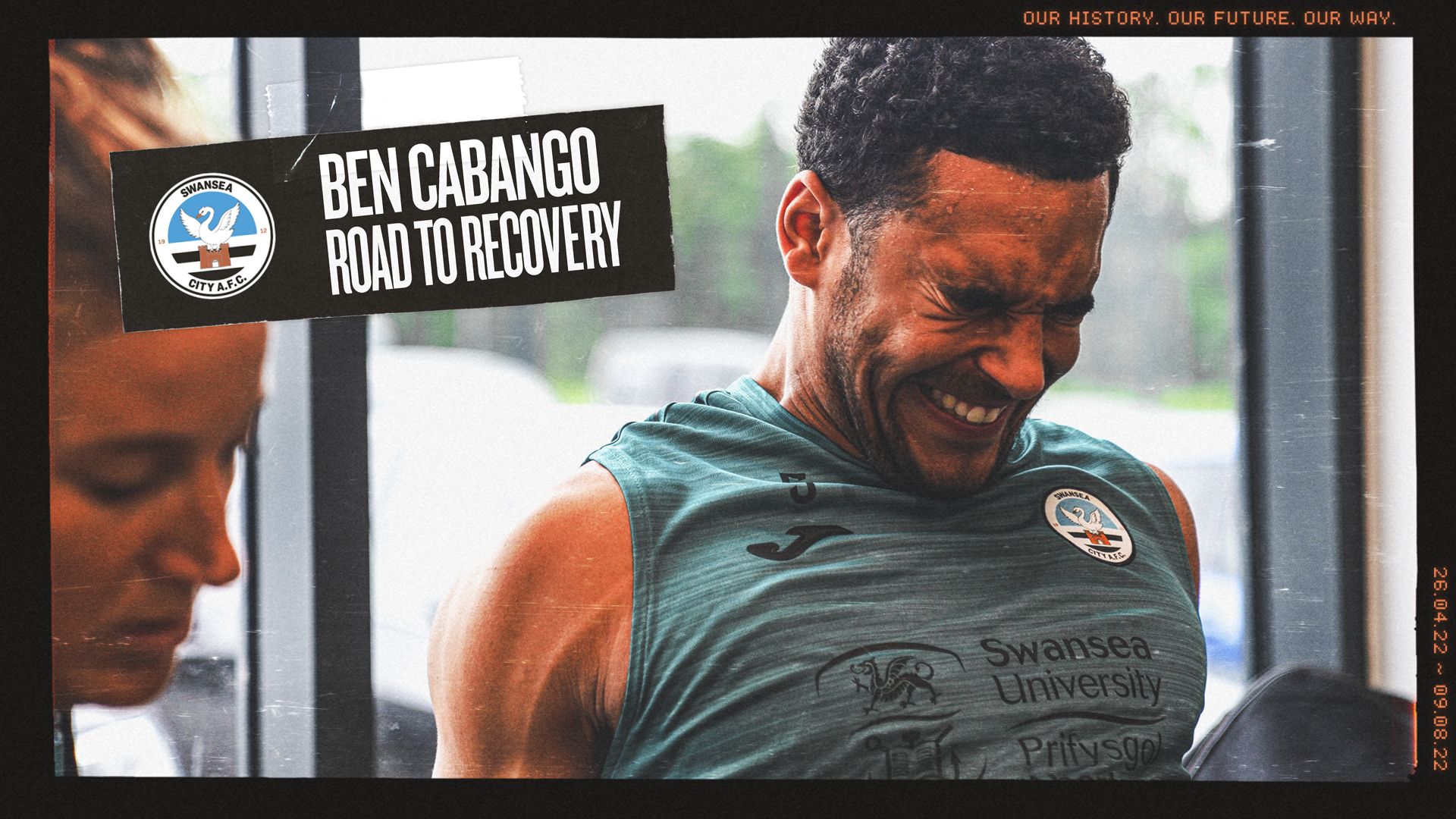 Part Five: Avoiding setbacks, strength and conditioning
All this work builds in intensity as time goes on, but there is also continual work to extend the range of movement in the joint, as well as its strength and stability.
While Cabango's recovery did not involve any setbacks, there were instances where the detection of any sort of swelling around the ankle area means that things inevitably have to go down a notch.
An ultrasound machine is used to locate the swelling and assess whether there is anything amiss.
"The ultrasound is a diagnostic tool that we use in Fairwood," says McCluskey.
"It is a very useful piece of equipment to have to give us instant information about what is going on within the body, rather than sending for MRI scans or X-rays.  
"Ritson [Lloyd, then head of physiotherapy for Swansea City] had a look at the ankle joint during Ben's rehab. There was a bit of swelling post operation after the repair. He was just checking what was going on inside and around the joint.
"We have to understand what we are dealing with before we move on, and if it means that we ease the player's workload than that's a decision taken in the best long-term interest of the individual's recovery, even though little things like that can obviously be frustrating.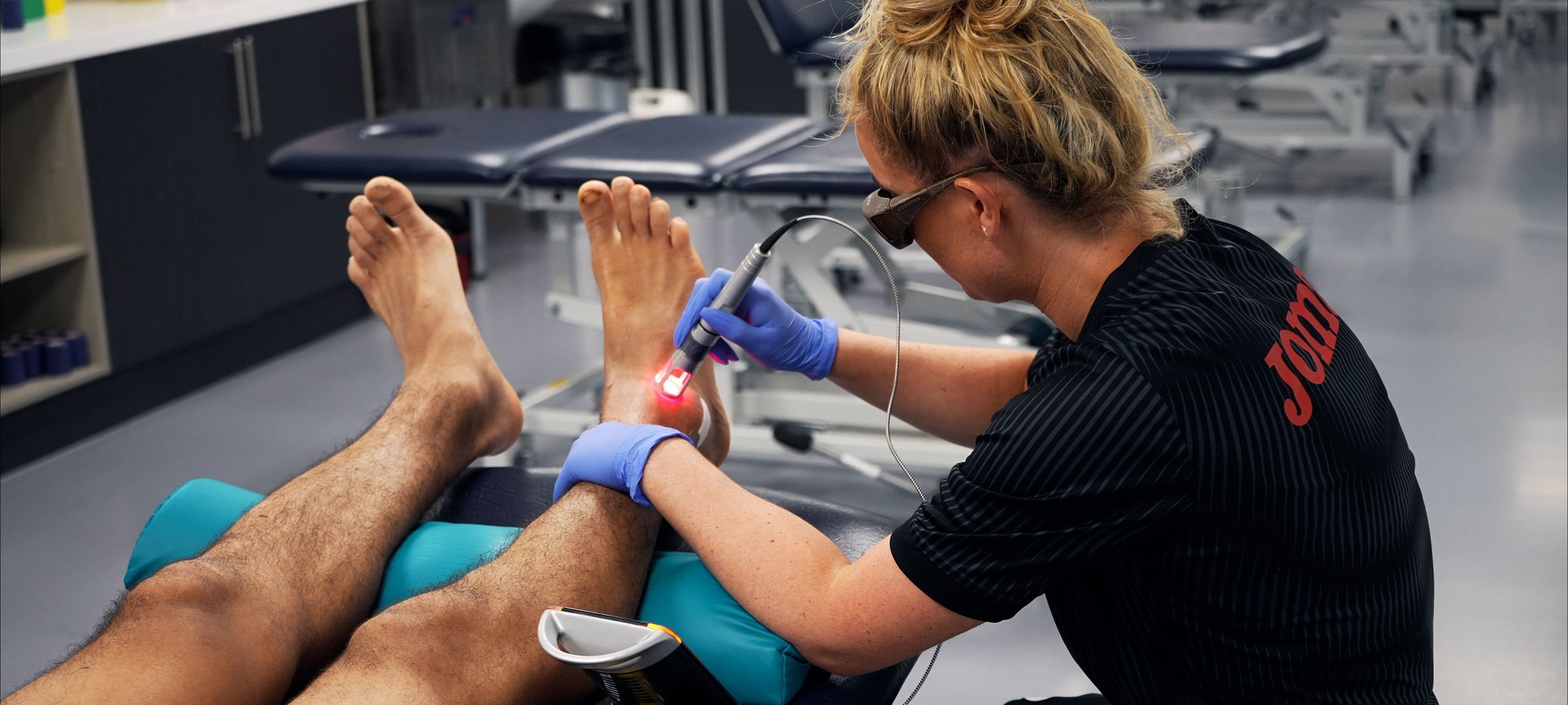 "You expect a bit of swelling post operation. It's reactive swelling and we try to make sure we're not getting any additional reaction after doing any sessions.
"Obviously any pain is something we don't want post operation, so the ultrasound is a good way to keep an eye on what is going on inside because you can't see on the outside."
"Those days are definitely frustrating," adds Cabango.
"Having that first game in my head that I wanted to get back for and it felt those days were pushing me back.
"I just had to make sure I was keeping on top of these things, knowing I would be close to being back for the first game. I think that did keep me in a good mental space knowing I was going to make it back." 
Additionally, a tool – which for the untrained eye may look something like a razor – is used to help loosen up the fascia, which is a thin casing of tissue that surrounds and holds all the body's organs, blood vessels, muscles and nerve fibres.
Under stress it can tighten up and affect the signals the nerve endings and muscles receive, which is not ideal when the player and medical staff require a full picture of what is going on as the injured area recovers.
"All your muscles sit within an outer lining called fascia. The easiest way to describe it is if you think of a balloon's outer lining," says Chaddock.
"The muscle is the air inside and the fascia is the balloon on the outside. Sometimes you can get muscle tightness, but you can also get fascial tightness as well. That can become irritated with nerve endings sending pain signals if it's stretched or injured.  
"The tool we use releases the fascia.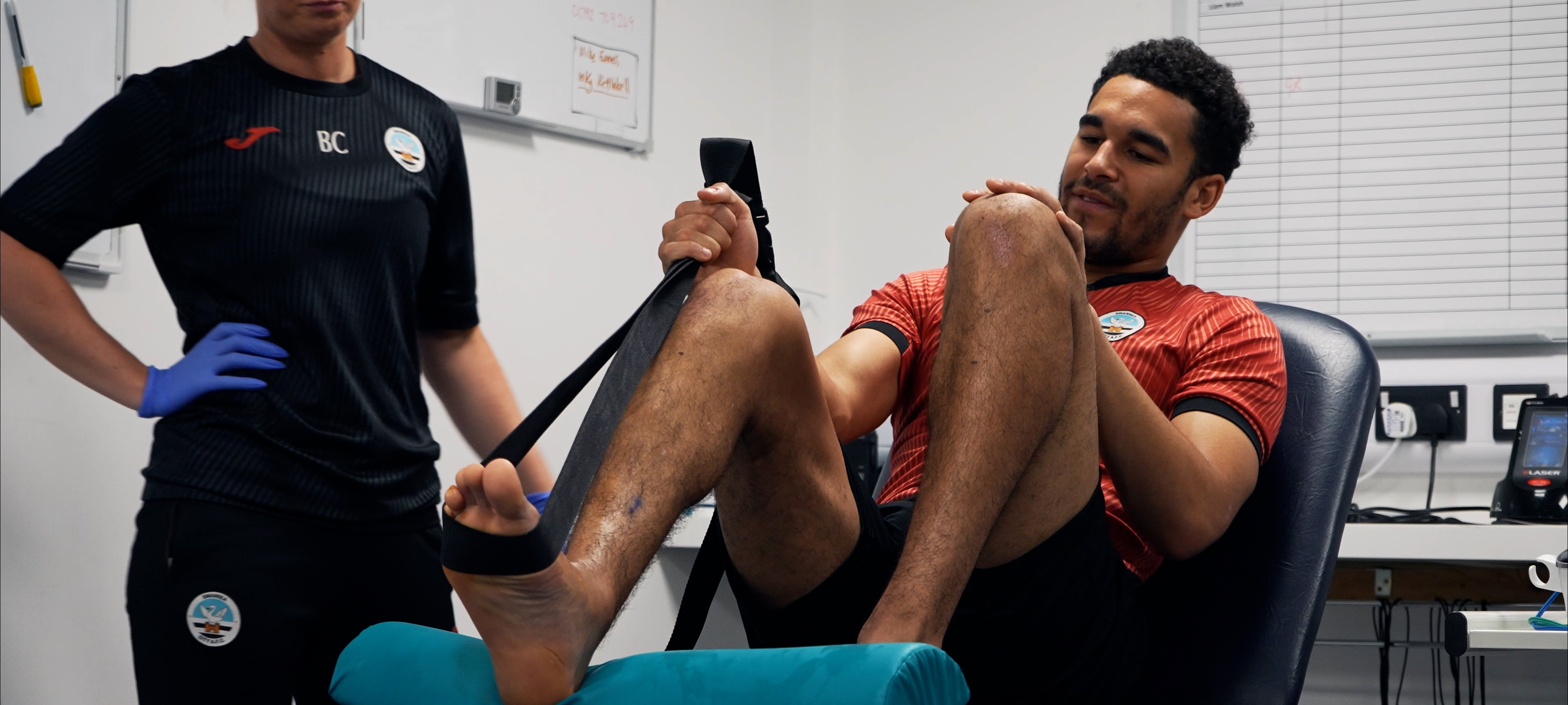 "It can be slightly painful if you have had an operation in that area, it makes it slightly sensitive. We use it really lightly over the area to get a light touch to get the nerves endings back to feeling what they should feel, as opposed to being overly sensitive and feeling like a sharp pain sensation." 
All the while various stretches and resistance exercises are performed, repeated and gradually extended to build up strength and stability, while the bike and treadmill work also starts to increase in intensity.
There is still plenty of hard work to get through, but the prospect of getting out on the grass again is getting tantalisingly close.
Around the time of the pre-season training camp at Pennyhill Park, Cabango returns to his surgeon for a review of his progress. It's a positive verdict and the prospect of being fit for the start of the season – meaning a return ahead of schedule – is within reach.
Part Six: Back out on the grass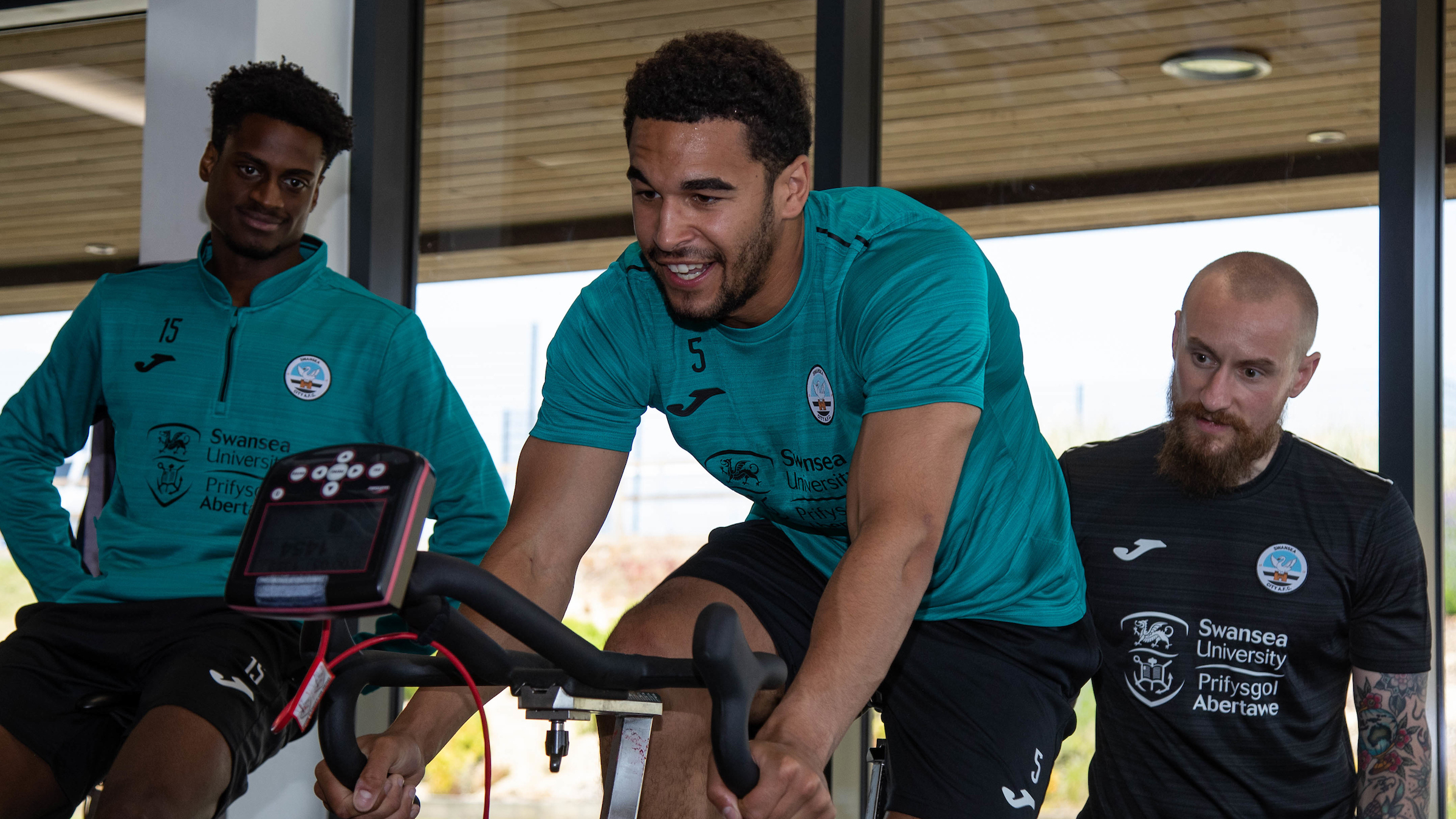 Finally, the day arrives and Cabango – rather than having to watch his team-mates, plus new signings who play in his position, head out to train without him – is finally heading out onto the pitches at Fairwood.
He is not going to play a full part in this session, or in any session, for a little while yet. But he is back among the group and will feel properly part of the squad again.
He joins in the warm-up, but he then breaks off into one-on-one work with head of performance Tom Barnden, head of rehabilitation Rhys Owen and head of physical performance Matt Willmott.
Again, this individual work is to build up Cabango's strength and conditioning so that when he does fully join in with training, he is in the best possible position to be able to handle its demands and perform to the level he is capable of.
"It's such a nice feeling. As soon as you put your boots on you feel like you've made it," says Cabango.
"The running isn't exactly easy to get yourself back into shape but it was such a good feeling to put all that hard work in so that I could be back on the grass, back training and back with the boys as well. 
"Being injured over the off season, coming in working hard by myself and with Dan Williams, who was also injured, is not easy and it was really good having Dan there too, we would push each other and motivate each other.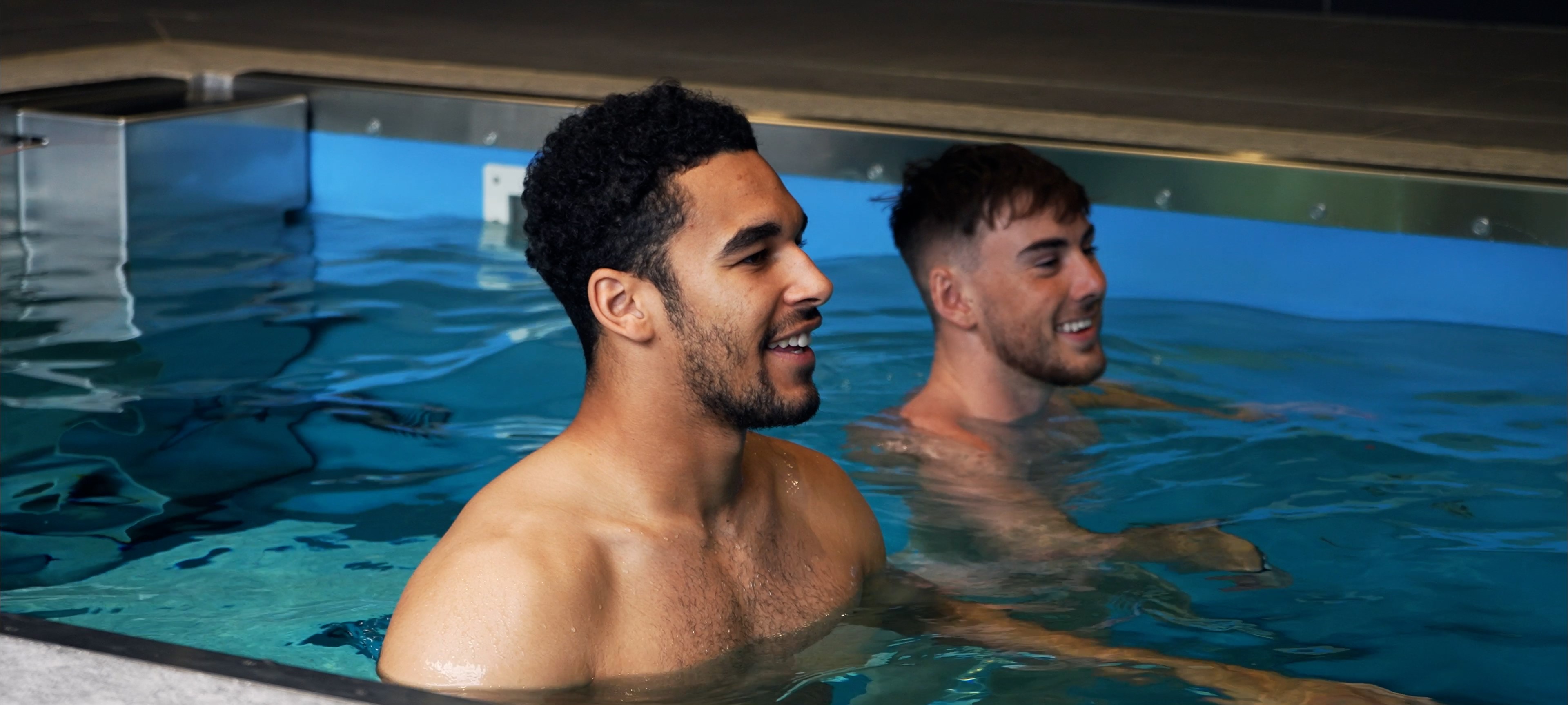 "If I was injured during the season seeing the boys going out to train would be really frustrating. When I was back out with boys it just felt right and felt good." 
All the while, the Wattbike and SkiErg workouts in the altitude chamber have continued, as well as those running sessions on the anti-gravity treadmill.
"We've got a number of settings in the altitude chamber," says Jones.
"Usually we go to 2,500 metres (Ben Nevis the highest peak in Britain stands at 1,345 metres above sea level), which is quite high.
"When you go into the room you can feel the oxygen is thinner when you're talking to the players before they even start.
"It is hard work for them to do sessions in there. It should be though; they've got to work all the way through rehab even when they can't use their legs. 
"The SkiErg is cardiovascular based for the upper body, while the Wattbike is great for quads and calves to get them going.
"Then there's lots of things we can do in the HydroWorx pool. It's a fantastic piece of equipment. The best that we've got in Fairwood.
"You can drop the pool to the height that you want to and you can control the percentage of the player's body weight that he will bear during the session.
"When we're bringing players back to fitness, quite often they'll go from non-weight bearing, to partial weight bearing, to full weight baring. It's a good way to try and classify that, and work at those different levels. 
"There's a video camera in there that you can have a look at their running pattern and the immersion that is involved with the HydroWorx is fantastic for the sort of injury Ben had.
"The lower they are down in the pool, the more hydrostatic pressure is created around the body. It's a really good tool to use as soon as the scars are healed.
"The anti-gravity treadmill looks like you are wearing an oversized pair of shorts.
"But that allows you to control the amount of weight bearing the player has to do. They often say they imagine it's what running on the moon feels like and you can understand why.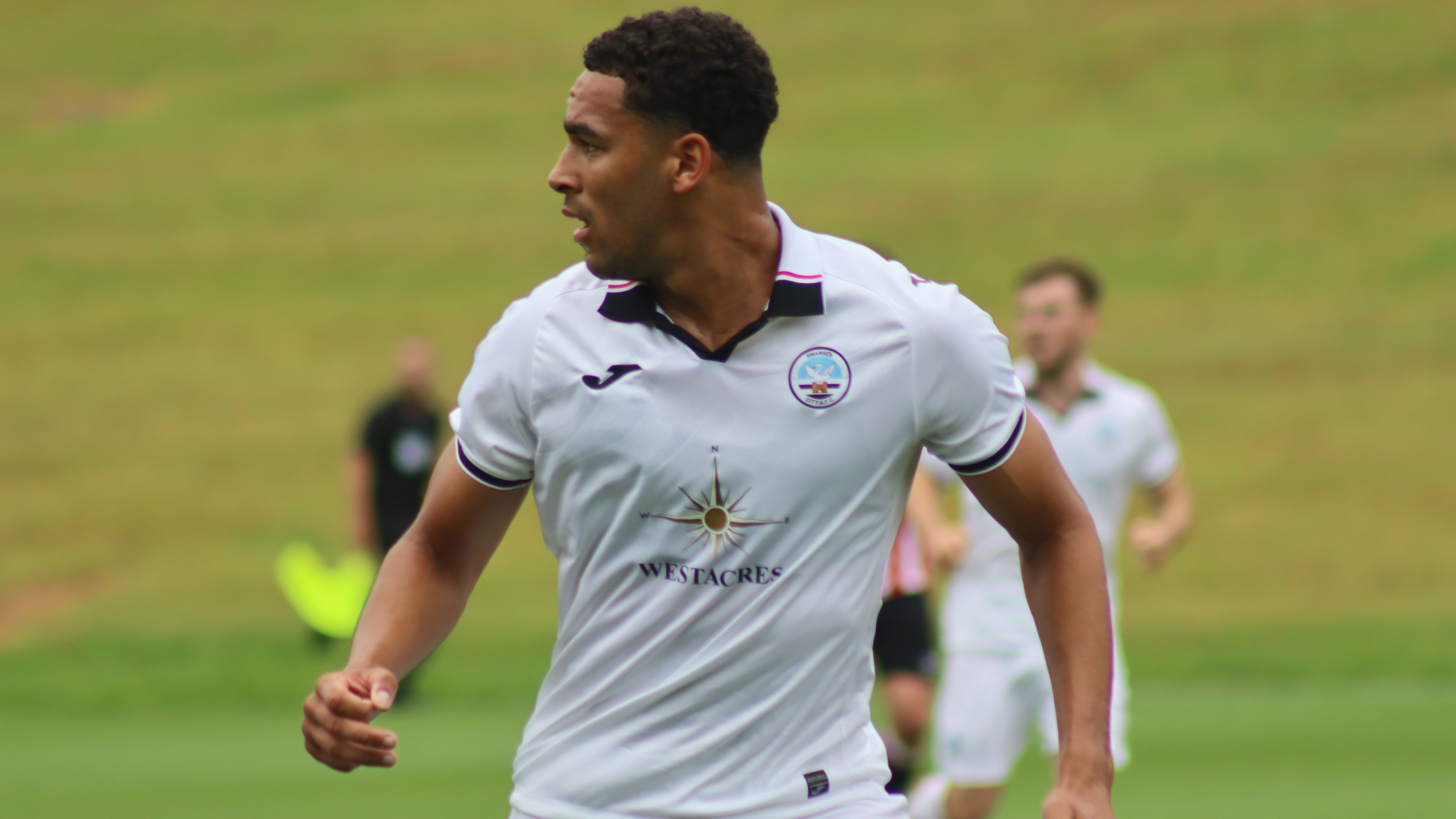 "If you are 20 per cent weight bearing, you can imagine what that is like having only 20 per cent of your weight on your feet.
"It's another tool that we use to progress through different rehab sessions before they are ready to take the full load and run taking all their weight."
It is hard work, an awful lot of running and high-intensity intervals, but after working so hard to get to this point, Cabango does not mind one bit.
"That's one bit I didn't enjoy, but I was glad to be getting through it because it was getting me closer to where I needed to be," he says.
"All the bike stuff, the running and the altitude stuff, it's really tough. But it is another really important thing you need to stay on top of.
"Without the conditioning you will be out of shape and I knew when I came back I needed to be in top shape to put myself in contention to be playing in that first game. It was constantly in my head even if I wasn't enjoying that bit of it." 
Part Seven: The Comeback (August 9)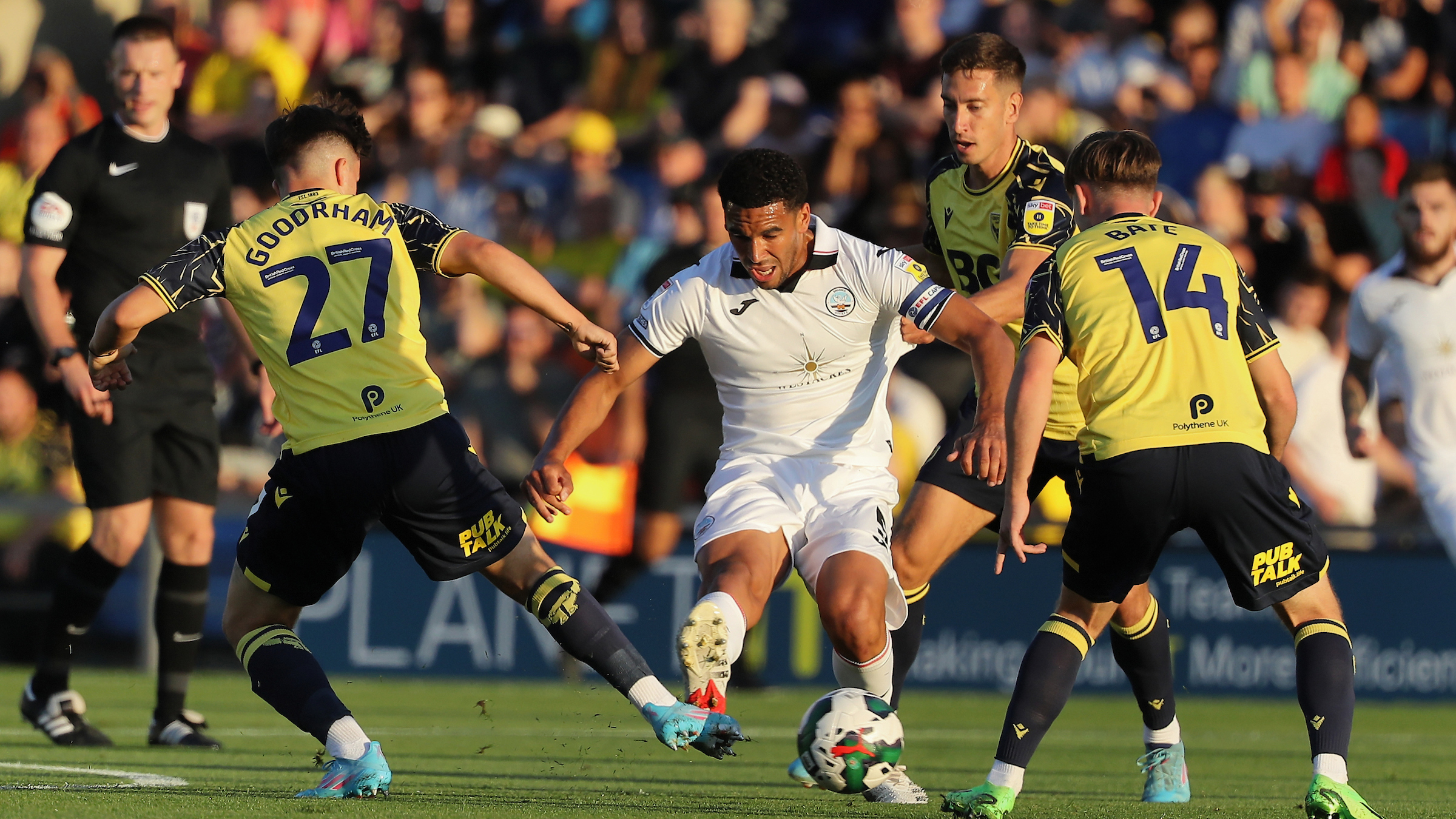 Finally, 106 days after the injury, Cabango walks into the Swansea City changing room at the Kassam Stadium and he knows he is going to play.
He has featured for the under-21s to get an hour of game time under his belt, and he has been on the bench for league games against Rotherham United and Blackburn Rovers.
But tonight, as he sees his number five shirt and the captain's armband waiting for him, he knows that all that hard work over 15 weeks has paid off and he is ready to go.
"It did really mean a lot to be back out there and captaining as well, which was a big surprise, a really good one," says Cabango.
"I was cramping at the end, but I did feel really good out there. The more minutes I'm going to get now the sharper I'm going to feel. I can't wait to play some more. 
"I have to thank the medical staff for all their help because I could not have done it without them."
Cabango has not looked back since, and has earned a fully deserved return to Wales duty for this September international break.
And the medical staff are delighted about the manner in which he returned to action.
"Ben was brilliant," says McCluskey.
"We've known Ben since he was in the academy, and he's matured over the years. He was brilliant, I can't speak highly enough of how he approached it.
"It's very difficult and obviously he's involved in the Wales set-up as well. It's a big year for Wales and that's in the back of his mind.
"The injury also happened at the end of the first season with the new manager that means you want to finish off well and look ahead to the next season.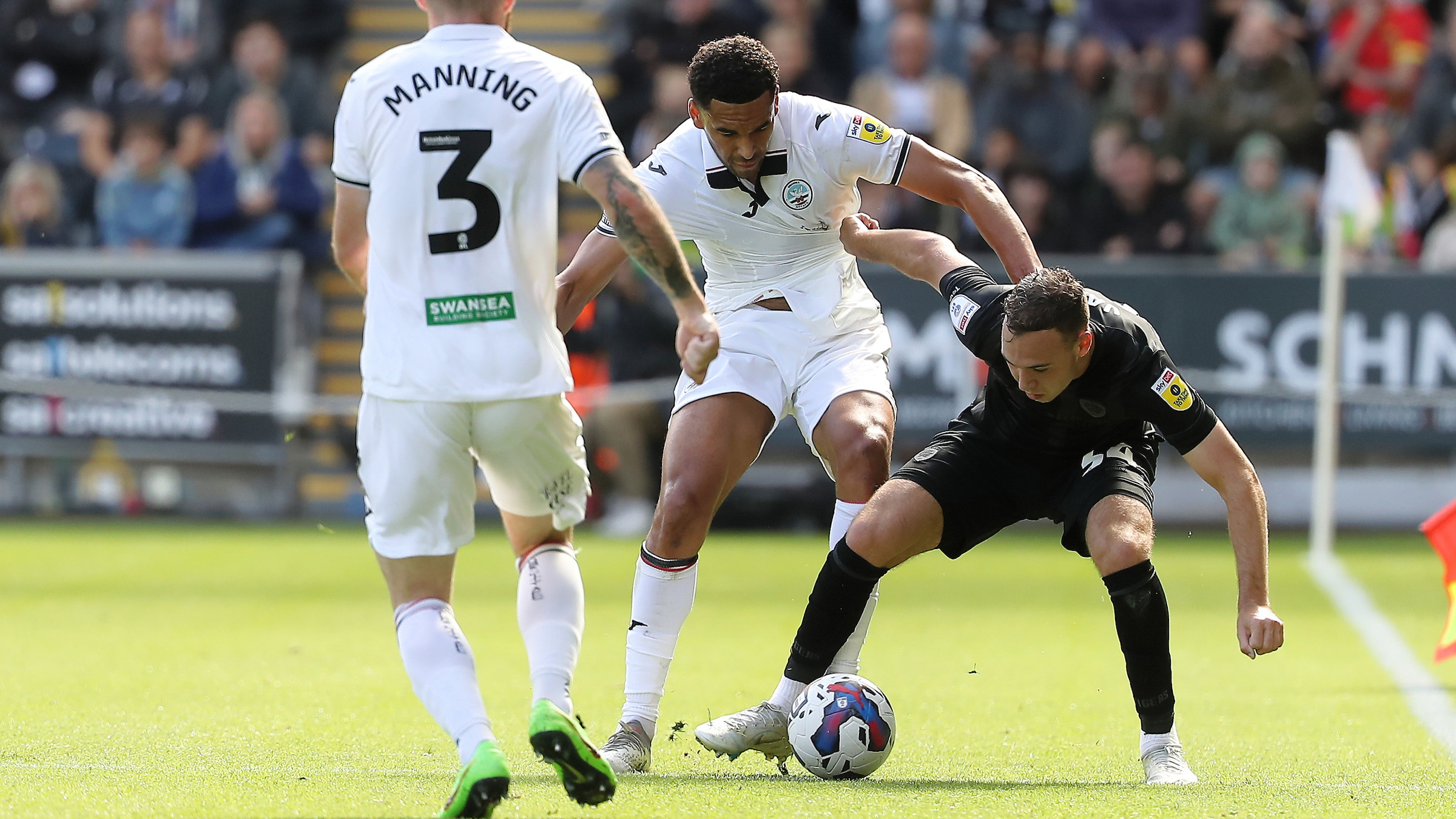 "He did everything and more than we expected of him and that's including the summer months which historically is their off season. That is where they look to get away from it all because during the season it's all consuming. The off season is their time just to switch off, to offload physically and mentally.
"Instead he was in with the physios working through and met all the milestones we wanted and actually got back sooner than some other players might have. 
"You've seen him now since he's come back. He played two games in a week so soon after coming back which is great and I'm delighted for him, and I am sure he will go from strength to strength now."
"That's what every single player wants to do – to get back out on to the pitch after their rehab," adds Chaddock.
"You get to spend a lot of time with them, especially with a lot of the long-term and mid-term rehabilitations. You get to know them really well, so it's nice to see their excitement to get back out there. They all get a bit giddy then, the last week when they're counting down.
"It's a nice feeling to see them get to where they are, and know they are going to be safe going out on the pitch."
And the final word goes to the man who benefits most from the work of the club's medical, sports science and performance staff when it comes to having his players fit and available for selection; head coach Russell Martin.
"They've all been brilliant. It's a real team effort when someone gets a long-term injury like Ben did," he says.
"Ailsa, Beth, Matt Murray, Jez, Matty Wilmott and the guys on the grass getting him back fit.
"They've all played a huge part in getting Ben back where he needs to be.  
"I think Ben's played the biggest part really, his mentality and attitude during it to kick on and get fit as quickly as possible with Dan Williams alongside him pushing him on.
"They had a very similar injury. They've all played a part and we're really grateful because Ben's in such a great place now and he's such an important member of our squad. 
"Ben's massive for us physically and literally, because of his personality, his courage to play the way we want to play and how much he improved last season with his mentality.
"He's developing into a leader of the group really. He can still develop into more of a leader, and he will do over time.
"He brings experience. Many of the centre-halves around him are young and have played fewer games at this level.
"Ben needs to keep doing what he's doing and improving and be the leader we think he can be. At this level he is a top player and top centre-half at such a young age."
You can read part one of the story of Ben's recovery HERE.
You can watch our special feature video documenting the process HERE.