This Christmas, we've got you covered
26th November 2020
Fans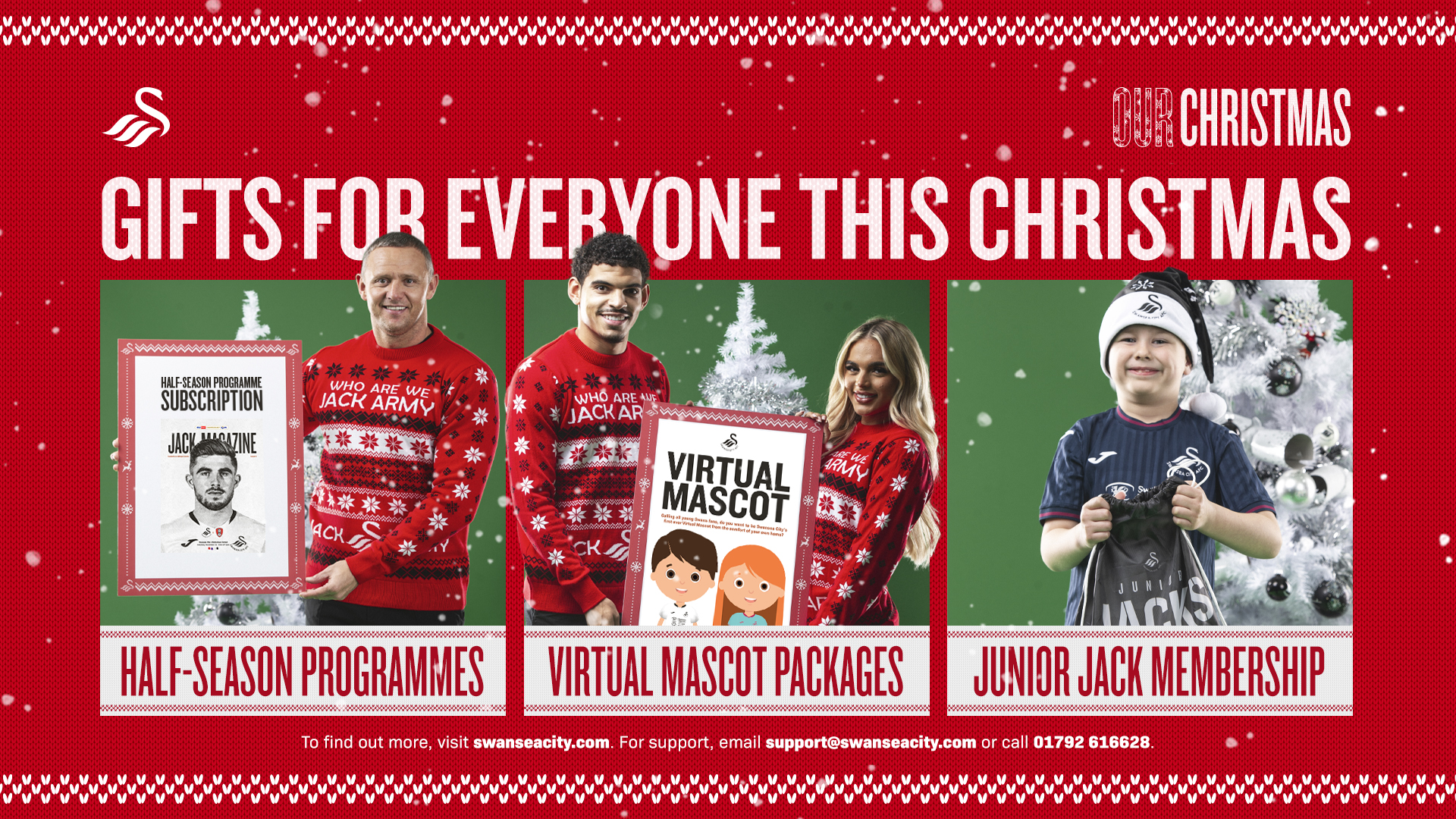 Looking for the perfect Christmas gift? Then look no further, we have got something for Swans supporters of all ages and tastes this festive period.
These include:
Junior Jack memberships.

Virtual mascot experience packages (from January onwards).

Half-season programme subscription (from January onwards).
Junior Jack Membership
Swansea City's popular Junior Jacks membership scheme is now available for purchase.
The Junior Jacks membership is designed specifically with our young fans in mind and includes exclusive discounts, competitions and a Swans goodie bag for everyone who signs up.
Junior Jacks is still the best place for all young Swans fans to come together and show their support for the club they love. Click HERE to learn more about the package.
 You can click HERE to buy the Junior Jack Membership.
Half season programme subscription (commencing January 2021)
Following the launch of the first half-season programme subscription package, we have now introduced a further half-season programme subscription which will commence from the home fixture against Watford on January 2, and run through to the conclusion of the 2020-21 season. A half-season subscription is available for a cost of £39.
Jack Magazine includes the usual manager and captain notes, plus features from the first team, the Academy and our Ladies side.
Additionally, we work closely with the club's Community Trust, and give you the lowdown on the Swans' opposition.
All physical copies of the matchday programme will be posted approximately two working days following the fixture. The programme will feature 56 pages and there will also be limited hard copies available in the club shop.
Please note that programmes for cup matches are not included and will be purchasable for £3 each.
Supporters are reminded that a free digital versions of the matchday programmes are available on the website the day of the match, and Swans club account holders will be emailed a copy prior to the match kick off.
Click HERE to purchase a half-season programme subscription.
Virtual mascot packages (from January 2021)
The virtual mascot packages were a new addition this season, and have been a roaring success with all fixtures sold out over the first half of the season.
We are delighted to be extending this fantastic package for the second half of the 2020-21 season, commencing with our fixture against Watford on January 2, 2021.
Young Swansea City fans can be a virtual mascot from the comfort of their own homes.
This is designed to be a truly unique experience for our Junior Jacks.
With packages starting at £99 click HERE to learn more about the home and away virtual mascot packages. Please note booking for the packages is online only.
Click HERE to book the home virtual mascot package or click HERE to book the away package.