Covid-19 remembrance wall installed at the Liberty Stadium
30th July 2021
Club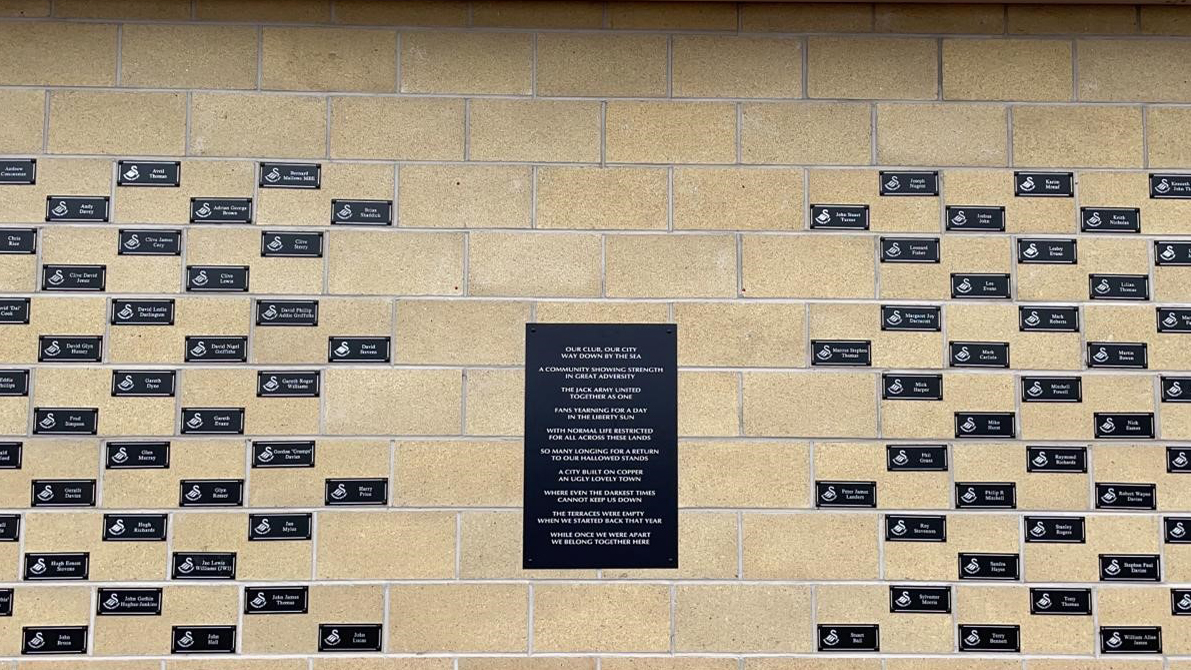 Swansea City can announce the Liberty Stadium's Covid-19 remembrance wall is now open in tribute to the many supporters who have sadly lost their lives over the past 18 months.
Back in March, the club, together with the Supporters' Trust, announced it would be installing the remembrance wall to remember members of the Jack Army who have lost their lives during the pandemic.
Both parties pledged to pay for the cost of a plaque and its installation in memory of each and every season ticket holder we have lost.
Anyone wishing to add plaques to the wall in memory of supporters who were not season-ticket holders were able to do so at a cost of £50, which covered the cost of the plaque, engraving and installation.
One hundred names were received following the initial announcement and those plaques have now been installed at the Liberty Stadium. The Covid-19 remembrance wall is situated on the outside of the South Stand of the stadium, opposite the official memorial garden, which opened back in May.
"The remembrance wall was intended to provide some comfort to families and friends who have lost loved ones during these unprecedented times, and we hope we have achieved this," said Swansea City chief executive Julian Winter.
"It is important for us as a club to display the names of our fallen supporters where they now form part of the permanent fabric of the stadium, and we give thanks to them for their loyal support of the club.
"We are a football family and receiving 100 names to be added to this wall has been a difficult realisation that we will open the stadium back up without so many who were with us prior to the pandemic."
The wall features a poem written for the Jack Army:
OUR CLUB, OUR CITY, WAY DOWN BY THE SEA
A COMMUNITY SHOWING GREAT STRENGTH, IN ADVERSITY
THE JACK ARMY UNITED, TOGETHER AS ONE
FANS YEARNING FOR A DAY IN THE LIBERTY SUN
WITH NORMAL LIFE RESTRICTED FOR ALL ACROSS THESE LANDS
SO MANY LONGING FOR A RETURN, TO OUR HALLOWED STANDS
A CITY BUILT ON COPPER, AN UGLY LOVELY TOWN
WHERE EVEN THE DARKEST TIMES CANNOT KEEP US DOWN
THE TERRACES WERE EMPTY WHEN WE STARTED BACK THAT YEAR
WHILE ONCE WE WERE APART, WE BELONG TOGETHER HERE.
The Covid-19 remembrance wall is now on display for any families, friends or supporters who wish to view it and pay their respects. The memorial garden opposite the wall features benches for supporters to sit and share memories.
The club has also received requests from supporters wishing to purchase plaques to be displayed at the stadium for loved ones who have passed away during periods outside of the pandemic. We are currently finalising the detail of this and will release further details in due course.