Finley Burns | I'm looking forward to learning and progressing
30th January 2022
First team
Finley Burns has said he is looking forward to learning and progressing under Russell Martin during his loan spell at Swansea City.
The 18-year-old centre-back has joined the Swans for the remainder of the 2021-22 season, subject to international clearance.
It has turned out to be a whirlwind of a weekend for the youngster, after he found out about the move on Friday before travelling from London to Swansea via Manchester but he is relishing the opportunity to play Championship football.
"I'm delighted to be here, I'm looking forward to it and I feel like I'm in great company," he said.
"I was on the train down to London actually to see my grandparents and then I got a phone call from my dad saying "Well done son, you're moving to the Swans!" and I was delighted.
"I got down here as soon as I could, I had to go straight back to Manchester and drive back down to Swansea. I'm buzzing.
"I've had a chance to speak to the manager and his staff and they're all great. They're delighted to have me here and I feel looked after already so I'm just looking forward to learning under him and progressing."
There are a couple of familiar faces in the Swans dressing room for Burns, with the defender having gone to the same school as Michael Obafemi and crossed paths with Joel Latibeaudiere whilst they were both in the Manchester City youth setup.
"Michael was a couple of years above me at school and I think it's fair to say he nicked my football from me at lunchtime a fair few times!" said Burns.
"Joel was at City too so it's great to see them do well and I hope to follow in their footsteps."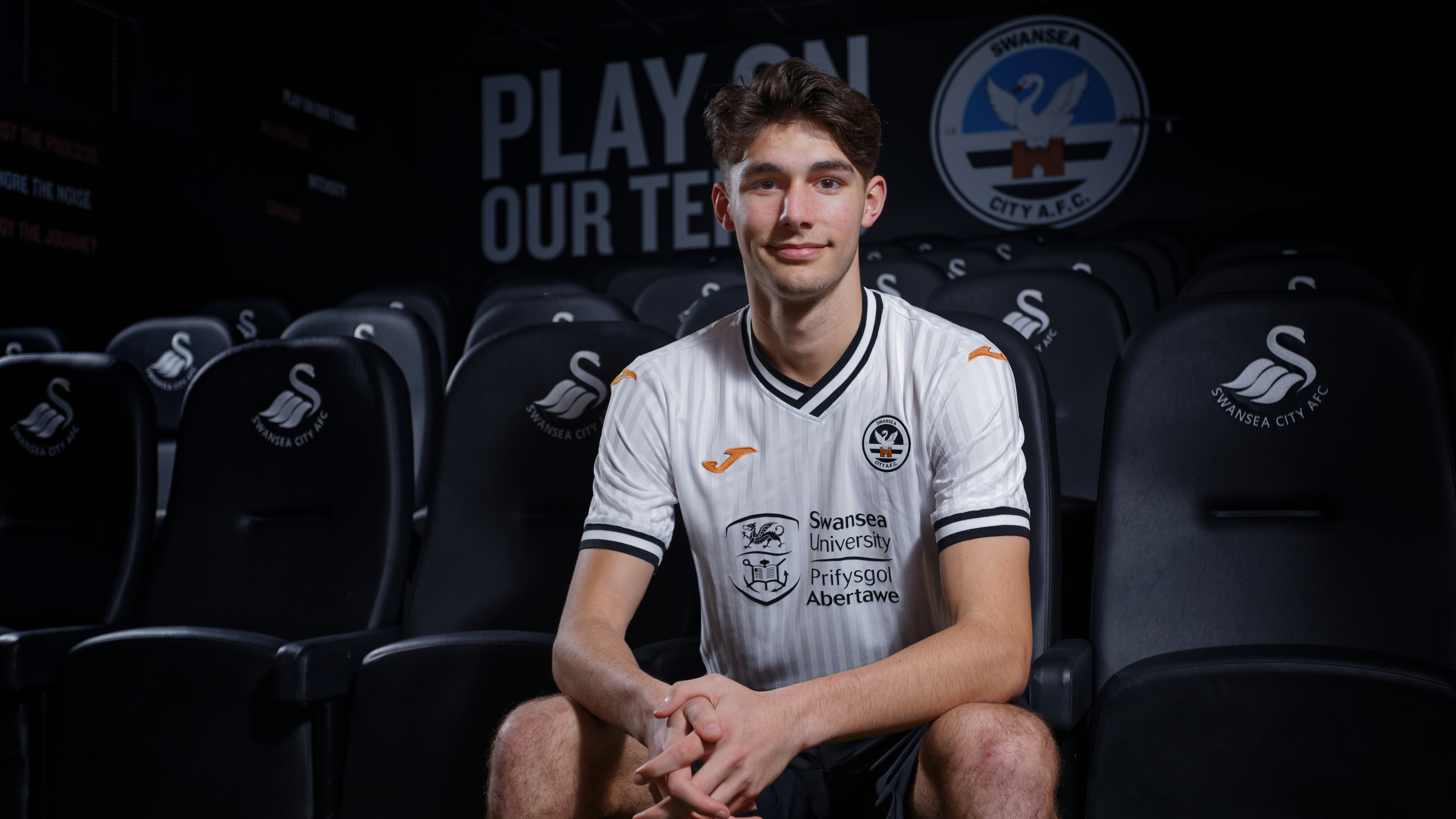 Burns signed for Manchester City from Southend United as a 13-year-old for £175,000 - a record fee for a player of that age.
Since then, he has developed as both a person and a player and has been able to learn from the likes of Pep Guardiola and some of the biggest names in world football.
Due to the similar approach to football with an emphasis on possession-based play and playing out from the back, Burns believes he will be well prepared for what Russell Martin demands from his team.
"I think I've been prepared the best I could have possibly been because of my work with Pep and the youth coaches at Man City," he said.
"That will continue here and the style of play is very similar so I feel I will be ready for what is required of me.
"I feel like I've developed a lot as a person as well as a player. I've matured a lot since I was 13 and I feel like everything is going in the right direction.
"Training day in and day out with some of the best players in the world has made me realise that I have to up my game to get to their level."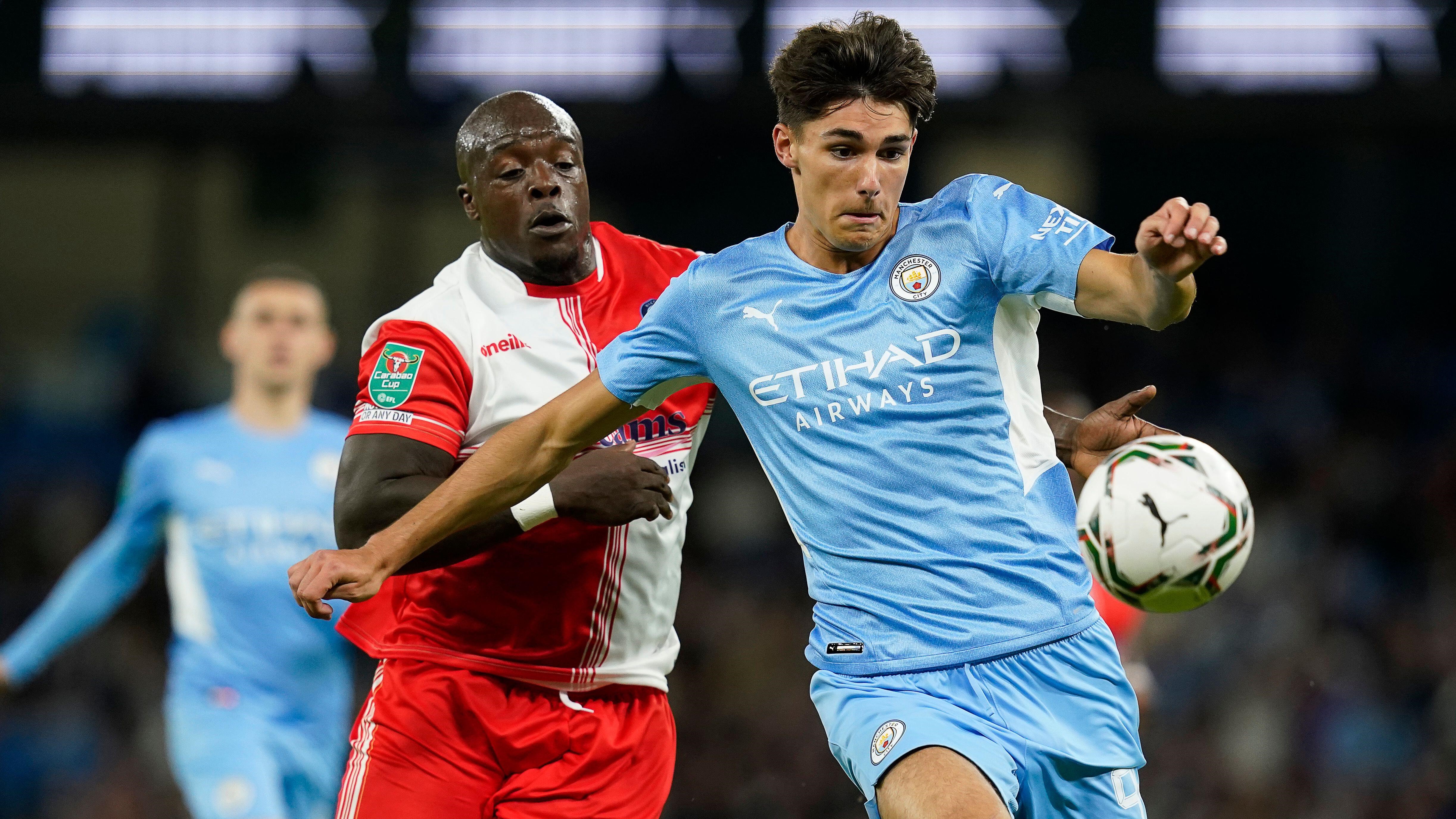 Burns, who will wear the number 30 shirt for the Swans, made his senior debut for Manchester City in a 6-1 Carabao Cup win over Wycombe Wanderers in September 2021.
The London-born defender found himself marking one former Swan who has made a nickname for himself as the strongest man in football, Adebayo Akinfenwa; a challenge that prepared him for the battles of the Championship.
"The Championship is supposed to be more physical than the Premier League and having experienced going up against a beast like himself made me realise that I need to be more physically equipped to deal with Championship standards," he said.
He was one of five City academy players to make their debut that evening, with a picture of them all sitting on the pitch following the game and taking it all in circulating on social media.
A number of Burns' academy team-mates have recently had loan moves to Football League clubs, with the likes of Taylor Harwood-Bellis and Callum Doyle going on loan to Stoke City and Sunderland respectively.
"Just playing in front of a big crowd inspired us to try and achieve more," said Burns. "We feel like we are all progressing in the right direction; the aim is to play in front of crowds and make fans happy.
"It's great to see fellow team-mates doing well and I'm proud of them for doing what they're doing. It inspires me and I'm sure it inspires the other boys at Man City to get out there and show everyone what we can do."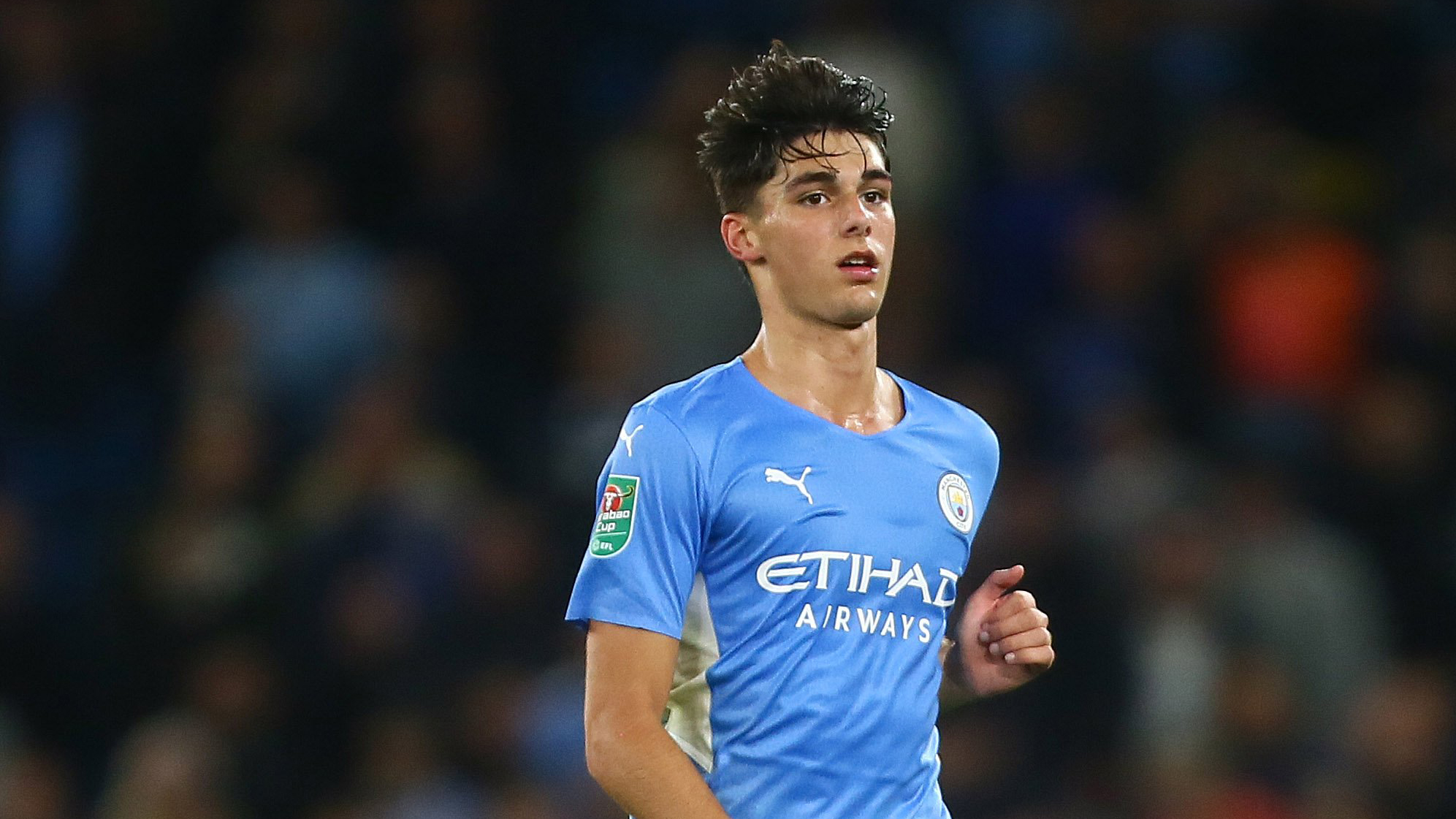 Burns recently signed a new long-term contract with Manchester City which will see him at the Etihad Stadium until June 2027.
"It's good to see my hard work recognised by the coaches as well as myself because I feel like I've been working hard and progressing well so it feels good to have that recognised," he said.
An integral part of the Manchester City Elite Development Squad which lifted the Premier League 2 title last season, Burns has experience of featuring in a successful side and hopes to use that to his advantage during his spell in SA1.
"We had to be ambitious and brave because at times our former coach was at the time telling us to be brave on the ball and take risks," he explained.
"I think everyone had to do that at times to essentially get out what he wanted from us and we obviously went on to win the league and break records so it shows it paid off."
Burns is now excited to get down to work with Martin's side and has described what fans can expect from him on the pitch.
"I'd like to say I'm brave and I always want to give everything for the club and die for the badge. I just can't wait to get out in front of all of them," he said.
"I hope to develop as a player individually but the main thing is getting the team going in the right direction, whether that's on the pitch or from the side. I just want to help out as much as I can."