History Makers | 1980-81 | Part Four
6th May 2021
Club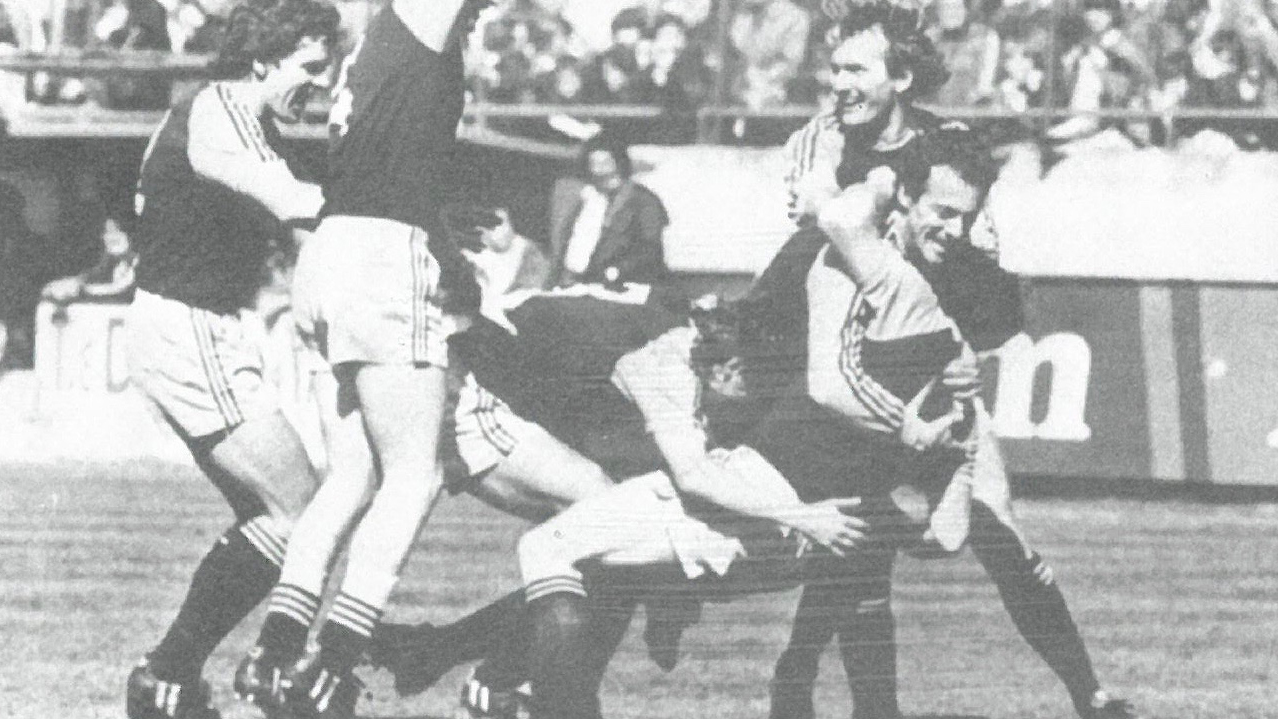 In the fourth and final part of our look back at Swansea City's historic 1980-81 season, we hear about the build-up to the big game at Deepdale, Bill Shankly's pre-match message, the 10,000 Travelling Jacks and how the players celebrated their finest day with the likes of Kenny Dalglish and Graeme Souness.
All roads led to Deepdale.
There was a tangible excitement all week in the city, with some 10,000 Jacks making their arrangements for the journey to Lancashire, for what they hoped would be a day of jubilation and celebrations.
Toshack and his players were well aware of what was at stake, but they were not short of reminders whenever they bumped into supporters in the days leading up to the game.
"It was training as normal, but there was a lot of press and media there and that continued throughout the week following our every move," says Nigel Stevenson.
"Everywhere we went throughout the city, there was just a buzz everywhere. As a local lad from Port Tennant, I'd go and see my parents often and people would just come around me and shake my hand and tap me on the shoulder. It was fantastic."
"There was a definite excitement," adds Alan Curtis.
"It was more relaxed in those days and people would come and stand on the bank to watch us train.
"There were more and more people coming that week, and it was everywhere. You could not set foot in town without people mentioning it and talking about Preston because they remembered the 1964 FA Cup semi-final.
"When we travelled up you could see the buses and people in their cars making the journey themselves and beeping their horns and waving flags at us.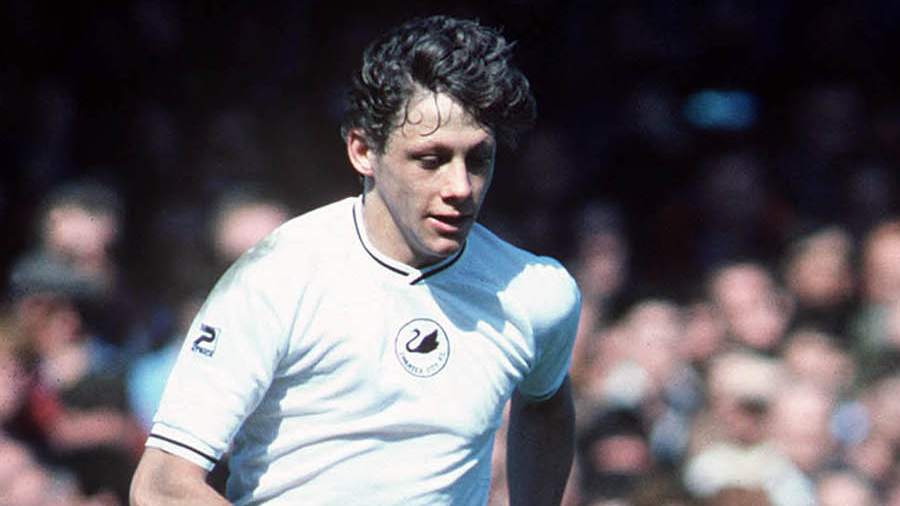 "People say there were 10,000 there but I must have spoken to at least 20,000 or 30,000 people who have told me they were there over the years."
"All I thought about was whether I had done enough to play in that game," says Wyndham Evans.
"I knew it could be a historical game and I was desperate to play, that's what I was thinking about."
The Swans would make the journey to the north west and make the most of Toshack's connections with his former club.
When it came to their final team meeting at the team hotel before setting off for Deepdale, Toshack elected to take a back seat and allow his mentor Bill Shankly to address his players.
Shankly, a man with 10 trophies to his name from his spell in charge at Liverpool, was not a stranger to the Swans squad.
He would often attend their games in the north west, and was a big supporter of Toshack and his side.
Like his protégé, the Scot carried an aura and a presence with him. When he spoke, you listened.
"One of the pieces of advice I can remember him giving us has always stuck with me," says Evans.
"He would say that a football team needs eight people who can carry a piano, and three who can play the thing. When I was manager of Llanelli I would always say the same thing.
"He looked around at us and would say to me that my job was to win the ball and give it to the piano players; Curt, Robbie James and Leighton James.
"That was the key, to give the ball to your best players in a position where they could do something with it, the other side of the job was to work hard and make sure we didn't give anything away.
"You only had to look at his record to know you had to listen to what he was sharing with you.
"In that team talk before Preston he walked around us and looked each of us in the eye and asked; 'Are you ready, son?'
"I replied 'yes' and he went round us all and said to Tosh 'he's ready, he's ready'.
"He finished off by telling us; 'Make sure you don't let down those people out there. They are the people you are doing it for'."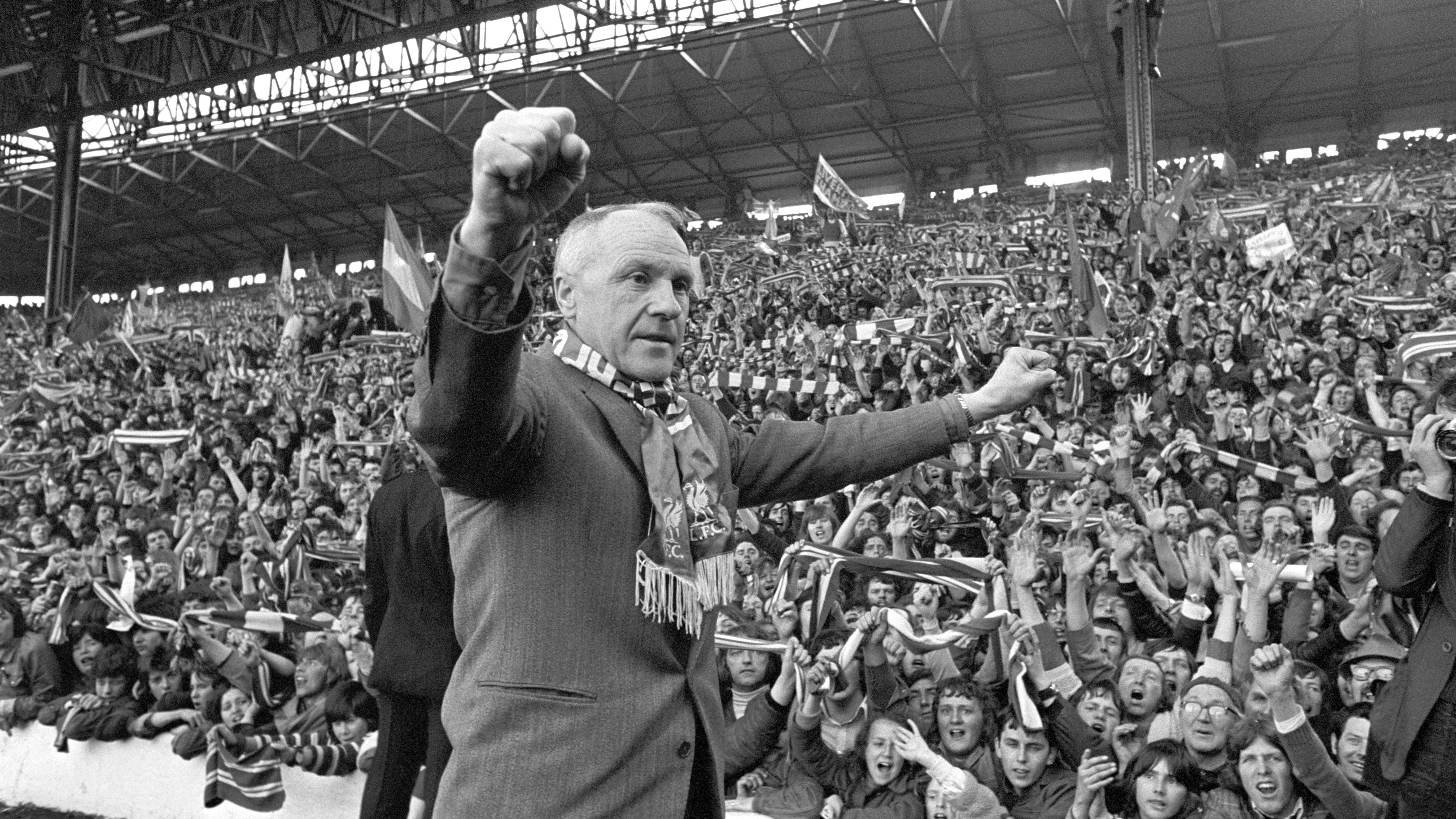 "He invited himself, did Shanks," adds Toshack.
"The strange thing was that Preston was Shanks' club. He'd captained them and won the FA Cup as a player before going to Liverpool.
"For us to be going up to Preston, to play that game at Deepdale – a stadium he knew so well – and Preston had to get a result to stay up…"
"He had joined us whenever we were up north," says Charles.
"He was a huge mentor to Tosh, and when someone like that walks into a room you hang on every word they say. You are in awe really.
"I don't remember all of what he said but I know he had some good stories in there that made us laugh a bit and lightened the mood."
The supporters Shankly had mentioned in his address to the team had packed out the away end and beyond at Deepdale.
When the players emerged to warm-up and looked to the one end of the ground all they could see were a sea of black and white scarves and placards and messages of support.
"It was incredible, all you could see was black and white," said Curtis.
"The one end and the one side all appeared to be our supporters.
"No-one really needed to say anything although Bill Shankly was at the hotel and spoke to us.
"He was an iconic figure in football. He told us we had come this far and that it was about us and the supporters. Do not let them down, do not let the city down.
"You did not need the motivation but it gave us that little extra sense of the occasion. It was clever from Tosh.
"He spoke to us too, but he left Bill Shankly go first because he knew the reaction he would get.
"It felt like everyone was there. Mike England, the Wales manager was there, Gareth Edwards was there. There was Shankly and a few Welsh politicians too.
"You did not need telling what was at stake."
"You looked out at all that and said 'we are not going to lose this'," says Evans.
"Could you imagine if you had lost that game? The support was marvellous, there were 10,000 up there."
"You think that a lot of those people had followed the club through the bad days in the Fourth Division," says Charles.
"It was about doing something great for them."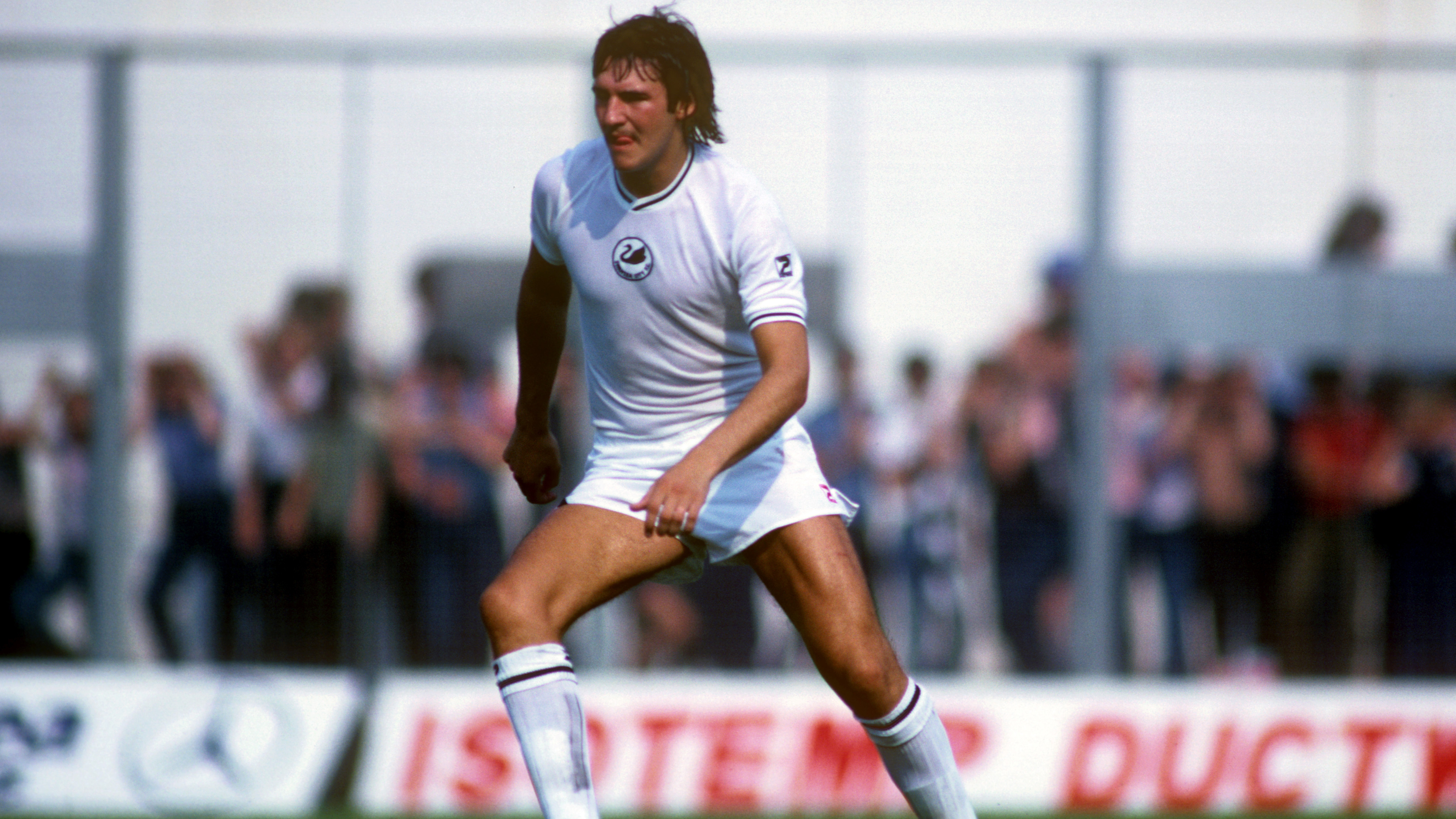 The Swans did not make the start they had been hoping for as the hosts, desperately battling to avoid relegation, initially had the better of proceedings.
But any visiting nerves started to settle when Leighton James produced a moment of magic to put the Swans, in their now iconic navy and light blue change strip, a goal to the good.
Receiving the ball on the left flank, tight to the touchline, James drove forward and infield to push his marker back towards the Preston box.
A drop of the shoulder allowed him to escape into the area before curling a brilliant, floating strike over the keeper and into the far corner.
"It was a fantastic goal," says Curtis.
"I laid it back to Robbie James and he sent it out to Leighton.
"You knew he was going to cut in, but you could not stop it.
"It settled us, we did not want half-time with the way it was going."
"We got about 20 minutes in and we hadn't had a shot on goal," says Evans.
"I was thinking we needed something for all those fans who were there, and he got that ball and it was a fantastic goal."
It settled the Swans and they would double their lead three minutes later, midfielder Tommy Craig – in the side after Toshack had left out his own cousin John Mahoney – calmly controlled a deflected cross at the far post to send a volley through the onrushing keeper and into the net.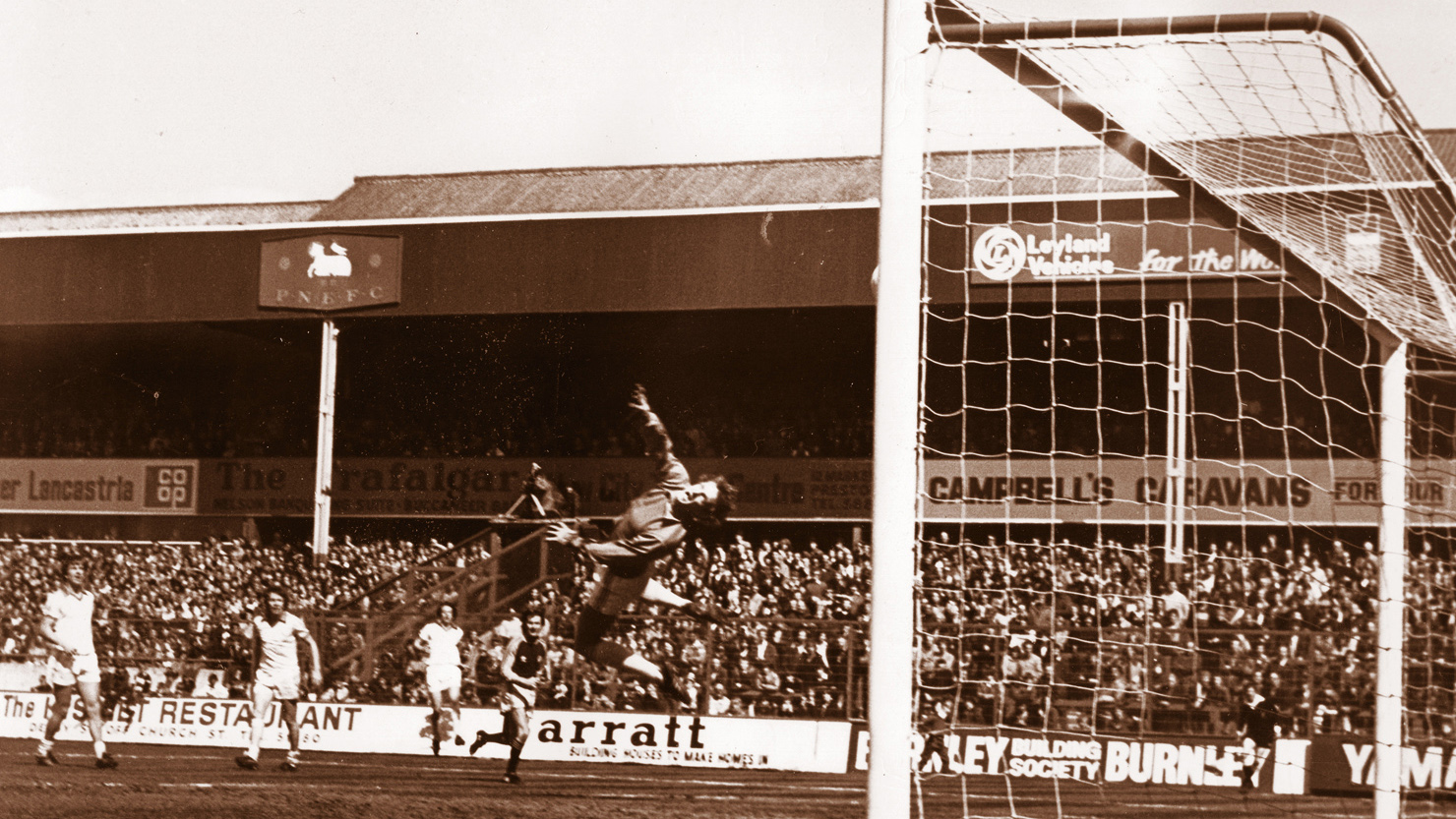 Toshack and his team looked well set, but a Preston onslaught was inevitable given their own dire need for something from the game.
Once they pulled one back through Alex Bruce they almost laid siege to the Swansea goal, missing a handful of opportunities as the minutes ticked down towards full-time.
"They battered us second half," recalls Curtis.
"Nobby Stiles was their manager and he must have got into them at half-time because they just peppered us with shots and crosses.
"Their centre-half Mick Baxter had a header that I was sure had gone in, I still wonder if there was a hole in the net somewhere."
"Speedy and I had an argument over their goal," recalls Evans.
"He was marking Bruce but, to be fair, he played brilliantly that day. We all did. From Dave Stewart in goal all the way through."
"They threw everything at us, we had to hold them and hope we could get another and it would be enough," adds Charles.
And, so it was, with time running out, that the clinching goal arrived for the Swans.
Fittingly it was crafted by three players who had been with the club through those hard times of the mid-70s.
And it seems only fair to let Curtis and Charles tell its story in their own words.
"The ball came to me on the right, my first thought was to take it to the corner and waste some time," says Curtis.
"Things then started to open up, and there was nothing safer than to give the ball to Robbie.
"But Robbie, unusually for him, miscontrolled it a little bit and had to sneak it on to Jeremy.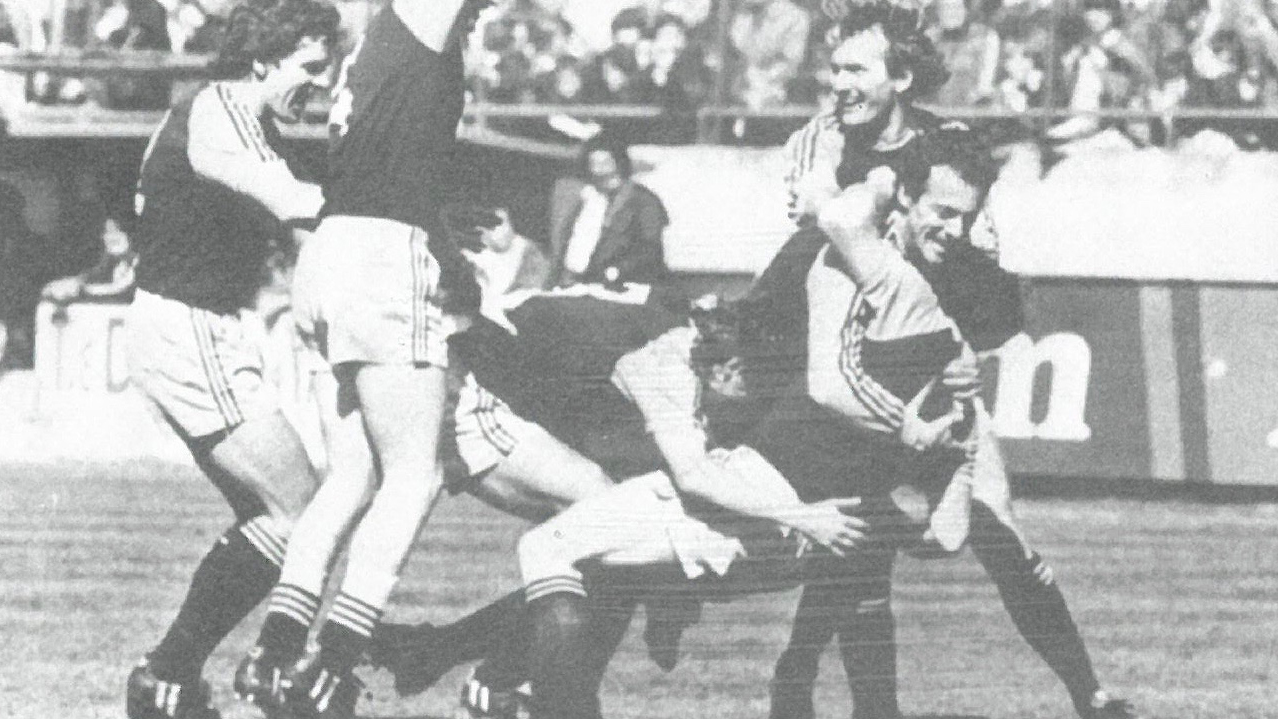 "I am sure a lot of us just shouted at him to boot it into the crowd and waste time.
"But he never listened to me anyway, and he's caught it sweetly with his left foot and smashed it in the top corner.
"That was the first time the realisation dawned that we were going to do it."
"I always remember it because it was Robbie, Curt and myself," says Charles.
"That finished the sequence off. Curt went down the right and cut inside to Robbie.
"He laid it on for me just around the edge of the penalty area, and I think someone behind me was shouting at me to whack it into the stand and waste some time.
"So, obviously I completely mis-hit it with my left foot and it flew into the top corner.
"It was great for us three, but everyone contributed throughout the game and the season.
"Everyone chipped in together, but it was lovely for us to be involved in that goal. It created history, it's a special thing and something you'll never forget.
"Although it's the dads and grandpas who remember it these days!"
It meant the Swansea players could play out those final minutes soaking up the atmosphere, knowing what they were about to achieve as the away end bounced and rocked to the celebrations of the travelling Jacks.
The final whistle brought bedlam, Toshack ran on and embraced Dudley Lewis first – almost clinging to the young defender - before making his way around the rest of his players.
"Dudley was only a young boy, but he was far advanced in his thinking, and was very, very quick – possibly the quickest at the club," says Toshack.
"I put him as a sweeper, and Wyndham and Speedy in front of him. So, they'd do the dirty work and Dudley would sweep up behind them.
"Then we had Neil Robinson and Hadziabdic, then Robbie, Tommy Craig, Charlo, Curt and Leighton James.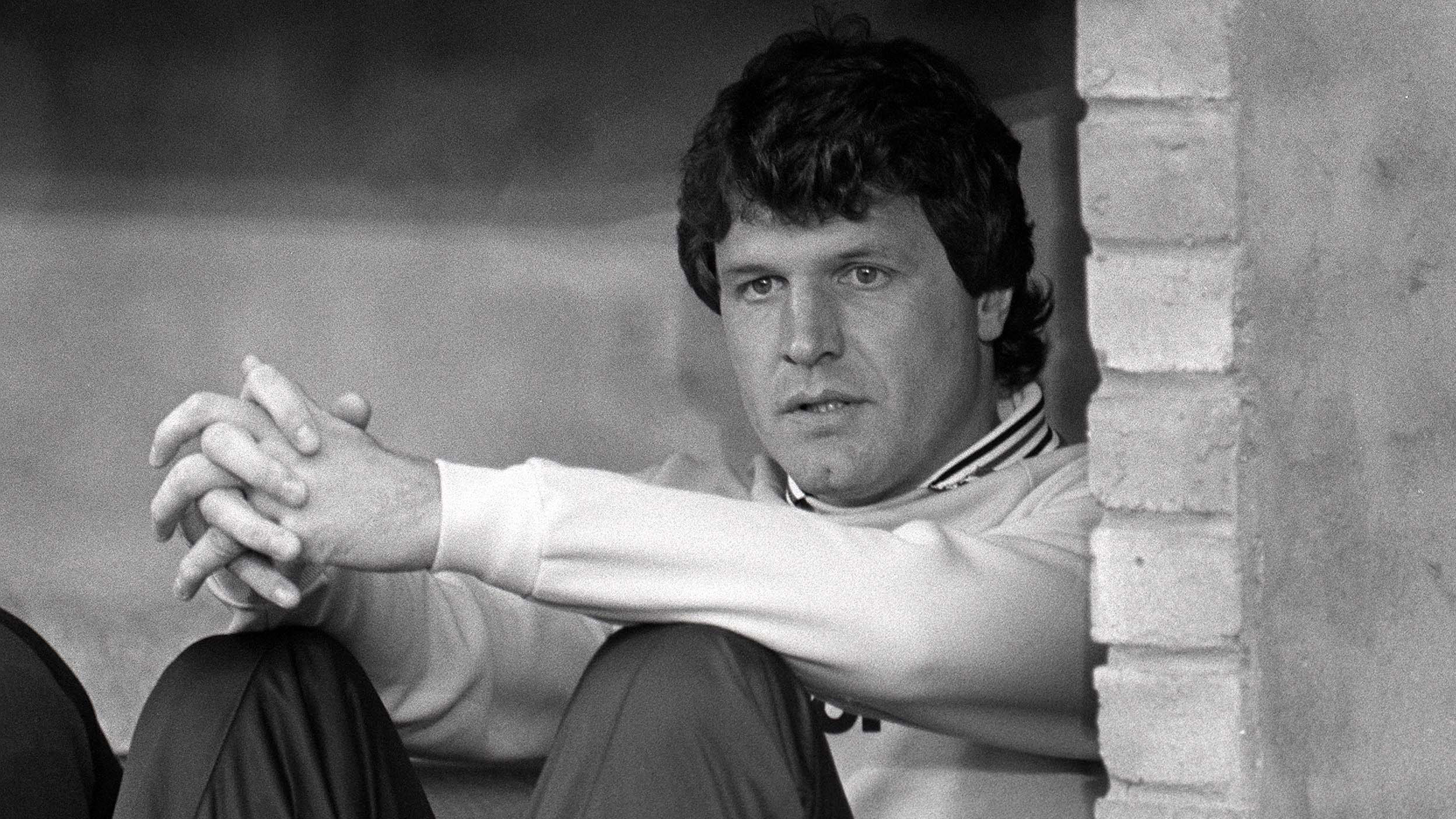 "When we got near the end, Dudley was just about ready to come out of the team as he needed a rest, but I felt we couldn't leave him drop out. He just got over the line at Preston.
"I remember being with him after that game, and he was so enthusiastic and pleased."
As it began to sink in, the scale of the achievement became apparent to the players as they revelled in the joyous scenes on that sunny spring afternoon.
"It was a feeling of immense pride. About 10,000 Swans fans went up to Preston so there were great memories for them that they'll live with forever," says Stevenson.
"I get reminded of it often, even in work I meet different people who remind me of it and it's always nice to be reminded of past achievements."
"It was mayhem," says Curtis.
"Everyone was in the dressing room, all the people I mentioned before of the people who were at the game.
"There's a great picture of all of us in the big bath celebrating. It was a nice feeling to take it in, to know would be playing Liverpool, Manchester United and Arsenal."
"It was ecstasy for a group of local lads who had come up through the divisions together," says Evans.
"In Tosh, we had a magnificent manager. He put so much confidence in you that you could not lose. That day at Preston was typical of that."
The celebrations actually kicked off in earnest in Liverpool, with the Swans heading to the Holiday Inn to meet up with some of Toshack's former team-mates, players who Swansea could look forward to facing the following season.
"I don't think we knew that was happening until we got on the bus to go home," says Curtis.
"Kenny Dalglish and Graeme Souness were there and they congratulated us really warmly.
"But we were looking at our watches thinking about what time we would get home."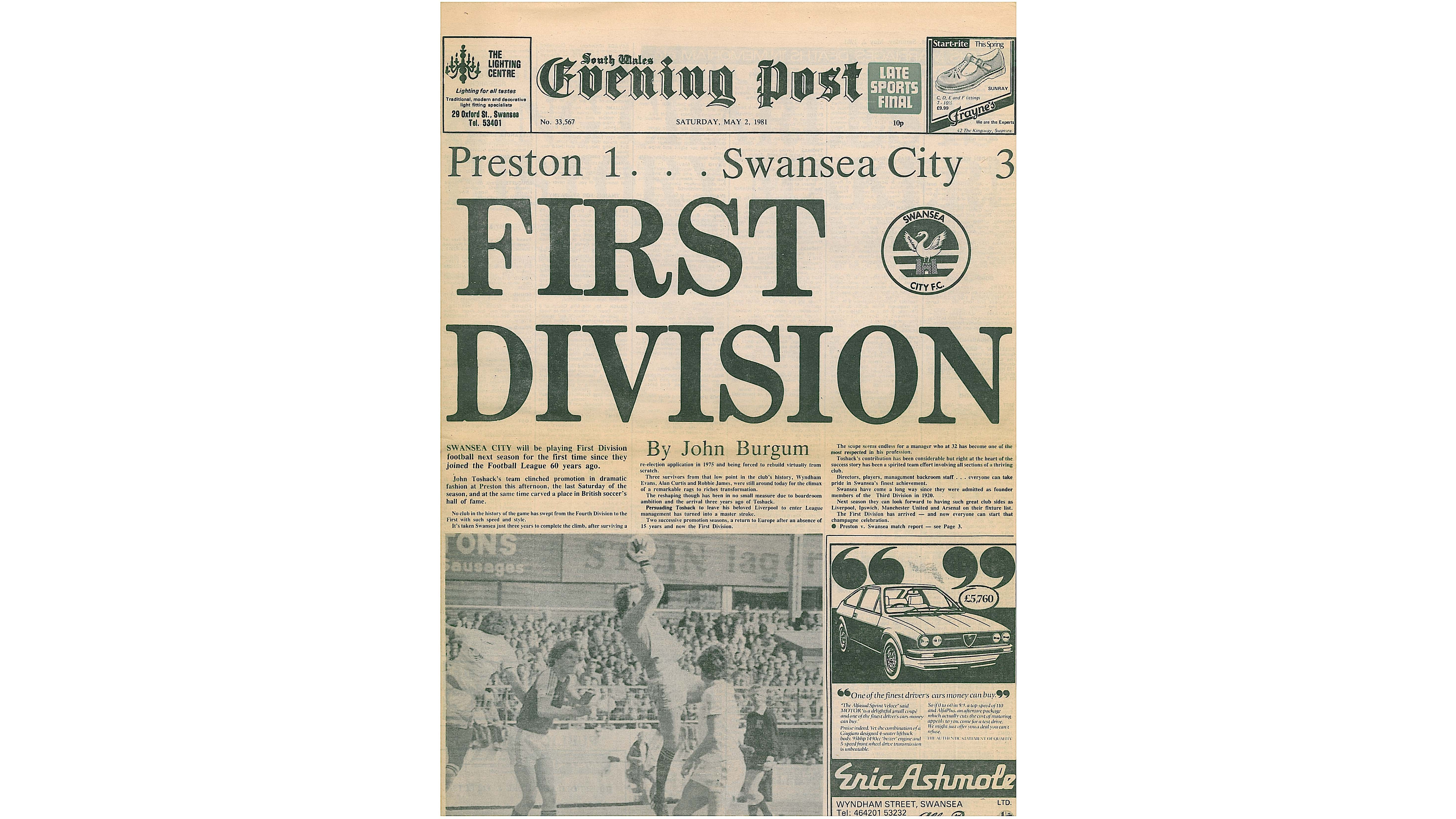 From there it was back to Swansea and the Bay View where, despite arriving back late in the night, the party went on for some time.
The only issue for a few of the players would be that it had been arranged for the squad to head to Cardiff for a special BBC Wales broadcast to mark their historic feat.
Famously, not everyone would make it.
"We were back at the Vetch at about 2am or 3am and there were hundreds of supporters there to greet us, despite the time," says Curtis.
"We drove down to the Bay View, our wives and girlfriends were with us and I don't think we went home until 7am or 8am.
"Then the phone is ringing at about 9am saying to get ready to get the bus to Cardiff to go to BBC Wales.
"We got down there and there were a few missing. Wyndham wasn't there, Speedy wasn't there. I think they were still in the Bay View, I think the first they knew of that programme was when it came on the tele."
"There were three of us, myself, Wyndham and Dudley Lewis," says Stevenson.
"I don't know where Dudley was, Wyndham was out celebrating and I was at home with my wife.
"I don't know why they couldn't get hold of us, but it was strange looking at the television with the players there talking about the game and we weren't there."
"I got home so late from the Bay View and just went to bed," says Evans.
"I woke up and my wife Jan had the TV on and she said 'Wyn, why are you here? All the boys are on the tele?'
"I had been out so late that I did not get the call, and I was watching it knowing I should have been there.
"Soon after all my mates, family and neighbours came round and we had a great party then!"
"I am surprised BBC Wales managed to get any sort of conversation out of the boys, to be honest," chuckles Charles.
A bus parade through the city and a civic reception at the Brangwyn Hall would follow, while
there was still football to be played, the Swans recovered enough to see off Hereford in a two-legged Welsh Cup final, ensuring the club would be in Europe as well as the top-flight the following year.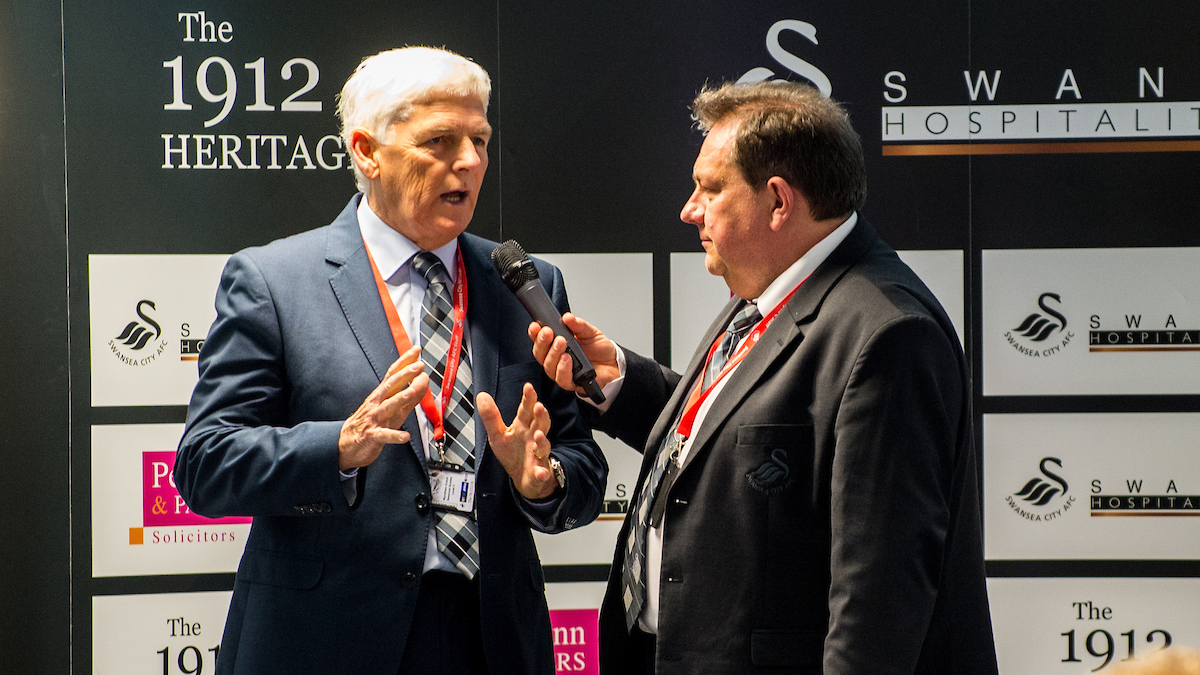 "The parade was great, we got to the Guildhall and Tosh spoke, as did Malcolm Struel and the mayor," says Curtis.
"Wyndham then decided he would get up and leads us in song. The song was 'Swansea City are magic' and he must have gone over and over the same words about 20 times.
"When everyone was waiting to come in, he would start all over again. It went on and on and we managed to drag him away in the end!"
"That was a great day, well every day was a party really," says Evans.
"I can't sing but I enjoyed a laugh!"
"I just remember seeing the joy on those faces as we were on the way to the Guildhall," says Charles.
"You were looking out there and it was pure joy, for them and for us."
The only remaining task was to mark Evans' 10 years of service with a testimonial against Liverpool at the Vetch.
It could hardly have been a better night for the club stalwart as a big crowd turned out, and he was handed the chance to get on the scoresheet and settle the contest late on.
"I was so lucky because my testimonial was just after we had won promotion," he says.
"Tosh had arranged for Liverpool's 1975 FA Cup team to come down, so I played against Tommy Smith and Ian Callaghan.
"Because we had won promotion we had a full house and we won 7-6.
"It was 6-6 and Leighton just ran in the box and dived and the referee gave a penalty.
"All the boys threw the ball to me and, as I put the ball on the spot, Ray Clemence is coming to meet me.
"He said; "I am diving to my right, so kick the ball to my left and let's go for a party.
"I wondered if he was trying to make me look daft, but he did as he said and I scored. It was a great night for me to have a full house. I was very fortunate."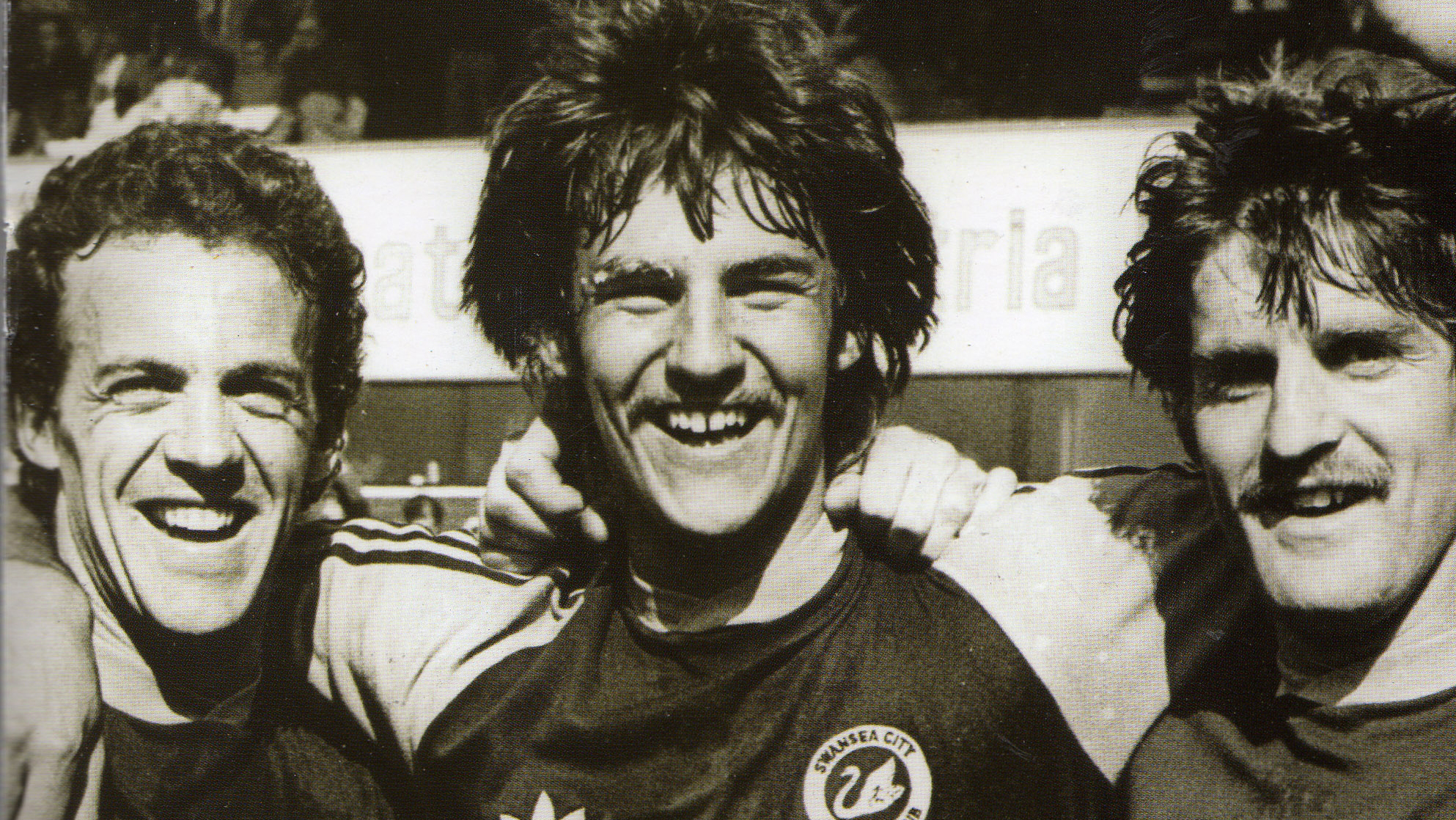 With that the curtain came down on the greatest season in Swansea's history. The names of all those involved indelibly linked into the annals of club folklore.
It's a list of names and individuals held in high esteem by Swansea fans, from those who were there at Deepdale that afternoon to a younger generation who have had tales of their greatness passed down.
Toshack would go on to manage Real Madrid and Wales, Charles would win a major honour when Oxford United won the League Cup with the Welshman on the scoresheet in 1986.
But this time in their lives remains so special.
"At Liverpool, it became an annual thing, winning trophies. It wasn't that we didn't enjoy or appreciate it, but we were in a habit of winning things regularly," says Toshack, who Shankly had dubbed 'Manager of the Century' in the immediate aftermath of the success at Deepdale.
"At Swansea, this was something that hadn't happened before. It was unique, and that was what made it all the more enjoyable.
"It was a very, very important part of my career.
"Not many players these days would not do what I did. A player who has won a European Cup and league title would not go down to League Two. They'd expect to get a coaching job at a top club.
"Going back to Swansea allowed me to be back in south Wales, which is where I'm from.
Swansea was my introduction to football management.
"I didn't have any coaching badges, I still don't – I escaped the net, if you like. I've never been on a coaching course in my life.
"Shanks used to say to me: 'coaching is done by people who could never play the game, to help people who will never be able to play it'. That was his take on it.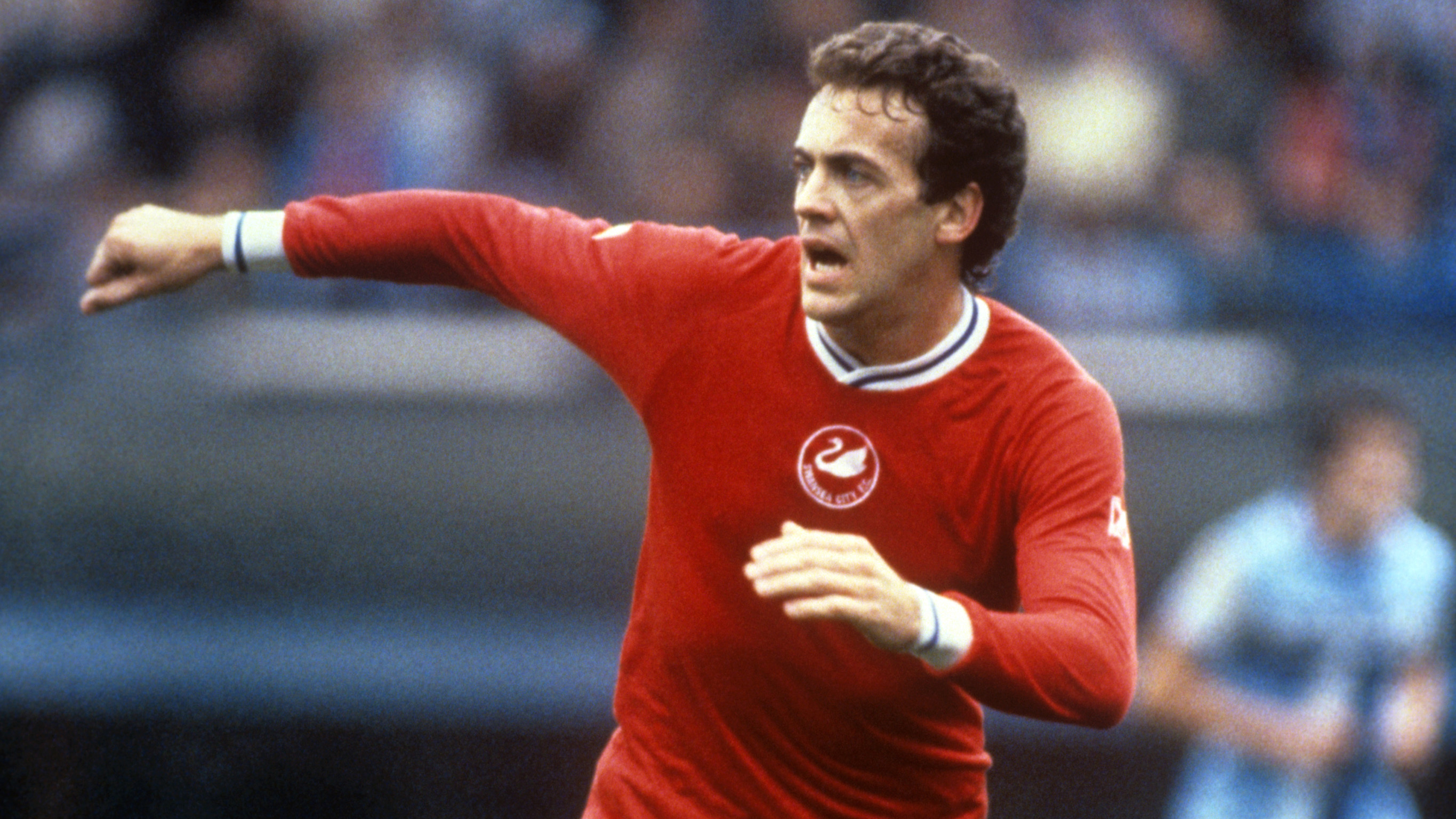 "People will say it's a different game now, but everything I've done, in all the countries I've worked in, is the same thing I did while at Liverpool."
"The likes of myself, Robbie, Charlo, Curt and Wyndham were actually at the club when we were applying for re-election," recalls Stevenson.
"It was an incredible achievement, built by Harry Griffiths and then developed by Tosh.
"I actually stayed with the club on the decline as well and I think I'm the only player that has ever done that in the Football League, but I try to remember the good days rather than the bad days."
"That was the best match I ever played in," says Evans.
"I was playing with all my mates; Curt, Robbie, Speedy, Charlo, Dudley. We were just a bunch of boys from this area."
"It's one of, if not, the best moment of my career," says Charles who, in addition to scoring the final goal of the promotion campaign, would net the opening goal of the First Division campaign against Leeds.
"We created history, and that is always special. It's up there with winning the Milk Cup when I was with Oxford.
"As a player it was definitely my greatest moment," says Curtis.
"That and the following game against Leeds in the First Division.
"Winning my Welsh cap was brilliant, but this just felt very personal for myself and that group of players that were so close.
"It was something we all shared together. We had never been to that level before, even with all the great players and teams that had gone before at the Vetch.
"It was such a special feeling. The club did so much in the Premier League and winning a major trophy, but we were the first."