History Makers | 2010-11 | Part Five
18th June 2021
First team
May 30 marked 10 years since that unforgettable day when Swansea City secured their place in the Premier League for the first time. To recognise and pay tribute to that achievement, we have put together a string of features recalling that season, including new interviews with many of the key figures involved. In part five we relive all the drama of that incredible play-off final, from the build-up and the key selection decisions to the celebrations that followed.
All roads led to Wembley.
Following the nerve-shredding tension of the two legs of the play-off semi-final against Nottingham Forest, came the release of knowing a trip to the home of English football awaited with the reward of the Premier League just 90 minutes away.
Excitement within the city was at fever pitch, and more than 40,000 members of the Jack Army eagerly planned their trips for the big game.
The opponents would be Reading, opening up a ready-made narrative of Brendan Rodgers coming up against the club who had dispensed with his services the previous season.
But the focus lay elsewhere for the Northern Irishman and his players. History was at hand, there to be grasped.
It was new territory for many, and Rodgers wanted to be sure his players were as prepared as possible and ready to play the game, and not the occasion.
"There was a long build up, and I spoke to a few people on how they'd approached it," he recalls.
"I just wanted to keep the players as relaxed as possible. A few days before the game we moved towards London and really concentrated on the game.
"We knew the magnitude of it, and we needed to clear our minds. Throughout my time studying and coaching, I studied NLP which was Neuro-linguistic programming. There were parts of their processes that I felt would help.
"On the Thursday at Llandarcy, I wanted to frame how we would prepare for the final as a group.
"It was virtually taking the guys to that moment, from waking up that morning, to how we would feel, how we would dress, getting on the coach – do we have our earphones on – how are we going to walk onto the pitch? As twos and threes, or everyone together?
"I had seen finals before where players were unsure where their families were, so when our players walked out and stood in their line they knew exactly where their families were sitting and could get eye contact with them.
"In the tunnel, if you watch the players going out, we were only focusing on keeping our heads up and looking forward, because we didn't want to be distracted by anyone as it was all about us.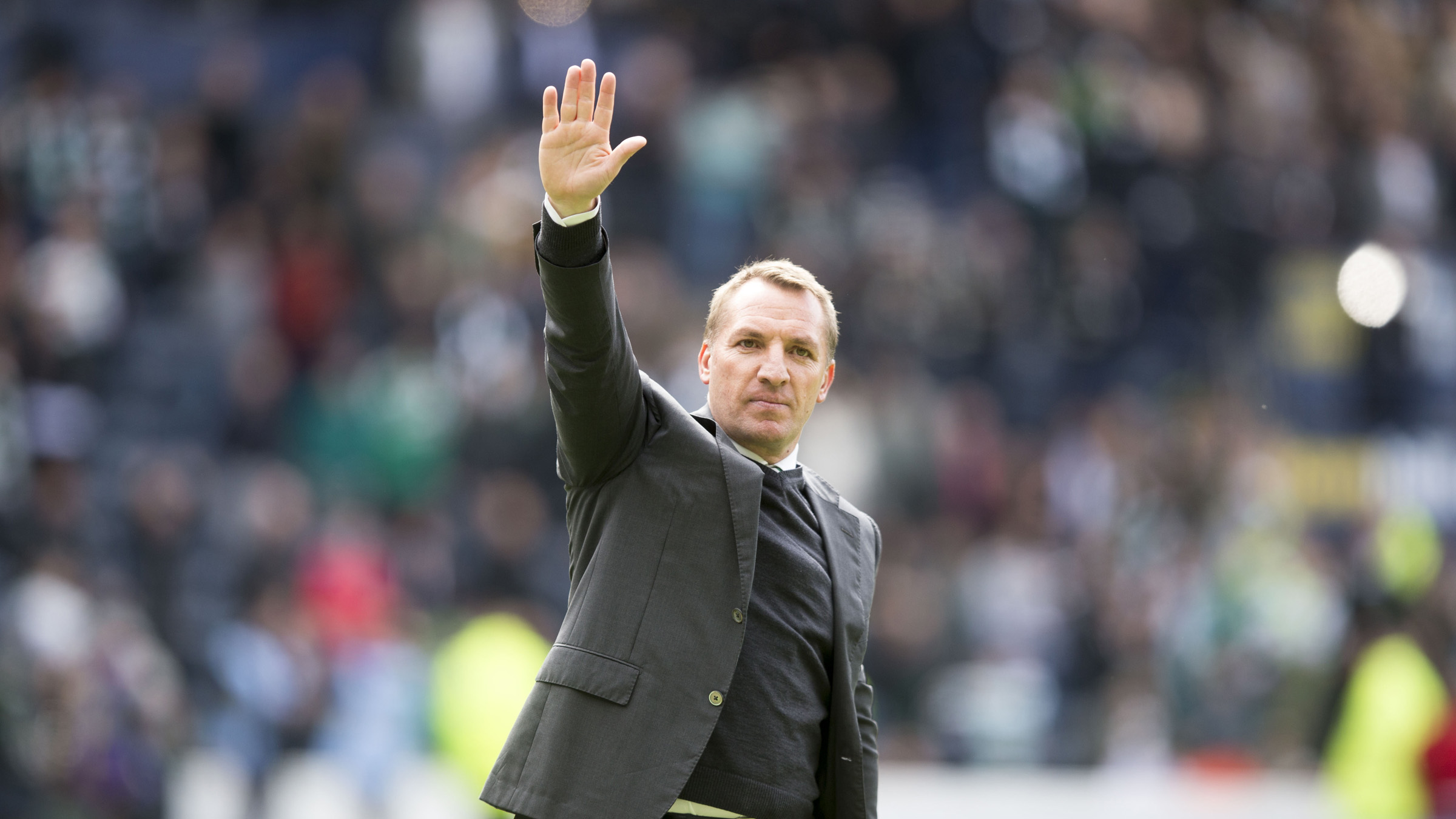 "We are not looking at the Reading players or thinking anything other than the task in hand. We took them through to what we'd do when we win.
"So we framed the mindset of the players on the Thursday, so that when we arrived on the day they would have felt they'd already been there before.
"We mapped out the mind on what was going to be a massively tense and pressurised situation.
"One of the big things I've learned in football is that to take pressure away from players, one of the best ways is anticipation.
"Speaking to them after that, they felt a real benefit for doing that."
For Rodgers, selection would not be easy. He knew Neil Taylor would be suspended following that red card at the City Ground, but there were tough calls to be made.
For some players there was a nervous wait, and it was inevitable that some would be disappointed.
Second leg hero Darren Pratley understandably had his sights set on starting the showpiece occasion.
But a request to head to Rodgers' room ahead of the match brought the news he did not want.
Yet, in another example of the manager's emotional intelligence, the midfielder left that conversation determined to do his bit.
"I was gutted," says Pratley.
"I had actually pulled Brendan before the Nottingham Forest away leg because he tended to play me more in away games than home games. I found out I wasn't starting in the away game so I went to see him and asked why I wasn't playing because I wasn't that happy.
"We went away just before we played the final and he called me into his hotel room. I was sharing a room with Dobbie because I'm good mates with Dobbie and he was playing, as you can see in the final he runs up to me when he scores. We're very good friends, I had nothing against him and I didn't want him to not do well.
"He answered the phone and said 'Brendan wants you to go see him'. He called me into his room and said: 'Prats I'm not going to play you, you did well in the semi-final when you came on.
"All I said was 'I'm just grateful for you telling me, that's what I wanted to know.'
"The most important thing was Swansea getting promoted, I didn't care about all my personal stuff, that had to go out the window, it was about the club.
"That meant a lot to me and most footballers probably wouldn't say this but that made me want Swansea to win even more, for him telling me and keeping me in the loop.
"No footballer would tell you that they don't want the club to do well but when you're not playing we're all selfish. But that made me want the club to do well and it was massive of him to do that.
"I was gutted but to get promoted to the Premier League was every boy's dream and if I could be part of that, I felt over the course of the season I played my part in that anyway."
"He'd been brilliant for me all season and was a great guy who had a really good career at Swansea," Rodgers says of Pratley.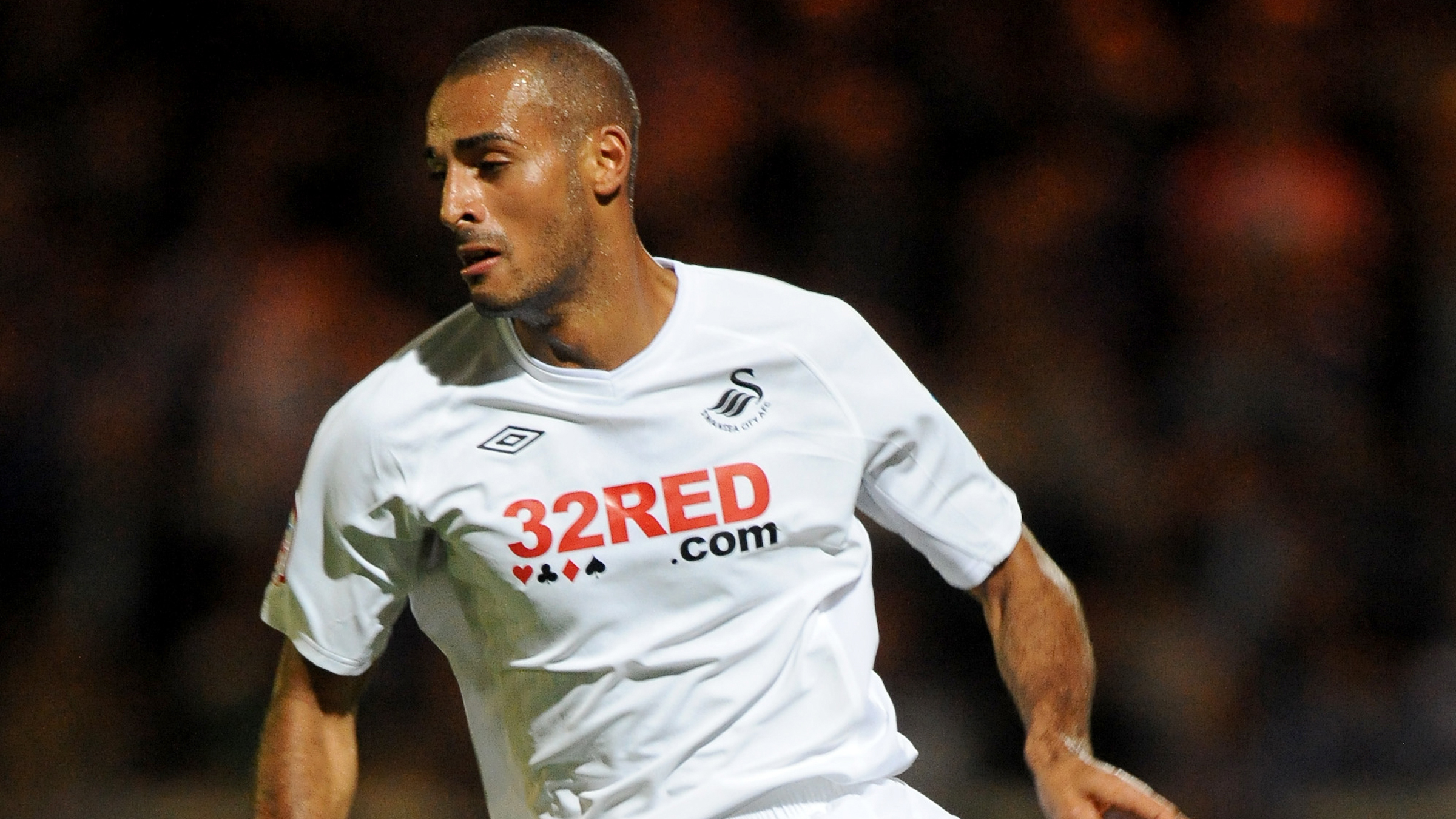 "So they are the decisions you have to make, and I learned at Reading that I could work how I worked, but I wanted to get to the end point a bit quicker.
"I needed to be more clinical in my decision making, and this moment was exactly that. I had to be decisive, and I had to go with my gut feeling.
"I wanted to attack the game, and playing Dobbs in the final, with the way Reading played with a 4-4-2 and a defensive line, he was one of the best exploiting the space.
"I spoke to Prats about it, and told him I'd need him in the final. He responded like a true professional, and he made a great contribution in the game."
The size of the potential achievement was only added to by the fact there remained a handful of players who had been at the club some nine years earlier, when Swansea had needed a James Thomas hat-trick and a goal from Lenny Johnrose to retain their Football League status in a win over Hull.
"It was an unbelievable day," says Leon Britton.
"The whole build-up, you see it on the TV, how much the game is worth and how much it means. It's massive.
"But I think because the squad had been together for so long and had been through a lot, it was a moment for us to achieve dreams. A lot of us had never played in the Premier League and you work all your career to get that opportunity to do that.
"Going into a one-off game to do that was huge pressure, but I just remember travelling up on the coach and seeing how many fans were there.
"In Wembley you drive into the tunnel to get in and I remember seeing tens of thousands of fans just surrounding the tunnel, just black and white everywhere.
"On the pitch, the warm-up and seeing how many fans were there - the whole build-up was brilliant, it makes the hairs on the back of your neck stand up."
"It was a really emotional moment, that," says Rodgers of the bus journey.
"I sensed some edginess in the bus. We were supposed to get an escort by the police, but it looked like we were going to be held up.
"But they got us through, and when we came around the corner of Wembley there was a sea of Swansea City supporters. There was a comfort with that, knowing they were with us.
"It was going to be such a difficult day and hard game with a big prize, but they were there and they were there in their thousands.
"It was an incredible welcome for us, and we sensed pride in what we had achieved that season. It epitomised the real togetherness of everyone."
"All I remember is arriving at Wembley and all you could see was Swansea City shirts everywhere," adds Angel Rangel.
"Thousands and thousands of fans signing, cheering, clapping – I still get goosebumps thinking of it.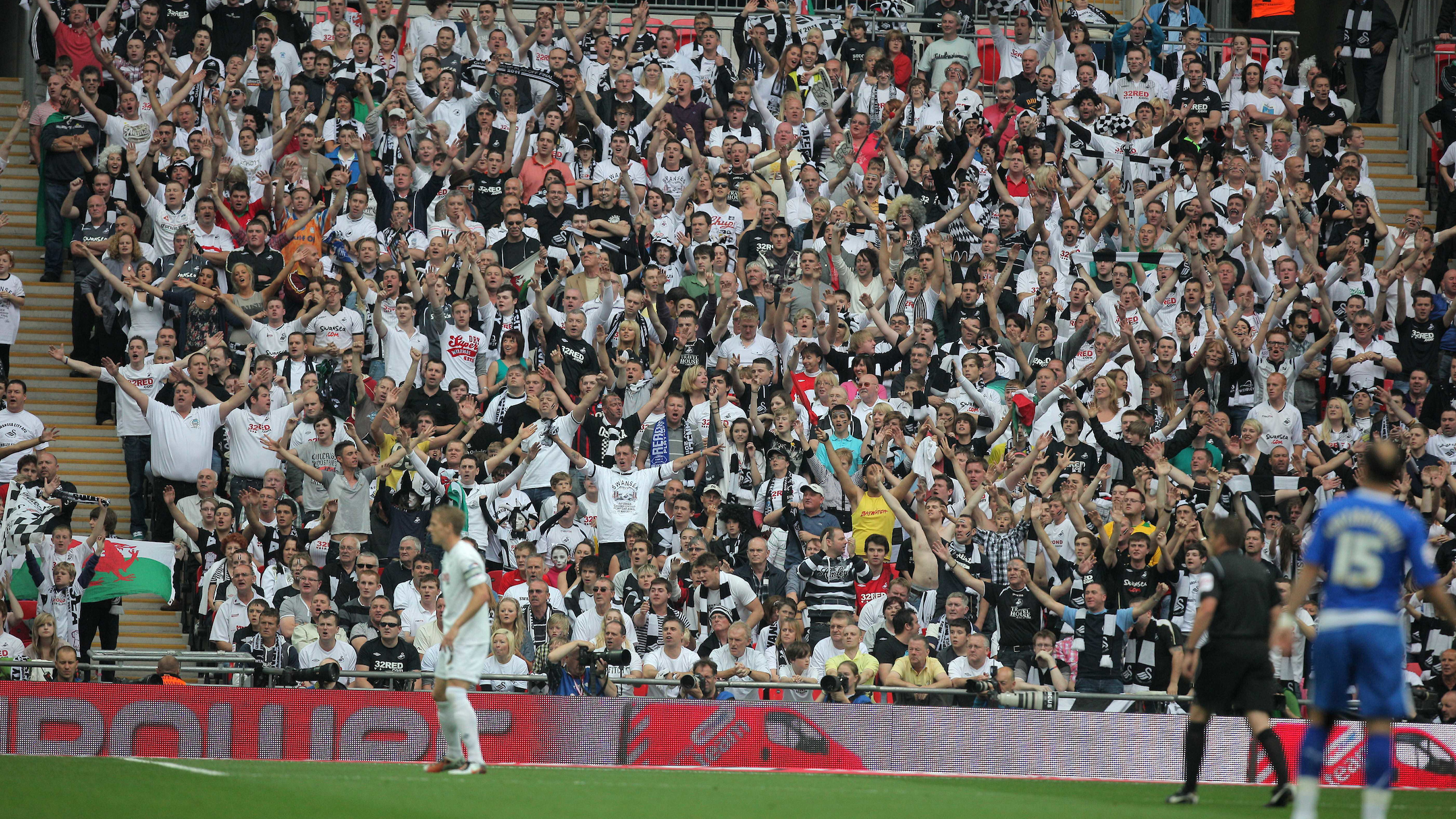 "You have got to win now. These people have spent a lot of money to get to London, and they'd supported the Swans for so long – now is the moment."
Kevin Johns whipped the travelling Swans fans into a frenzy with a passionate and emotive address that is still talked about to this day.
Some of the players were aware of his words, others – including Alan Tate – were so in the zone they were completely unaware.
But when Johns bellowed out his concluding "This is our day", the scene was set.
Rodgers and Brian McDermott led their sides out and after the long build-up, the waiting and all the talking was over. It was finally time to get down to the serious business.
Many had predicted a tense and tight affair, but what we got was an all-time classic.
After an initially slow start where the Swans did not initially settle, Zurab Khizanishvili fouled Nathan Dyer in the area and Scott Sinclair stepped up to score from the spot.
The forward would soon double the lead, steering Dobbie's pull-back in at the far post as Adam Federici scrambled to react.
Dobbie would then be the scorer of Swansea's third five minutes before the break, sweetly sending the ball into the bottom corner after Dyer had caused carnage down the right flank.
Swansea were in dreamland. Forty minutes played, 3-0 up. Surely, surely, it was already job done.
"You couldn't make up the game, you're 3-0 up straight away. As soon as we got in for half-time everyone was saying that we hadn't won it yet," recalls Ashley Williams.
"But in each one of our heads we thought we had won it, there's no way around it. You're not going to squander a 3-0 lead ever.
"Everything was fine, we were quite happy and we started the second half well but then straight away rain comes down, the weather changes and it's not sunny anymore, it's like something out of a film."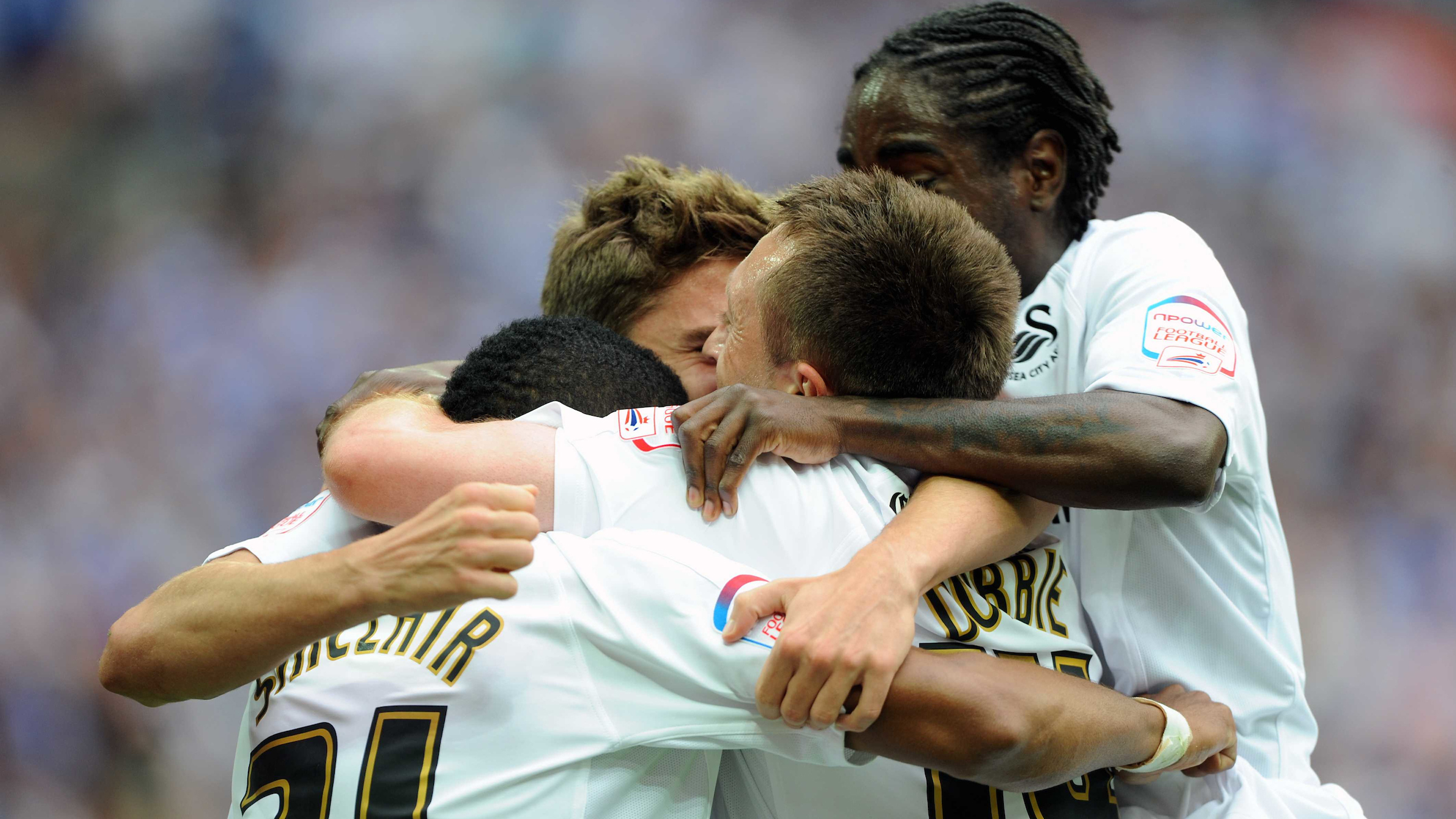 "For my goal my pace couldn't keep up with Nathan, so when he ran on there was Fabs in the box, Scott was at the back post, but I was near the edge of the box," says Dobbie.
"When it got flicked back, it was a natural instinct to hit it first time. Before it's hit the net and Federici is still diving, I'm already celebrating.
"The feeling of scoring in front of 90,000 people, with my family there, and knowing what it means for the club, was by far the best feeling in my footballing career.
"Brendan was never a manager to take his foot off the gas. With that group of players, with Monks, Ash, Tatey, Dorus – there was a great bunch of leaders in that team - we all knew it wasn't over. We had to keep the ball as well as we did in the first half."
"I remember speaking to supporters afterwards and they had talked about wondering if we'd make it to the biggest score in play-off final history given the half-time score," says Rodgers.
"Reading had started well, but when we got the first goal we really took control of the game and we were outstanding for the rest of the half.
"We got in at half-time and the message was all about reiterating that we have got to see this as 0-0 and look after the second half."
But things are never straightforward for Swansea City, and so it would prove again.
The Swans knew a reaction was coming and a Joe Allen own goal four minutes after the restart started the Royals fightback, with Matt Mills scoring from another Jobi McAnuff corner just eight minutes later.
All the momentum was with Reading and an equaliser looked certain when Jem Karacan's shot came back off the post and Noel Hunt prepared to tap-in.
But Swans captain Garry Monk threw himself in the way of the strike and managed to divert it wide.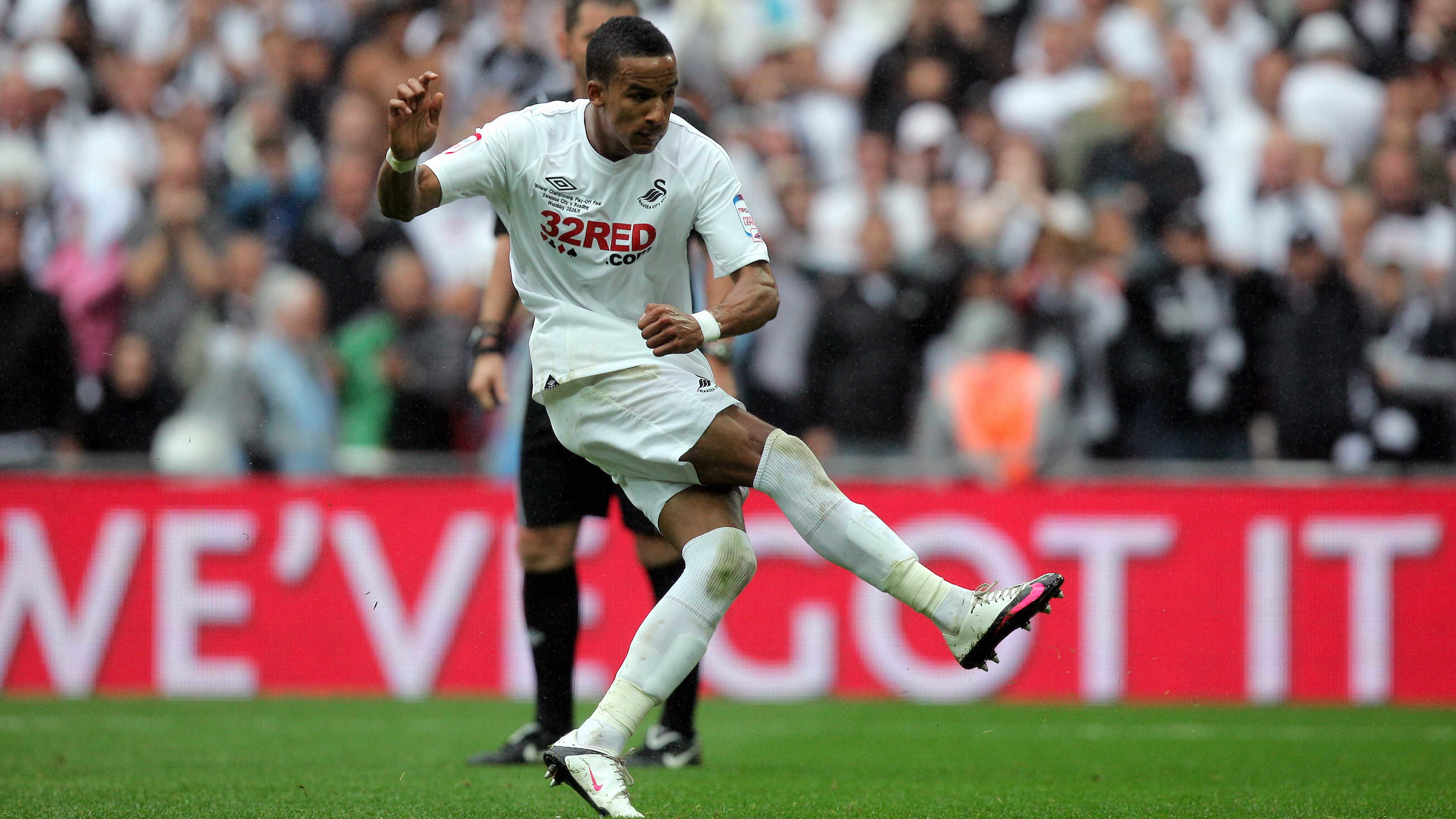 The image of Monk at absolute full stretch, just getting the crucial touch – it has been referred to as the £90million block – is arguably the iconic moment of an extraordinary afternoon.
"Monks' block was so good, but what used to annoy me was that I made a good one just before it, it was a six out of 10 block which put it on to the post and then he just came across with a 10 out of 10 block  - it was unbelievable," says Williams.
"What was nice was that he made the block, he was such a big part of what we had done.
"I like it because it shows that we had everything going on with Dobbs, Scotty and Fabio and everything up there, but what gets you the result is defending like that.
"He was an unbelievable defender for stuff like that."
"It was incredible. Garry Monk was a brilliant player who was very underrated," says goalkeeper Dorus de Vries.
"He was such a fantastic player and that was one of those moments in the game where we needed a boost and it lifted us again.
"Despite the run of the game, we were very comfortable going into half-time and then it flipped. It's crazy how those games go sometimes.
"He made such a vital block and we were like 'Okay, let's get everyone together and let's get it sorted.' Reading had nothing to lose anymore in that game so they could chuck everything at it and they did.
"But the overall quality of the team showed that we were capable of overcoming that and that was a great moment from Monk that just pushed us forward."
"I remember Brendan talking about the game, while he prepared us through everything before that," adds Rangel.
"I remember a few videos before the game. It was ice hockey and golf – it was about the importance of an inch and how it can change the whole thing.
"In golf, if the ball doesn't go in by an inch you don't win. If in ice hockey or football, if the ball doesn't cross the line by an inch you don't succeed.
"The message was pay attention to every detail.
"Funnily enough, when Garry Monk makes that block – if that inch isn't there, we probably don't win – it was part of the game."
Having survived that massive scare, the Swans began to regain their composure.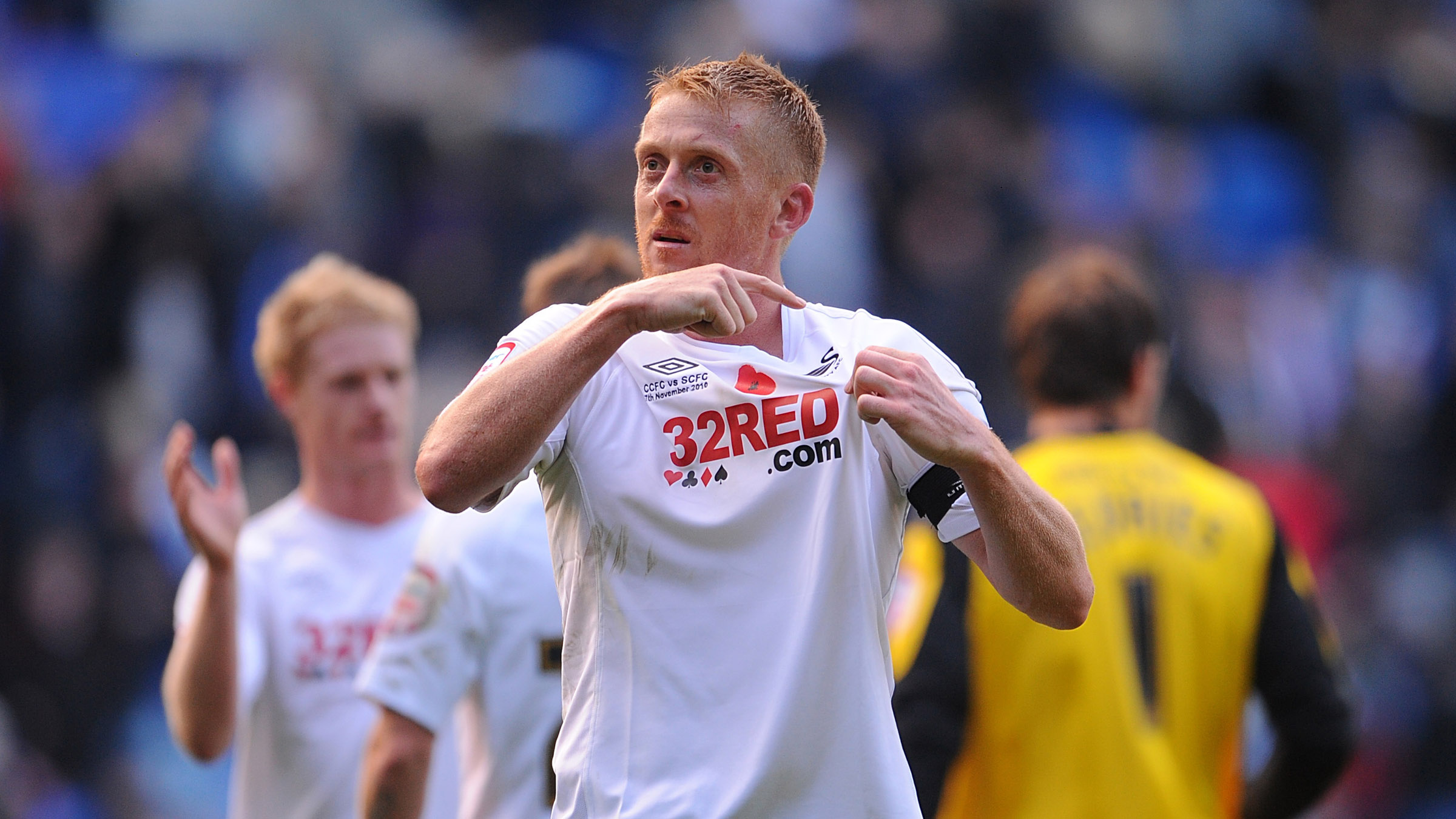 Sinclair's second penalty - after Andy Griffin had fouled Fabio Borini - completed his hat-trick and put the seal on a 4-2 victory.
Swansea City were going to the Premier League.
Amid the delirious celebrations, as all went mad around him, Rodgers showed great class and humility to keep his own emotions under wraps.
He took his time to shake hands with opposite number McDermott and to console a number of players who – not so long ago – he had himself coached.
Once he had done that, the sense of achievement began to take hold.
"For importance, there is not a game that is more important for me," he said.
"No matter what I do in my career as a coach or manager, I will always look back at that moment as a career-defining moment.
"A year earlier, I remember watching the play-off final and watching the rain coming down on Ian Holloway and thinking 'that's the best place in the world to be'. I was unemployed at the time.
"A year later, I'm standing in the same position with the rain coming down thinking 'I'm in the best place in the world.' I had 80,000 people around me, we'd just won a play-off final, the noise coming from the Swansea supporters was incredible.
"I still talk to my staff (at Leicester City) about it a lot, and the feelings of the day. It's a game that really defined my career and took us to the big league.
"The bus journey home was the best bus journey ever. Four hours, with Craig Beattie putting on his compilation, it was fantastic."
And what of Sinclair, a player whose career had been defined by nomadic loan spells. Now he was a match winner on one of the very biggest stages. His hat-trick that day is the last time a Swansea player netted a treble for the club.
"Sometimes, when you're young, you have to back yourself," he says.
"If you feel you're good enough, go out and play and show everyone what you've got.
"Sometimes it will work, sometimes it won't, so long as you keep going and believing it will work out.
"I had six loan spells – some worked, some didn't – but I'd gained experience on and off the pitch. Even living on my own, it helped me turn from a boy to a man.
"It justified me making my move from Chelsea to Swansea, and playing week in, week out in the Premier League.
"Later in my career I went on to achieve great things with Celtic, but to score 27 goals, get promoted and score a hat-trick in the play-off final is definitely up there with the best moments of my career.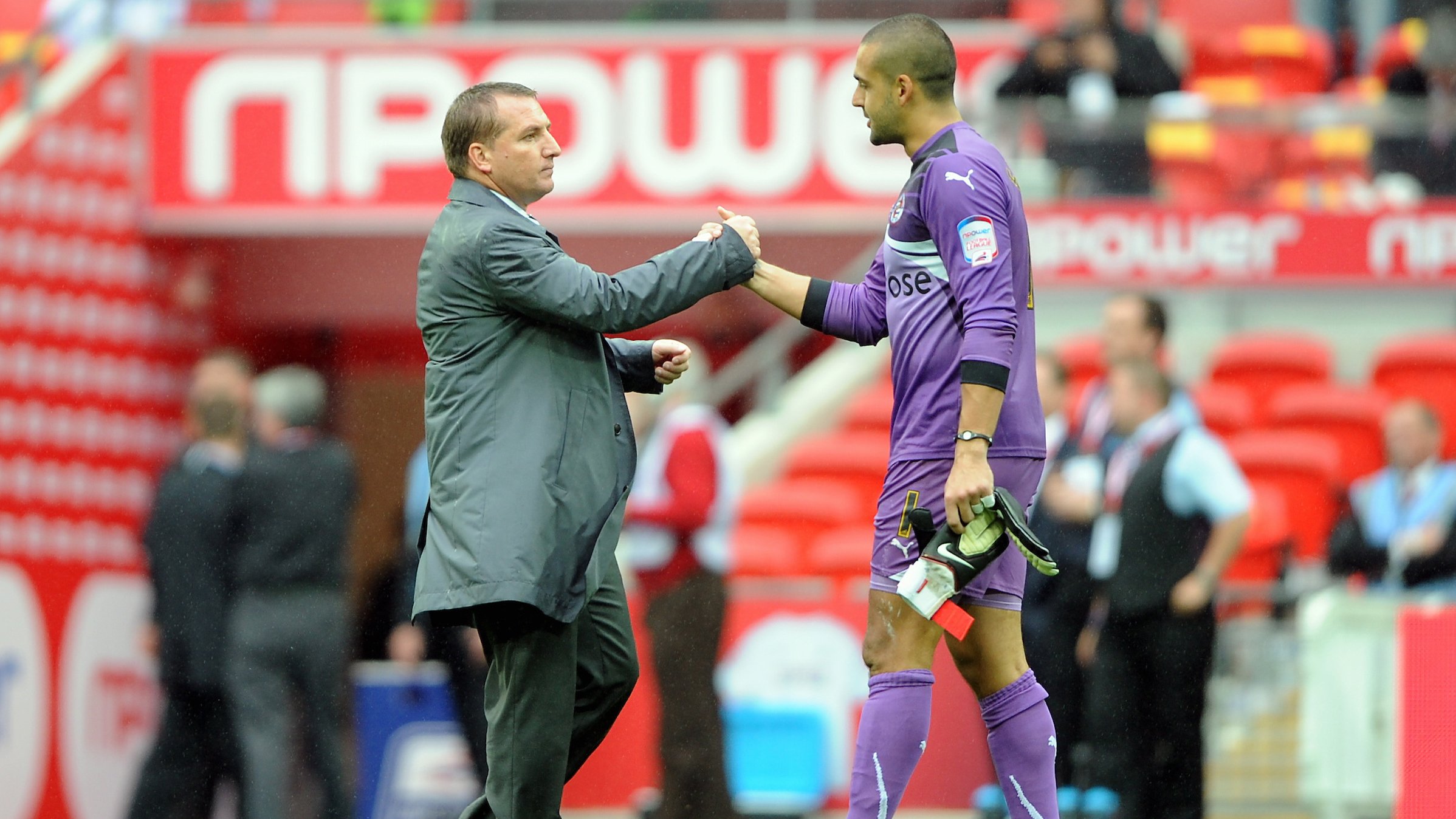 "When I look back, I thought at the time I'd have loads of memories and moments like that, but it doesn't quite work out like that. It's 10 years already, but it was an incredible time."
After celebrating on the pitch, with the whole squad wearing t-shirts paying tribute to Besian Idrizaj, and in the dressing room, it was time to head back to Swansea.
It had been arranged for the players to meet at the Morgan's Hotel for a party, although not all of the players made it that far.
"After the game we were celebrating and there were drinks in the changing room," says Tate.
"One of the last things I remember about being at Wembley and in the changing room area was me and Mark Gower having a can of Carling in the showers.
"I had just come in from outside because at the Millennium, when we won the LDV, I don't really remember having much time to myself. I took a drink out and was sat on the advertising boards out in Wembley having a beer by myself, just having a look around.
"Monks then came out and we had a chat, just having a drink together. I went back in to get changed to get back on the bus, we were having a couple of cans and ended up in the showers with Gows having a can.
"I thought nothing of it, then I got on the bus and there were loads of drinks on the bus. All the lads were celebrating and having a drink on the bus, singing songs etc. Wembley is three-and-a-half hours away so it was a long way, but we were still drinking and enjoying ourselves.
"I was always sat towards the front on a table and Gows was always sat at the back where the lads would play cards or whatever.
"Brendan gets off, a couple more get off, I get off and we go into the big hall at Morgan's just by the bar and I can see a gap where no one was coming in.
"As I turned round, Gows was holding his head, he'd split all his head open as he'd fell off the bus and hit one of the metal fences outside Morgan's.
"I think someone said there had been loads of balloons floating round and he'd gone to head one getting off the bus and gone flying.
"A couple of the lads had to take him to bed. Speaking to him after, he said he was drunk when he was in the shower but didn't remember me being in there with him. He was drunk getting out of the shower!"
"It's not like we had players who had played there for five years in the Premier League and then came back down, I'm not saying it wouldn't mean as much, but for us it was everything," adds Williams.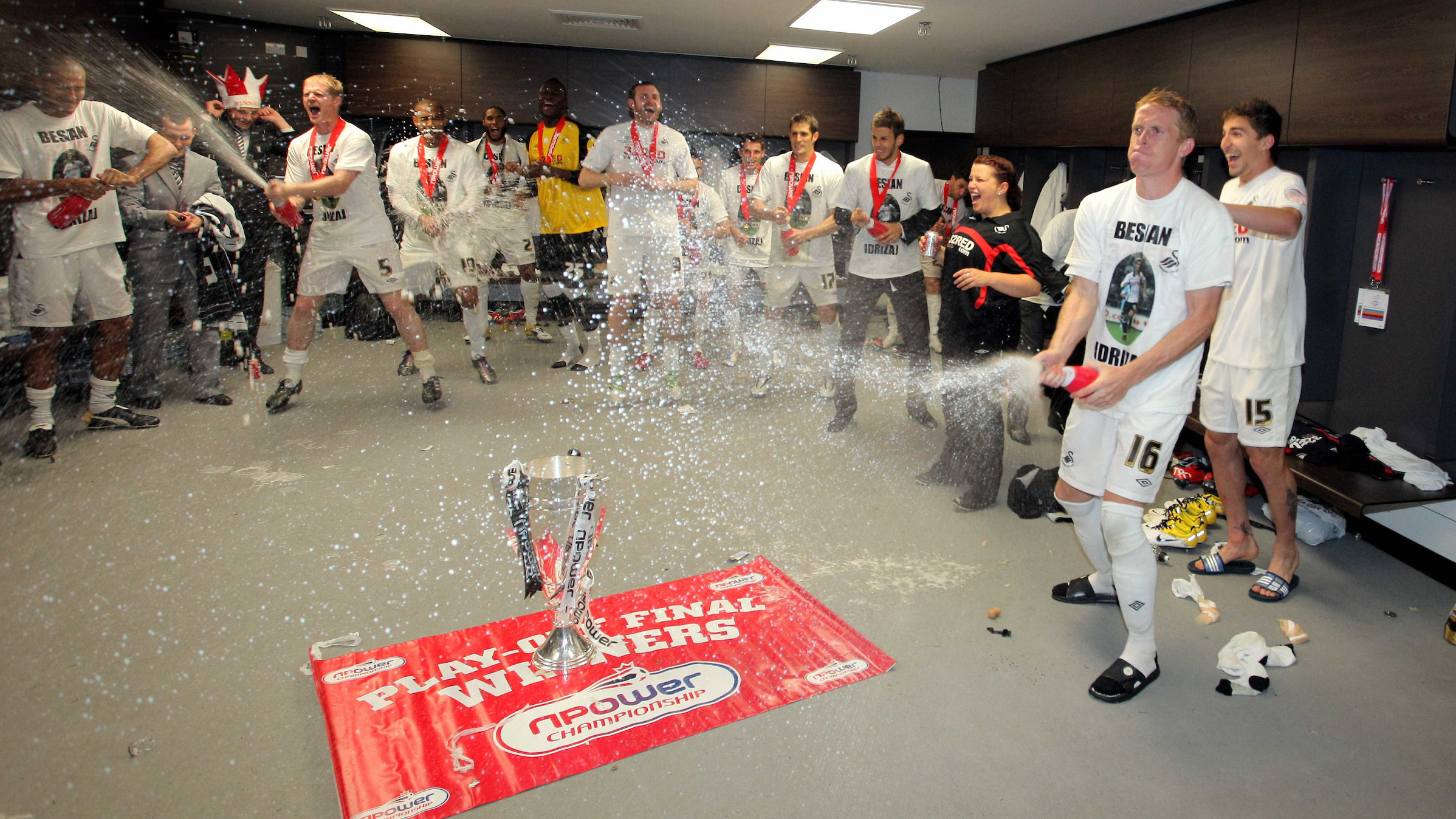 "We had been in League Two not long ago and we all grew up together and gradually got better cars and had seen the lower leagues. For us to be on the pitch at Wembley and to celebrate that - of all the teams I have played with over the 20 years of my career then that squad is the one that I would want to celebrate that moment with.
"It's probably one of the best coach journeys I have ever had back to Swansea. Someone had to put Gows in one of the rooms at Morgan's and he missed the whole party.
"Everyone made their way back and it got to a point where I didn't remember it anymore but I remember the start and the cameras were there, Sky Sports were there and at that point you're drunk and just enjoying yourself."
A bus parade through the city was arranged for the following day, followed by a civic reception at the Guildhall and, unsurprisingly, it was a challenge for some of those in attendance.
Some of the Swans would also end up on stage with Rod Stewart when the rocker played at the Liberty Stadium a few days later.
"I always remember me and Tatey – we hadn't been to bed for a while – in the mayor's hall before the bus tour," says Dobbie.
"There was a big bucket of beer, and we opened one each and cracked on. Brendan came over and tapped me on the shoulder and said 'put it down, you two have had enough. After the bus tour you can have another one.'
"So we did. I think he knew what the Scottish are like!"
"I remember walking in feeling horrific and, as I got there, Monks was pulling up behind me," says a smiling Tate.
"I was looking at Gaz and we both felt dreadful so we got back on it. We went to the bar inside the Marriott, downed one bottle of Sol trying to get back on it.
"The lads were still waiting outside so we ordered another one and we got on the bus sipping a Sol coming past Tesco waiting for the fans to appear.
"We were now outside Argos ready to turn down the Kingsway where everyone was but we were coming to the end of the bottles and we were feeling a bit better.
"As we got to St Helen's Road we could see some lads coming out of the shop with some crates. All the fans were waving up but me and Monks were waving down at these two lads to throw some cans up, so these two lads ended up throwing two cans each for me and Monks.
"Me and Monks were sipping cans and celebrating with the fans going down to Brangwyn Hall. We got there and saw (media manager) Jonathan Wilsher looking at me and Monks shaking his head thinking 'what are these two doing?'
"We got off the bus and Jon said Sky Sports want to do an interview with Monks and I.
"We were about to do a Sky Sports News interview and as we were about to go live me and Monks still had cans in our hands, so Jon has just gone behind us and taken the two cans from us and went and stood behind the camera."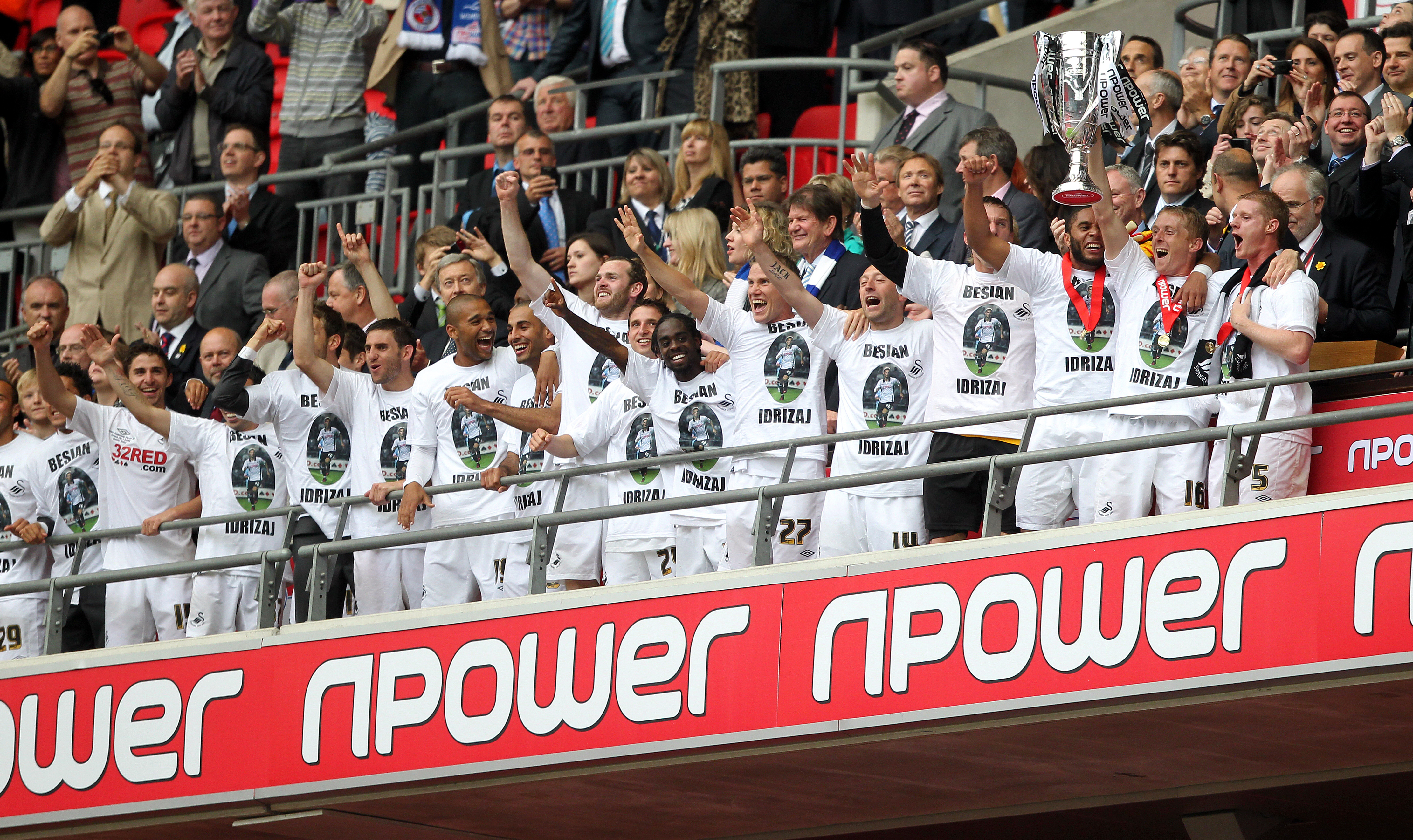 "I can't remember much of the bus journey – I was too drunk! I remember stopping a few times to get more beer," adds Rangel.
"The British boys always got the party started, and we were signing all the way home.
"We got back to Swansea and joined our families in Morgan's Hotel. Then it was time to party.
"We had the bus tour the next day. It started at The Village. The club did a great thing by having a bus with the family behind us, so they could experience it.
"The whole city was there – even the people in the prison were waving their hands through the bars!"
It had been a day and a season never to be forgotten. Swansea had been written off by many the previous summer. Many had even tipped them as relegation candidates.
The doubters had been proved wrong, and 'The Swansea Way' had prevailed over the naysayers.
It remains among the most special periods in the careers of so many who were involved, no matter what they have gone on to achieve.
"I think for the football club, it ranks up there as one of the best seasons that the club has ever had," says Britton.
"We've had some amazing years right back from the early days all the way up to recent times, but I think the 2010-11 season has got to rank up there for the football we played, the way we played, the plaudits that we got and a bit of the envy from people on the outside looking in and saying 'Wow, they've got something very special there.'
"Achieving the club's first promotion to the Premier League - I think it ranks right up there with many other years and for me it is definitely up there, even though it was only six months.
"I had always wanted to play like every player in the Premier League. I was 28 when we got there and I started playing football when I was eight, so it took me 20 years to get there.
"To finally realise it at Wembley in front of so many Swansea fans at a club that means so much with so many good friends would have to be for me arguably the best season for me."
"There were so many people against us saying that we couldn't achieve anything with that type of football and, as a group, we had our discussions about what pundits were saying about us but we just had faith in ourselves and played our football," says de Vries.
"All of a sudden, throughout the season you could see people realising 'those guys play some magnificent football.' Even after leaving Swansea, I remember a lot of the guys that I used to play against at Swansea would say 'you guys at Swansea played a fantastic type of football.'
"The opposition were always fearing us and that's something that you only realise afterwards.
"We were always feeling very positive about our own qualities at the time but looking back at it and speaking to other players who played against us later in my career, they said how hard a task it was and how much they dreaded coming to the Liberty because they knew they were going to get popped.
"They knew they'd never touch the ball and that always gives me a good feeling because I know that was a special team.
"The memories I have of Swansea are deep in my heart and I'm very fond of them and I'm proud to have been a part of that team and a part of that history. I support Swansea every single day, it is one of those clubs that I hold dearly in my heart and I can say that proudly."
"I felt very privileged," says Rodgers.
"I knew the journey of the club, and how far it had fallen. From being rescued, to the Hull game to rising up through the divisions and doing it with a clear style and identity that is synonymous with Swansea.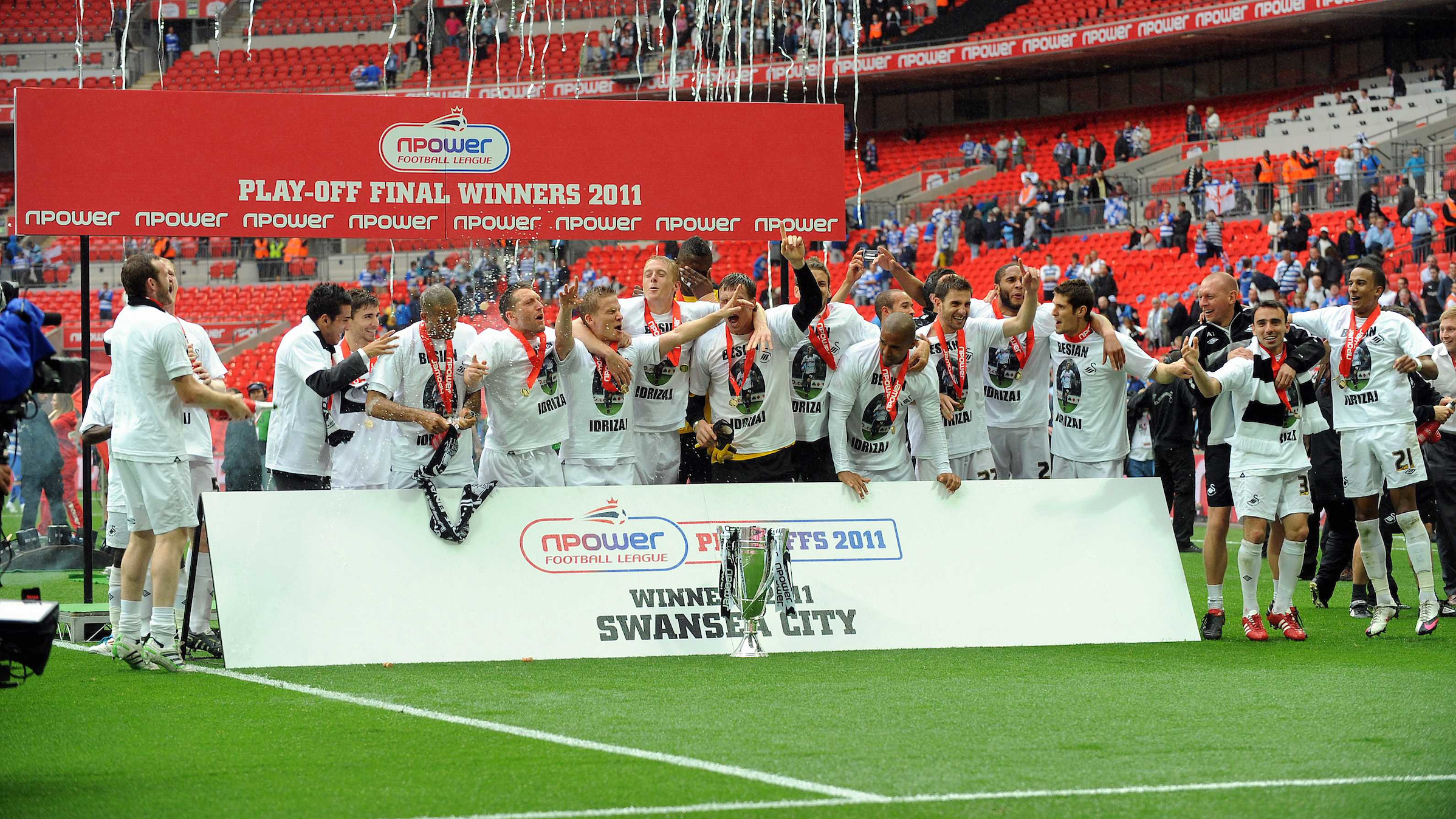 "I was well aware of the great managers before me, like John Toshack, who had taken the club to the forward.
"We were so proud to be the first Welsh team to play Premier League football, and the fact that we put Swansea in front of a global audience.
"I've been lucky enough to travel the world, and still people speak to me about my Swansea team and how we played. That always fills me with incredible pride."
"It meant a lot to me. I found lots of obstacles in my life and career to achieve things," says Rangel.
"Coming to Swansea, I didn't mind paying 75 per cent of the transfer fee. If it didn't work out, then I'd go back to accounting and playing in Spain.
"It went well, and four years later I'm going to the Premier League.
"The obstacles I had faced gave me a lot of values alongside what my mam and dad showed me – the respect, work ethic and things you can't buy. That came from mam and dad, mainly.
"Ashley Williams had worked at a fuel station, and a lot more of the lads did similar things, just to get to where we were."
Fond memories all around but, maybe, it is appropriate to leave the last word to Rodgers given his are surely sentiments still held dearly by Swansea fans.
"I'll never ever forget that day, and the days after it. It was such a unique feeling."