History Makers | 2010-11 | Part Four
17th June 2021
First team
May 30 marked 10 years since that unforgettable day when Swansea City secured their place in the Premier League for the first time. To recognise and pay tribute to that achievement, we have put together a string of features recalling that season, including new interviews with many of the key figures involved. In part four, we reflect on two tumultuous semi-final tussles with Nottingham Forest including an early red card, two of the finest goals in Swansea's history, and the wildest celebrations the Liberty has ever seen.
So, after 46 games and nine months, it all came down to the play-offs. Swansea City's season rested on the two-legged play-off semi-final against Nottingham Forest, with both sides competing for a chance to play in the richest game in football at Wembley.
After finishing third, the Swans faced sixth-placed Forest at the City Ground before the home leg at the Liberty just four days later.
With so much excitement and nerves, Swansea fans had travelled with high hopes. However, it did not take long for things to go awry for the visitors.
With just 53 seconds on the clock, the shrill noise of Mike Dean's whistle filled the famous old stadium before he raised a red card out of his pocket.
In what marked the first sending off in his career, Neil Taylor was given his marching orders for a high challenge on Forest's Lewis McGugan near the halfway line.
Whilst the sending off gave the home fans an evident boost, panic did not take hold in the minds of the 10 remaining Swansea players on the pitch, nor of their manager.
"It was unbelievable. I remember that challenge and we were like 'No, it's early in the game' and we had a big fight ahead of us," said Dorus de Vries.
"As we were so strong as a defensive unit and so good at keeping clean sheets, we were very well prepared.
"I remember Brendan always had a plan A, B, C etc. Even if we went down to 10 men, Brendan was capable of changing the formation of those on the pitch so at least we'd keep the clean sheet so we were up for it in the second leg, and that's exactly what he did."
Stephen Dobbie was sacrificed in favour of Garry Monk, with Alan Tate shifting into the left-back position.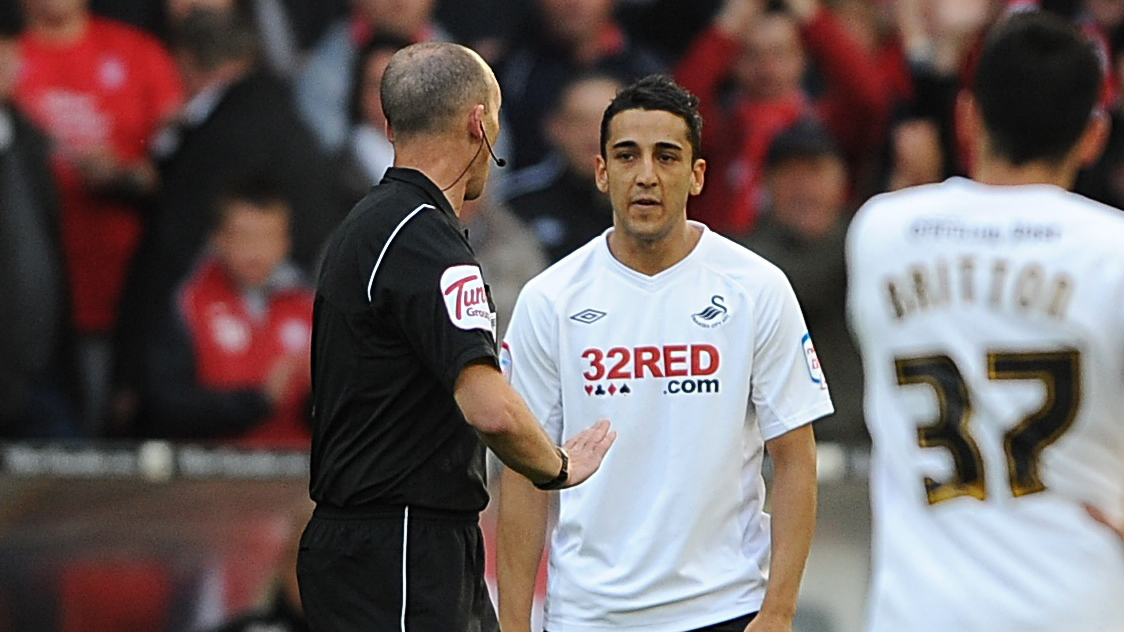 "I would have been angry if it had been a normal game, but in a game with such high stakes then you need to bring someone on when a defender gets sent off," says Dobbie.
"Usually, it's a number 10 who is the luxury player to get sacrificed.
"I had friends at the game who travelled from Glasgow. They missed the first few minutes, and they saw me walking off the pitch, so they thought I'd been sent off. They'd travelled six hours and only saw me walk off the pitch!
"With me off, we knew the shape and were still confident we could come away with a 0-0 draw."
Despite being numerically disadvantaged, Rodgers had prepared his side throughout the season in the event a player would be sent off.
Rodgers' masterplan shifted the mindset of his team into believing being a man down even gave them an edge over their opponents.
In many ways, this calmness and ability to spot an advantage where few would have known one existed, sums up Swansea under the guidance of Rodgers.
To hear the Northern Irishman explain his thoughts all these years later, the most striking aspect is the simplicity and clarity of the message.
"We'd played 46 games and then go into a two-legged play-off and the first few minutes we lose Tayls. I've never forgiven Mike Dean for that, because it could have been so different," added Rodgers.
"That was testament to the players, because they could have really sunk in that moment.
"It was about spirit, and we had a good mindset in the team, but we had to really dig deep as early as the first minute. Monks came on and we still set up to attack.
"Our preparations through the year involved seven versus six, 11 versus 10, playing against an overload.
"I reinforced a message at half-time that the players really took on. I said 'look, when we are defending in our half we have the advantage in terms of numbers. When we're not pressing and defending in our half, it's 10 v eight to us as they have two centre-halves that stay back along with a keeper. So if we have 10, which includes Dorus, nice and compact, then numerically we're okay.'"
As well as Rodgers' masterplan, the senior members of the squad used their experience to guide the younger players in what proved to be a mammoth team performance.
"Basically we had 4-4-1, and we tried to use Dorus as much as we could, who was good with his feet and could spray longer passes," added Tate.
"Scott Sinclair was really good at going forward, but I told him he was going to have to do more of a defensive job for us and just take us his chance when he had it, I didn't say it as nice as that though!
"I made it clear that he had to go and do a job for us as a team and make sure we stick at it in this leg and do the best we can to make sure that we come away with a zero.
"We dug in really well and that was one of my proudest moments as a Swansea player. You've got 10 lads who have basically gone through hell with each other."
The visitors did not lack goalscoring opportunities, with a Fabio Borini free-kick from 25-yards and a low Nathan Dyer effort forcing Lee Camp into action.
Forest were relentless in the second half and turned up the pressure on the visitors which led to a succession of chances. Former Cardiff man Robert Earnshaw tried his luck with a 15-yard half-volley, only to see it pushed around the post by de Vries.
The evening appeared to be going from bad to worse as Borini was forced off through injury before the home side believed they deserved a penalty for a Tate handball but, much to the relief of the Swans, Dean waved their claims away.
Just moments later, hearts were in mouths once more as Earnshaw had the ball in the back of the net from a header at the far post, but it didn't take long to be ruled out for offside as the Swans continued to show grit and determination.
"We knew it was going to be difficult but something happened, they nearly scored but they didn't in the second half, I think it was Earny, and then I just thought to myself 'They're not going to score today, we'll see this out and if anything we'll nick one down the other end'," said Ashley Williams.
"We knew that getting a 0-0 at their place and then bringing them to our place, we felt that we could probably get the job done."
The sharp noise of Dean's whistle was now a welcomed sound as it marked full-time and the Swans had done enough to finish the game level.
Having held Forest to a 0-0 draw with 10 men at the City Ground, Rodgers' side were able to take heaps of confidence from the performance heading in to the second leg on home soil.
"We came off the pitch knackered but knew mentally that we were one up on them because if they couldn't beat us with 10 how were they going to beat us with 11? I think that was a massive psychological edge for us going into the second leg," recalls Tate.
"We talk about the possession football and how much we passed teams off the park but that game just showed there was so much character, spirit and determination in that squad," continues Leon Britton.
"To play against a team in the play-offs for virtually 90 minutes with 10 men, and we weren't just hanging on, we played well and had some chances; Nath was going through and had an opportunity quite late on which Camp saved.
"I think it showed the other side of us, the side that we needed throughout the years in League Two and League One, going to certain grounds when we were up against it – that came out in that game.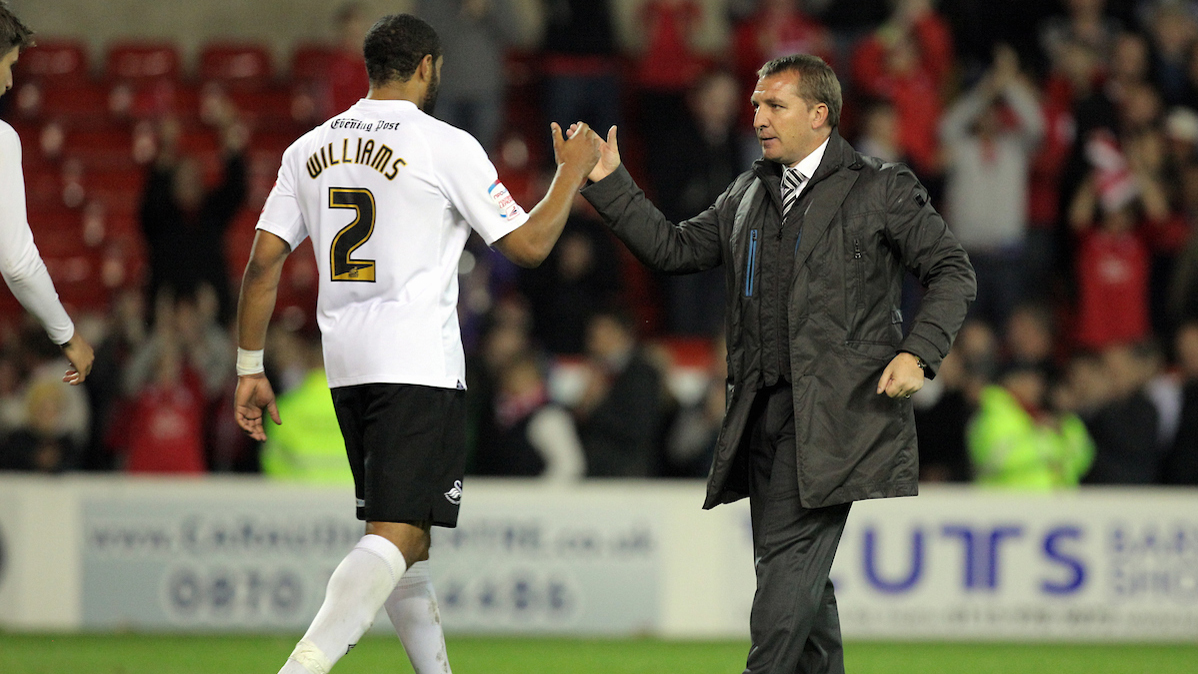 "The semi-final was won in that match, they couldn't beat us with 10 men so we took a lot of confidence going into the second leg from that match."
Excitement was building around the city as the big game approached. From Mumbles to Morriston, there were newspaper pull-outs aplenty and all conversations seemed to lead to the big game as the prospect of Premier League football became tantalisingly close.
"You could sense it straight away, as soon as you'd go anywhere," added Britton.
"With the opportunity that lay ahead, there was a chance for the club to get to the Premier League for the first time since it had become the Premier League.
"It was a huge opportunity for us and everywhere you'd go, the football club is the hub of the city, so everyone knows you and would be speaking about the opportunity and how big a game it was against Nottingham Forest.
"You can't get away from it, the build up to the game is incredible, there's so much riding on it; your whole season is riding on this one game.
"You got reminded of that wherever we went, whether it was going for a pint of milk or a walk along the seafront, everyone was reminding you so you got that sense of how big it was for the fans."
The build-up has been likened to the days leading up to a south Wales derby, with anticipation building towards a must-win game.
"Before any game against Cardiff, whenever I went into town, whether it was to Tesco or Marks and Spencer shopping, the fans would let me know about Cardiff and this game had the same feel as that," stated Darren Pratley.
"I remember on the day of that semi-final, the build-up outside the stadium, all the fans there and the atmosphere. I'd never seen anything like that, that was probably the best atmosphere I have seen at the Liberty.
"The build-up was great and the manager kept us calm, he knew that we couldn't get carried away and told us we were playing the game not the occasion."
Unbeknownst to anyone in the stadium, one of the most thrilling matches, if not the most thrilling match, the Liberty had ever seen was to follow. The stage was set and it all came down to the next 90 minutes.
It was fitting that the first goal of the tie came through a Swansea City stalwart who had first signed for the club in 2003 and had played a large part in the club's rise through the leagues.
Dobbie played a short corner to Britton, who suddenly found himself surrounded by red shirts and with no safe pass available.
For the briefest of moments, Swansea's pass master looks unsure what to do. He keeps moving and turning, looking for a pocket of space when suddenly he finds himself having opened up room for a shot.
In what proved to be his last goal in professional football, Britton played the ball onto his weaker left foot and curled home a stunning left-footed strike from 25-yards to beat Camp.
"I can't remember if it was a short corner from Stephen Dobbie that was planned or if it was just off the cuff," said Britton.
"The plan wasn't for me to go and score, maybe the plan was for me to pass to someone else or back to Dobbs but as it transpired I had the ball and held on to it looking for an option to pass.
"I've had people say to me that it looks like I don't quite know what to do, and they're right because there was no obvious pass for me to play and there were a number of Forest players around me. I certainly never planned how it turned out.
"I did a little turn and all of a sudden it opened up and I just thought 'I'm going to have to shoot'. I never shoot but I thought 'I'm going to have to shoot, I can't do anything else'. 
"I remember having it on my left foot, putting my head down and just having a swing and then putting my head up and seeing it in the back of the net.
"When I hit it, I had no idea where it was going. It was only in that moment that I picked my head up and I could already hear the crowd starting to roar. I almost didn't know what to do!
"It was something that was never a natural part of my game - you can see from my goalscoring record I was never someone to shoot from outside the box on my strong foot, let alone my weaker foot.
"For some reason that night the opportunity came and I just thought I had to have a go and luckily for us it gave us a lead that was important because it was the first goal in the tie and gave us the 1-0 lead that we had been looking for."
High on confidence, the Swans netted their second within five minutes through Dobbie. After a neat one-two move with Dyer, the Scot raced inside, beat two Forest players and lashed home a sweet shot from 20 yards.
"The boy was man-marking me when the ball came. Angel threw it into me and I played the one-two with Nathan," recalled Dobbie.
"I drove on and Fabio ran across me, and I was going to pass to Scotty as he was one-on-one, but Chambers dived in and I put it through his legs and hit it with my left foot into the corner.
"The sound of the fans was electric. Even now I get goosebumps thinking about it."
It wasn't all plain sailing as Billy Davies' side showed their intent on getting back in the game. McGugan saw a powerful free-kick cannon off the woodwork before substitute Pratley missed a golden opportunity to put the game to bed.
The tension within the Liberty was intensified when Forest pulled a goal back through Earnshaw with just 12 minutes remaining to make the score 2-1.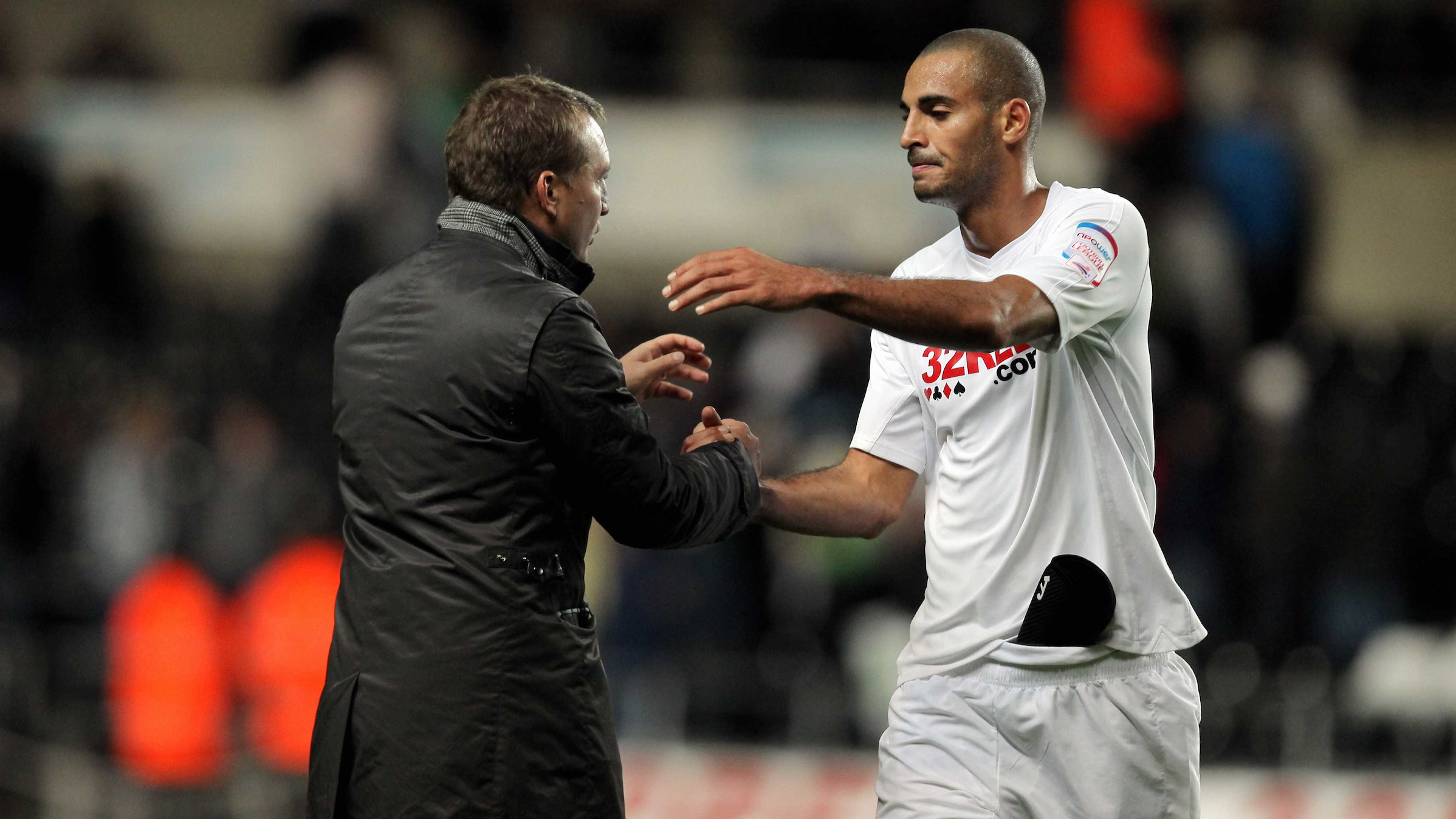 In the frantic minutes that followed, the Welshman rattled the woodwork with a driven shot before he had a penalty appeal dismissed by Andre Marriner after he claimed his shot had hit the arm of Williams.
"I didn't feel comfortable, sometimes it's horrible as a sub when you're coming on when you're winning," says Pratley.
"No matter if it's your fault, if something goes wrong people think it's because you came on.
"Two-nil is a very hard scoreline but I should have scored before I did, I had a free header after someone crossed it from the left and I missed.
"Earnshaw then went up the other end and scored to make it 2-1 and their tails were up and I thought it was going to go into extra-time because they were the ones who were on top.
"They had got a lift and threw everyone forward, so at that point I thought we could well end up going into extra-time. Then they got the corner and the rest is history!"
Anxiety reigned at the Liberty as Forest won a stoppage-time corner, with keeper Camp coming forward as the visitors attempted to save their season.
The set-piece was cleared, and a slip from McGugan suddenly sent Pratley cantering away towards an unguarded goal.
The midfielder etched his name into the Swansea City history books when he raced forward before steering the ball into the empty Forest net from just inside his own half.
The Liberty held its breath, but once the ball had bounced it became obvious where it was heading. The celebrations had started well before it eventually crossed the line.
In a moment that is often regarded as the finest the Liberty has ever witnessed, the Jack Army erupted and Rodgers memorably raced down the touchline in celebration.
And Pratley has revealed how it was a lesson learned from none other than Paul Gascoigne that played a part in him finding the target from distance on that famous night.
"McGugan missed the volley, and my first touch was quite good so I picked it up and I knew I could run with the ball," remembers Pratley.
"I ran past the manager and he was shouting 'Run to the corner, run to the corner!' but then all I could hear was 'SHOOT!'
"At the time I knew the keeper was up but you don't really realise the goal is empty because your head is down and you're running.
"I could see Chris Gunter running back so I knew I had to put something on it and a couple of weeks before that I had seen Gazza doing something at half-time trying to score from the halfway line for charity.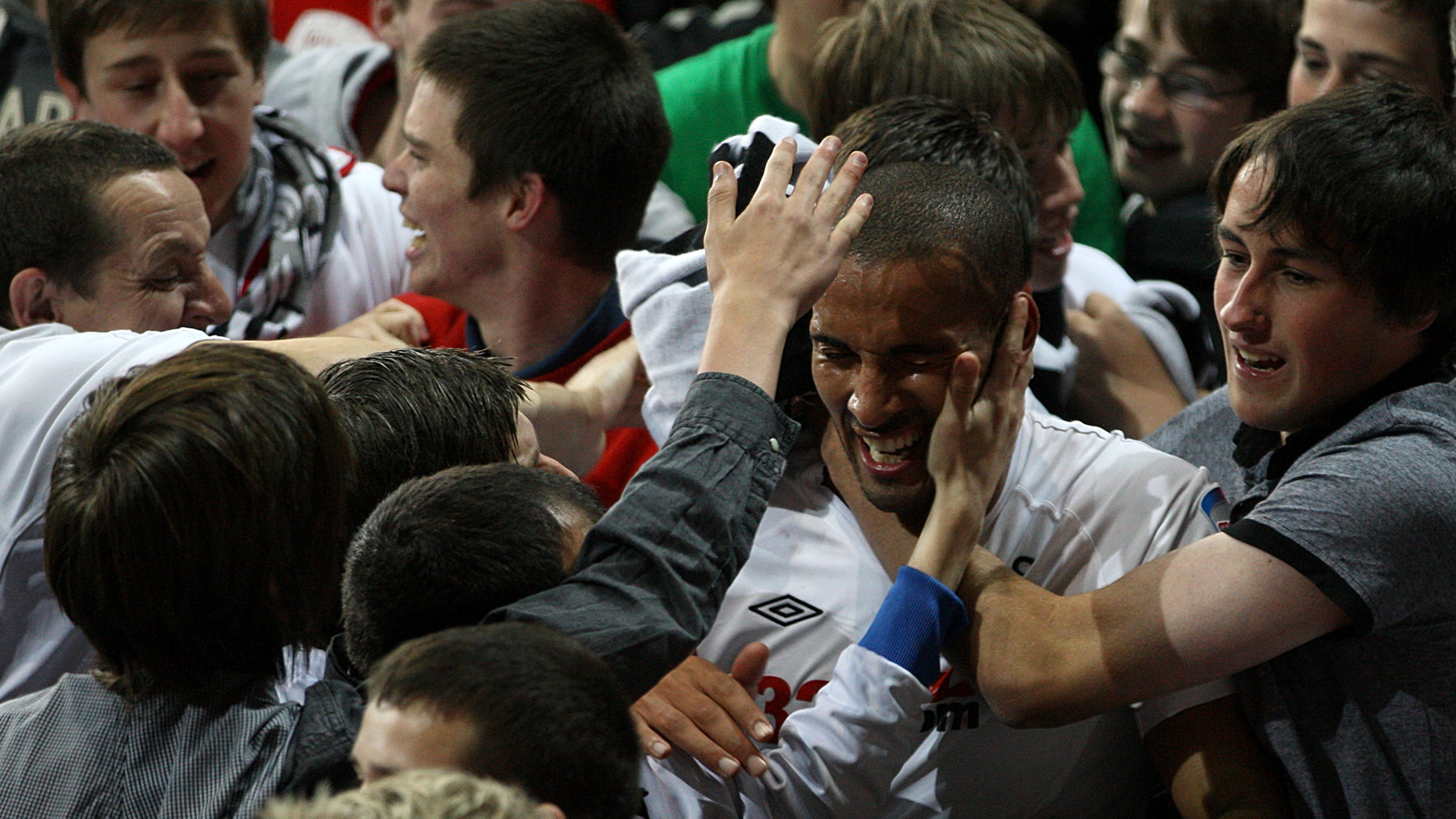 "He kept on trying to hit it with his laces and he was missing, so I thought if I was ever in that situation I would try to just curl it in.
"I got to the halfway line and I felt that their player should have fouled me in the build-up, he should have just taken my legs out.
"I was at the halfway line and I thought 'Just shoot, why not try it,' and it bent and I was just on the floor watching it. I see it's going in and their player is not making it and it was crazy.
"The fans came running on the pitch, the subs came running on the pitch, Brendan was running up the line. I don't know where I was running because it was towards the Nottingham Forest fans!
"I just threw my shirt off because I was a little bit annoyed that I didn't start the game and it was crazy."
The iconic goal marked Pratley's last goal in a Swansea shirt in what turned out to be the midfielder's last appearance for the Swans at the Liberty.
"It's the goal that everyone talks about wherever I go and people get the video up. It probably is the best goal I have ever scored," added Pratley.
"To score the goal to take us to the final, and from the halfway line - not many people are part of the halfway line gang - so I was happy with that."
"When that third goal went in it was pure relief. They had nicked a goal right at the end, but Prats finishes off the game with a brilliant finish," continues Rodgers.
"There's a funny story to go with that. Mark Gower got a bit of grief from his team-mates because as I'm running up the line, he was on the bench and ran up but couldn't overtake me. So they were giving him stick because he was actually slower than the gaffer."
The Jack Army invaded the pitch and the players headed to the directors' box where they greeted the thousands of fans who crowded the hallowed turf.
"It was elation for everyone. The passion was incredible. The feeling that we had done it and we were going to Wembley, the great stage, to play our football," smiled Rodgers.
"It gives me goosebumps thinking of it now, because it was sheer emotion. The club has just missed out the previous season and these are really tense games.
"The chance was still there to be the first Welsh team in the Premier League. I was just so happy for everyone, and it was amazing to be involved in.
"The Liberty was only 20,000 seats, but it always felt two or three times more than that simply for the sheer passion and noise of the crowd.
"I'll never forget that night for the rest of my life."
For players and fans alike, the night would long remain in their minds as one of the greatest in the club's recent history.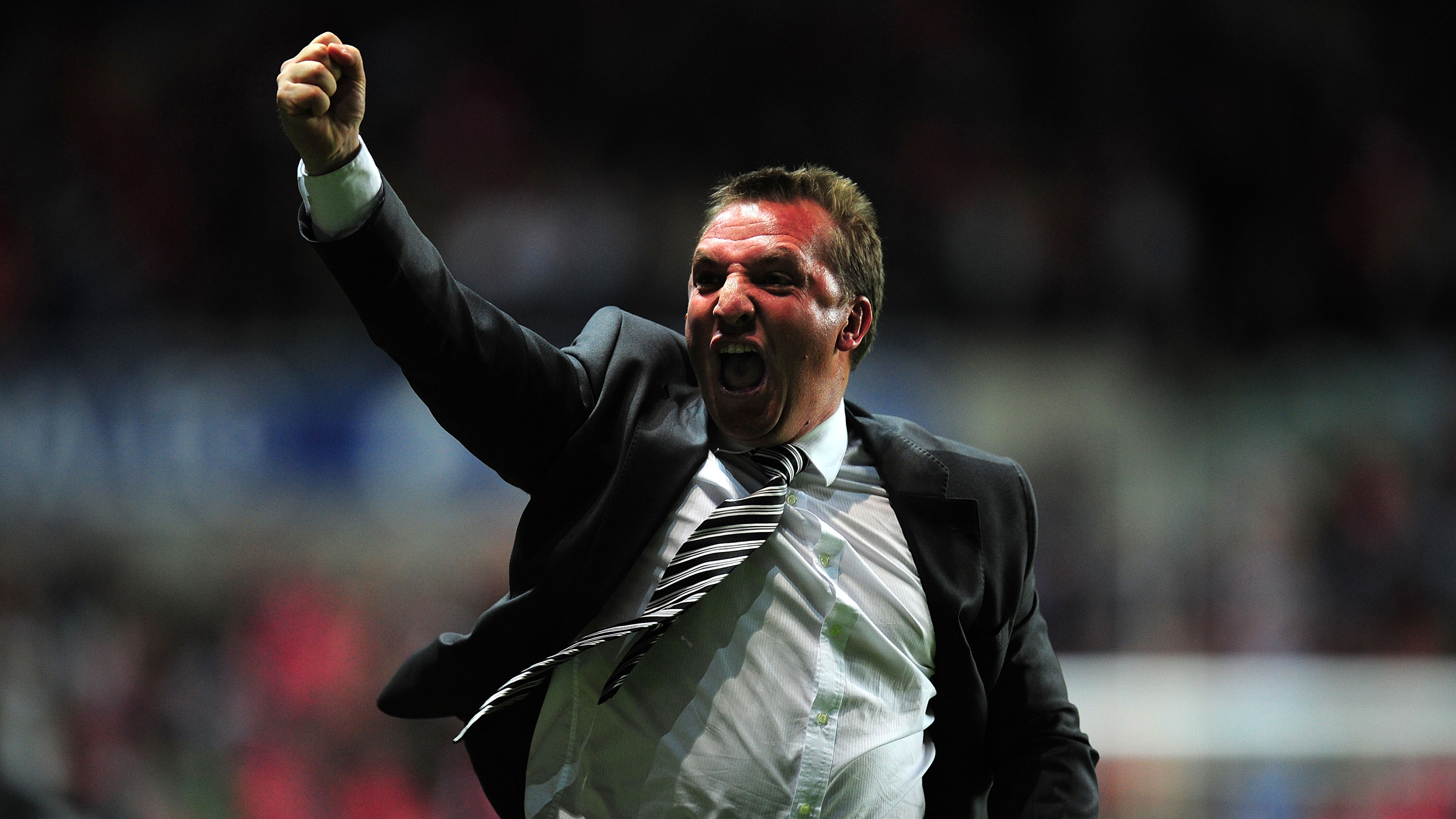 "I have been very fortunate to have played in so many great games at the Liberty Stadium, beating Leeds 3-2 in League One and I've played in Premier League games where we have beaten some of the biggest teams in world football," says Britton.
"But the atmosphere that night against Forest, I do think it was the best atmosphere I ever played in at the Liberty Stadium because of what was riding on the game and with the way the game panned out.
"Brendan running one way, Prats and the players running down the other end, fans running on the pitch, the atmosphere and the night was so special. For me it was probably the most special night ever at the Liberty Stadium.
"I remember just walking through the corridors in my kit, all of us just wandering around the stadium, just seeing people and everyone was on cloud nine knowing we were going to Wembley and knowing we had a chance of getting to the Premier League. We went into the directors' box with all the players and it was a real, real special night.
"For me, it's hard because there have been so many special moments at the Liberty but I think it's probably the best night."
The Swans were now just 90 minutes away from the promised land, and were on their way to Wembley.