History Makers | 2010-11 | Part Three
16th June 2021
First team
May 30 marked 10 years since that unforgettable day when Swansea City secured their place in the Premier League for the first time. To recognise and pay tribute to that achievement we have put together a string of features recalling that season, including new interviews with many of the key figures involved. In part three, we reflect on Brendan Rodgers' calm leadership, a trip to see Billy Elliot, and another signing from the manager's past.
With Leon Britton back at the club, there were smiles across the faces of thousands of Jacks in the city as the Swans sensed bigger things were on the horizon.
Under Brendan Rodgers, the team had developed a more attacking edge to their game and were a thrill to watch as the Swansea Way stepped up a gear.
Despite a shock home defeat to Leyton Orient - who included Tom Carroll and Harry Kane as unused subs - in the FA Cup, league form was about to pick up.
Darren Pratley's brace earned a 2-0 win over Bristol City at Ashton Gate, before a painful home derby loss to Cardiff City followed.
But that setback acted as a catalyst in the next run of games – starting with a memorable 4-3 victory at Middlesbrough thanks to Craig Beattie's late winner in a match where the Swans had trailed 3-1.
While many were purring over the character of the team in picking themselves up from the canvas, Rodgers was not as complimentary and let his players know afterwards.
"The Boro game was horrific, we were terrible for probably 60 minutes," remembers Alan Tate. "I remember the first goal was my fault, I got blocked in from a free-kick.
"We managed to get it back to 1-1, then they went and scored two quick goals in the second half. Something just clicked then and we went on to score three.
"I remember Beats' goal at the end and I remember Brendan just coming into the dressing room at the end of the game and he didn't go mad shouting, but just went mad saying 'don't do that again' and 'you're not going to win many games if you keep conceding this many goals'.
"He said 'it's great and enjoy it but don't think that that's acceptable'. We were lucky to win that, it was just the quality we had in the last 30 minutes that managed to take us over the line."
"I don't remember that as much as Tatey but I can imagine him saying that because I know Brendan well," adds Dorus De Vries.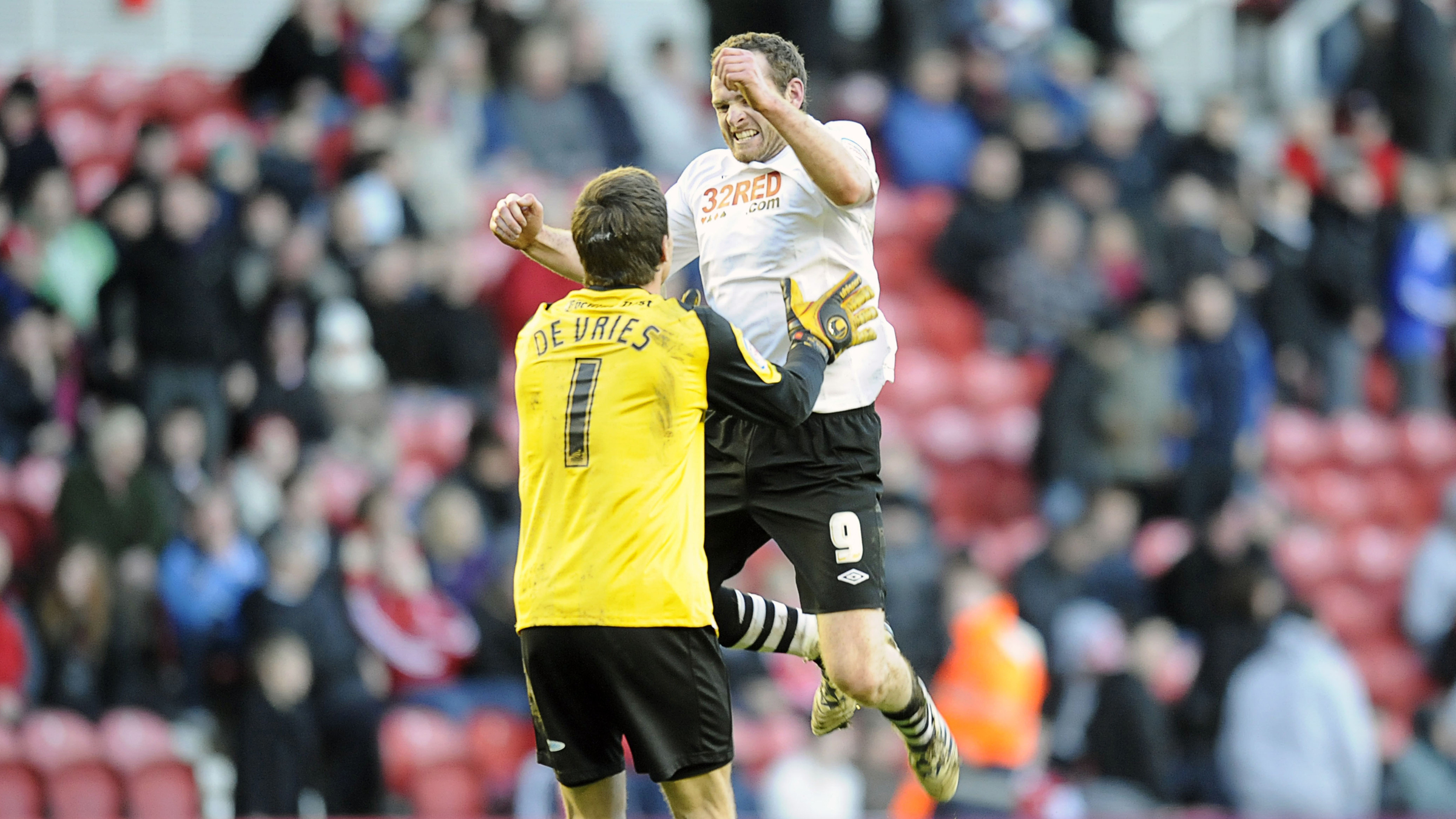 "We won that in the final moments of the game and, if the performance wasn't good enough, he'd tell you it wasn't good enough. It doesn't matter if it was a 4-0 win, a 5-0 win or a 2-1 win, if it wasn't good enough you got told.
"It kept everybody on their toes, even individual performances – if you weren't good enough you would be told.
"Looking back, we had such a group that was open for everything. We wanted to grow, we wanted to get promoted and we still wanted to make names for ourselves.
"That's why the whole squad was open to getting better, we were willing to gain information from each other and from the manager who already at that time showed he was a great manager. That was very important."
"I remember it!" reflects Pratley. "Ashley Williams scored and got his arms out! We didn't play well but we managed to nick it in the last minute and it was the most I had ever seen Beattie run when he scored - he ran the length of the pitch!
"Brendan wasn't happy and normally when you play bad and you win managers gloss over it and say 'great performance, you did well'. The game wouldn't be great but because they have won they think everything is rosy. But Brendan demanded more of us and that is what I believe helped us go on and get promoted.
"He demanded high standards because, as a player, if you get away with a bad performance and get the win, you sort of sweep that under the carpet and think you did do well. He kept us on our toes, which was very good."
That approach was certainly one which the players respected, and proved to be just one of the many factors which helped Rodgers keep a tight unit within the changing room.
"He was very good with the way he treated us and the way he spoke to the media," says Williams.
"As a player you want to hear that and see it, he'd protect us and you end up getting a good relationship to the point that, apart from the Wales team with Chris Coleman, I've never seen a bond with a manager and a set of players where everyone is happy - the whole squad.
"Usually you get the starting 11 being happy and everyone else is a bit miffed, but he managed to keep everyone happy because the environment he created was just so enjoyable."
While the goals conceded, and the manner of them, certainly gave Rodgers reason to be firm with his players, he also highlighted the character of his team in bouncing back from their defensive slip ups.
"Sometimes you can play really well and lose, but then not play very well and win," says Rodgers.
"That was a game where, from an offensive perspective, we were excellent, but defensively we gave away cheap goals.
"That day, we showed an incredible resilience, a never-say-die attitude and that's so important.
"You're never overly happy when you've conceded three goals and you have to go to that depth to win a game. But, at the same time, winning a game like that really strengthens the mentality within the squad."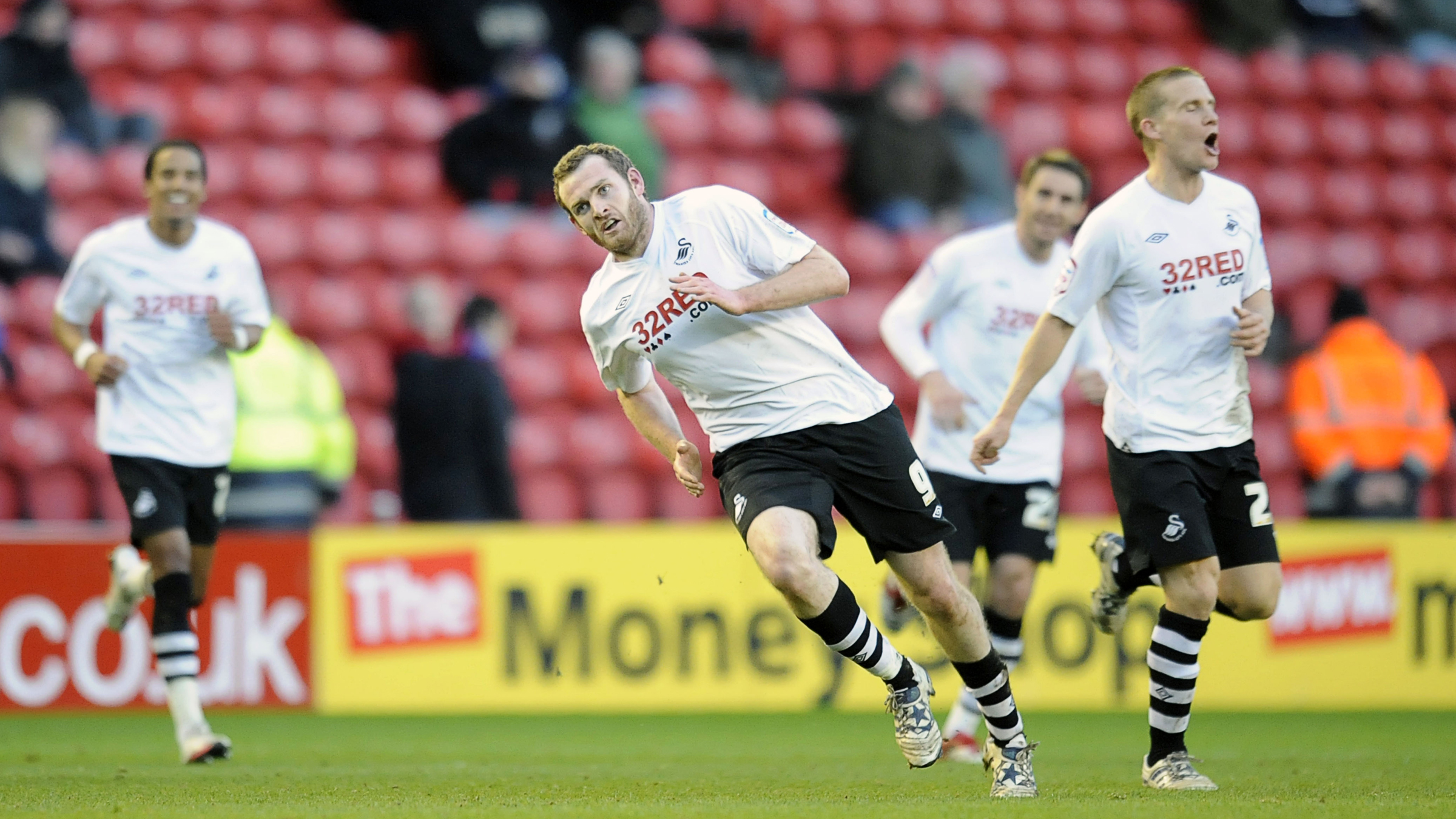 The words from Rodgers certainly had an effect, with the Swans easily disposing of Doncaster 3-0 as they put in a flawless display at both ends of the pitch.
Scott Sinclair, once again, was on the score sheet along with Luke Moore. But it was Williams' second goal in as many games, and the celebration that followed, which caught the media's attention.
"I did a BBC interview in between the two games with Jason Mohammed and he asked would I do the celebration again if I scored and I said 'Yeah, I'll do it with both arms' thinking I only scored one a season.
"I scored again then had to do it and the pictures used to be everywhere, I just hated it!
"I remember that game as well, all the Liberty home games were so nice we just went into them with so much confidence. We went into that games so confident in ourselves that we didn't care who we were playing against. We just knew more times than not that we were going to open up the other team.
"We didn't care, we did no work on the opposition, we let them worry about us. The away games were 50/50, we knew what we were going to do but we didn't know how it was going to turn out. We'd turn up to a home game and know that at worst we'd have all the possession, we'd enjoy the game and something would happen and we'd lose 1-0, and Scotty, Nath and those boys would have an off day. More often than not, if it was a home game we were probably going to go and win it."
Another victory followed with Dobbie's strike earning a 1-0 win at Coventry City ahead of a showdown with Leeds United at the Liberty.
It proved a second consecutive 3-0 home win for Rodgers and co as Leeds were blitzed by the free-flowing Swans.
A Sinclair brace and another Moore goal meant the Swans had won four games in a row and were serious contenders for an automatic spot.
But, just as form was reaching its peak, things were about to change.
Four straight wins were followed by three games without a victory. Defeats at lowly Scunthorpe and Derby came either side of a 1-1 draw with Watford in SA1.
Wins over Nottingham Forest and Norwich City, who would go on to finish second, provided some respite, but they were the only victories in a nine-match streak - a streak that would see them drop out of the automatic spots.
"It was disappointing because we were going so well," reflects Britton. "When you're getting closer to the end of the season, you've done a lot of hard work and you're getting closer and closer. When you go on that disappointing run it is tough, but in the season you will get good runs of form and bad runs of form.
"It took us out of the top two, but we always still believed that with the players we had and the manager we had, that we could either get back in the top two or achieve promotion; whichever way that would be.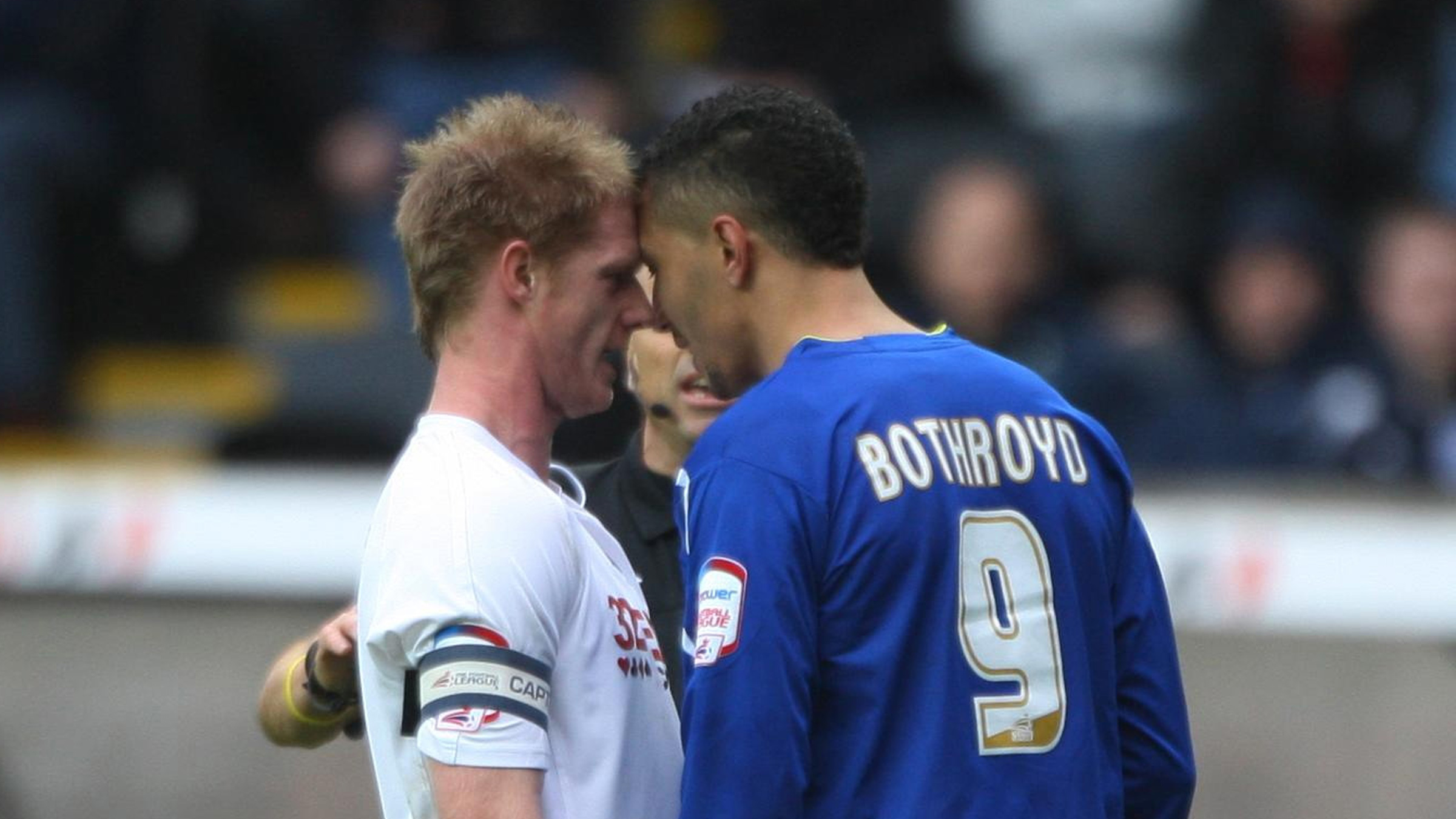 "We would never get too above ourselves when we were doing well and in the top two but when we were on a bad run we wouldn't get too down, you don't become a terrible team overnight. It was just about trying to regain that form and getting back to winning ways."
"In the whole season you are going to have sticky moments and I've been at other teams and seen other teams where when that happens they throw everything out of the window, start a new game plan and start to change tactics," says Williams.
"We didn't do that, we stuck with what we knew, we had those players and we had a manager who promoted that style, we had fans who wanted to see that style of football, we had opponents who expected to come up against that so we didn't need to change anything, we just had to make a few tweaks.
"Defensively, Brendan was just changing a few little things, things that we hadn't come up against yet that we would just work on. In terms of our overall style, it was always going to be what it was."
"I never doubted," de Vries says confidently. "For a number of seasons previously in the Championship, the teams around the top three at Christmas didn't end up getting promoted automatically and they struggled in the second half of the season.
"I said this to a lot of people, the Championship is a fantastic league because you can never tell what's going to happen. Saying that, even in that time I remembered that we still had one goal and we still had that trust in each other. We knew that we had to up our game and make sure that we made that final push.
"I remember the moment in the previous season when we didn't get into the play-offs and we were definitely good enough to get into the play-offs, we'd shown that throughout the season. We never lost faith in our own ability, that is something that has really stuck in my mind.
"We had a lot of trust within each other, we had some great players, were a great team and we had a little bit of a setback but of course we just pushed on. That's what we showed later on in the season."
When teams experience such a dip in form, managers and coaches look for a spark to reignite their campaign.
Whether that be tactical tweaks here and there, or maybe a change off the pitch. For the Swans, it was the latter.
A trip to Pennyhill Park – the regular base for the England rugby team - in Surrey proved just the right move as Rodgers took his squad away to break from the norm, and take in some of London's attractions to lift the mood.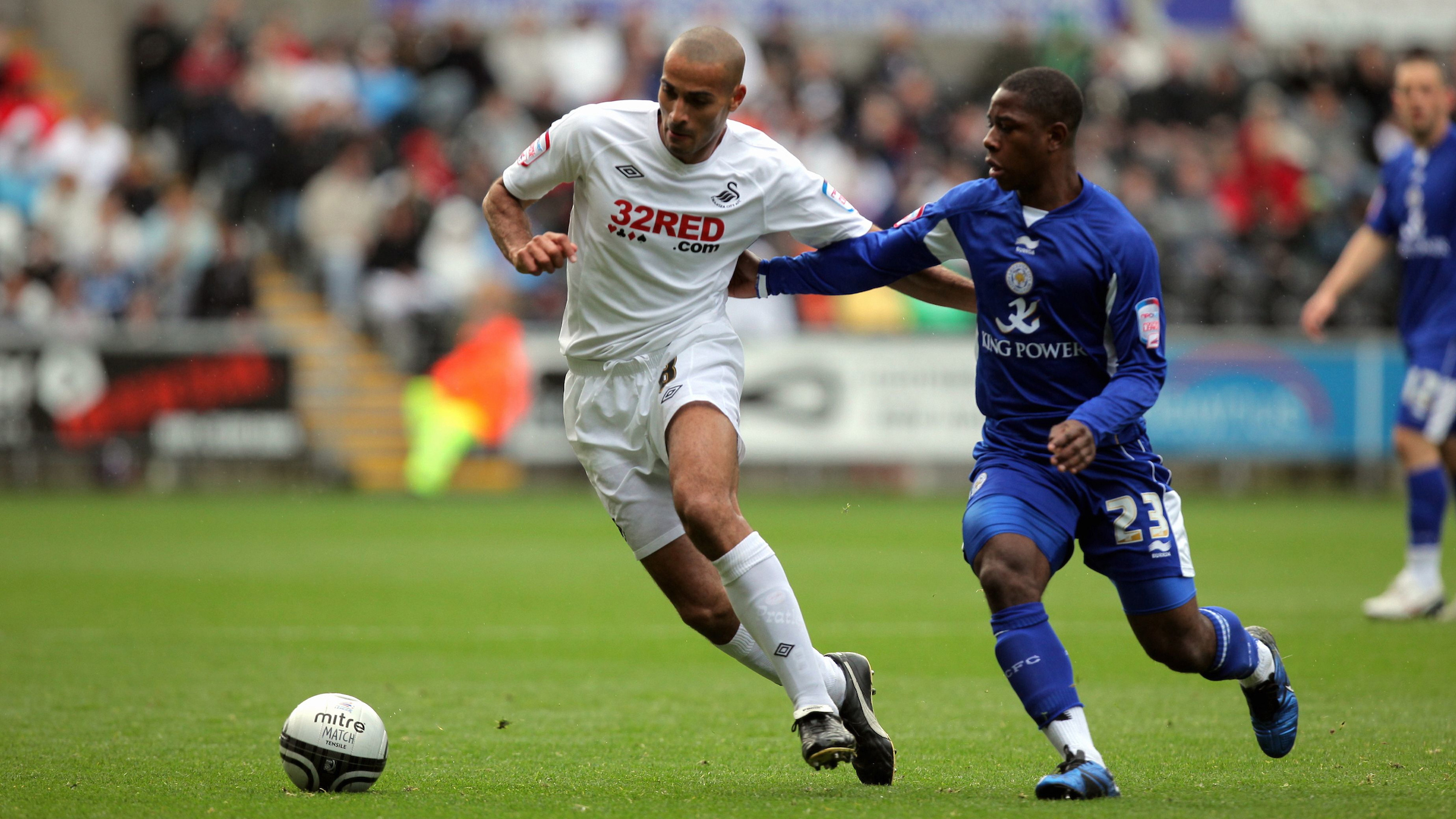 "We had done so well around February, but then in March we'd started losing some away games," explained Rodgers.
"We needed to break the cycle and get away, and we went to Pennyhill Park. It was quite expensive, so the club did well in supporting us in that.
"We talked through everything and were able to press the reset button."
It was a decision that went down really well with the squad.
"Again, I think that was a brilliant idea from Brendan," admits Britton. "He took us out of Swansea because as everyone knows it is a bit of a bubble, you're inside and the football club is huge.
"He took us away from that to give us a bit of a break with different surroundings, he took us to London and we had a nice meal and watched a show.
"At that time we were struggling a little bit away from home and he brought someone in to do a motivational speech to the squad. It seemed to work because after that we seemed to hit form and you have to give Brendan and his staff a lot of credit for that."
"It did help having a little break in Pennyhill Park," says Rangel. "It was sunny too, which was nice as we don't have a lot of in Swansea, so it was good to have some vitamin D.
"We also had a few sessions with a psychologist, and I'll always remember a thing that the guy said. He said: 'in a game, if you miss a ball, score an own goal, or any negative thing, your natural reaction is to drop you head. But make sure you look at the opposition's crossbar so your head is high and you look confident.'"
"It just shows that was exactly what we needed at that time and we turned it around again, which was one of the specialities of Brendan when he recognised the team needed something else," remarks de Vries. "He would ensure we'd come together, make sure we'd do what was needed to get that final push and then help."
There was one element of that trip that is still talked about today, and certainly hit the right note.
"We went to watch Billy Elliot at the theatre, it was a very good show," said Pratley.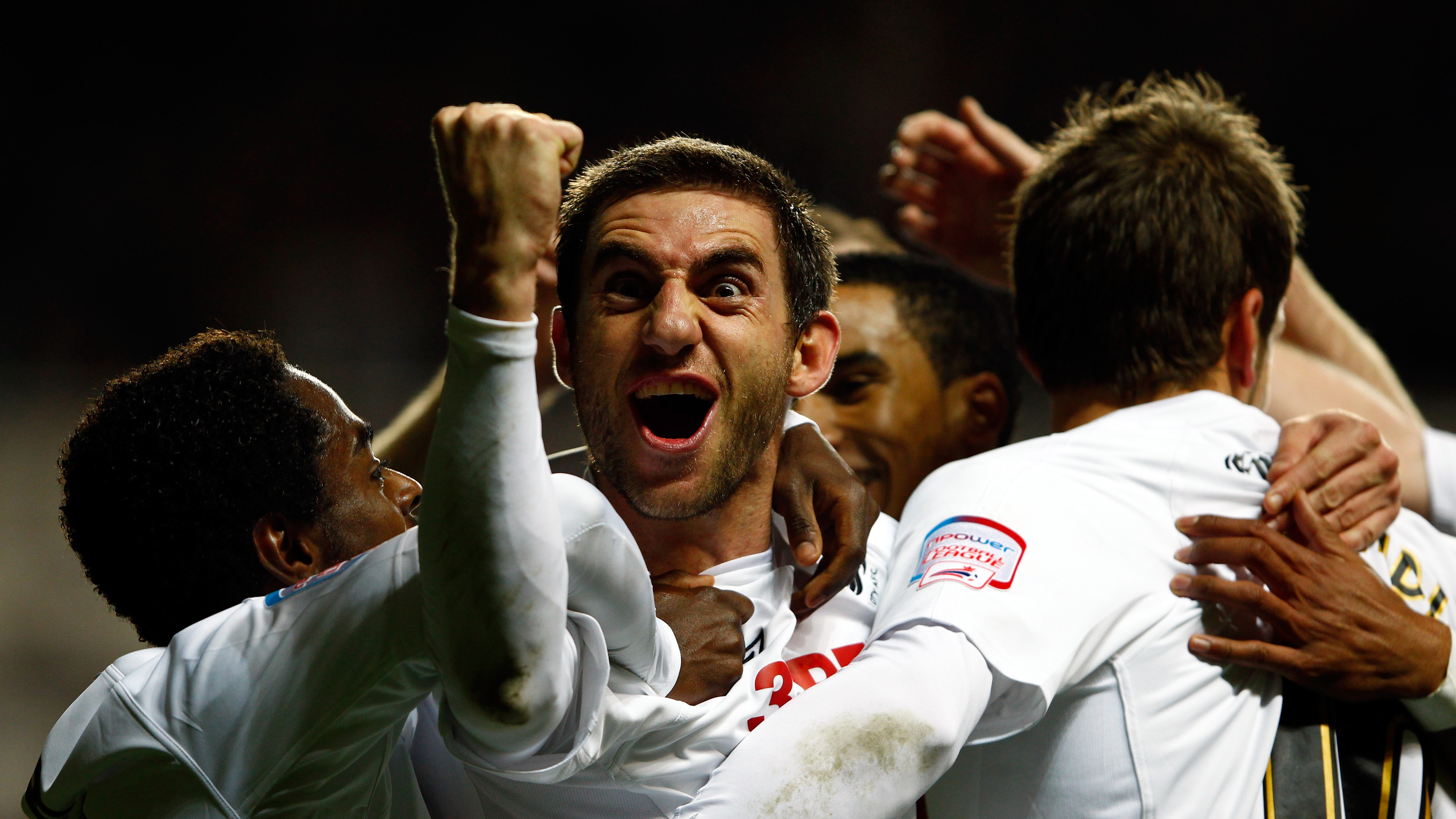 "One of my celebrations was then based on Billy Elliot. We played Millwall the week after and it probably didn't look like Billy Elliot but the little dance I did at the end was meant to be Billy Elliot. I remember he did this 'Solidarity' thing with his feet and I tried to do it against Millwall but it probably didn't look like it, I'm not the greatest dancer!"
"I did give Tatey a lot of stick because Billy Elliot is based in the North-East," Britton chips in.
"I took a lot of joy from giving him stick about Billy Elliot, it was probably the first time Tatey had been to London to be honest with you, so I think he was a bit in awe by it all!"
"It was set where I went to school," explained Tate. "If you watch the film, when I was in school we knew they were filming down the road. It was set in Easington, which is the next village over, I'm from Murton and Murton lads all went to Easington Comp. I got a bit of stick that night and I still do off Britts to be fair, he still calls me Billy Elliot!"
The Swans soon found their feet after their West End exploits, and a goalless draw at Portsmouth set up a three-match winning run.
A convincing 4-1 triumph over Ipswich meant the Swans were assured of a play-off spot, while a 2-0 win at Millwall included Pratley's Billy Elliot re-enactment.
A 4-0 victory on the final day against relegated Sheffield United proved a sliding doors moment for Britton, who went on to score against the team he started the season with.
"It was strange because Sheffield United were already down and Swansea were guaranteed a place in the play-offs," Britton says. "It was a bit strange because lads that I was team-mates with at the start of the season were very disappointed to be going down to League One and there I was getting a chance of getting to the Premier League.
"I scored, I think it was in the 90th minute, which was quite nice because that was my first goal in the Championship. I don't score many but I scored in League Two, League One and not knowing at the time but that ended up being my last game in the Championship of my career, so I ended up scoring in my last game in the division.
"It was nice to score and a nice way to end my season, but it was bittersweet if I'm being honest to see former team-mates, albeit for six months, going down to League One. From my point of view, I was super excited heading into the play-offs."
The Swans headed into the play-offs with a spring in their step, with Britton - a notable signing - having played his part in getting the team over the line.
There was, however, another new acquisition that had given the Swans an extra spring in their step.
Having joined on loan from Chelsea in March, Fabio Borini had scored six times in nine games.
His initial arrival in March had brought much excitement to the city as a promising, highly-rated striker linked up with a manager who had worked with him in Chelsea's youth ranks.
And, as his team-mates confirmed, his signing was met with huge approval.
"Fabio was the missing piece of the puzzle," admits Williams. "It was a little bit like Scotty in terms of he was young, he was just starting out on his journey and he came with a bit of a reputation that he may be the next big thing and he was unbelievable for us."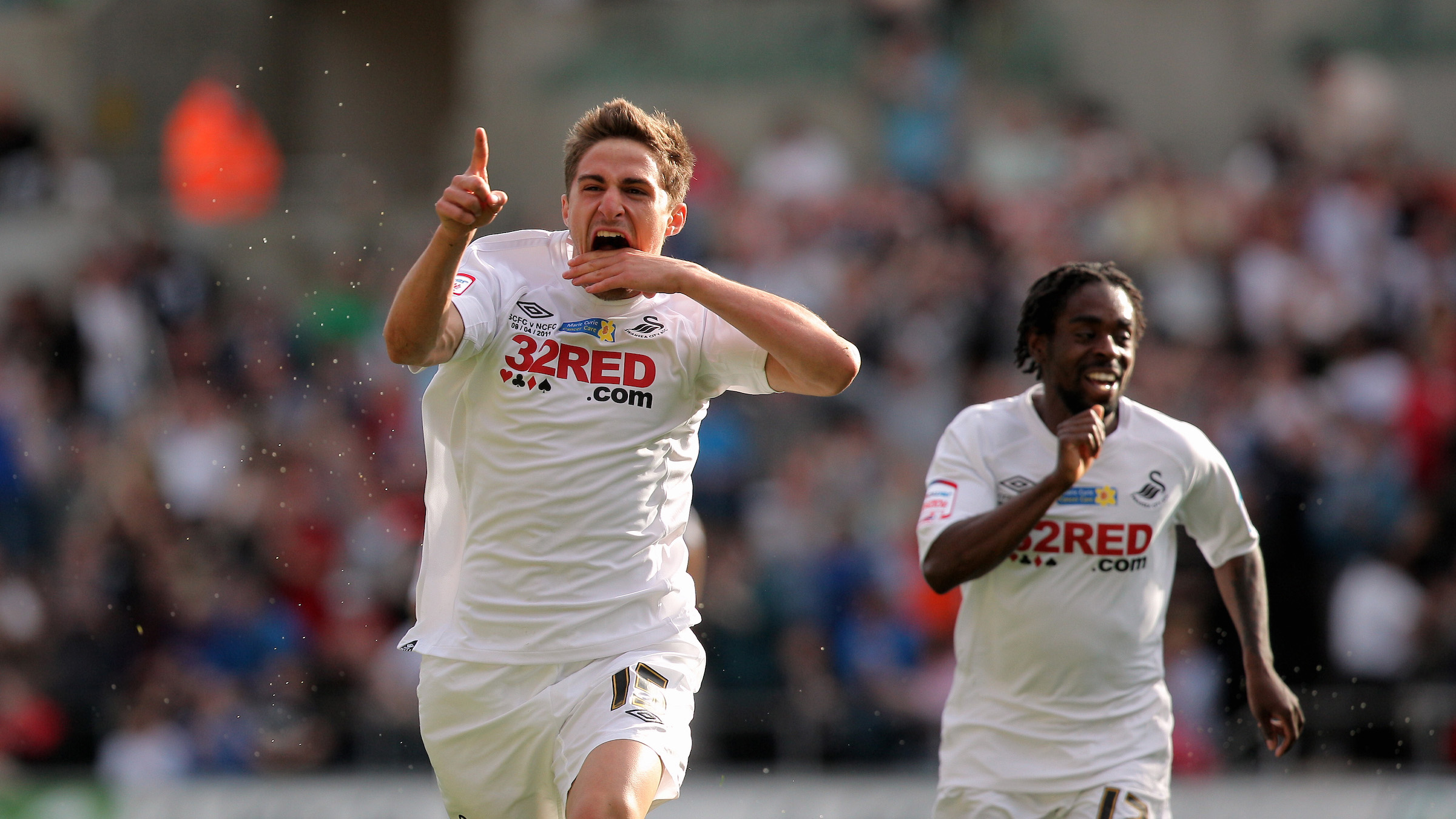 "Fabio, for his age, was so mentally strong and focused," said Rangel. "He must have had a psychologist working with him because it's not normal at that age.
"He felt like he had been here a long time. At 17, 18, players are usually shy but he was ready to go.
"He gave us fresh legs and intensity. He had learned from players like Drogba, and he had been compared to him in terms of his free-kicks. We all benefited from that.
"Fabio had a bit of everything in his game. From March until the end of the season, he made a massive impact.
"At that stage of the season, you've probably played between 30-40 league and cup games and are feeling a bit tired. When you bring in someone of that size from Chelsea, despite not playing many games for them, but he marks his first games with a few goals then it gives the team a big lift."
"I'd known Fabio as a young player who was a goalscorer and was hungry," says Rodgers. "He'd been in and around Chelsea's first team, but they had big talents ahead of him.
"At 19, I knew his physicality, running ability and belief he had, and if he had chances he would score.
"When you bring in goals and creativity, the belief raises in the team.
"From his first training session we could see he would make a difference in our quest for promotion.
"For a young player, it's so important that you start scoring early. He took his goals very well against Forest on his debut."
"It was a masterstroke from Brendan to use his contacts at Chelsea to bring Scott in and then Fabio towards the end of the season," Britton says. "He wasn't here long but in that short period he had a huge impact.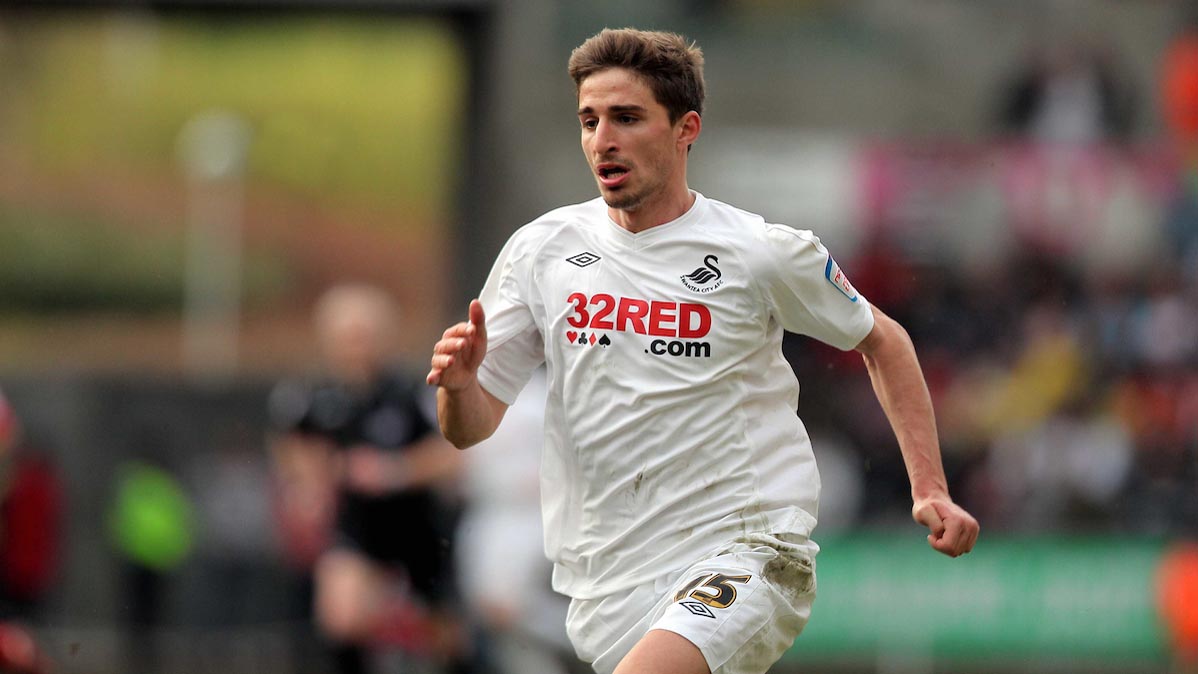 "He was a great lad, very professional and another one who was willing to learn. He didn't have a big-time attitude coming from Chelsea on loan thinking he was better than anyone else, he fitted in to the group and was willing to listen."
"He was brilliant Fabio, really good," Tate recalls. "He was really professional, knew where the goal was and was hungry. He came in and hit the ground running. He got two on his debut against Forest and the free-kick against Norwich and it just snowballed from that really.
"If we had Fabio and Scott together all season I have no doubt we would have gone on and won the league."
Despite his obvious potential, there were some questions lingering within the inner sanctuary of the Swans' dressing room over the new signing. The questions, as quickly found out, were answered immediately.
"A few of the lads who didn't know too much about him weren't convinced before he arrived because he didn't have the biggest stature and they were asking why we were bringing in another kid," reveals Pratley.
"From day one, I remember his finishing is probably the best finishing I have ever seen from a striker in my career.
"We'd do a session and then he'd stay on and run by himself, for a young lad coming into a new team to go and do that is a massive thing because in football a lot of people say 'what's he doing being busy? He's just come in on loan and he's going running and that.'
"But he wanted to get himself as fit as possible, he had a strong mentality. He probably took us over the line, made us that bit better."
Now they were over the line, the stage was set for a two-legged semi-final with Nottingham Forest.
The trip to the City Ground loomed on the horizon.