Jack Evans | From cancer diagnosis to first-team debut
8th October 2019
Under-21s
As he stood under the Liberty Stadium lights ready to make his debut, Jack Evans would surely have taken a moment to reflect on a rollercoaster 12 months that had seen him go from cancer diagnosis to Swansea City's first team.
A debut is always special for club and player, but those 17 minutes against Cambridge in the Carabao Cup were just the latest step in a remarkable story for midfielder Evans - who has been with the Swans since the age of eight - and his family.
When he reported for pre-season duty in 2018, Evans was set to be named captain of the club's under-23 side and he had a new one-year deal in his pocket.
He had reason to look forward to a bright future.
However, the 21-year-old did not feel right as he returned to Fairwood and the implications would prove far more serious and life-changing than he could ever have imagined.
"I didn't feel right when I reported back, to be honest," he recalls.
"I wasn't as fit as I wanted to be and I didn't feel as sharp as normal.
"I started to feel bloated before games and my stomach began hurting more and more."
Evans' condition worsened as pre-season went on and became a real cause for concern following the under-23s' final friendly against Reading at the start of August.
"After that game, I couldn't stop being sick and I couldn't move from my bed," he explains.
"I just thought I'd overstrained or that I was coming down with something, but nothing too serious.
"I don't think anybody my age thinks that something is seriously wrong in that situation.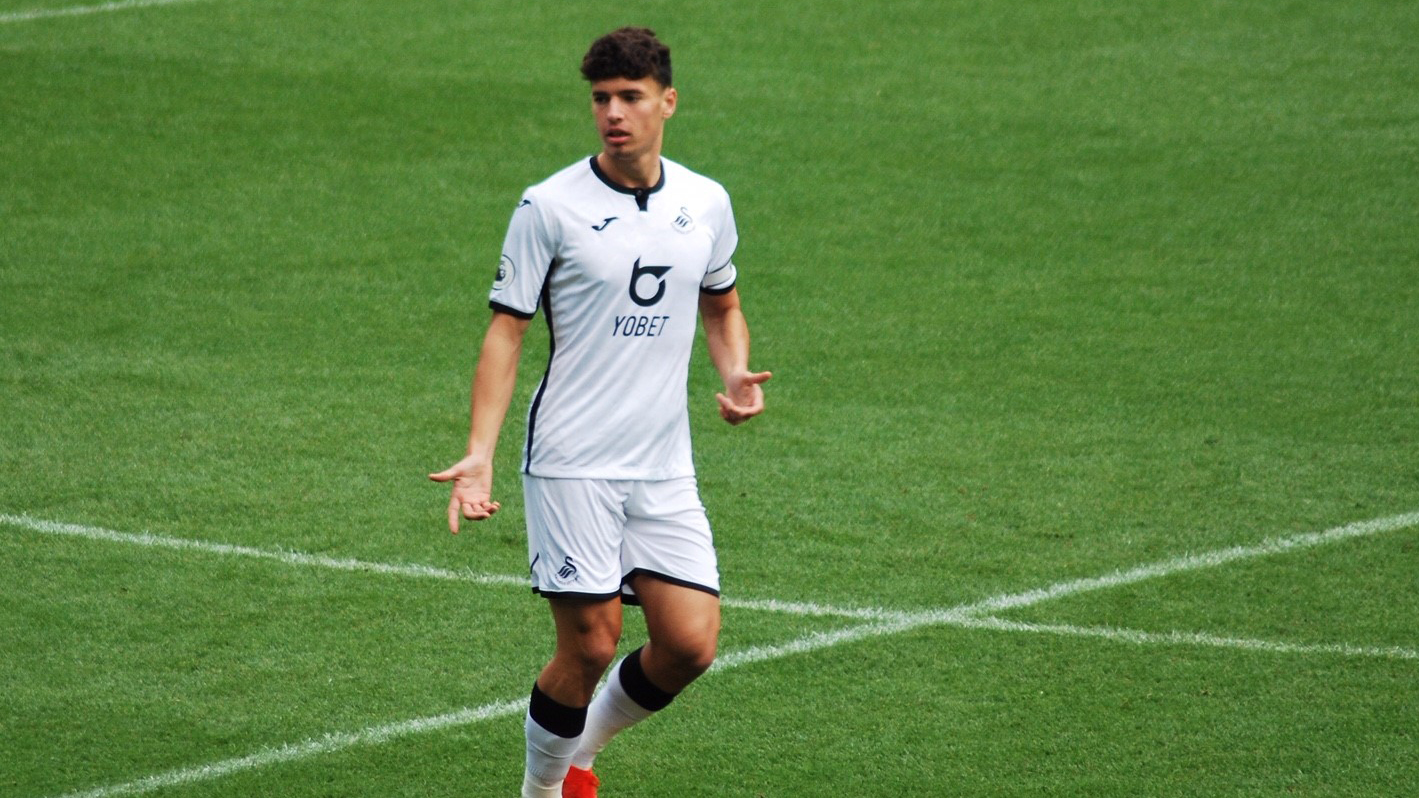 "But from there, I just got worse and worse and my stomach was in constant pain."
A couple of days later, the midfielder visited club doctor Jez McCluskey, and he was subsequently referred him to Morriston Hospital.
It was there that he was diagnosed with Hodgkin Lymphoma – a rare form of cancer that develops in the lymphatic system and mainly affects young adults in their early 20s and older adults over the age of 70.
Both of Evans' parents had been away on holiday, but returned to be by his side upon hearing of their son's diagnosis.
The midfielder, who was then transferred to the Teenage Cancer Trust's unit at the University Hospital of Wales in Cardiff, could have been easily forgiven for immediately contemplating what the future may bring after receiving such devastating news.
However, as it turned out, that could not have been further from the truth with his diagnosis providing some clarity amidst what had been a worrying period of uncertainty.
"My first thoughts were about how long I would be ill for, how long the treatment was going to last and whether I could play again and get back to full fitness," says Evans.
"The darkest time for me was during the week before I was diagnosed. I didn't know what was wrong and I was having all sorts of possibilities thrown at me. One of them was Crohn's Disease.
"But once I knew what it was, I knew where I stood and that it wasn't going to finish me.
"The nurses assured me that patients could make a full recovery from this illness and that helped me a lot.
"I don't think the fact that I had cancer really sunk in, to be honest. You don't have time to let it sink in and mope around. I was just fully committed to going straight into it and getting it done."
Initially taking steroids to settle his stomach pains, Evans had to undergo an intense course of chemotherapy – the first of four he would undertake during periods of up to 18 days, before resting for two weeks.
Such was his burning desire to return to the football pitch at the earliest date, he even went to the trouble of performing press-ups and sit-ups at the side of his hospital bed in an effort to maintain his physical condition.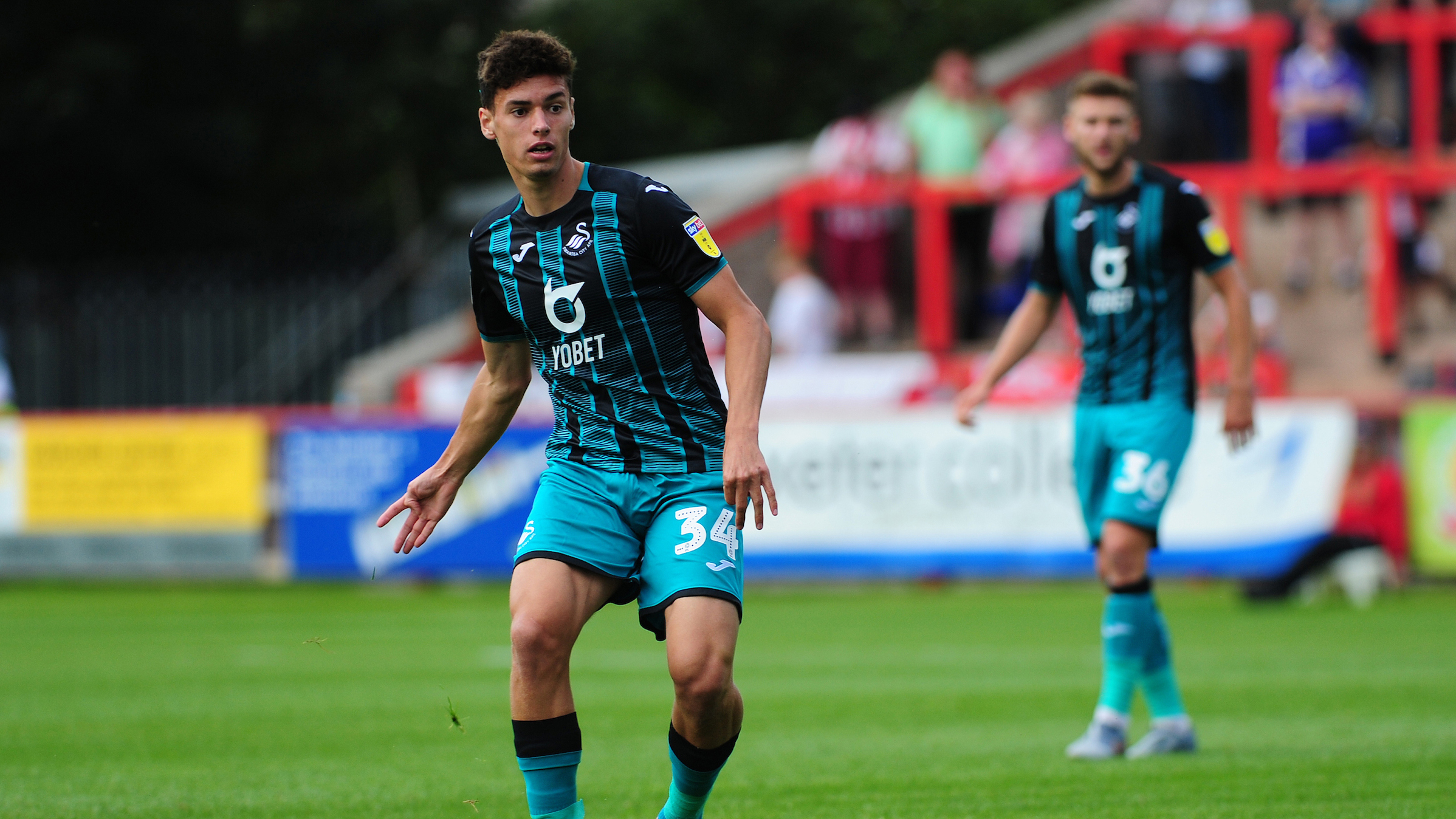 But the midfielder quickly realised that was to be a rare luxury once the gruelling effects of the treatment began to take hold.
And he pulls no punches in his assessment of the exhausting and exacting toll chemotherapy took on his body.
"The press-ups and sit-ups were more so at the start of my treatment after all the steroids," says Evans with a dry smile.
"The very first block of chemo is quite light so you don't feel too bad.
"You're lying in bed all day doing nothing so I thought that if I kept doing exercise then I wouldn't lose too much shape.
"But once the intensity of the treatment increased, I couldn't properly move from my bed.
"The chemotherapy itself is fine – they had to treat it quite aggressively which was good because it meant my recovery time would potentially be quicker – but the after-effects are far worse.
"During treatment, I was constantly vomiting and unable to eat properly – although, I did get through a few ice lollies.
"At 1am or 2am in the morning, I would eat a packet of crisps but that would be it for the whole day.
"You then begin to lose your hair, your skin colour and it makes your face fat.
"It really does take a lot out of you. You have no energy, don't want to move and just want to sleep all the time.
"I had a bowl at the side of my bed so I was literally just turning my head to be sick and lying back down again.
"You lose a lot of muscle so they encourage you to get up and have a little walk up the stairs and back to keep everything moving. But apart from that, I didn't really move out of bed."
Whilst wearied by the treatment, the chemotherapy was having the desired effect and Evans was making good progress in his fight with the illness.
However, a setback was on the horizon.
With Evans' recovery appearing to be on the right track, he had been looking forward to spending Christmas of 2018 at home with his family in between treatments.
But these plans had to be put on hold as the effects of the chemo took their toll.
"The chemo completely killed my immune system," he says.
"When that happens, you have to be so careful because any little thing can make you ill.
"You can't go into crowded rooms or near people who have a cough or cold.
"I developed a spike in temperature and had to go back into hospital.
"You then have to consume antibiotics as soon as possible to get you back under control.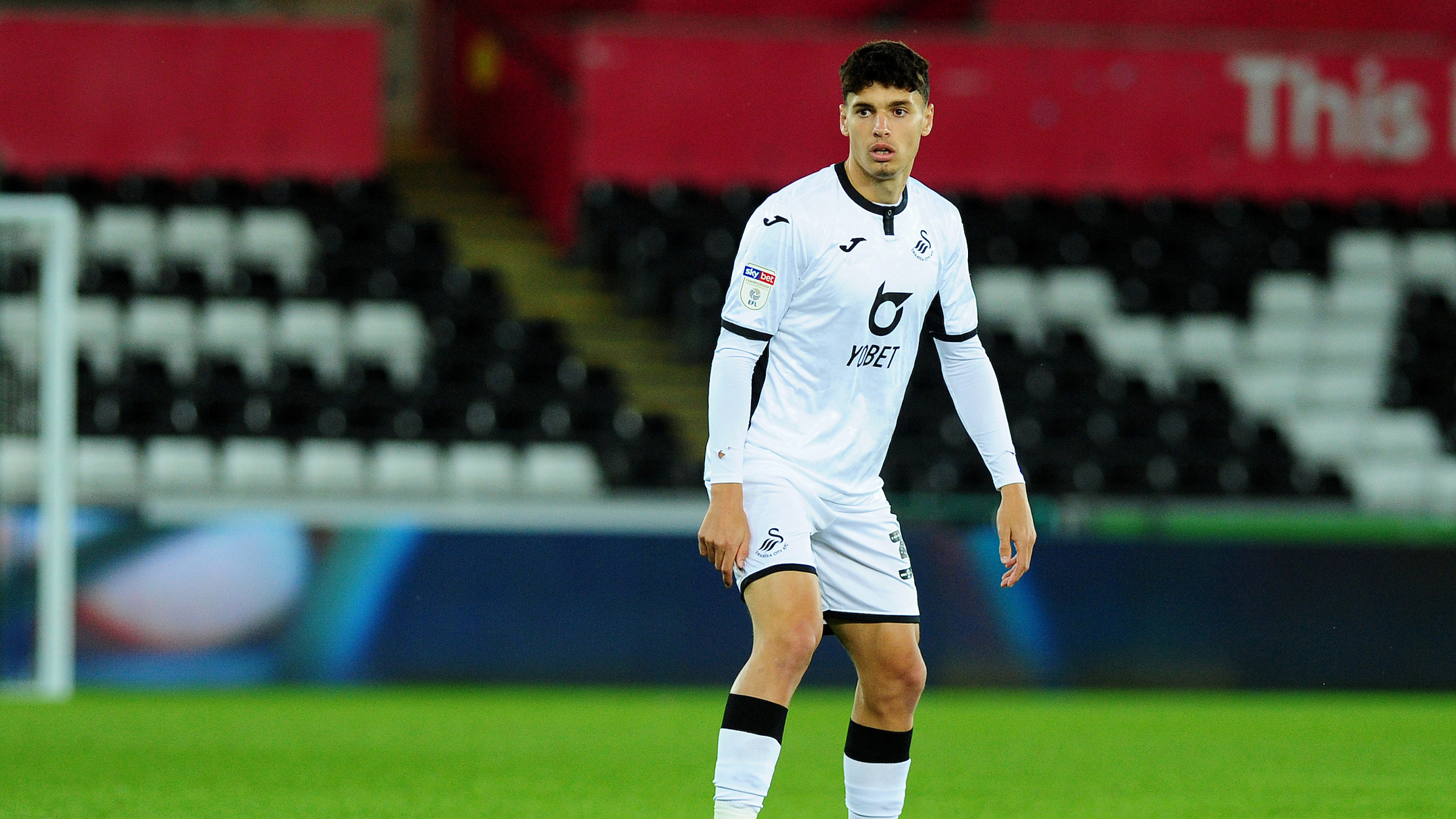 "I was stuck in bed over Christmas which was hard, but more so for my family to be fair."
"Then, when I finished my penultimate course of chemo, I had to go and see a specialist because there was something wrong with one of my bowels.
"I had recently had surgery and the scars around them had become inflamed and infected. I was having stomach pains again and couldn't move, so I was stuck in the same position.
"I needed to be checked over to make sure it wasn't cancerous. Fortunately, it wasn't but it completed slowed my recovery down.
"That was the longest period of the entire ordeal for me – waiting until I'd fully recovered so that I could begin my last course of chemo."
Thankfully, it proved to be a false alarm for Evans, who required one final course of chemotherapy in order to successfully complete his treatment and ensure that the cancer would not return.
Thereon, in February, he received confirmation that he was officially in remission and could subsequently switch his focus on returning to the football pitch.
While his treatment and recovery had been ongoing, Evans' family – at what must have been one of their most difficult of times – and Swansea City tried to provide support to the midfielder and others afflicted by the illness he was fighting.
Thanks to the efforts of the club's first-team and under-23s players and coaching staff, Jack's brother Cameron – now also part of Swansea's development side – and sister Becky managed to raise £25,000 for the Teenage Cancer Trust after completing the Cardiff Half Marathon in October 2018.
Additional funds were raised as supporters donated directly to the charity instead of paying admission fees for a selection of under-23s matches at the Liberty.
Meanwhile Becky, who has since become a support worker for the Trust and is set to run the London Marathon next year, recently received a cheque for £1,510 from players and staff of the development side after the cause was selected as one of their chosen charities for the 2019-20 season.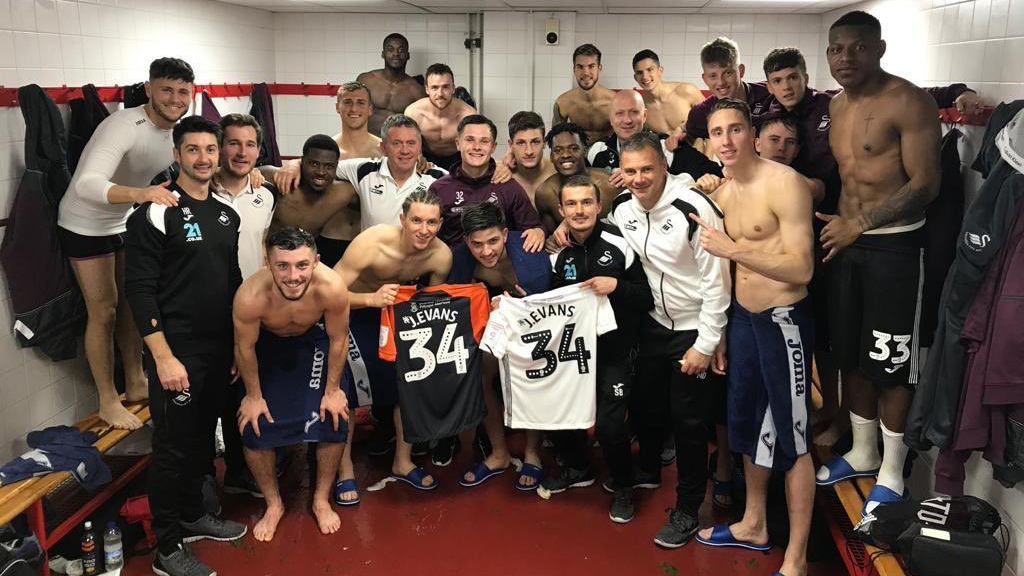 As for Jack – who was also handed a one-year contract extension during his enforced absence -  he may have been absent from the under-23s' side, but he certainly wasn't forgotten by his team-mates and staff.
Courtesy of kitman Shaun Baggridge, his number 34 shirt was hung in the dressing room alongside his team-mates for every single game during the 2018-19 campaign.
And he was overwhelmed by the support he received during his ordeal.
"I was very lucky to have such good support around me," he says.
"All my family are very close and I was extremely fortunate like that.
"There were very tough days when I was sick and feeling tired but they got me through it.
"Some of the patients on my unit were a lot worse off than me and that kept me grounded.
"It didn't matter how bad I felt at times, there was always somebody a little bit worse off, so I couldn't really moan.
"Throughout the day, there was always a member of my family at my side right up until visiting hours were over. Not all the patients had that.
"There were so many lovely gestures by the club and they all meant a lot to me.
"The club were brilliant for me and my family, and donated a lot of money to the Teenage Cancer Trust.
"I simply cannot thank them enough."
Once given the all-clear in February, Evans could switch his focus to getting back to where he so desperately wanted to be: back out on the football pitch with his team-mates.
Evans returned to light training with the Swans and the next step in his return to full fitness took him to Trinidad and Tobago to train with the national team – managed by former Swan Dennis Lawrence – thanks to a connection with Sam Huggins, the Soca Warriors' conditioning coach, who previously worked for the club.
He appeared for Wales Under-21s in June's friendly double-header against Albania before joining the Swans' pre-season training camp in Spain and Portugal under new head coach Steve Cooper.
Evans regained the captain's armband with the under-23s ahead of the new campaign and that dream moment arrived on August 28 as he took the field as a late substitute in the 6-0 Carabao Cup victory over Cambridge United at the Liberty.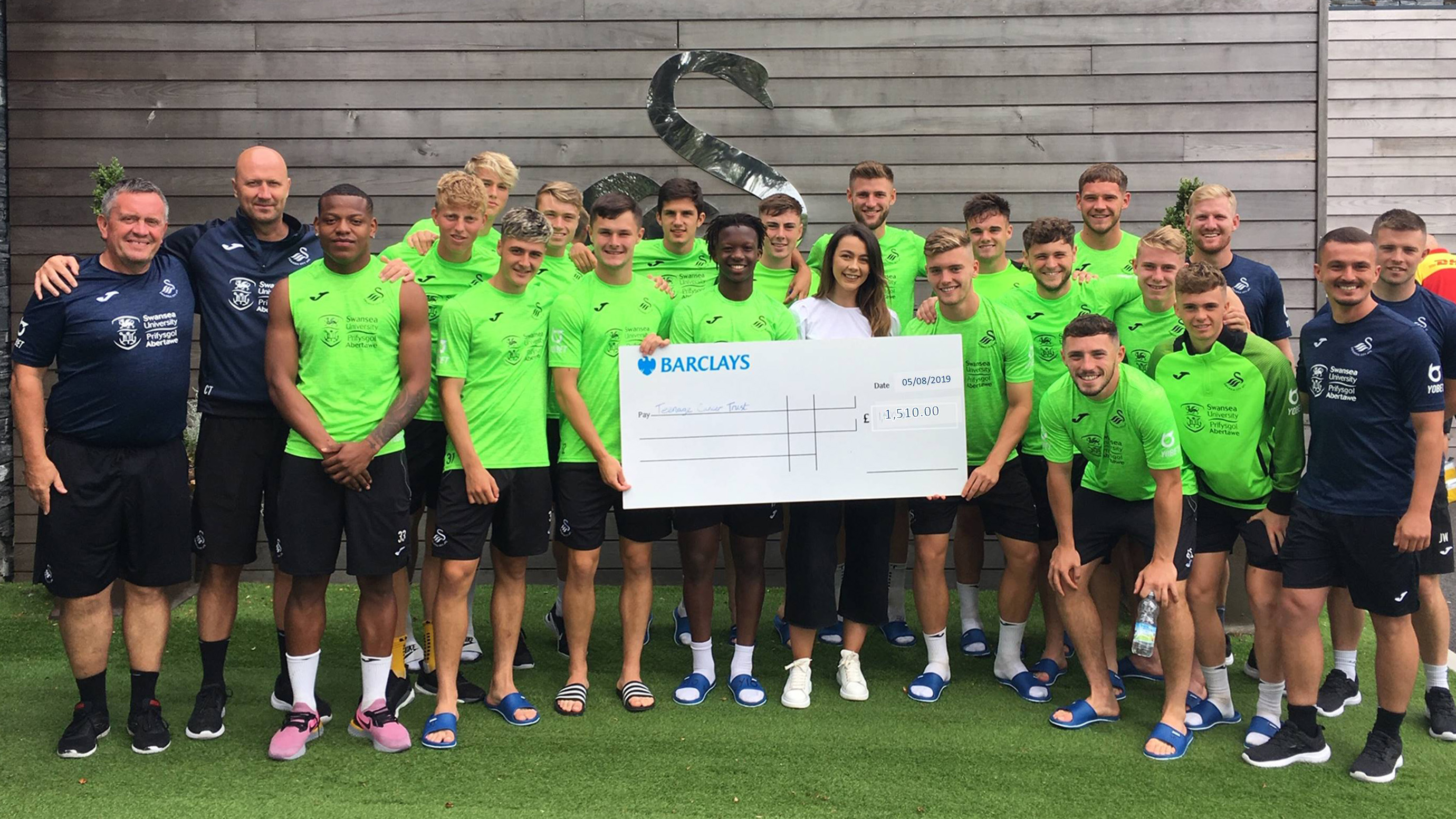 The 21-year-old was introduced to rapturous applause from the Jack Army but even now – just over a month on from that memorable night – he still finds the experience difficult to put into words.
"It's a very hard feeling to describe," he smiles.
"It was great to receive such fantastic support from everyone.
"I just tried to stay relaxed and the scoreline made it a lot easier for me to settle into the game.
"It was brilliant but it made me want more and more.
"I just need to keep on improving and showing the gaffer that I deserve more opportunities at this level."
Back to health and full fitness, Evans must undergo regular check-ups every six months to ensure that all is as it should be.
The midfielder is now hopeful that his remarkable journey will inspire others going through similar experiences to his own.
And he looks to the future with a new perspective on life and football.
"I wasn't the first person to go through cancer and I certainly won't be the last," said Evans.
"Hopefully, people can take some positives from my story and get through their own journeys.
"I certainly appreciate things a lot more now. At the time, I don't think I ever worried about my recovery potentially taking a turn for the worse.
"But when I look back now, it makes you realise that life is short and that you just have to try to be the best you can in whatever you're doing.
"I want to stay healthy, stay focused and, all being well, I can keep progressing with Swansea City."