Jake Bidwell | Supporting Man City, playing in goal at Everton, and being Connor Roberts' neighbour
10th February 2021
First team
As a youngster Jake Bidwell had a Manchester City season ticket, but this evening he will be looking to end the FA Cup hopes of the club he supported as a boy.
Here, he talks about his impressive assist tally this season, starting his career as a goalkeeper in the Everton academy, and reveals what it's really like to live next door to Connor Roberts.
For anyone who has been watching their fair share of Premier League football recently – and let's face it, there's so much of it on at the moment it's hard to entirely miss it – you will have noticed a certain stat that keeps cropping up.
That is the one compiling the number of assists by defenders so far this season. At the time of writing Everton's Lucas Digne has six, while the Liverpool full-backs Andy Robertson and Trent Alexander-Arnold have five and three respectively.
Those three are tremendous players without question, but – while admittedly playing in the division above – none of them can top Jake Bidwell's assist tally for the 2020-21 campaign.
Officially the Swansea City wing-back – like Digne - has six to his name, although there is a justifiable case for that tally being one higher, given his header against the post allowed Andre Ayew to open the scoring at QPR on Boxing Day.
In the Championship, regardless of position, only Reading's Michael Olise and Blackburn's Harvey Elliott can top that tally with eight.
Now you can argue as to whether a wing-back should be classed as an outright defender, or as a midfielder, but the principle remains broadly the same when it comes to the responsibility of getting forward at every opportunity whilst maintaining a defensive solidity.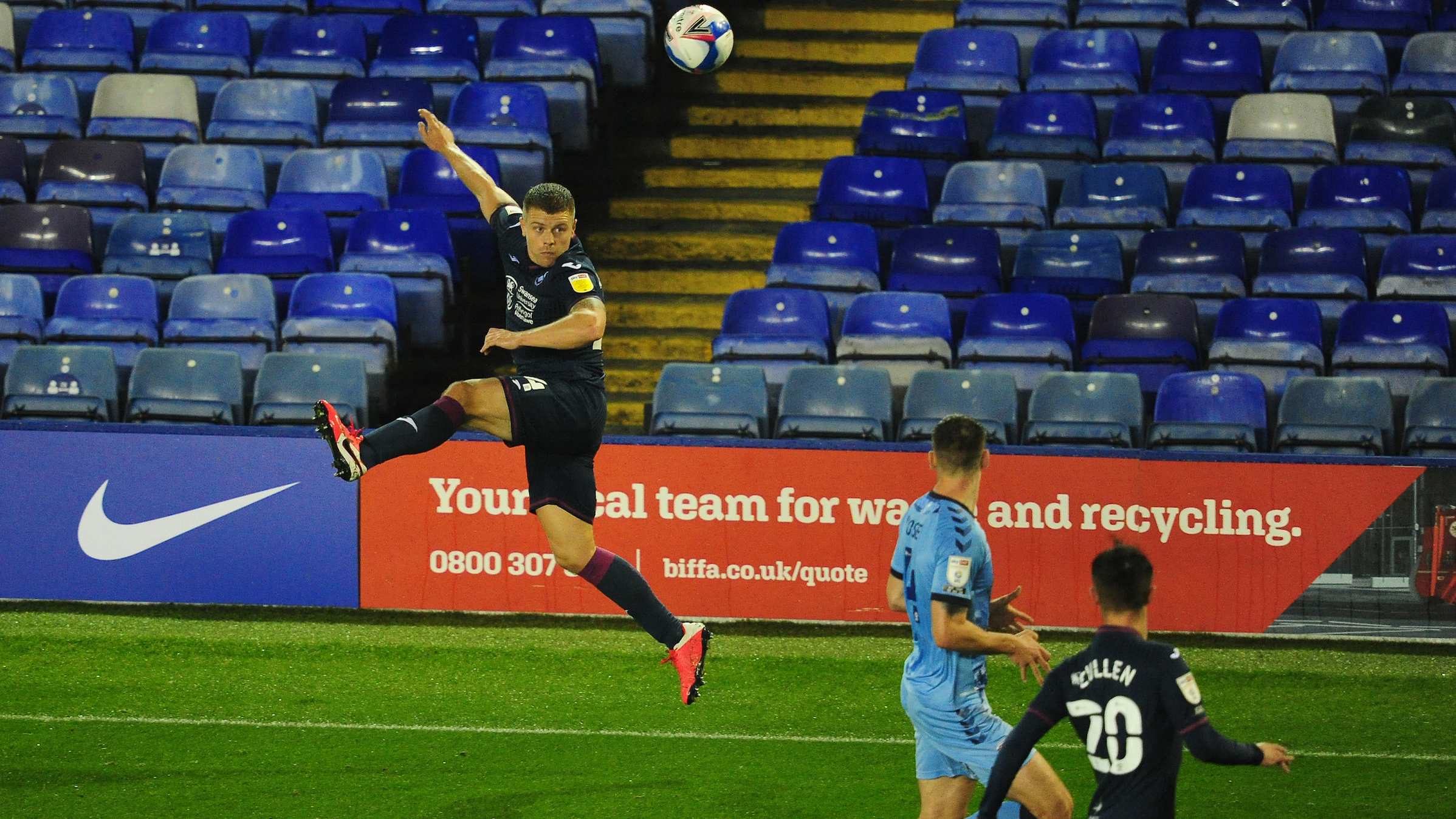 Few would argue that Bidwell and Roberts – his neighbour who has five assists of his own this term – have provided those qualities in spades for the Swans this season.
For the pair, this season is their best return on such numbers – Bidwell has also found the net once with Roberts scoring twice – but it is typical of a humble, down-to-earth, character that any talk about numbers does not come near the top of the Everton academy product's priorities.
Indeed, Bidwell himself is unaware of where his assist tally stands compared to others, and it should be said that the contribution of he and Roberts  is about far more than just statistics and numbers, but it does highlight how effective the pair have been.
"I don't necessarily know all the numbers, but it definitely feels like I am playing a part in something that is going well," says the 27-year-old.
"But there are no prizes for that at the moment. We are pushing to keep improving, but I feel I am playing my part.
"I have enjoyed playing at wing-back. I played there for QPR for a while, but it was a different style. We were more of a back five, whereas this season Connor and I find ourselves high up the pitch quite often.
"It's the same formation, but the mindset is completely different. There's an emphasis to join in the attacks, and we are seeing rewards for that. Hopefully, that continues.
"It's hard work getting up and down, you are asked to join the attacks a lot more, but you want that responsibility. I am really enjoying it and I just hope it continues like that.
"The gaffer has given us the freedom to make things happen.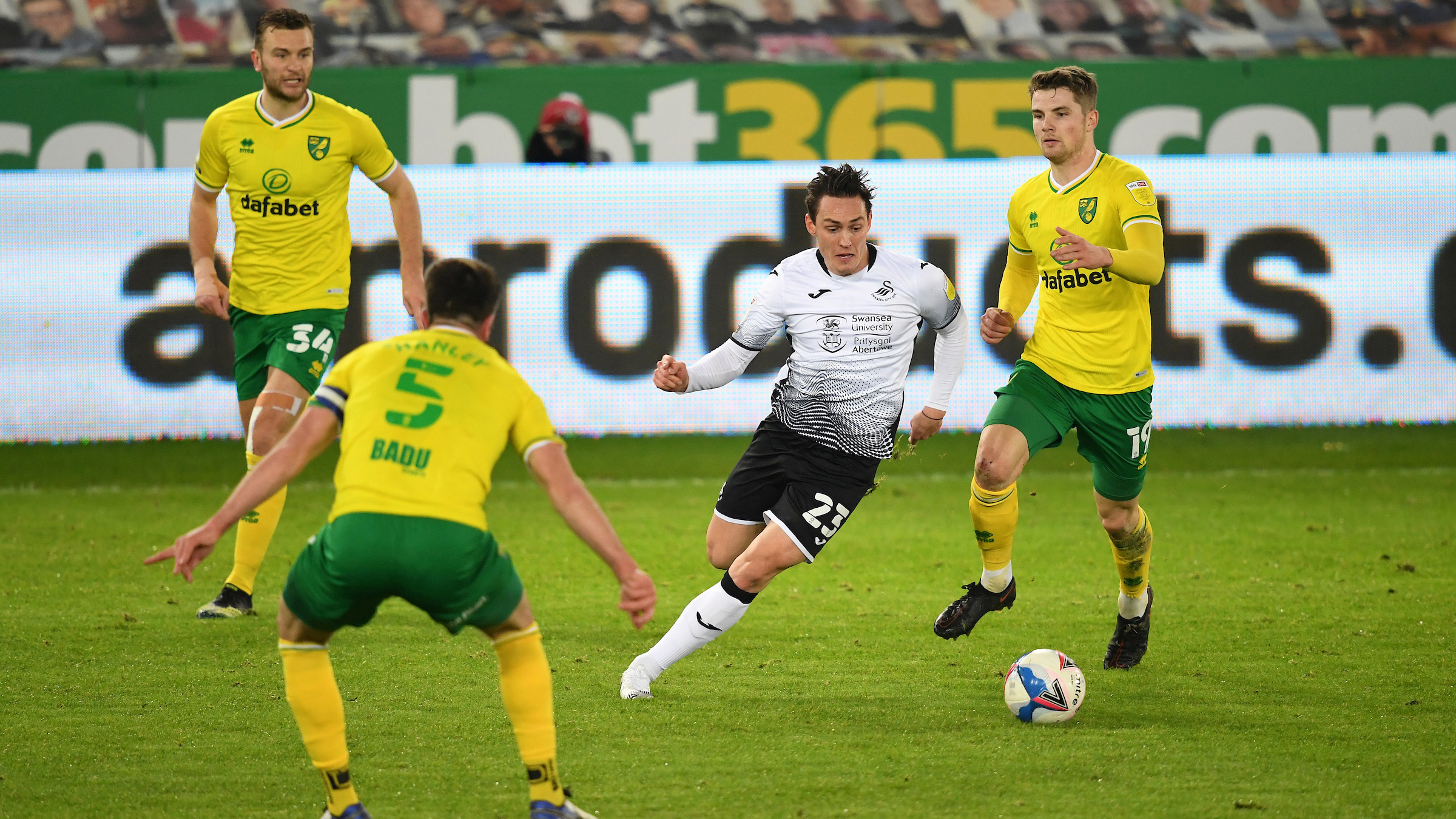 "You have to have threats from midfield and wing-back to make the system work, and we are thriving on the responsibility.
"But you cannot get carried away, no-one is handing prizes out for anything when the season has barely reached halfway."
While Bidwell and Roberts spend some of their time on the pitch separated by almost its entire width, they spend a lot of time in closer proximity off it as neighbours.
Despite Bidwell being a more reserved character and Roberts more extrovert, they get on well.
Bidwell is an admirer of Roberts' impressive array of products made in his own woodwork and carpentry workshop, even if the number of orders the Wales international has been receiving has meant he has yet to get any new furniture himself.
But he appreciates the approach of his colleague who is no different on the pitch from how he is off it.
"Yeah, we are neighbours. We live next door to each other so I can hear him sawing away when he is doing all his woodwork stuff," laughs Bidwell.
"He is good as gold, to be fair. He has his three dogs and his girlfriend so he keeps himself busy on top of that with the woodwork. I don't think he is ever bored, that's for sure.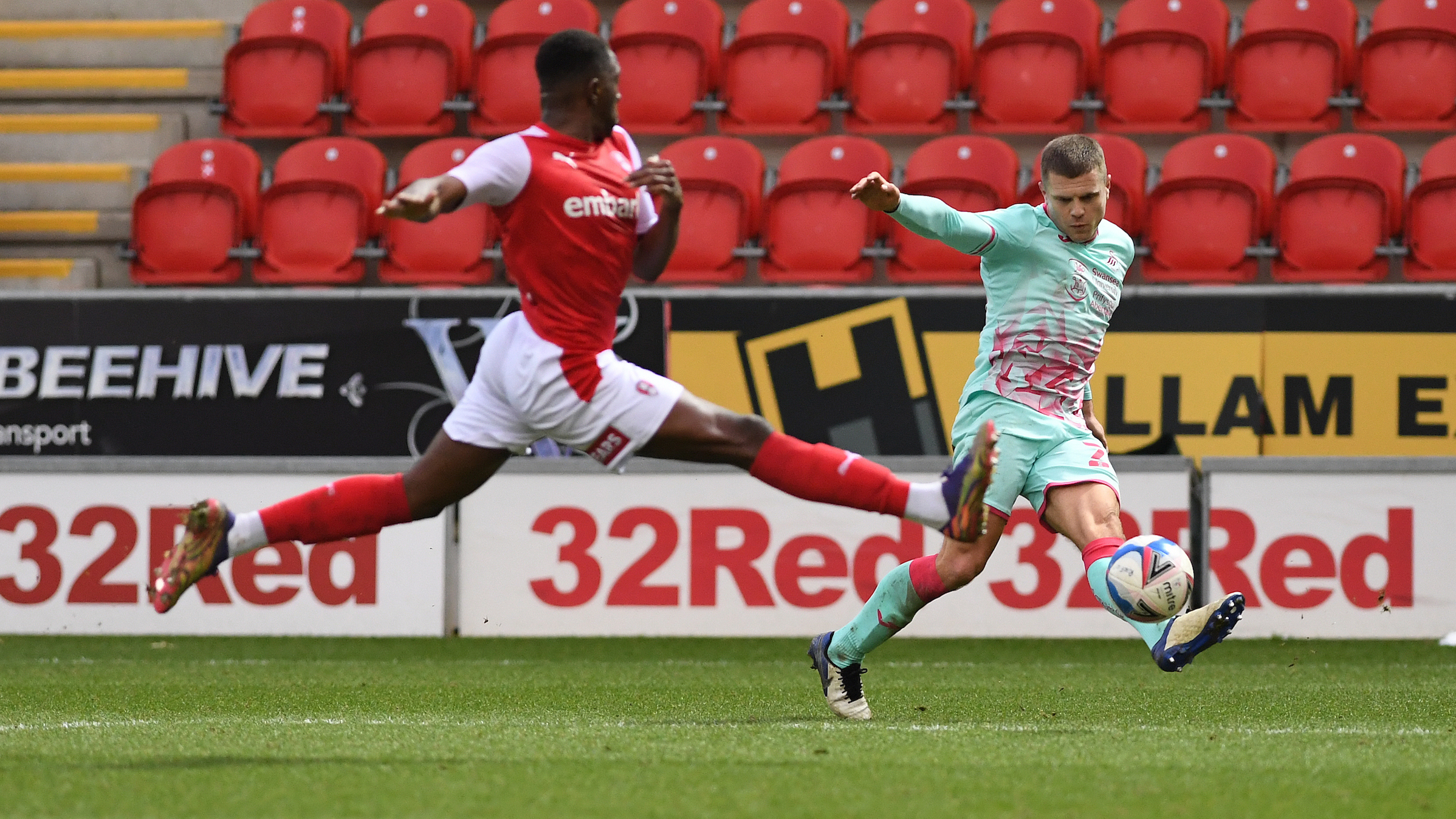 "His garage is next to my living room, so there will be nights I sit down and put the TV on to chill out and the next thing I can hear the saw going and it sounds like he's going to saw through my wall.
"He makes some really good stuff, to be fair to him. I think he is fully booked up at the moment because of the standard of the stuff he does.
"It's really impressive and he's a great lad.
"The way he plays the game reflects who he is off the pitch. He is full of energy, he is positive and we always have a good laugh.
"What you see on the pitch, is what you see off it."
Roberts was, of course, part of the Swansea side that came so close to stunning Manchester City in the FA Cup two years ago, winning the penalty that allowed Matt Grimes to score the opener in an eventual and eventful 3-2 defeat. The sides meet again in the fifth round of the same competition this evening.
It may come as a surprise to many that Bidwell was once a City season ticket holder. Given he was born in Southport and spent a number of years with Everton, it would be easy to incorrectly assume – as this writer did – that any season ticket he possessed would have been for Goodison Park rather than Maine Road or the Etihad Stadium.
But it was the light blue of the Citizens, rather than the royal blue of the Toffees, that a young Bidwell would go to watch with his father at a time when he was part of City's centre of excellence.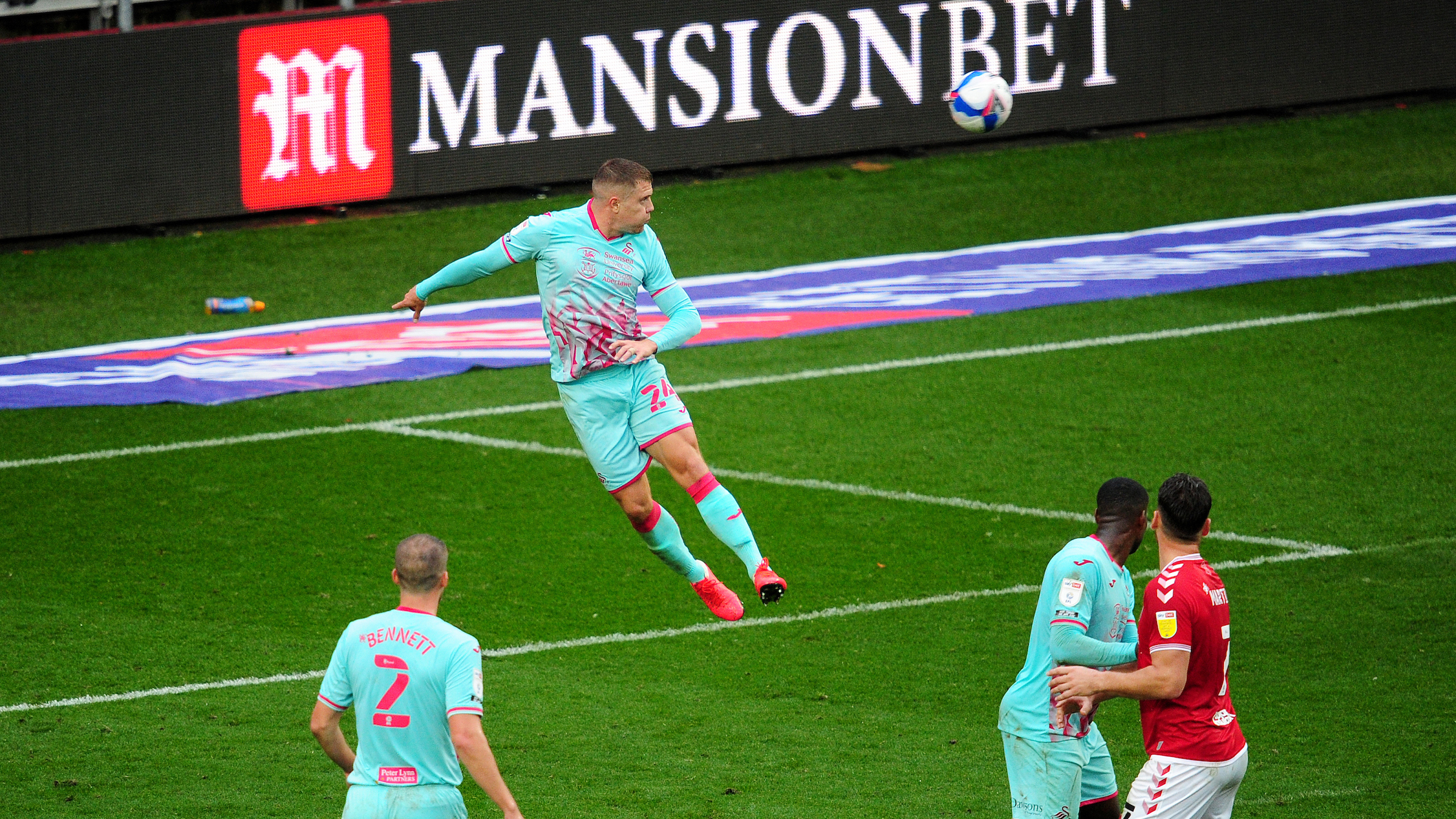 "It goes back even further than when I first joined the Everton academy," he said of his links to this evening's opponents.
"When I was about five or six I ended up going to the Manchester City academy, and I was there for a year or so.
"From there my dad ended up taking me down to a few City games. We had season tickets for a few years and that sort of stuck with me.
"I can't really say I support them anymore because it's been more than 10 years since I went to one of their games.
"But I watched them a lot as a kid. When I was going, I can remember being there the year they won the Championship, and I remember it being around the crossover between Maine Road and the Etihad.
"There were players like Stuart Pearce, then a bit later on there was Shaun Goater, Shaun Wright-Phillips, Richard Dunne, and Sylvain Distin.
"It was that era, I caught the back end of the time before the new owners came in and obviously it's a very different club now to what it was then."
Bidwell's links with Everton started young and he joined their academy as an 11-year-old, but it was not in his familiar left-sided role.
In fact, he first signed on as a goalkeeper for the Merseyside club due to a twist of fate, although he's quick to point out that Freddie Woodman and the rest of the Swansea goalkeepers probably don't have too much to worry about.
"We are from Southport and it's obviously a big football area. From as young as I can remember I played football with my brother, it would be in the house or outside. We would break stuff and it would send our mother mad," Bidwell recalls with a grin.
"I then joined the local club juniors, but we just played whenever and wherever we could. I was an outfield player to start, but when I got to 11 our goalkeeper went to Australia for six weeks to see some family.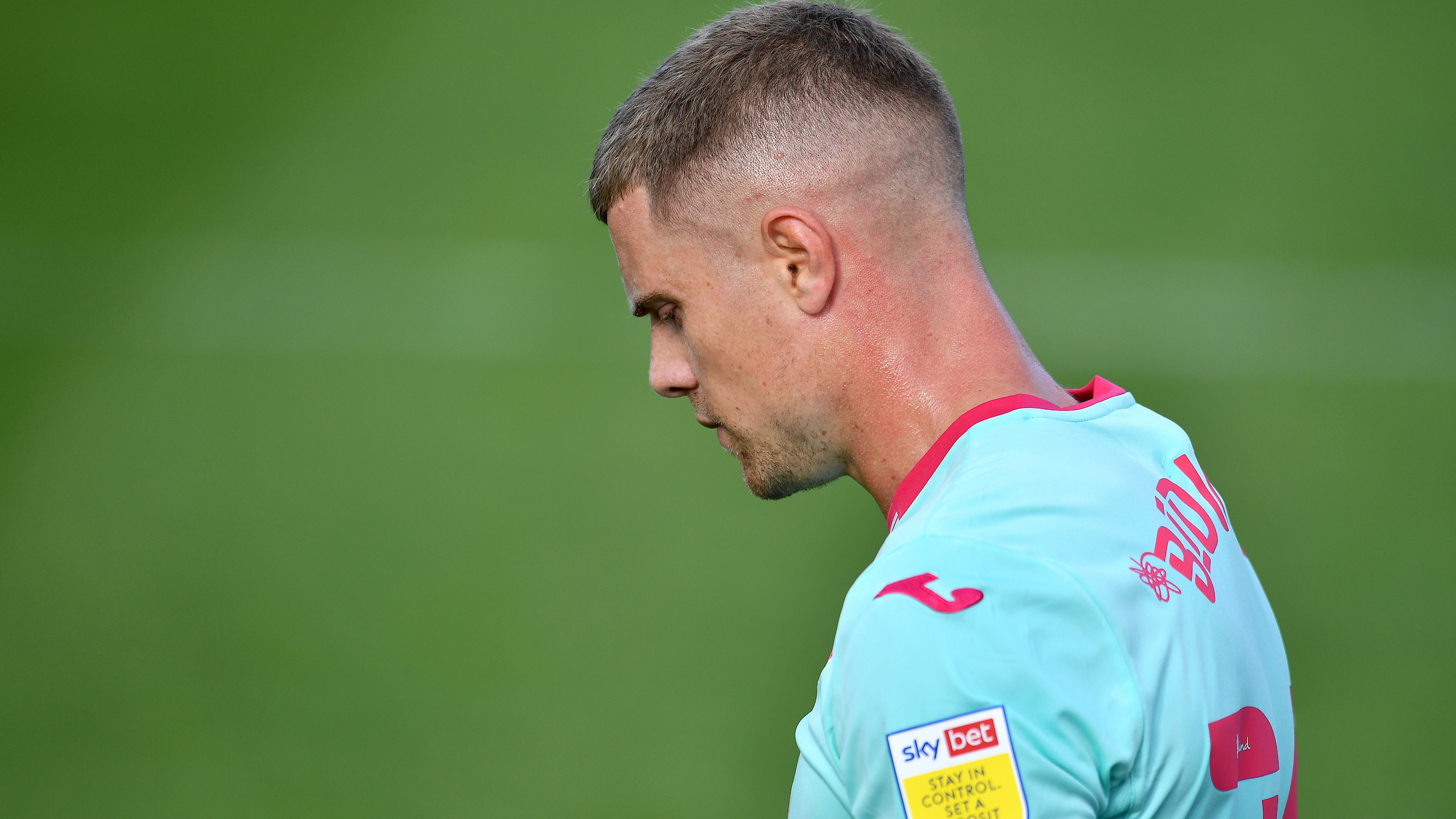 "I had to go in goal while he was away and during that time I was scouted by a guy called Martin Waldron and picked up by Everton. The trial went well, I signed on and spent two years there as a keeper.
"But, as time went on, I was not really enjoying it anymore and I wanted to be back as an outfield player.
"So, I left the academy, but ended up being back six months later as an outfield player after being spotted by a different scout. I sort of fell into being a goalkeeper and then fell out again.
"I can't say I was particularly great. I didn't think I was the next Neville Southall or anything like that, I didn't really play the position long enough to think like that!
"I don't think I'd have given any of the goalkeepers I have played with too much to worry about had I stayed in net, to be fair."
An England age-grade international, Bidwell would go on to play for Everton in their Europa League clash with BATE Borisov in 2009.
Aged 16 years and 271 days, it made him the youngest player to represent the club in Europe and – at the time – the third-youngest to ever pull on the royal blue shirt behind Jose Baxter and James Vaughan.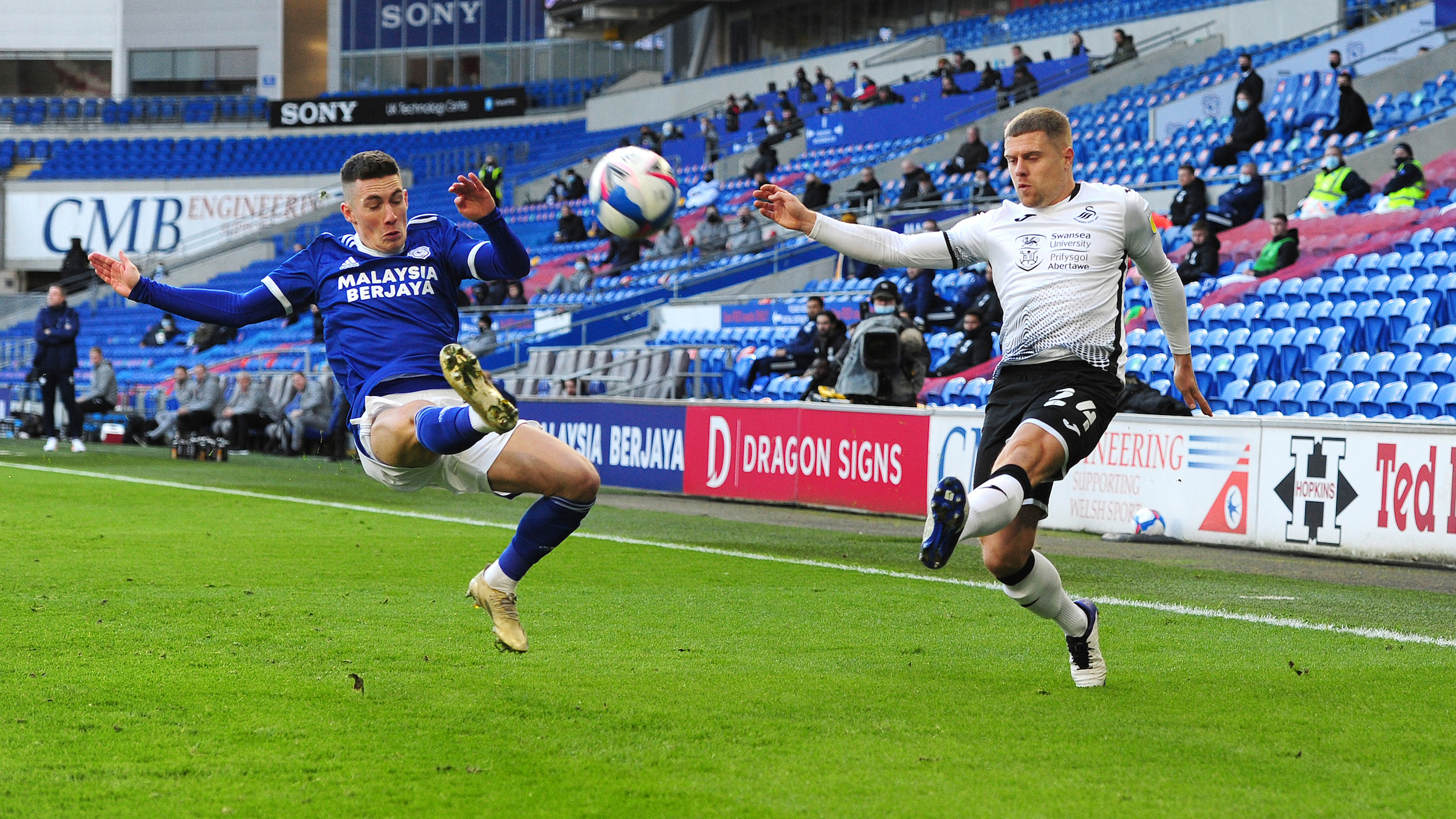 It would prove to be Bidwell's only senior appearance for the Toffees, and he would join Brentford in 2013 after two successful seasons on loan with the Bees.
While Bidwell wished there had been more than that one Everton appearance, he is still proud to have represented the club, and also underlines how much he took from being around a squad filled with model professionals, including the likes of Leighton Baines, Phil Neville, Phil Jagielka, Tim Cahill and Tim Howard.
Lessons were learned during that period that he carries with him to this day.
"With the Borisov game, at the time you think that's just the next step on your road. I didn't really stop to think about the record or things like that, it's more a case of when I look back now I am more aware of it," says Bidwell.
"It ended up being my only appearance for Everton, but I am very proud of that because that is one more than an awful lot of people have.
"Would I have liked more? Of course, I would have, but I am still proud of it. There are people out there who would give their right arm to play for Everton, and I was able to do it.
"I learnt a lot there too, you pick up things from being around a group of players like that. They were really good professionals.
"Guys like Leighton Baines, Sylvain Distin, Phil Jagielka, Mikel Arteta and Phil Neville, they set such high standards in everything.
"It did not matter if it was on the pitch, in the gym, meeting the fans. They always did their best job.
"I can remember Phil Neville, who was getting towards the end of his career at the time, always doing his extra bits to keep himself in the best possible shape. It instils a work ethic in you that I still carry in my career now.
"They knew that it would not just happen for them on a matchday, it had to be about good habits, about the right approach and mentality."
And Bidwell acknowledges he sees a similar dedication to high standards in the current Swansea set-up.
"I do see that in terms of the standards the gaffer and his staff set," he added.
"He is early in his journey as a manager, but he really does set very high standards every time we go out on a pitch.
"In some ways he is a little more relaxed than it was at Everton. For example, we don't have a fines system because it is self-governed and the squad is disciplined enough for that not to be needed.
"But when we are out on the grass and he is coaching, he demands the highest standards and there is absolutely no room for negotiation on that.
"That's how we improve, how we have improved and hopefully we can continue to do that.
"It's more of a football discipline if you like, and it suits us as a group. Those standards he demands are the standards we want to be playing at.
"But it never stops, that desire to improve, to get better, and be the best team we can is always there."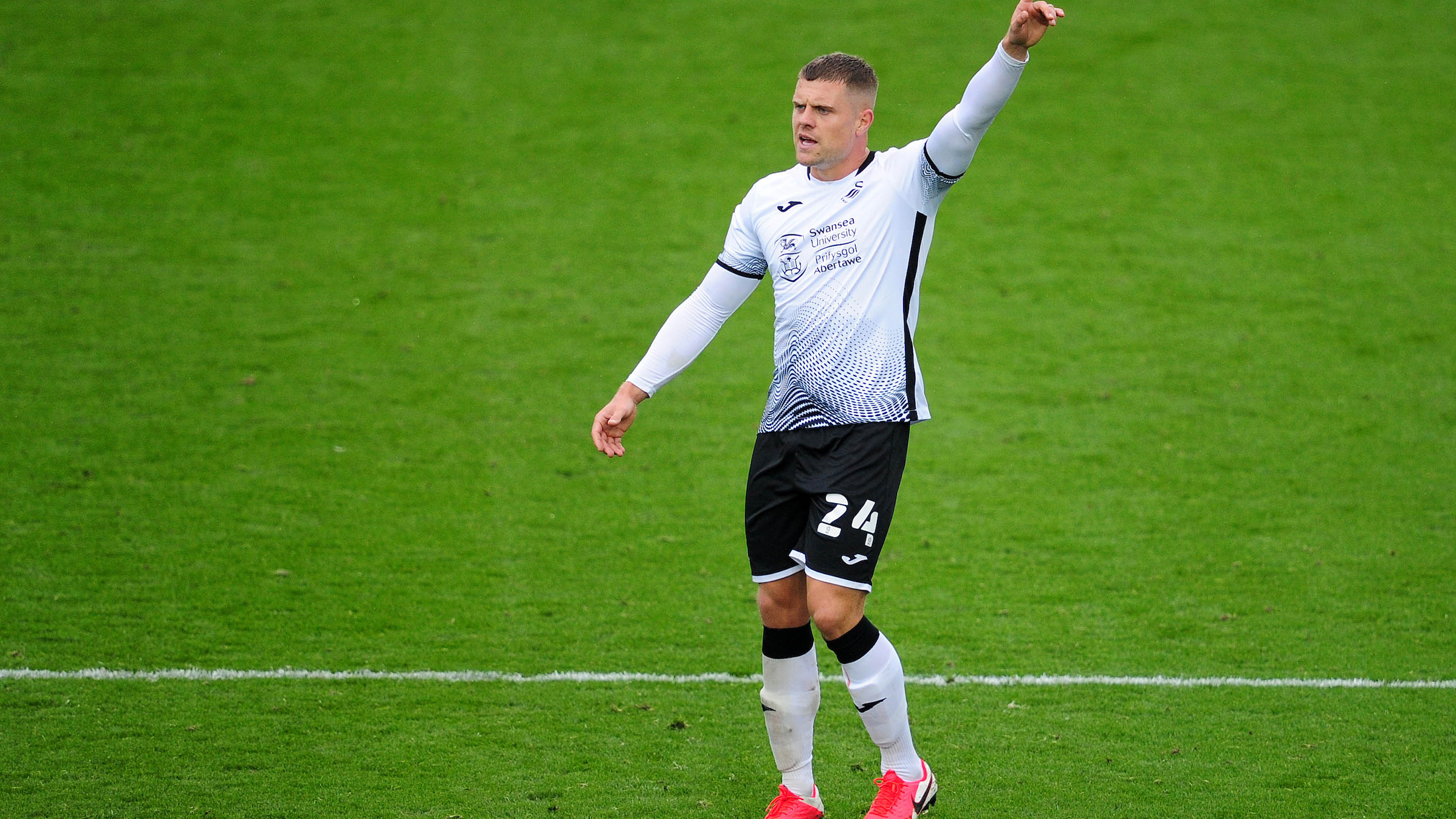 Bidwell enjoyed a fine stint with Brentford, helping the west London club win promotion to the Championship and firmly establish themselves in the second tier.
From there he made the short move to QPR at what was occasionally a turbulent time for the Rs, before making the switch to Swansea as a free agent in the summer of 2019.
He has not looked back since, whether featuring at left-back, centre-back or wing-back.
He helped the Swans on that unforgettable march to the play-offs last term, and has again been a key figure with Steve Cooper's side well placed in the promotion battle.
Like his head coach, Bidwell is loathe to look too far ahead and talk about what might be. The focus is on the here and now.
But he happily admits his switch to South Wales has been great for him on a professional and personal level.
"It has been a good move for me, no question," he said.
"I love the city and the surrounding area, there are some lovely places where I can take the dogs for walks, maybe around the beaches, and just chill out.
"But on the field things have been going well. The facilities and the environment we work in are very good.
"We have a coaching staff who are always pushing you to get better, to develop you as a player.
"The standard and the bar is set high, and you are striving to reach those standards. That's how you improve.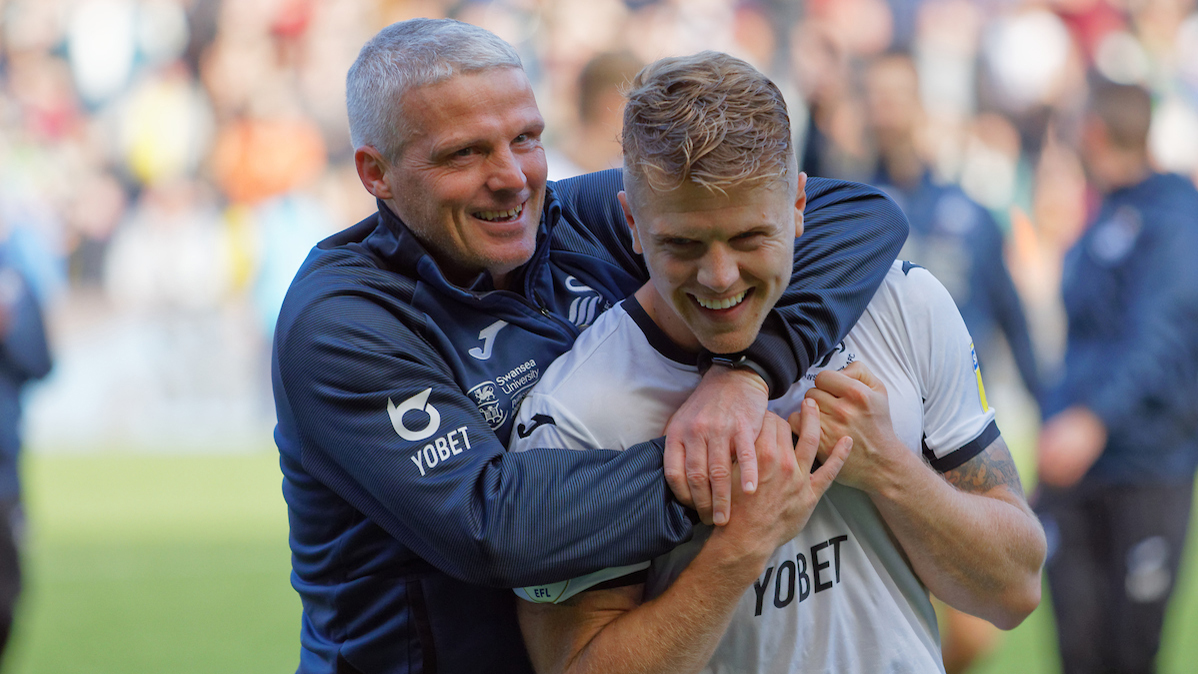 "I feel I have improved, I feel the squad has improved and I think you can see that, and with how we have been going it is such a shame that we cannot have fans in the stadium, that they are not able to be there to cheer the side on because there's no doubt they would love to and the Liberty would be rocking.
"It's been hard for people, to go in and out of lockdown, and we are fully aware that we are representing a city and a community that is proud of its football club.
"We, as a team, are ourselves proud to be representing the city and the community. We hope we can be successful for them and give them a lift.
"But, as I said earlier, no-one hands out any prizes at this time of year. There is plenty of work to do, but it's work we are eager to get on with."
With that Bidwell is off and back to work, looking at what's immediately ahead, the challenge of taking on his boyhood club.
It's one you know he will be relishing.