Jon Grey | Coaching runs in the family, I love it
18th February 2020
For Jon Grey, the art of nurturing promising talents into future success stories runs in the family.
After all, his father has helped to train over 300 boxing champions from Swansea and the surrounding area.
So Grey Jr's successes in football development should come as no surprise as he looks to shape and mould the next generation of Swansea City talent.
In addition to a family history of youth coaching, the Swansea City Under-23s interim coach has a personal insight into what the current crop of aspiring first-team players go through in pursuit of their dream.
Grey was himself a scholar and professional with the club during his own playing days in the 1990s.
Born in Swansea on September 2, 1977 to parents Terry and Jeanette, Grey grew up in Mayhill – the area that produced future Swans first-team players in Chris Coleman and Andy Melville.
It's been there, since 1971, that Terry has run the popular Gwent ABC Boxing Club, which has produced champions at senior, junior and schoolboy levels – including the likes of former professionals light-heavyweight Rocky Reynolds and ex-Welsh welterweight champion Jason Williams.
But did Grey ever consider going under the tutelage of his father for a career of his own in the ring?
"I did a little bit of training, but it was always football for me. Boxing is a bit too tough for me, to be honest," he smiles.
"My dad thinks football is a soft sport compared to boxing.
"A number of fighters have come through his gym and gone on to turn professional.
"A lot of them worked as doormen in town as well, which was good because I didn't have to pay to get in anywhere!
"Being in a tough estate where the club is based, it helped a lot of lads who were finding times difficult, and got them on the straight and narrow that way."
Indeed, Grey's passion lay outside the ring. Football-mad from an early age, he would hone his skills during after-school kickabouts with his friends, while testing himself against older children on the weekends at nearby Paradise Park.
Having joined local side West End at the age of nine, his early potential led to him having trials at various clubs including Manchester City and Arsenal, where he worked under future assistant coach to George Graham and Arsene Wenger, Pat Rice.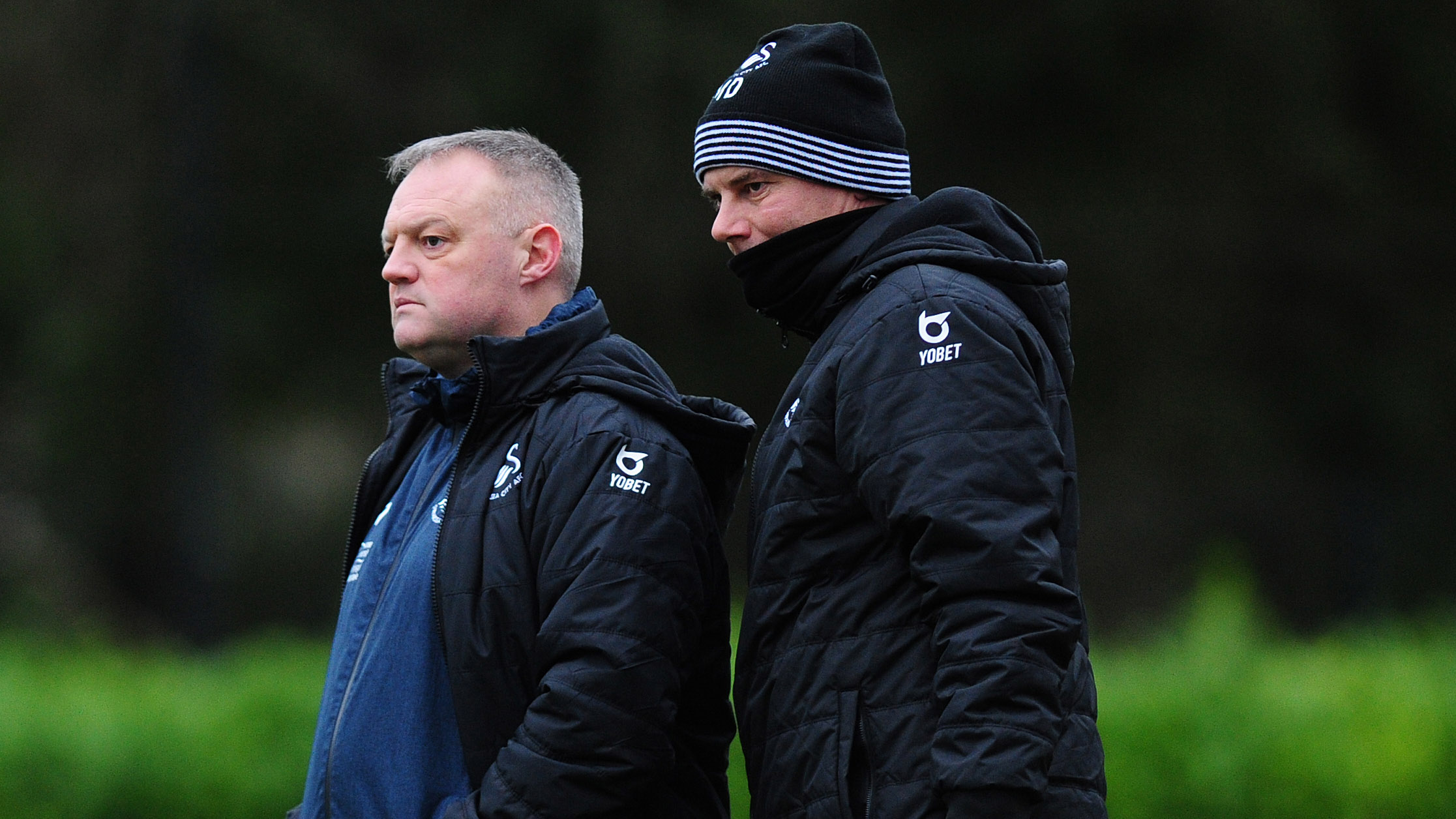 Grey eventually signed schoolboy terms with Swansea City as a 14-year-old and would successfully complete his scholarship before penning a one-year professional deal at the Vetch Field.
However, the joy was to be shortlived. He was released after failing to break into the first team under Jan Molby and, just three months later, a persistent back problem saw specialists advise him against pursuing a professional career when he was barely out of his teens.
"I have some fantastic memories of my time with Swansea as a player; I met some fantastic friends when I started the scholarship programme," says Grey.
"I found it tough to break into the first team. Jan was the manager at the time and he had some really good players around him.
"I then started having a lot of trouble with my back. I was still really suffering when I was released from my contract.
"Basically, two discs in my back crumbled and fused together, with my sciatic nerve trapped in between.
"Back then, medicine wasn't the same as it is now. It would probably be a 20-minute job nowadays.
"Back then it was a really serious problem that required quite a big operation.
"Because of my age and the nerve that was trapped, the surgeon didn't think the operation was worth the risk and suggested I pack in playing on a professional basis."
Although he continued to train with various clubs in the Welsh Football League, the back troubles continued and Grey moved away from playing before following a path well-trodden by former Swansea players – including the likes of Dudley Lewis, Gary Richards and Nigel Stevenson – by becoming a postman in the local area to make ends meet.
But he could not resist the lure of football and began coaching at West End, as well as running the Swansea Schools' side alongside fellow future academy coach Anthony Wright.
Thereon, a timely phone call from the Swans' then academy manager Tony Pennock saw him join the coaching set-up on a part-time basis in 2009.
"Tony got in touch and asked if I would be interested in helping out during some sessions," said Grey.
"I started on a part-time basis, coaching the under-15s side and really enjoying it.
"Going from a group of senior players who know everything to a group of really talented youngsters who hung on every word you said; they were like sponges and couldn't get enough information out of you.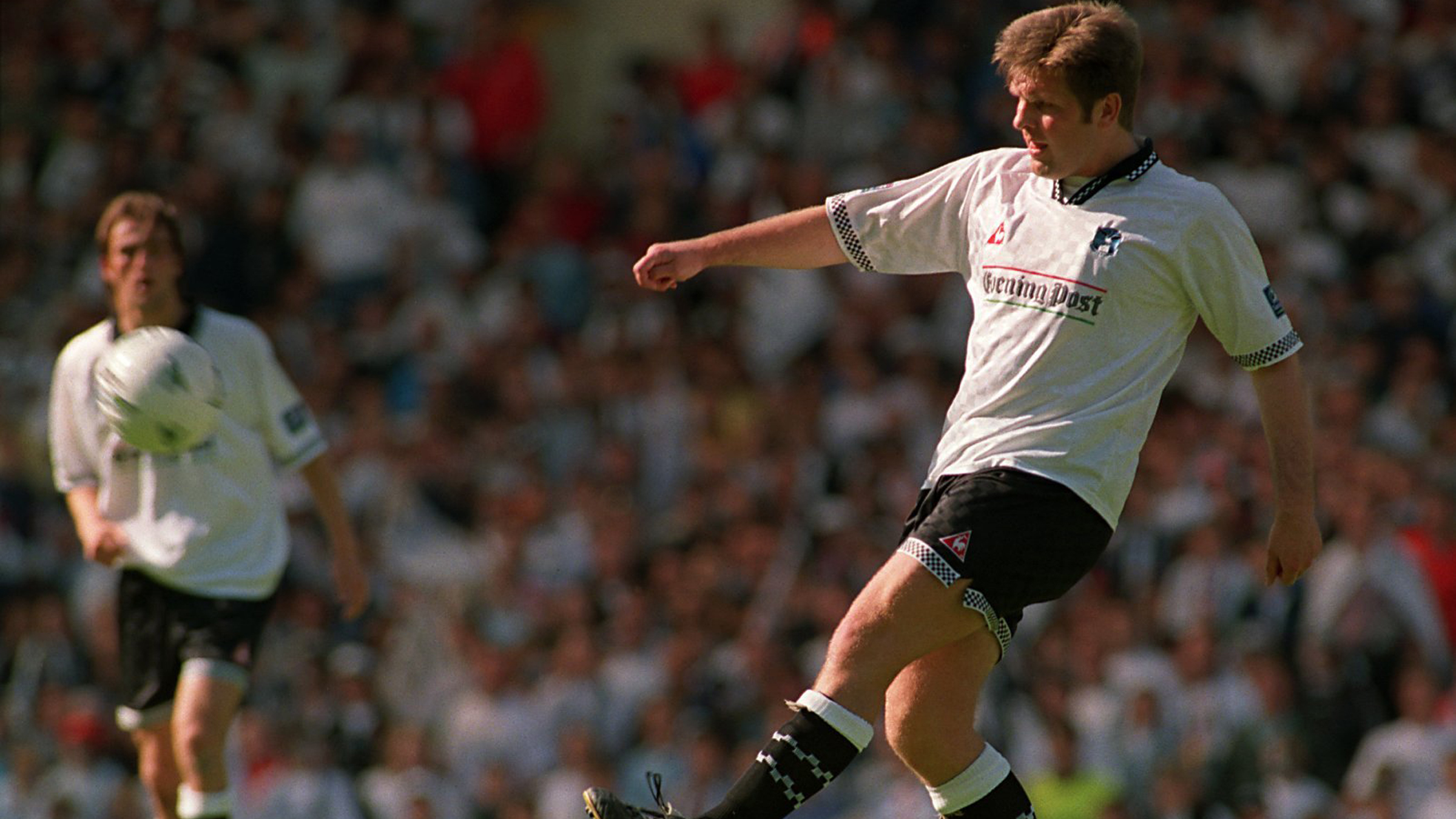 "I did a part-time role for two-and-a-half years helping out with other age groups, including the under-18s at times. That gave me a better all-round ability to deal with players.
"From there, Tony offered me a job on a full-time basis. It was an easy decision for me.
"I loved my job at the post office and was a little bit disappointed to leave my mates because they were a fantastic group of lads. But I jumped at the opportunity."
It's fair to say a lot has changed during Grey's decade of working with Swansea's age-grade sides, with the club investing in brand-new facilities at Landore and Fairwood, as well as attaining Category 1 status – the highest-possible level in the academy system under the Premier League Elite Player Performance Plan.
Grey was promoted to under-18s coach in 2016 – working alongside Wright once more.
Under their guidance, the under-18s enjoyed a hugely successful 2017-18 season in Premier League South – the top-flight of academy football – eventually securing a very respectable sixth-place finish.
"A lot of the players that I'm working with in the under-23s were part of that squad," Grey remembers.
"We had a fantastic season where we finished sixth in Premier League South and spent a lot of time in third place.
"For a club of Swansea City's size, stature and budget - compared to the teams we were playing against - it was an unbelievable achievement. It was a very proud moment for Anthony and me.
"A few people thought we'd overachieved but we never had any doubt; the players were fantastic and we knew that if we could get them on the pitch every week, we could compete with any team."
Grey and Wright also won three consecutive FAW Youth Cup titles from 2017 to 2019, including the club's record-breaking 10th successive win in the latter following a 2-1 victory over TNS in the final.
"The club has enjoyed a fantastic history in that competition," he said.
"It was something we always talked about. We always told the players how we didn't want to be the group that lost our hold on the trophy.
"We always went strong in the competition to try and maintain it and, luckily, we did."
During the summer, Grey swapped the grass for the confines of an office as he moved into a new role as the academy's head of coaching; establishing a curriculum for his fellow coaches to adhere to with their respective age-grade sides.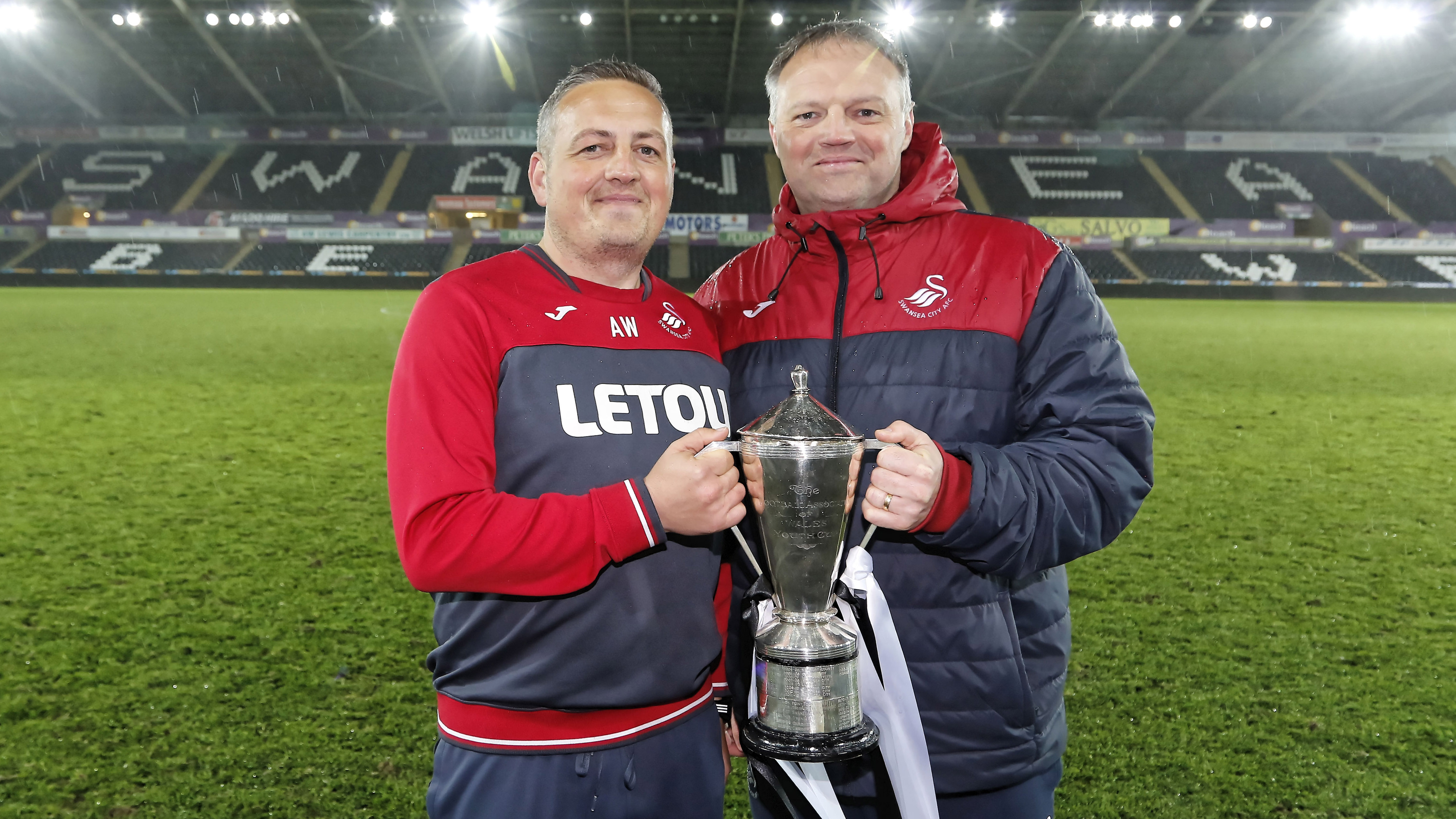 "We felt that the work we'd done previously had been successful because of the amount of players that had come through the system to be in and around the first-team squad," he explains.
"We felt it needed tweaking a little so I set up a small project; initially for myself more than for the club.
"It incorporated the way I saw the game being played, which is very similar to what Swansea City do anyway.
"I didn't do everything myself; I spent a lot of time with coaches listening to what they had to say. I took a lot of people's opinions into consideration and put it all down on paper.
"I started writing a new curriculum, which the club decided it wanted to use. The natural progression was for me to step in and help the coaches deliver that curriculum.
"I've spent a lot of time in the office with a number of our coaches going over how we want to play, what we want to do and helping them progress, which is the most important thing.
"If we have really good coaches then, hopefully, it gives us really good players.
"It's gone well so far. It's been a new role and a difficult challenge; one that I've tried to grasp with both hands and really get my teeth into."
However, he returned to the grass in December as he was named under-23s interim coach until the end of the season, following the departures of Richards and Cameron Toshack to Cypriot side Pafos FC.
It proved a smooth transition for Grey given his familiarity with so many of the players, while he continues to combine the role with his head of coaching duties.
Working alongside former under-16s coach Matty Jones, the 42-year-old has overseen a promising start to life in charge of the development side.
They have won four of their last eight games in all competitions, as well as qualifying for the quarter-finals of the Premier League International Cup in emphatic fashion.
It has also been hugely successful from a development perspective, with key players Jack Evans and Brandon Cooper earning loan moves to Mansfield and Yeovil respectively.
Meanwhile, a hugely impressive January - which included 10 goals in just four appearances - has seen Liam Cullen step up to the first-team squad.
And Grey believes the promotion of Cullen, who has been with the club since he was eight, epitomises the hard work of everyone within the academy coaching ranks.
"Out on the grass is where I want to be; that's where I'm at my most comfortable," he said.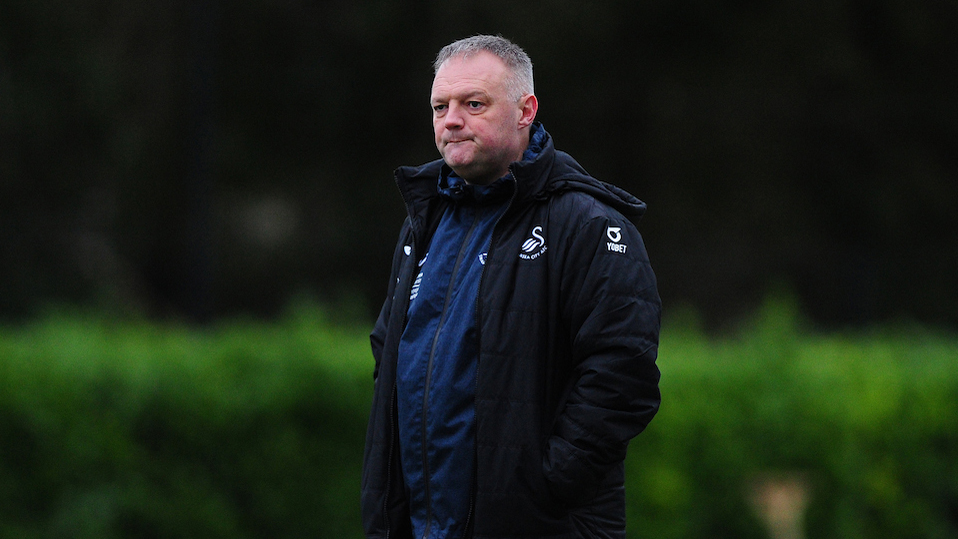 "When the opportunity came and I was asked to step into the role, it was an easy decision for me.
"Getting back on the grass has made me realise how much I enjoy being out there and being around the players on a daily basis.
"I've really enjoyed it. The easiest part for me is that I've worked with about 99 per cent of the squad beforehand, so they know what I want, how I am around them, how I want them to act and behave, and how to put a game plan together when they step out onto the pitch.
"We inherited a good squad at the time, which is credit to Gary and Cameron for the work they did.
"We've had a fantastic start with some good results. But, in development football, it's not about results.
"Nobody wants to go out and lose games, but the main focus is to get players to improve individually ready for the head coach in the first-team environment.
"One of the players has moved into the first-team environment, which is fantastic. Meanwhile, a couple of players have also got loan moves to Football League clubs; the time was right for them to do it.
"The most important aim for us is to finish with a couple more players in the first-team environment.
"A number of coaches have been involved in the players' development here; we've got some fantastic coaches at the academy.
"The classic example is with Liam. At some point, he has worked with all of these coaches. They have all contributed to his journey and you have to give them credit for the work they've done.
"If we can get him scoring goals in the first team, it would be a great story and fantastic for him."
Almost as great a story as Grey's own tale. There have been tough times and disappointments along the way but - as his father has taught so many to do over the years - he has rolled with the punches and made his mark.