Josh Edwards out to build on whirlwind season
16th February 2020
Under-21s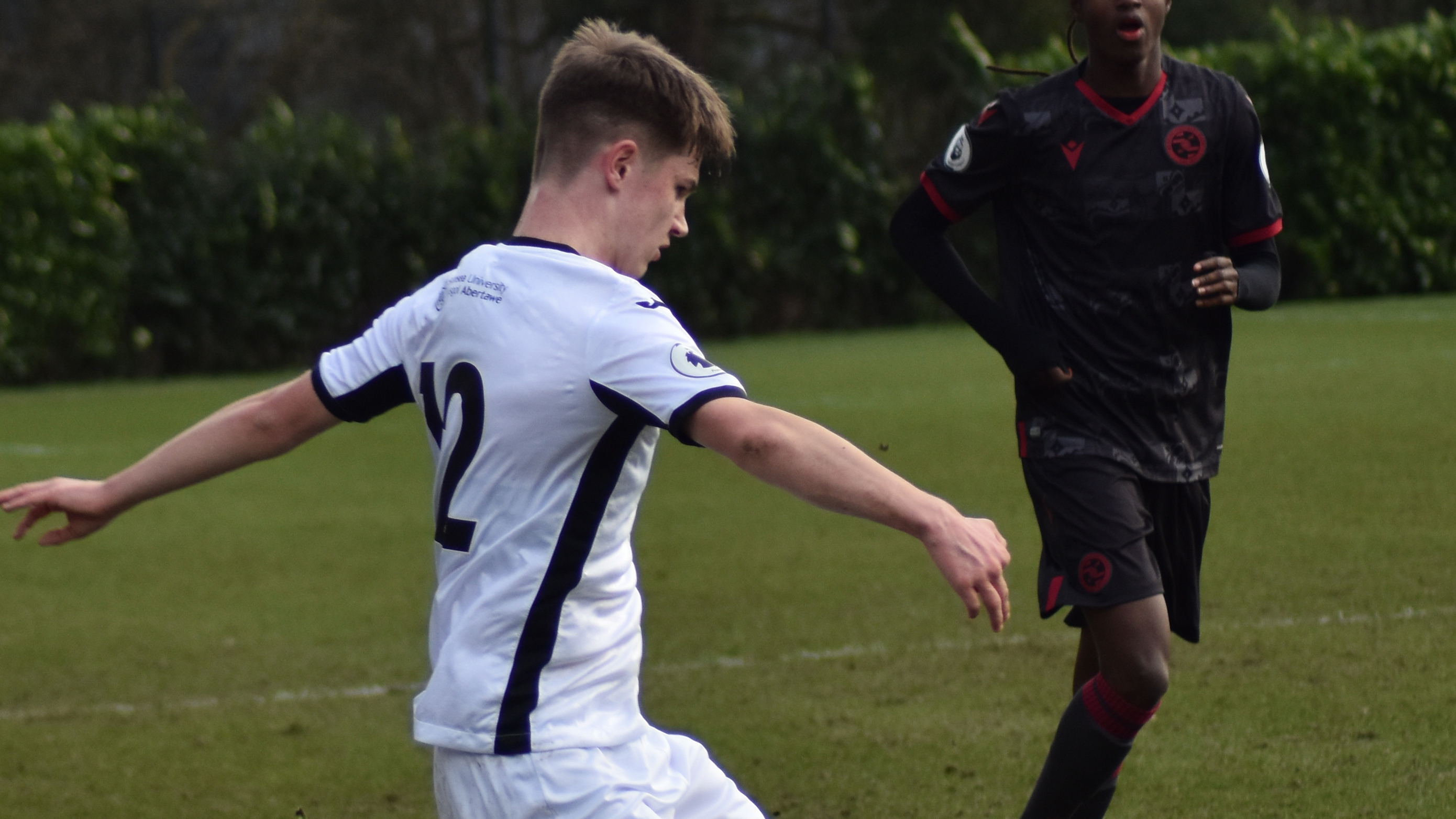 It's fair to say it's been whirlwind few months for Swansea City youngster Josh Edwards.
The young attacking midfielder, despite only turning 16 a few weeks ago, has already made his Swansea City under-23s debut and trained with Steve Cooper's first-team squad at Fairwood.
But it's a time he is desperate to make the most of, and to use as a foundation to push on to bigger and better things.
He is not a young man content to rest on his laurels having been given that sight of a higher level of football.
The schoolboy, who hails from Gendros, has been with the Swans since he was eight and recently made history with his boyhood club.
In November, Edwards became the first 15-year-old to appear for the under-23s when he climbed off the bench for the final 11 minutes of the 4-2 defeat against Premier League 2 Division 2 leaders West Ham.
The young midfielder showed no fear as he enjoyed an impressive cameo at Landore.
Within seconds of his introduction, he immediately attempted an ambitious lofted through ball and, for the remainder of the game, neatly maintained possession while popping up in dangerous areas for the development side.
"It was great to get the opportunity to play; I loved every minute of it," said Edwards.
"It meant everything to me. I want to be doing it for my family, friends and everyone who is supporting me.
"I was very nervous at first, but I eased my way into it and the players were giving me constant support throughout.
"My game is mainly about seeing passes and playing balls in behind defences. So, when I get the chance to play up an age group, I must stick to that and show myself in the best way.
"Playing my own game helped me achieve what I did so no matter what age group I play at, I'm not going to change it.
"I look up to players like Kevin De Bruyne a lot. His game is obviously different to mine, but I admire the way he plays and the passes he sees. I try to implement that into my own game.
"It's similar in terms of watching Bernardo Silva and the ability he has to work his way out of tight spaces."
Edwards' appearance from the bench was all the more surprising considering that, at the time, he had played just 59 minutes of football at under-18 level.
It completed a hectic spell for the Wales Under-17s international in what was his third match in just two days.
"I played half an hour for the under-16s on the Saturday before been taken off and told to report for the under-18s later that day," he explained.
"I then played 45 minutes there and I was called up to see Anthony Wright after the game. He read out a list of names and I was told I was with the under-23s the following day.
"I was buzzing; I couldn't believe it when I was told.
"You want to be playing at as high a level as possible and pushing as much as you can, so I was absolutely over the moon."
Things got even better for the midfielder later that month and, once again, it was down to a rapid chain of events.
Some potentially exciting news that he received from then under-16s coach Matty Jones at the start of the week would become a reality by its conclusion.
"I was having my review with Matty on the Monday and he told me there was talk that I would get an opportunity to train with the first team," Edwards smiled.
"The under-16s had a midweek game against Wolves on the Wednesday, which Alan Tate came to watch.
"I was on limited game-time so I came off at half-time and went to get changed. Tatey then came and told me that the first team wanted me to go and train with them on the Sunday.
"Obviously, he is a Swansea City legend, so finding out from him was special and I was absolutely buzzing. When I told my mother, she was crying; it certainly meant a lot to the family."
Introduced as part of the club's plan to gradually integrate younger players and give them opportunities in the first-team environment, Edwards admits the experience at Fairwood was a surreal one.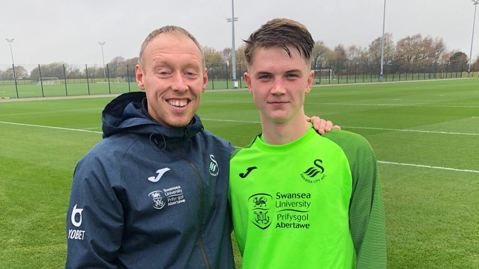 But with so many of the current senior squad having made their own breakthroughs over the last 18 months or so, his transition was a smooth one.
The teenager received plenty of words of encouragement along the way, while he was also grateful for the constant support from one particular player.
"I was expecting a few eyebrows to be raised when I turned up," he said.
"However, all the boys made me fit right in. The fact that most of the squad is so young and it wasn't so long ago that they were taking the same steps as me probably made them empathise a bit more.
"It certainly made the whole experience 10 times more enjoyable for me.
"Ben Cabango was speaking to me throughout the entire day. First, he tried to calm me down and get me up for training by telling me not to worry about the players I was working with.
"He and the likes of Tom Carroll and Yan Dhanda were then giving me praise during the session, and telling me what to do so that I wasn't unsure of anything.
"The gaffer was great with me, too. He told me that no matter how old I was, I'm a footballer so to get on the ball and pass it around. His appreciation and recognition of my talent was excellent for me.
"You want recognition and a chance to prove yourself. It was great that I got the chance to go and train, show what I was made of and make the gaffer aware of me."
Edwards followed that up with another substitute appearance for the under-23s in last weekend's Premier League Cup draw with Reading; adding to the six games he has already played for the under-18s.
Having made his debut for the under-18s, under-23s and trained with the first team before turning 16, Edwards could be forgiven for getting carried away.
But with a wise head on such young shoulders, he is fully aware that the hard work does not stop now as he eyes further opportunities for progress with Swansea City.
And he knows his recent memorable moments will be mere footnotes unless he continues to improve and push on.
"This season, things have come thick and fast for me and I've loved every minute of it," he reflected.
"The club has pushed me on massively and I can't thank them enough for it.
"Now that I've had these opportunities, I can't rest and have to keep pushing for more.
"The hard work must go on; I must try to play for the under-18s and under-23s more often, and keep striving to be the best I can be.
"Nothing is set in stone, if I have the chance it's down to me to make the most of it."