Julian Winter | Swansea City update
24th December 2020
Club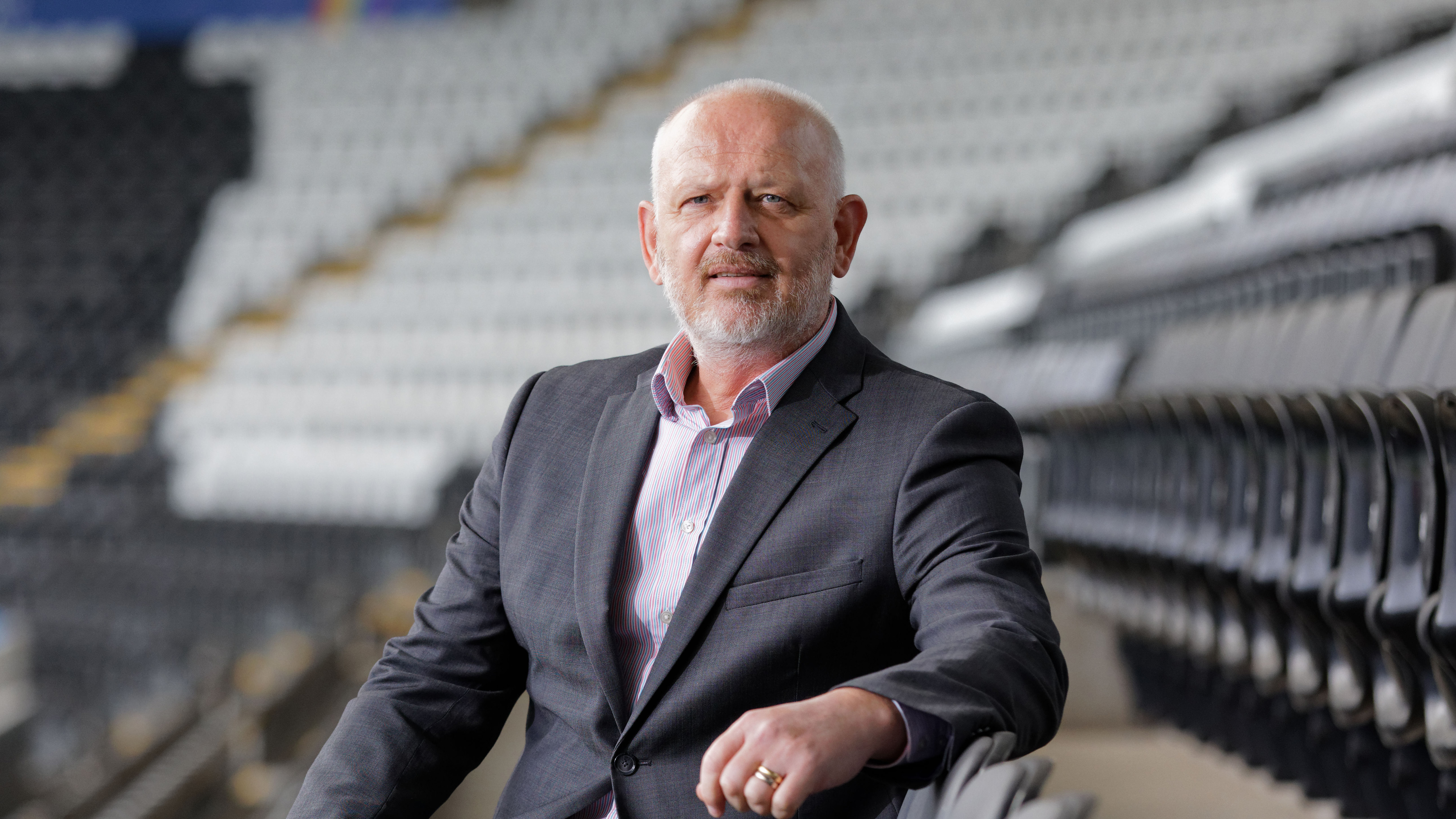 As we approach Christmas Day and with the new year upon us, I feel it is important to update our supporters on a number of topics.
I've now been in my post for three months, and I believe we have made progress in a number of aspects, while we continue to strive to improve in all areas of the club.
Communication with our fans is of the utmost importance, and I hope you're happy with what we've done in that respect so far.
It proved a busy start to my time here, issuing a statement on my first day at the club before holding a press conference 24 hours later, while I provided an update in October after completing a month in my new role.
I've enjoyed regular communication with the ownership group, along with the Supporters Trust and Disabled Supporters Association.
As soon as I started my first day here, I really wanted to hear everyone's opinions of the club – on and off the pitch – to help create a shared vision for the club.
Attending a structured dialogue meeting recently allowed me to do just that. It's a great event that allows a lot of information to be shared and commented on.
I was also part of the first City Business Network meeting of the season, and I was encouraged by the amount of local businesses that are behind our club. We all know the community is the heartbeat of Swansea City, and this network allows us to showcase and support these great local businesses on top of providing a useful, insightful meeting.
My column in the matchday programme, which is available digitally and via hard copy, aims to update fans on a match-by-match basis and I hope you have found them insightful too.
Of course, this season is not your usual season. 
The Covid pandemic has continued to severely affect not only our football club, but the lives of our families, friends and fans.
We have sadly lost members of the Jack Army, while I know there are some of you who have family battling the virus while in hospital. It's important we stick together in these tough times, and the football club is there as a pillar of support for the community.
For Steve Cooper and his squad, it has meant the first team have formed a training bubble at Fairwood, while the academy sides are doing the same in Landore.
We also have staff doing a great job either working at home or, when required, at our venues in Landore, Fairwood and the Liberty Stadium.
It's a real team effort here, and I think that is reflected by our start to the campaign, with the team sitting third in the Championship table.
Steve, his staff and the players have done a great job so far, and we hope they keep that up as the season progresses.
There is a genuine togetherness here, and that was emphasised by the team huddle on the pitch after the victory over Cardiff City. It is important to us that you know you are always in our minds because we want to make you feel proud of supporting Swansea City. The players, too, realise what it means to play for this club and to represent you.
With 2021 just around the corner, I'm sure you'll all be looking towards the January transfer window and wondering what our plans are.
Well, it's going to be different post-Brexit. It will certainly change the way we recruit going forward in international markets. The European market will be treated just like any other market, which provides its own issues as players will now require a work permit and a visa.
Myself, Steve and Andy Scott meet regularly here in Swansea to talk about the squad, transition of academy players and the shape of the next few windows, so we are planning well in advance to put us in the best possible position.
Whatever activity happens in the upcoming window, rest assured it will always have one thing at the centre – the best interests of Swansea City.
We are also preparing for the probable implementation of a salary cap for the Championship next season. Whatever the situation we find ourselves in, we have to cover all bases and a lot of work is going on behind the scenes to prepare us for all outcomes.
One thing that has already been addressed is the playing surface at the Liberty.
Following concerns surrounding the pitch, which had become increasingly difficult to maintain to the normal standard, the ownership group supported the proposal to replace it with a high quality, hybrid turf pitch.
That work is currently ongoing, and will be played on for the first time when we host Reading on December 30.
I must thank the Ospreys for their understanding and support during this time as they have agreed to switch venues for their Boxing Day clash with the Scarlets to accommodate the change.
We have also been overwhelmed by the understanding and support you have shown us during these challenging times.
You will have seen the recent communication regarding the price of our 2021-22 season ticket renewals, and we've been very encouraged by the early figures.
We were determined to thank current season ticket holders who took the option for streaming and kept revenue in the club, along with those eligible via the monthly refund route. I think by offering a season ticket in all stands to adults for just £99, and as little as £23 for under-12s, we managed to do that.
I'm sure there will be many happy Jacks waking up to a season ticket on Christmas Day!
Other pricing is to be released in the new year, but you can renew tickets and also find further information HERE.
The current pandemic means we have not been able to welcome you to the Liberty since March.
Our open letter to the Welsh Government shared our concerns and views about the situation, and stressed the importance of creating a level playing field regarding the one metre rule in the UK whilst in Wales it remains two metres. When we get through this challenging period, we would like a one metre applied when pilot events are introduced in Wales. I stress, however, that we want this only when it is safe and possible to do so because your safety and health is the most important thing of all.
You will have seen on our club channels on Monday that we have mutually agreed to part company with our stadium catering company Sodexo. 
We are considering all options to make sure we have an effective hospitality and catering model when we are able to welcome supporters back to the Liberty.
As I mentioned earlier in this piece, the community is a focal point of Swansea City, and the importance of our Community Trust department can not be stressed enough.
I was really keen to have the Community Trust based next to the rest of the departments at the club, and they now have an office on the first floor the Liberty Stadium. They are a key part of this club, and they do a lot of great work in the community by spreading important messages and hosting sessions that really benefits our city.
There are positions in other key departments of the club which we are in the process of finalising. 
Interviews have been held for our academy manager vacancy, and we've been really encouraged by the applications and the fantastic range of candidates. 
We will hopefully be in a position to announce Nigel Rees' successor soon. I'd like to thank Nigel for his fantastic service to the club as he's done a great job of leading the successful academy, and wish him well in his next step.
Interviews have also concluded for the role of head of media and communications, and I'm delighted to announce that Ben Donovan will be taking up the position in mid-January and arrives with almost 10 years' experience in media and public relations.
Ben began his career at the Liberty Stadium in 2011 and spent five years working in the club's media department before spending 18 months managing media operations for the Wales national team at the Football Association of Wales. He has most recently been with the communications team at Swansea University and it is great to see him return to Swansea City.
It is an important role within the football club and I'm really looking forward to working with him as he joins some excellent staff already working behind the scenes here.
There was a significant appointment made by the EFL recently, with Trevor Birch set to become their new Chief Executive on January 1. 
I've been in touch with Trevor to congratulate him on what will be a challenging job, but one I believe he will be successful in.
The EFL recently confirmed it had agreed a rescue package with the Premier League for clubs in the Championship, League One and League Two.
In a recent Championship meeting, a number of clubs raised concerns about the £8.3million interest free loan facility. However, while we don't share the same concerns, we are still considering our position and are awaiting a response from the EFL regarding a few questions we have put to them.
In the sense of protecting the game and the clubs within the pyramid, it still may not be enough, but we feel it's a step in the right direction.
Last week you may have seen the Companies House registration of funding via a convertible loan note coming in from our ownership group. That money matches the investment made by Jake Silverstein, who was appointed onto the club's Board of Directors in August.
The injection of money will help the club in the short and medium term, and underlines the commitment of the ownership group in stabilising the club during these unprecedented times.
Finally, I wish to finish by highlight the good work of the club during the festive period. 
It is one thing saying we are committed to helping the community, but you need to back it up with action, and the club has certainly done that despite the challenges which everyone faces in terms of access.
The first-team squad have purchased a number of presents which will be distributed among some of the most vulnerable families in our city and community.
The squad have also agreed to fund the breakfast club for Dylan Thomas Community School throughout the whole of 2021.
The school, based in the Cockett area of Swansea, has one of the highest percentages of pupils entitled to free school meals in South Wales, and this is a great gesture by the players.
This idea was initially started by Morgan Gibbs-White and his girlfriend Britney De Villiers.
This shows how Morgan – who is on loan from Wolves - has integrated himself into life in Swansea, and what the city and people mean to him. It also shows he has the same principles as the club, and that's so important for a community club like ours.
Connor Roberts has also donated reindeer toys and selection boxes that will be distributed to the Blaen-y-Maes Drop In Centre - a not-for-profit community organisation that provides support to the surrounding area. Connor is a local lad and knows full well what the club means to the area, and this just underlines his commitment to helping children in the city.
Additionally, the club was proud to be involved in the 'Everyone Deserves a Christmas' campaign, which saw over 1,000 hampers delivered to families who are struggling during this festive period.
Ourselves and the Community Trust worked alongside the Ospreys, Mecca Bingo and local MP Carolyn Harris, while we were also delighted that a number of our club partners also backed the initiative.
I was also invited onto the DSA's Christmas raffle, and that received support from local businesses via their donations. I applaud the efforts of Andrew Brayley (chair) and Cath Dyer (secretary), who put on a great event for the DSA. 
That's it for now, but I will update you again in the new year.
Merry Christmas to everyone connected with Swansea City, and here's to a happier 2021.
Julian.