Katy Hosford | It was a really good team performance
30th October 2023
Women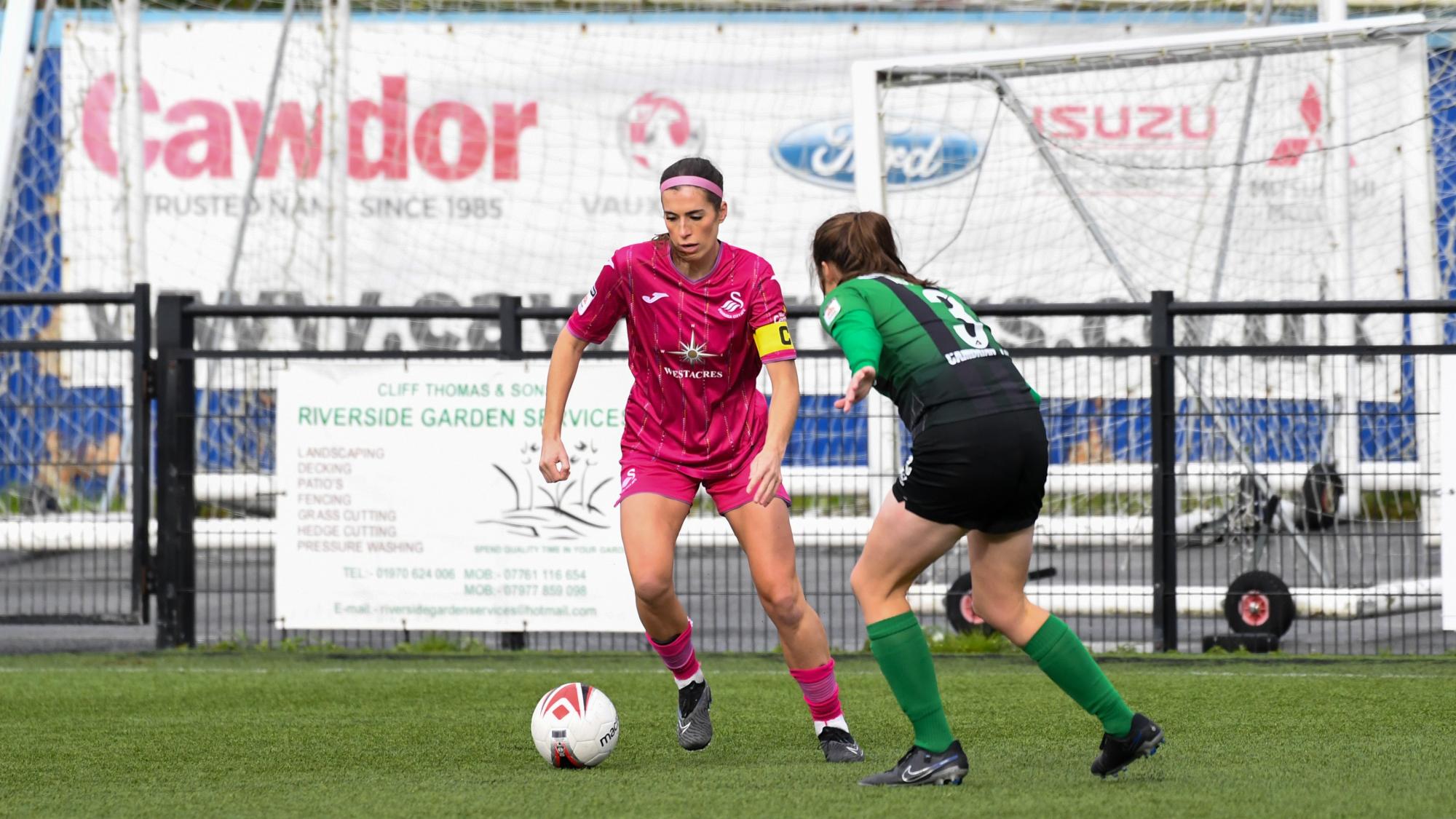 Swansea City Women's captain Katy Hosford praised a team performance as the Swans made it four consecutive wins with a 4-0 victory against Aberystwyth Town.
Hosford put the Swans ahead early as she slotted home from close range, before setting Jess Williams up from a corner to double the visitors' lead.
The skipper made it 3-0 after the break, diverting in a fantastic cross from Chloe Chivers at the back post for her fifth goal of the season, before Monet Legall topped off a dominant performance by adding a fourth.
It was a captain's performance from Hosford who played a part in all four Swansea goals, but she was quick to praise the attitude and application of the entire squad.
"I'm obviously really happy to get on the scoresheet, but all in all it was a really good team performance," said Hosford.
"We know that Aberystwyth can be quite a difficult place to come, but the way we've been building in the last couple of weeks has given us momentum.
"We haven't had the best results here in the past, but I think we've put that behind us now, we've worked really hard and we're delighted with three points.
"It's always nice to be able to get among the goals, it helps to contribute to the team and on a personal level I'm really happy and hopefully I can keep pushing on.
"We want everyone across the team to be chipping in with the goals, it will do everyone's confidence a world of good as well.
"The attitude of all the players who have been on the bench and come on has been excellent since the start of the season, and I think that shows in our performances as well."
The win also saw the Swans earn their second clean sheet of the campaign and Hosford was pleased with the defensive shutout and highlighted the contribution of 16-year-old debutant goalkeeper Opal Rayner.
"We said before the game that we wanted to get a clean sheet, we got to half-time and I think that was something we were striving for in the second half," added Hosford.
"I think it's excellent for Opal [Rayner] being so young and being able to get a clean sheet, she's just going to thrive off that and grow in confidence."

Sunday 19th November
//

17:10
Wrexham