Level Playing Field's Weeks of Action | Spotlight on the Swansea City sensory room
7th March 2022
Fans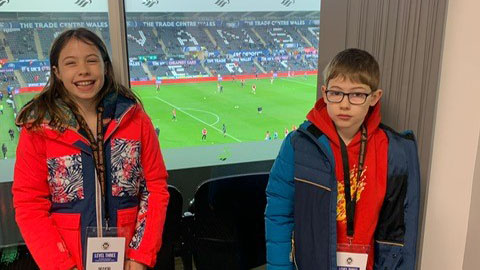 Seven-year-old Max attended a football match for the first time last month thanks to the use of the sensory room facilities at the Swansea.com Stadium.
The sensory room is a space which can be used privately by family and friends on matchdays, and is a transition space which helps break down barriers for those who otherwise would not be able to attend a live match.
Max, his parents Verity and Anthony, and his sister Bella travelled to SA1 to watch the Swans' victory over Bristol City and made use of the space to support Max, who has sensory needs.
Verity, Max's mother, said: "There was no way Max would have coped in the main stands for his first experience of a match
"Seeing Max going from being very nervous to enjoying the match, and even celebrating when we scored, was the best experience ever. We feel so lucky to of been given the space to use for our family."
The room has a hurricane tube which changes colour, a wall projector with interchangeable slides, along with football bean bags, colouring sheets and sensory toys donated by the club's Disabled Supporters' Association.
All of which helped ensure Max and Bella were entertained by the facilities prior to the players even taking to the pitch
Anthony, Max's dad, added: "The whole experience has been really easy and we have been guided every step of the way. Nothing is too much trouble for the staff, and this helped us to just relax and enjoy the day as a family."
The sensory room is available to anyone who may be unable to attend a live match without it.
This season the space has been utilised by many supporters with autism, as well as those living with dementia.
To enquire about availability of the space, please contact the club by emailing accessibility@swanseacity.com.