Swansea City launch Sensory Room
4th October 2019
Club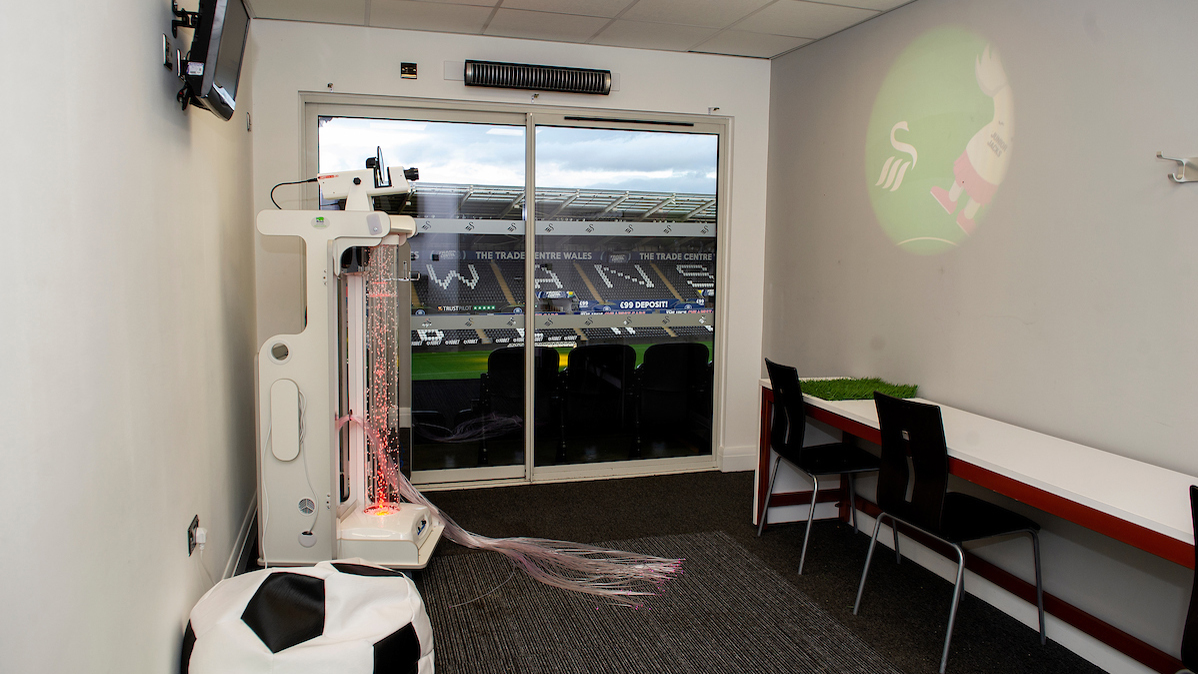 Earlier this week, Swansea City celebrated the launch of the club's new Sensory Room.
Following a number of successful Autism-friendly events and initiatives, as well as trials at the recent games against Atalanta and Reading, we are delighted to introduce the room as part of our matchday facilities.
Featuring a hurricane tube, fibre-optics and a music player, the sensory room allows supporters who may find the matchday environment uncomfortable to come and enjoy the game at their own pace.
Supporters view the match from inside the sensory room while also being able to sit in the stand, safe in the knowledge that they are able to return to the room should they become overwhelmed.   
Our journey to introducing a sensory room began in February 2017 in partnership with our Disabled Supporters Association (DSA).
Since then, the club has engaged with a number of organisations to introduce ASD-friendly facilities including the club shop's quiet hour and, in April 2019 - through investment from the Premier League, the BT Disability Fund and The Shippey Campaign - funding was secured to support the installation of a sensory room.
The DSA, who have kindly donated additional equipment to the room, were present on the night of the launch, along with members of the National Autistic Society and students from Dwr y Felin Comprehensive School.
Mark Phillips, the club's Disability Access Officer, said: "We're really pleased that this facility will open the doors to so many other supporters in the community.
"It's something we've been working on for a number of years with the DSA, and the launch gives us the opportunity to celebrate the journey.
"It was important for us to have this facility for supporters. Swansea City has always been a family club and the community is such a big part of it.
"I always feel that we should be setting the benchmark in terms of how society should look at things like inclusion and diversity."
DSA secretary Cath Dyer, whose daughter Claire is autistic, added: "We're really pleased that this has come to fruition.
"It's beneficial for all involved and shows that the club is looking after people with any form of disability.
"If it can help people and families who couldn't normally come to a football match then that's great. 
"It was fabulous for my daughter (during the Atalanta game). For friendly games in the past, we've had to sit quite far away from everybody and that was a struggle.
"But now, we can bring her, and she can enjoy the match as much as she can cope with it."
If you would like to book a place in the sensory room for one of our upcoming games, you can register your interest HERE.