Matt Grimes | One to Eleven
5th June 2020
First team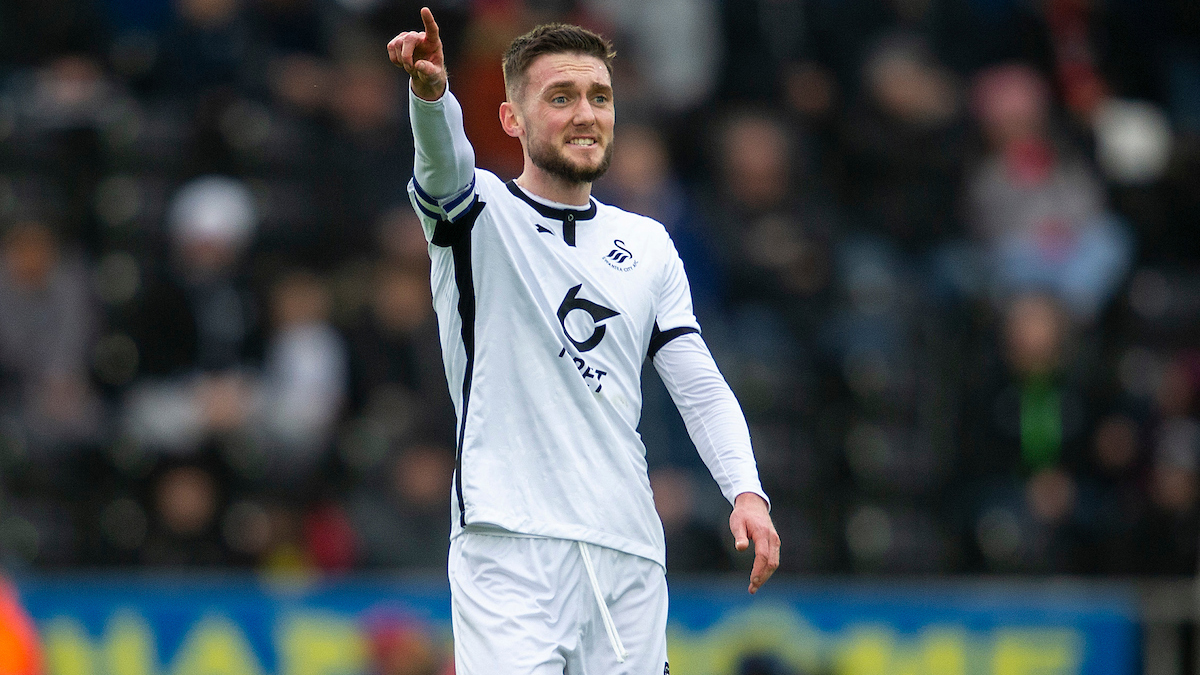 A Swansea City player turns manager as he picks an XI from those he has played with and against in his career to date. 
Skipper Matt Grimes is next into the hotseat.
Formation: 4-3-3
GOALKEEPER: EDERSON
Obviously, he is a top goalkeeper. His distribution is probably the best on the planet. I did score a penalty against him in that game against Manchester City, so I don't know how he'd like me being his manager!
RIGHT-BACK: KYLE NAUGHTON
I've gone with my roomie. I tell him every day that he is in my all-time best 11 and, sure enough, here he is! As my roomie, it would be rude to leave him out. I hope I make his, but I highly doubt it!
CENTRE-HALF: ASHLEY WILLIAMS
He goes on the right side of my back four. Obviously, he is a born leader and a fantastic footballer as well. 
CENTRE-HALF: AYMERIC LAPORTE
He is probably one of the best centre-halves in the world; he has a fantastic left foot. Again, I came up against him when we played Manchester City. When he had the ball, I had Bernardo Silva on my left shoulder and I thought "surely, he can't make that pass!" But he would somehow do it and I thought it was undefendable.
LEFT-BACK: BEN CHILWELL
I played with him for England at under-21 level. He is one of the best upcoming left-backs in the country and, arguably, England's first choice in that position at the moment.
HOLDING MIDFIELDER: JONJO SHELVEY
He's probably the best passer of a ball that I've played with. He can pick a pass from anywhere and has a good shot on him from long range. Technically, he's got it all.
RIGHT CENTRAL MIDFIELDER: RUBEN LOFTUS-CHEEK
He is in a slightly more advanced position to Jonjo. Honestly, he is like a Rolls Royce. The way he drives forward with the ball, glides past people, picks a pass, scores goals and provides assists – he has to be in my team.
LEFT CENTRAL MIDFIELDER: DAVID SILVA
Again, I came up against him in that Manchester City game. You just can't take the ball off him. He can pick a pass and do pretty much everything. He is just an incredible player.
RIGHT WINGER: BERNARDO SILVA
I have included him for pretty much the same reasons as David. I had to have both Silvas in the team. The way they go past you like you aren't even there is just phenomenal.
LEFT WINGER: NATHAN REDMOND
I also played with him for England's under-21s. He is one hell of a player. On his day, he fits into the same category as the Silvas. He can go past any player; he's got a great strike on him and gets plenty of goals and assists. He's a nightmare for your full-back because he can do it all.
STRIKER: SERGIO AGUERO
My final selection from that Manchester City side. He's one of the best strikers that the Premier League has ever seen. For that reason, it would be rude to leave him out!