OTJ | Memories of Brentford 2006 | A Hard Day's Knight
29th July 2020
First team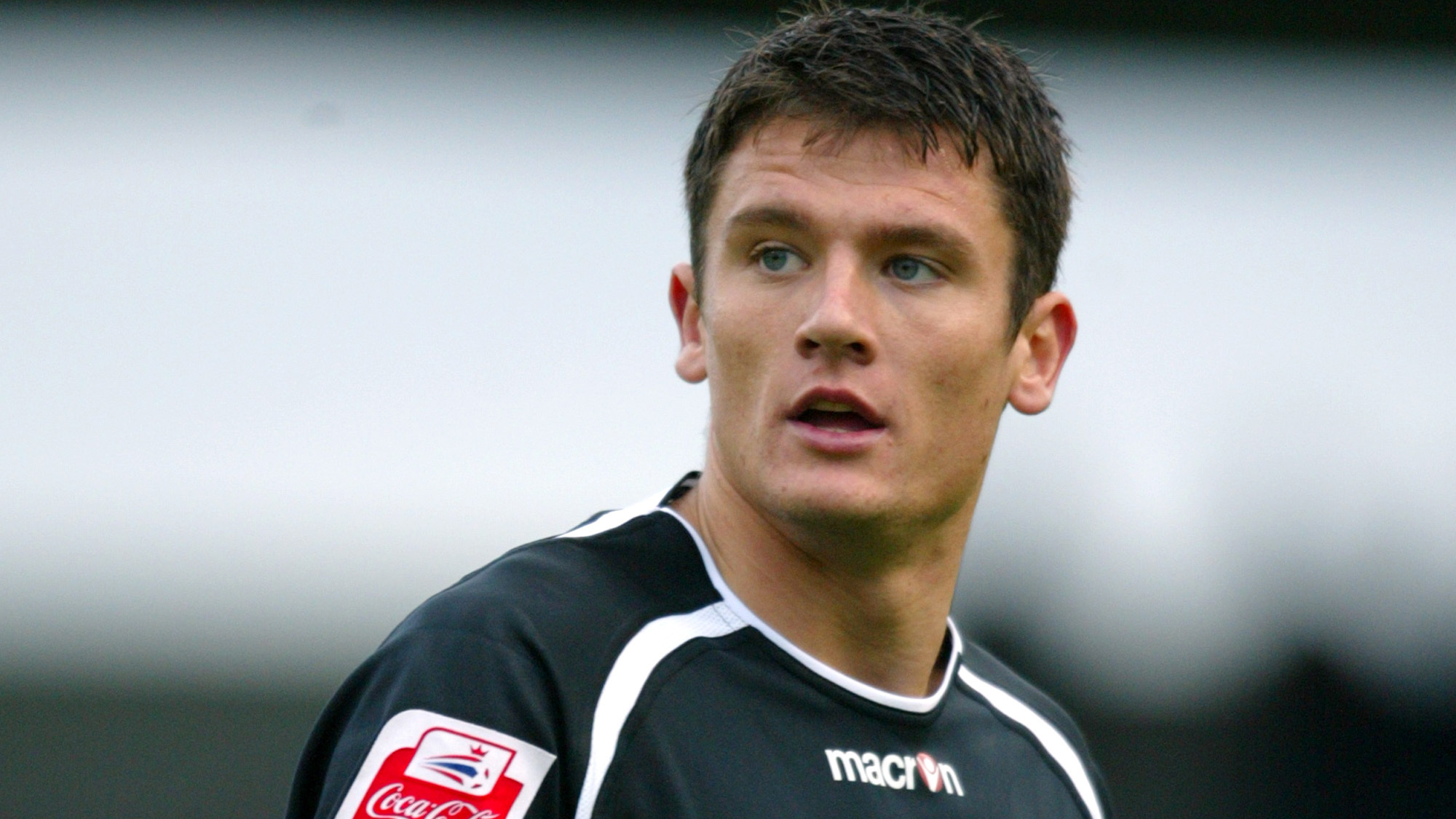 With so much focus on events at Griffin Park tonight, it can be very easy to forget that Swansea City and Brentford entered this play-off battle with previous when it comes to post-season action.
As such, it can be even harder to recall that there has very much been a sense of history repeating itself in this latest match-up between the Swans and the Bees.
Of course, such history will have no bearing on tonight's match, but it's worth pausing to acknowledge the startling similarities between 2006 and 2020.
Consider what we've seen so far in the lead up to this year's first leg, and events during that game:
Swansea finished sixth in the final table, beating Nottingham Forest to the play-offs, Brentford finished third after narrowly missing out on automatic promotion.

There was a Brentford red card in the first leg at the Liberty Stadium, which was overturned on appeal.

Swansea scored a dramatic late goal to take with them to West London.
Remarkably, these are events which almost exactly mirror what happened 14 years ago when Kenny Jackett and Martin Allen were the men at the helm for the two-legged League One semi-final.
"It's almost scary, when you look at it," says Owain Tudur Jones, who played in midfield in both legs as the Swans reached the final in 2006.
"You talk about the similarities of the teams finishing in the same positions in the league, meaning that first leg is at the Liberty.
"But you can take it further in that we crept into the play-offs on the last day, we needed to beat Chesterfield and we did with a Leon Knight hat-trick.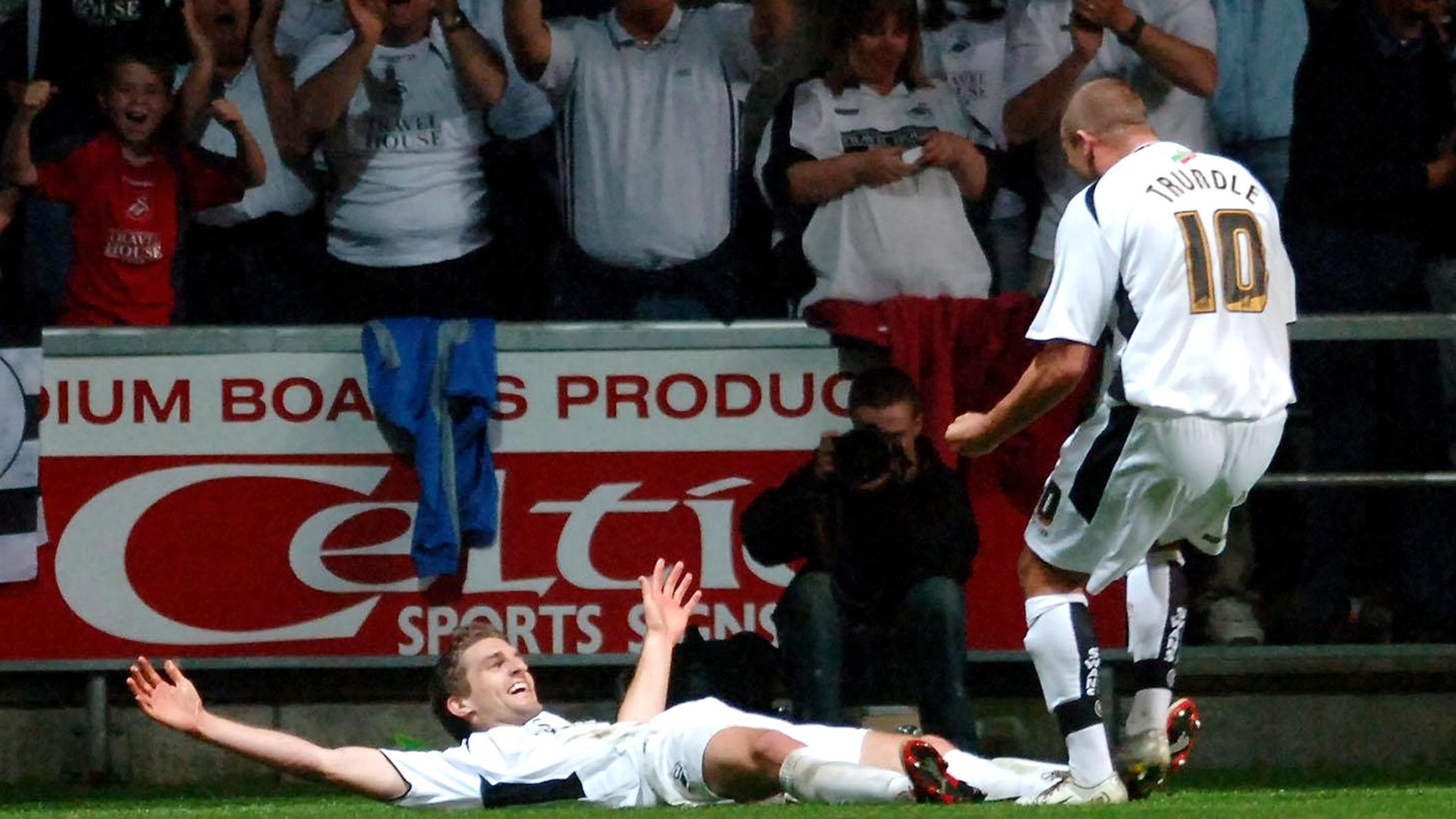 "We also started that season really well, as the Swans did this season. We were top of the league early on and were right up there until around November.
"There just seems to be a lot in common between then and now."
Back then, the Swans were seeking back-to-back promotions having secured a place in the third tier during the previous season – the final campaign at The Vetch Field before the move to the Liberty Stadium.
They had adjusted well to the step up, retaining much of the side that had got them there, and ended up beating Forest by two points to claim sixth spot thanks to that final day win at Chesterfield.
Brentford had been among the division's pacesetters, but drew six of their last seven games to end up third, missing out on automatic promotion and setting up a meeting with the Swans.
The one major difference in narrative between 2006 and 2020 is that Brentford opened the scoring in the first leg, with Jay Tabb firing them in front just before the half-hour mark in SA1.
It looked as though the Bees were going to leave South Wales with a valuable lead to take back up the M4, but then had keeper Stuart Nelson sent off after a coming together with Leon Knight.
And the drama was not over as Sam Ricketts struck with three minutes remaining to bring the Swans level on the night, and on aggregate.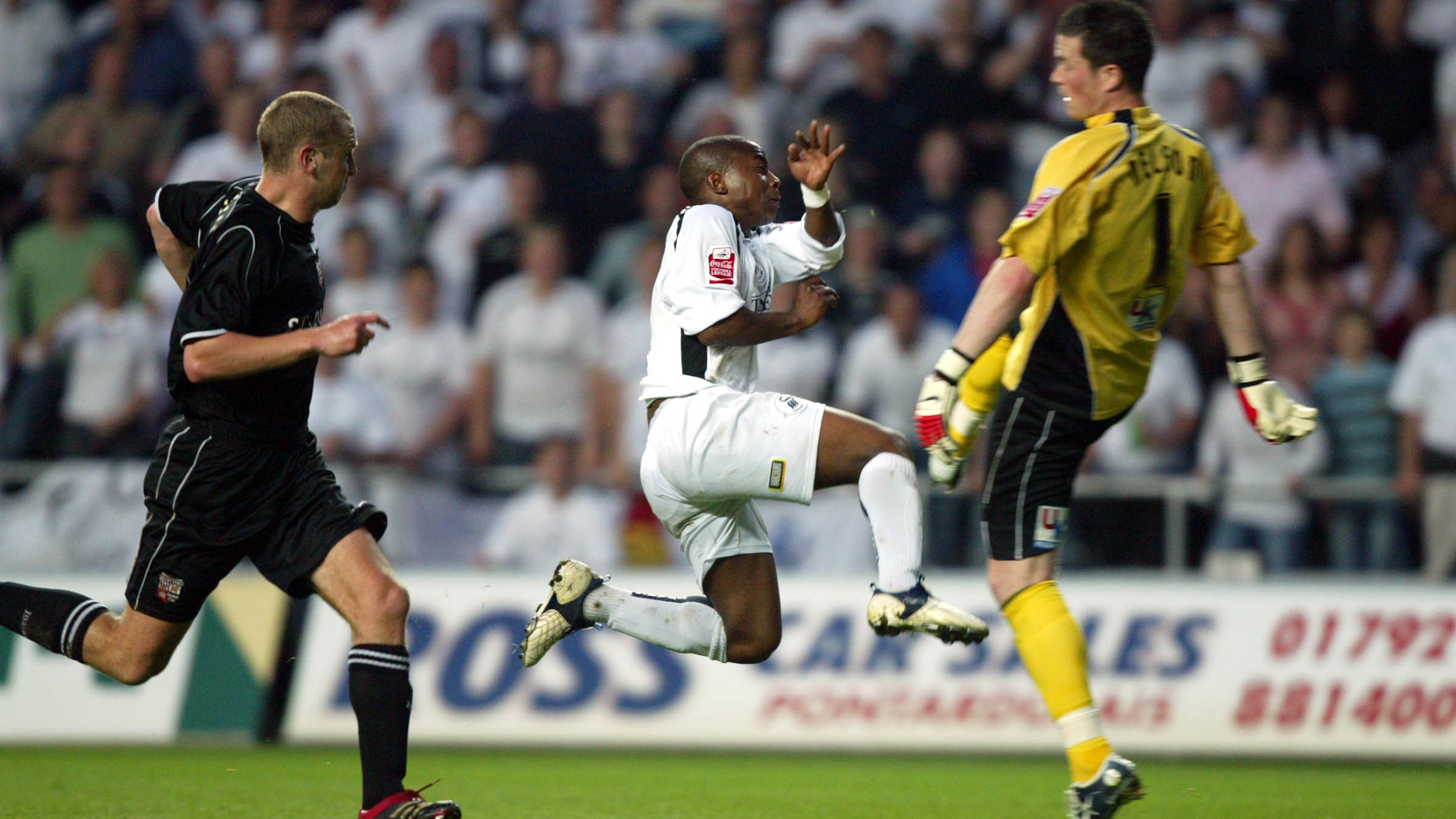 That red card – as has proved the case with Rico Henry's dismissal on Sunday – was overturned on appeal and Nelson would be available for the return game.
The perception was that Swansea were heading to West London firmly under the cosh having been unable to win the home leg but, as midfielder Jones remembers, there was a sense of calm in the build-up.
"We were a bit fortunate really," he says.
"I mean, if Sam Ricketts is the man coming up with the late goal then you know all other avenues have been cut off!
"That Brentford side was a good side, and had a real British core to it.
"We always knew it would be difficult and any time you went to a packed Griffin Park was always a daunting prospect.
"Not in the sense of playing in front of a massive crowd with a history of winning titles, but a club that – if they are doing well – will get their support out and it suddenly becomes a very cramped, claustrophobic environment.
"It's a place where you feel like the fans are on top of you and you really do hear every comment, every swear word.
"It's congested, there is no space. It's a battle and that's what we faced.
"But that squad is still celebrated because it was a real dressing room; a real group of players and that's what gives you confidence.
"The key was we kept ourselves in the tie, and that's what is so big in the first leg. The game can easily get away from you and it can be over.
"We had a real lift off that late goal, and we just knew we had to be ready for what was coming because the tempo can feel very different in the second leg.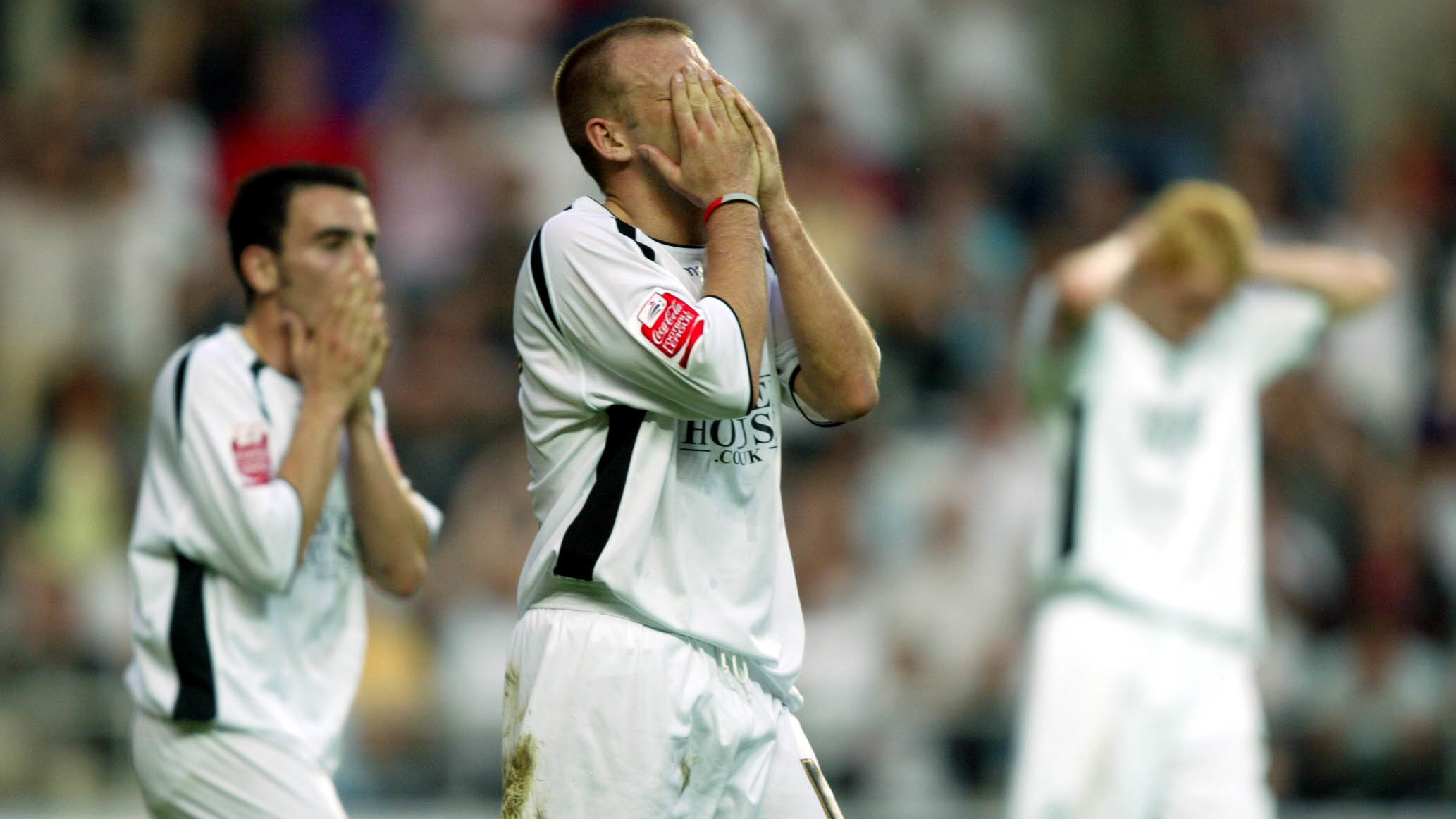 "It felt nice, we felt relief rather than disappointment over not winning at home, and – maybe the biggest thing – we had matchwinners.
"If you have that you can win a game out of nothing, we felt we were capable of that."
For Jones, this was the conclusion of his first season with the Swans, having joined from Bangor City following a trial in the summer of 2005.
He had initially looked set to join for a month, before interest from elsewhere led to a deal for the whole season.
He quickly made an impression and penned a two-year extension to his initial 12-month deal in October.
Having played for Bangor in a time before there were play-offs or a split in the Welsh top-flight, Jones' only previous experience of two-legged football had come via the Citizens' Intertoto Cup and UEFA Cup campaigns.
Now, less than 12 months on from his breakthrough at professional level, he was within tantalising reach of becoming a Championship footballer.
"I honestly look back and I wonder how I handled it. I feel like it is someone else's life," says Jones.
"I don't remember having any nerves, even with the two finals. I was riding the crest of a wave and making the most of it.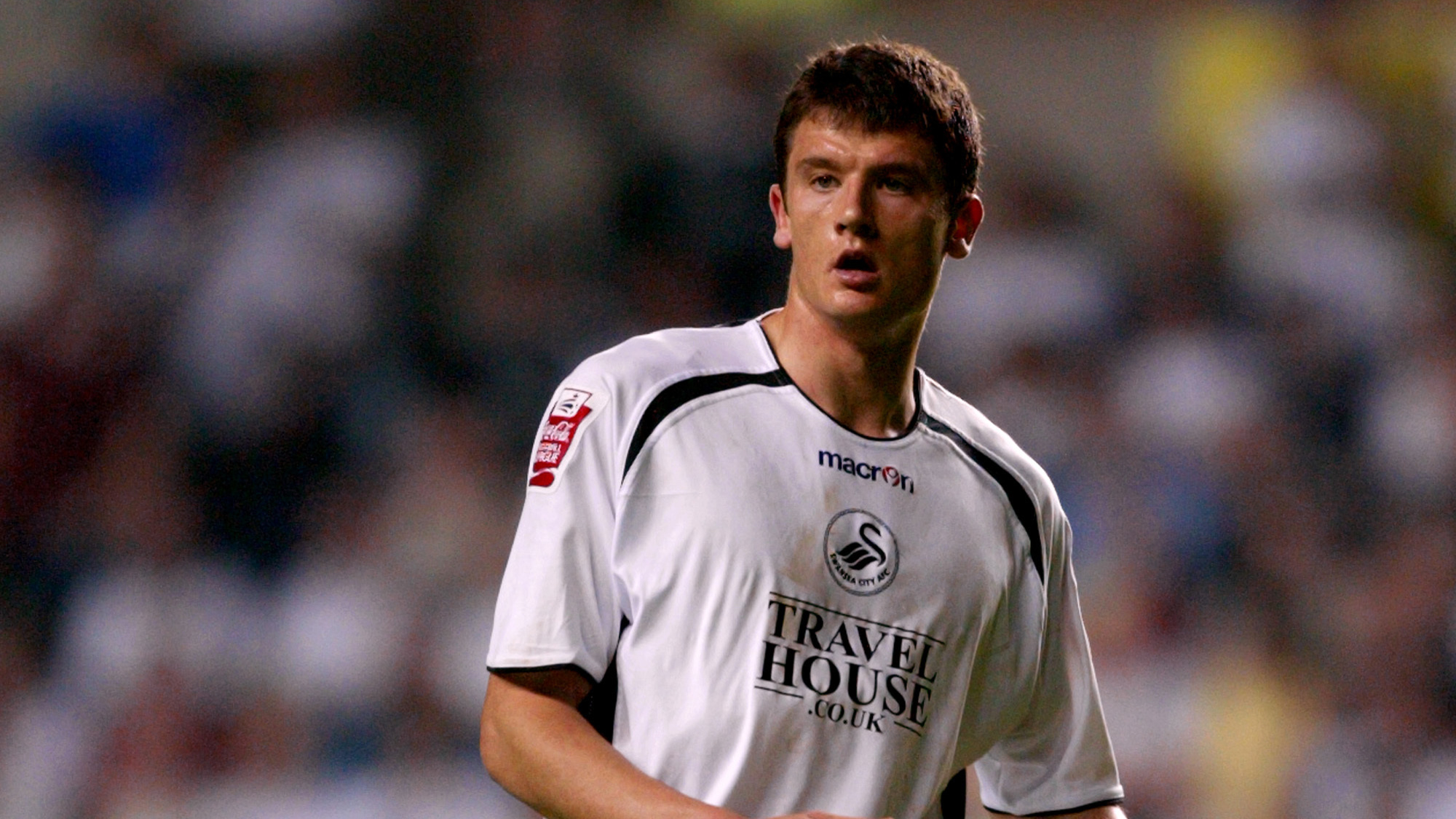 "It's only afterwards you look back and realise just how quick things changed.
"I was probably the quietest person in that dressing room and I just took all the stick that came my way.
"I look back and I crammed everything into that first season.
"Typically for me, I had a couple of bad injuries in there to my ankle and knee ligaments, and had to battle back to get fit for the end of the season.
"I don't like to point it out, but we were flying high until I got injured in November, and then picked up again when I was back to fitness!
"But within a year I went from being on trial and trying to prove my worth, to being close to playing just below Premier League level."
Under the circumstances, the Swans could barely have wished for a better start at Griffin Park and found themselves with a 2-0 lead inside 15 minutes - having survived a let-off with just 20 seconds on the clock when Jamie Smith scuffed a great chance for the hosts.
With Lee Trundle on the bench, it was Knight who would prove to Swansea's goalscoring hero.
The striker had only joined from Brighton in January – scoring a hat-trick in 27 minutes on his Swansea debut against MK Dons – and underlined his finishing prowess with a superb brace.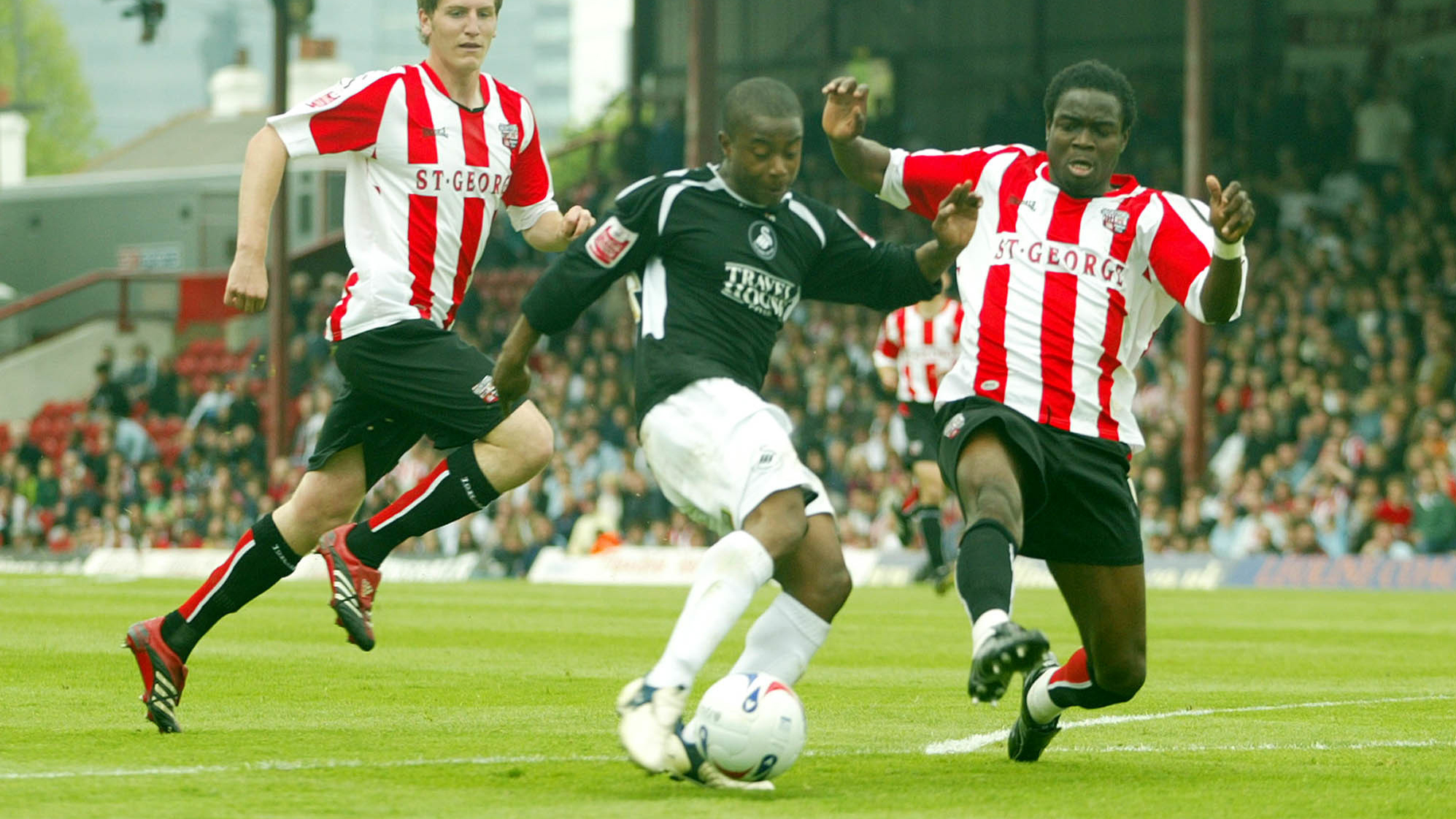 The first came on eight minutes as he raced on to Willy Gueret's long ball and lofted over the advancing Nelson to give Swansea the lead.
The second was even better, Leon Britton threading the ball through for Knight to control and thump a shot into the net.
"I had never come across anyone like Leon," says Jones of the striker.
"I was a quiet lad from North Wales, and here was this guy just full of confidence. He was not a shy character, by any means. But what a good player he was.
"We had brought him and Rory Fallon in during January and we suddenly had four strikers all competing for places.
"He justified his place with the goals against Chesterfield and Brentford.
"He was one of the best finishers I've seen, and that's a description you see about him often. He could score goals from anywhere.
"And, if you found him chirpy as a team-mate, you could imagine what an opponent thought of him. He could be a real pest.
"But he was effective for us, and it never showed more than in that second leg.
"It was electric celebrating in front of the fans after those goals."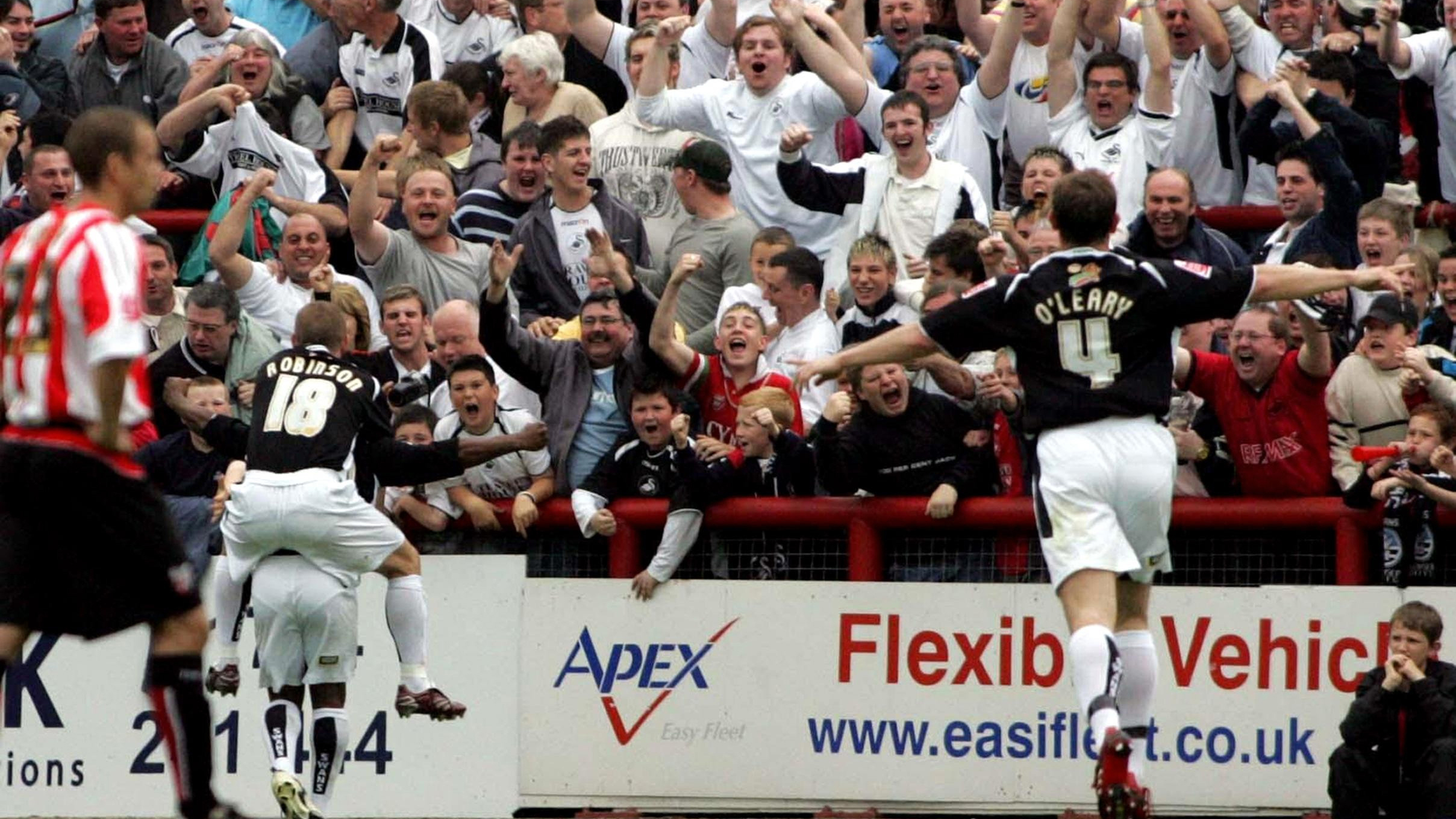 The hosts were stunned, with manager Allen making a substitution and tactical change after 24 minutes with his side now in desperate need of goals – this game taking place in an era where away goals were used to decide ties that were level after two legs.
Two more changes followed at the interval, and Swansea had to weather a sustained period of Bees pressure early in the second half.
The visitors knew if they could see it out, they would be a long way to booking their place in the final.
"I might be wrong, but I cannot remember us ever being properly under cosh or having our backs to the wall," adds Jones.
"I never felt really nervous, you look at our back four; Garry Monk, Kevin Austin, Alan Tate and Sam Ricketts.
"That's a strong backline, just really solid. They were so reliable, so effective, and knew how to defend.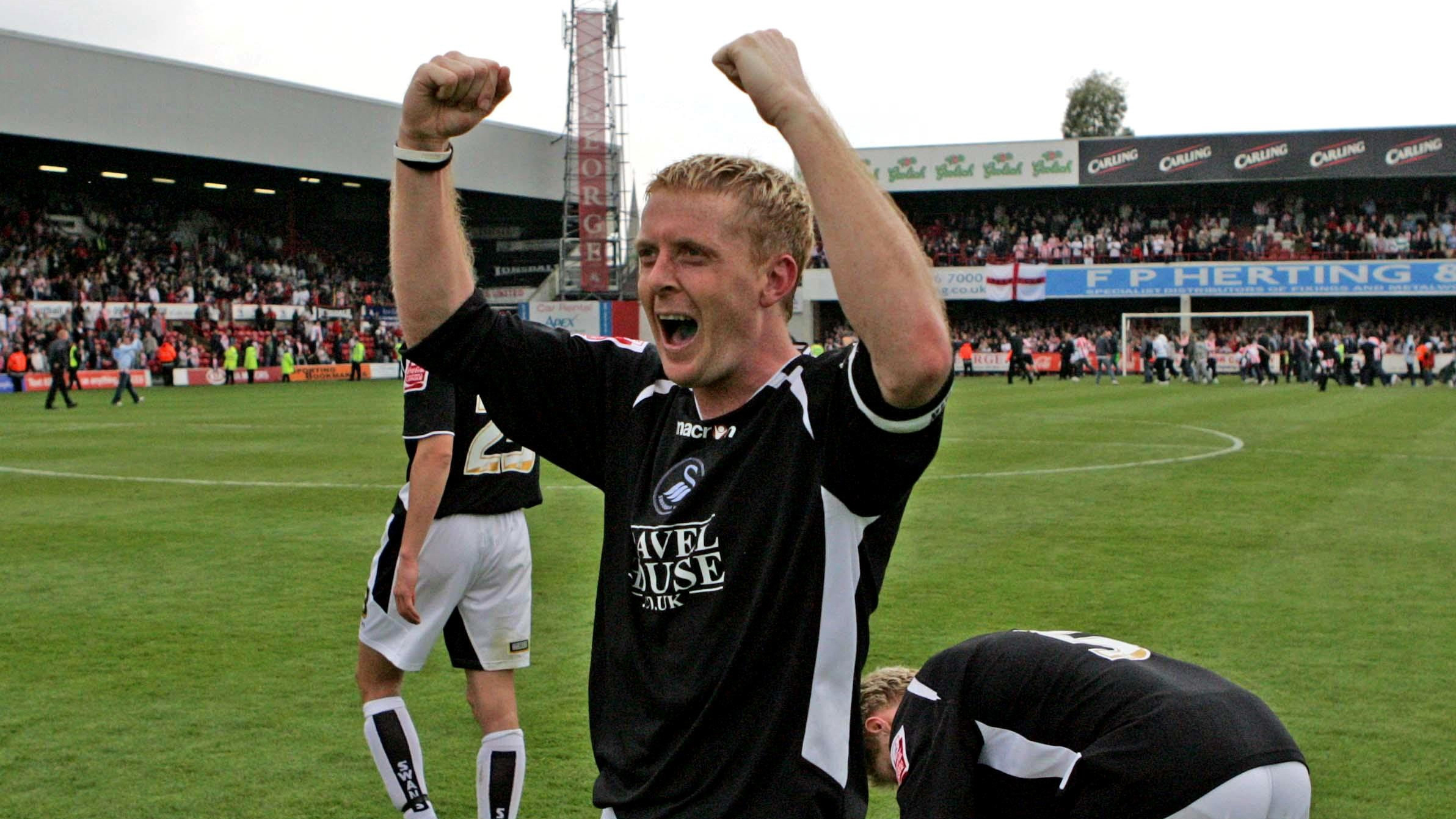 "I think it was as comfortable as you could hope a second leg of a semi-final could be."
Of course, the Swans would get the job done and move on the Millennium Stadium to face Barnsley, but would suffer penalty shoot-out heartache after a 2-2 draw in Cardiff.
"I just remember us battering them, although I accept that might not be an accurate representation of the whole game, but that's how I remember it," says Jones of that day.
"The free-kick they scored is – and it is, still to this day – the reason one of my pet hates in football is when a goalkeeper gambles and does not trust his wall.
"Willy (Gueret) took a big step and was blinded by a couple of defenders, and it went in and it was not even in the corner.
"We had chances to win it, I can still picture Lee Trundle hitting a Trunds special and waiting for the net to bulge, and it didn't.
"It hurt and I know that team would have celebrated well and given it a good go in the Championship the next season."
The Swans can certainly be said to have given it a good go this season under Steve Cooper, a former team-mate of Jones' at Bangor.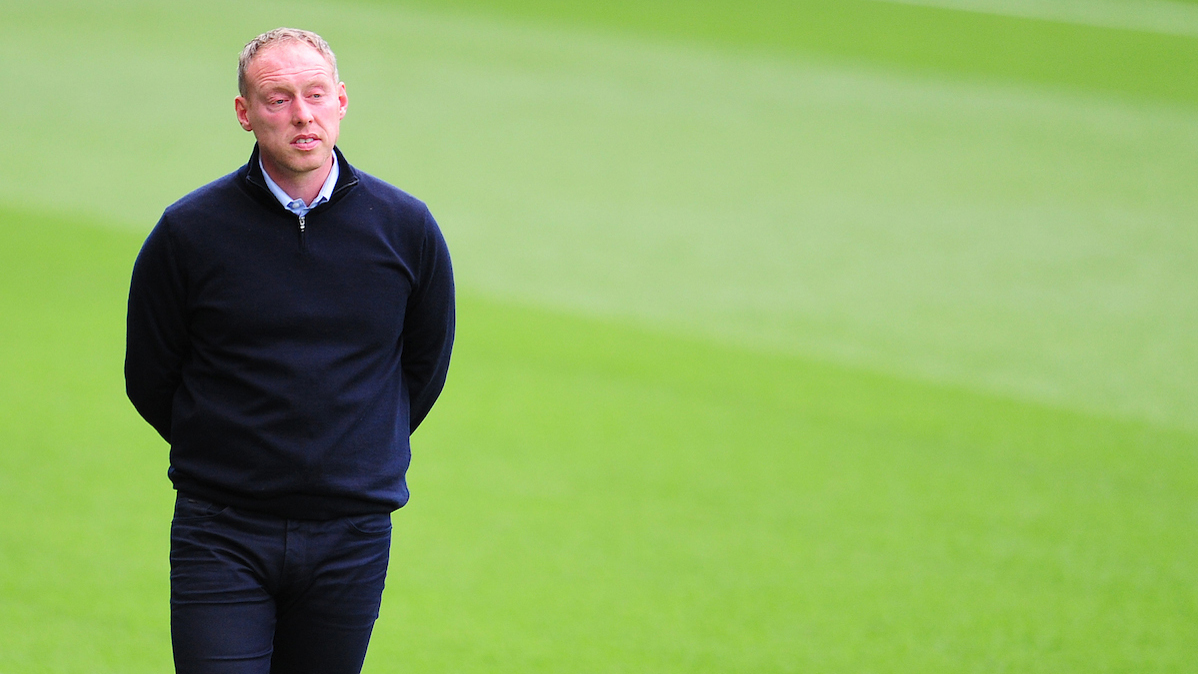 And the former Wales international has nothing but praise for the job his one-time fellow midfielder has done since taking charge of Swansea in June 2019.
"I know Steve from our time together at Bangor, he was a good lad and popular in the dressing room," says Jones.
"He actually came into the team for a European tie in the former Yugoslavia as I was injured, so he took my place.
"I think he has done an unbelievable job, and he deserves so much credit.
"To finish in the top six and be in with a chance of going to Wembley shows what a great job he has done.
"His decision to change formation and utilise something different in the squad has been a big factor in where Swansea are, in my opinion, and he deserves so much credit for that.
"I hope he has the opportunity to be one game away from the Premier League."
History will have no bearing on events in West London tonight, but Jones and Swansea would have no complaints if a similar outcome to that from 14 years ago can send them to Wembley and a fourth play-off final.