Season tickets now on general sale
20th June 2019
Ticketing News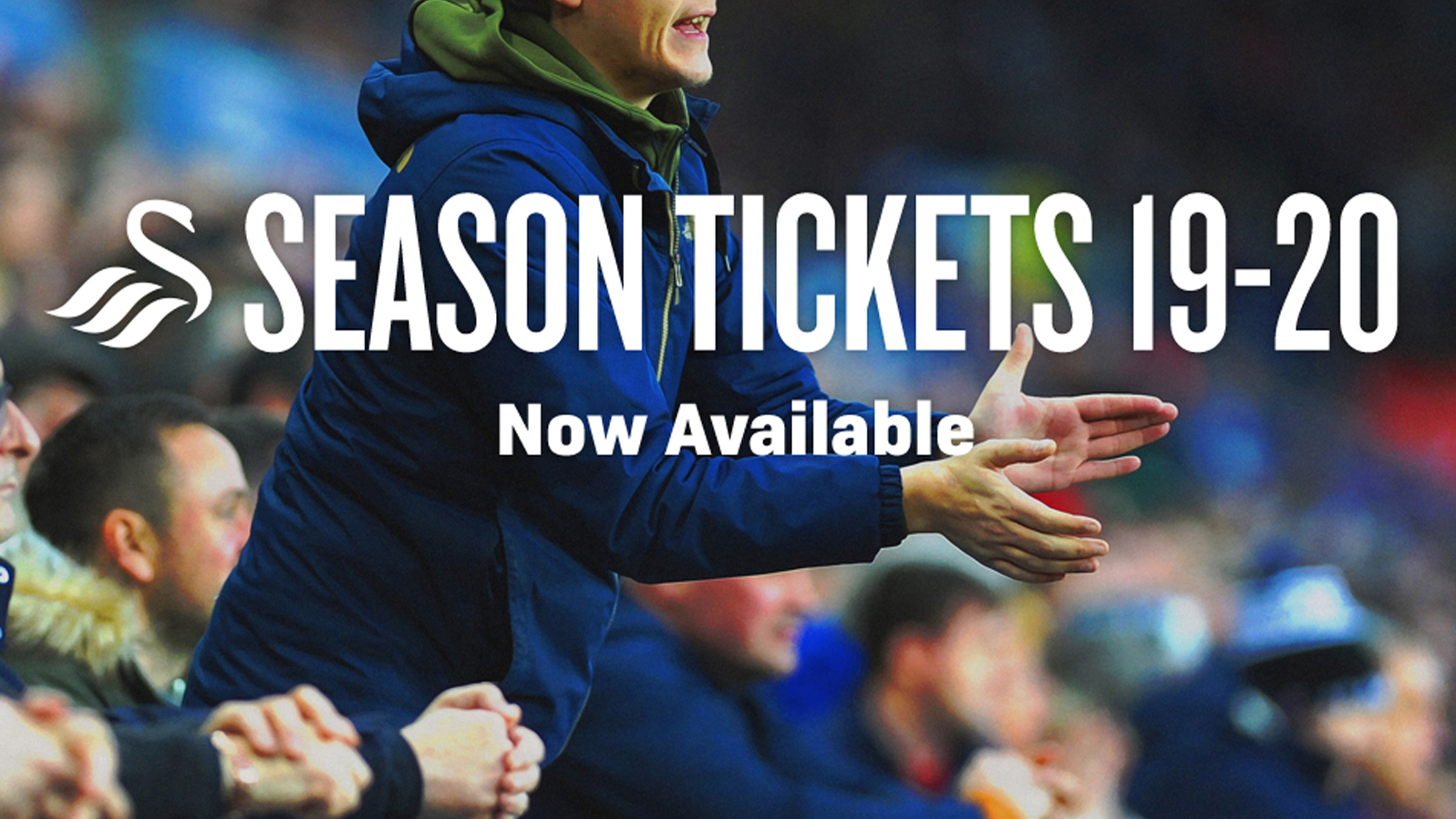 With the SkyBet Championship campaign just over six weeks away, Swansea City is pleased to release season tickets for general sale.
With an exciting fixture list having been released, the Jack Army can look forward to an intriguing and entertaining campaign under new head coach Steve Cooper and his young, talented squad.
General sale season ticket prices have been frozen, allowing fans to enjoy 23 home league fixtures at the Liberty Stadium at great value for money.
With your own seat guaranteed for the whole campaign, you'll get the perfect view of the Swans in action.
But if you're looking for something more, we've highlighted some key areas.
For families wanting to visit the Liberty with young Jacks, we would recommend the Energy Check South Stand.
This area is perfect for families looking to see the Swans in action. An under-18s season ticket, accompanied by an adult, is only £89* in this stand where families can find fun activities in the concourse to use throughout the day.
Special food and drink options will also be available in the kiosks to whet the whole family's appetite.
While the atmosphere at the Liberty is one of the best, for those looking to be in the thick of it all, we would recommend the Trade Centre Wales East Stand. Sitting in this area means you won't be able to resist joining in with our own drummer and singing every chant to cheer the team on.
In this stand, adult season tickets are available from just £439*, while under-18s can watch the Swans in action from as little as £239*. Prices for senior citizens and full-time students start at only £299*.
Supporters are advised that the club has made two significant age group changes to ticket categories for the 2019-20 season, increasing the senior age from 60 to 65 and children from U16 to U18. For more information, click HERE.
Full Prices:
Adults:
West: £489*
East/North/South (Family Stand): £439*
Seniors (65+)/ Full-time Students:
West: £339*
East/North/South (Family Stand): £299*
Under-18s:
West: £239*
East/North: £239*
South (Family Stand): £89* (accompanied by an adult)
Purchase your season ticket HERE, call the ticket office on 01792616400 or visit the ticket office in person.
New 2019-20 season ticket holders will receive new cards in the post so please make sure your details are correct at time of booking.
For further information, please email the ticket office at ticketoffice@liberty-stadium.com or phone 01792 616400.
Swans Club Account
Note for students:
If you're going to be a full-time student for the duration of the 2019-20 campaign and wish to take advantage of our generous discount, you'll need to notify our ticket office, which can be done in one of the following ways:
• Phoning the Liberty Stadium ticket office on 01792 616400
• Visiting the ticket office in person between the hours of 10am and 6pm Monday to Friday or 10am and 4pm on Saturdays.
• Requesting a call back by emailing ticketoffice@liberty-stadium.com (be sure to include your full name, account number and contact number).
Supporters purchasing student season tickets will be required to provide proof of their enrolment in full-time education by October 31, 2019. Valid proof of eligibility is a dated and stamped letter from your school or university stating that you will be undertaking a full-time course during the 2019-20 season, or a valid date-specific student ID card.
* Please note there is a £3.50 booking fee per season ticket.
To view our season tickets terms and conditions, click HERE.
To view the Liberty Stadium seating plan, click HERE.