Spanish Swans | The final chapter
5th May 2020
Club
You will have seen we made our long read about the Spanish players who featured for Swansea City available to download as a PDF on Tuesday, which you can find HERE.
We have also shared the piece with you as five standalone articles on this website.
Here is the final instalment as we look at some of the club's more recent recruits.
Italian Francesco Guidolin was in the hot seat when the club hit the headlines with the signing of Spain's 2010 World Cup and Euro 2012 winner Fernando Llorente from Sevilla for an undisclosed fee.
The 31-year-old striker arrived on a two-year deal in August 2016 having already lifted two Serie A titles and the Coppa Italia with Juventus, plus the Europa League with Sevilla.
"I am very happy to join Swansea,'' declared the 6ft 5in Llorente.
"I have scored goals in La Liga and Serie A, and now I want to score a lot of goals for the club in the Premier League.
"I want to score a lot of goals like Michu. He is a very good player and he did very well here."
Former Swans boss Roberto Martinez described the signing as the best in the Premier League that summer, while Angel Rangel reckoned the club may have made "one of the biggest, if not the biggest, signings in Swansea City's history".
"I don't want to put too much pressure on Fernando,'' added Rangel,
"But the numbers are there - you can see them. He has won so many medals. He has got a good pedigree and as a player he has all the attributes to be the perfect fit for us. He is big and strong; he can link up well and he can hold the ball well.
"The most important thing is that he can score goals - he is a great header of the ball and can finish with both feet. It's a great signing."
It was a view shared by his manager, Guidolin, who added: "I am happy to have him because he is an important player in Europe. He is a good player - I remember him from when he played in Italy with Juventus. He is a good signing for us.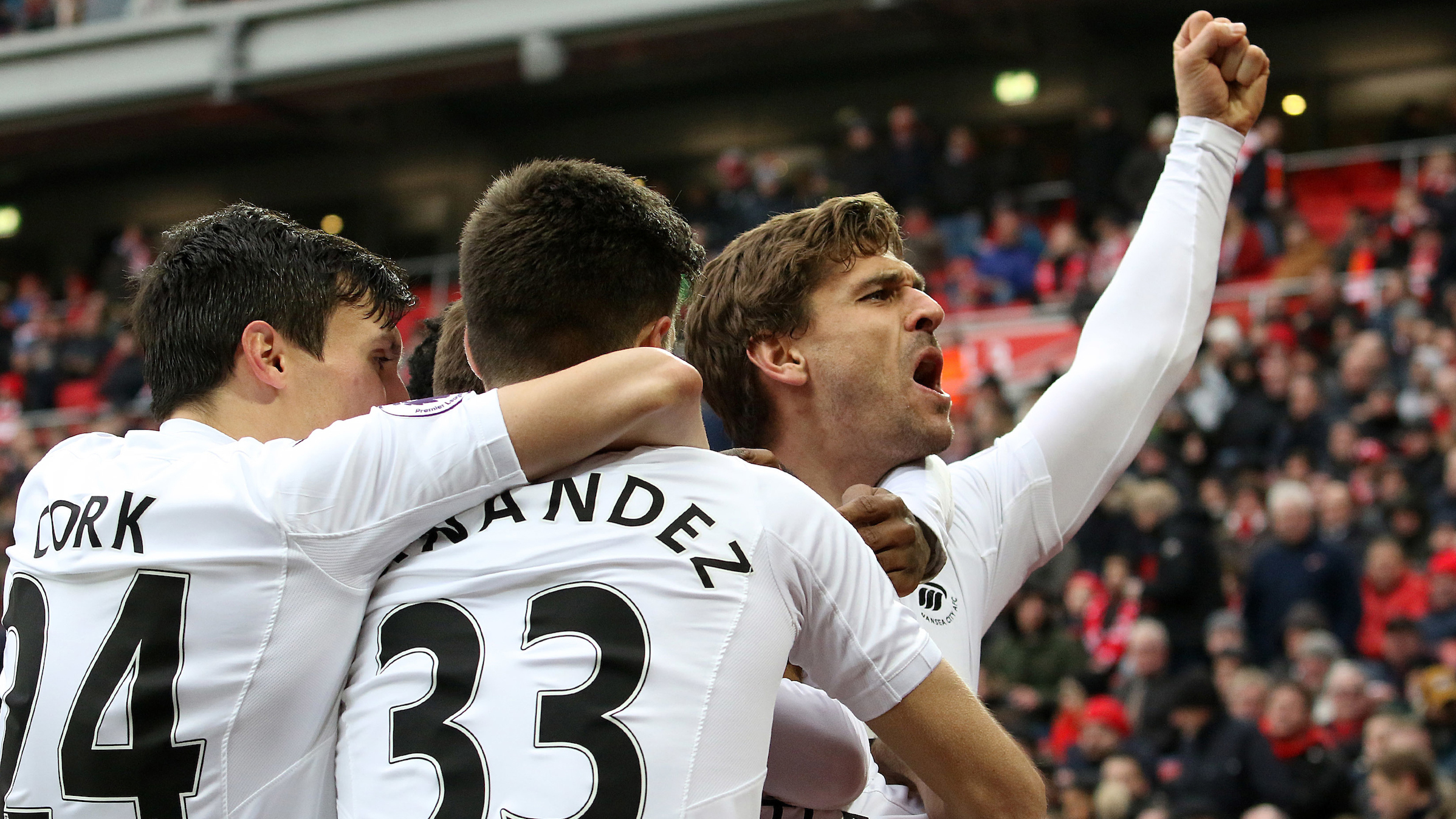 "I think he can do well in the Premier League because it's the first time for him in this league and his motivation and enthusiasm is big."
Guidolin didn't have that long to work with him though before the Italian departed in October. His replacement, American Bob Bradley, had even less time; just 11 games to be precise, before Paul Clement became the striker's third manager of the season.
Llorente proved to be a key component in helping Clement keep the Swans in the Premier League after clinching 26 points from the final 18 games.
In fact, his 15 goals proved vital, including two injury-time goals to help defeat Crystal Palace 5–4; three more doubles to see off Liverpool (3-2), Burnley (3-2) and Sunderland (3-0), plus a critical winner against Everton (1-0).
Having secured Swansea's top-flight status for a seventh consecutive season, it only looked a matter of time before his talents would be snapped up elsewhere.
And, despite missing the start of the new season after fracturing his arm in a cycling accident during the summer break, Tottenham eventually came calling and the Spaniard signed a two-year deal at White Hart Lane for an undisclosed fee reported to be anything between £5m and £12m.
He would spend two years at Spurs that included a substitute's appearance in the Champions League final defeat to Liverpool, before moving to Napoli.
"He will be missed by the players, staff and supporters, but I can understand why he would want to take the move at his age,'' said Clement.
"He has fought his way back to a high level in the latter stages of his career and is joining a big football club.
"I really enjoyed working with Fernando. He was such a big player for the club in the one season he was here. His goals in the latter stages of the season were vital for us to remain in the Premier League.''
Llorente had arrived at the Liberty a few days before another Spaniard in that August of 2016, namely Borja Baston, in a deal worth £15.5m from Atletico Madrid.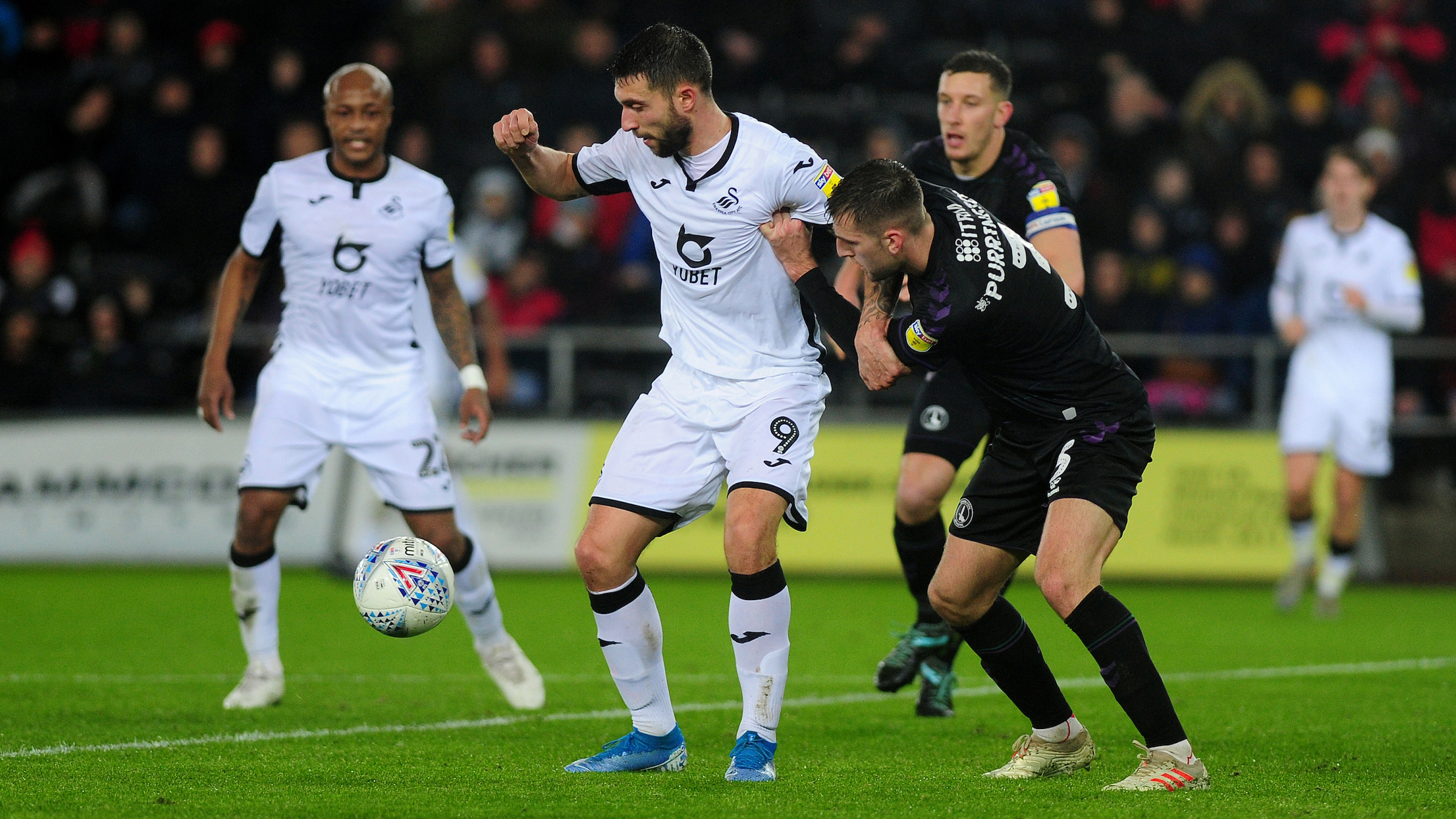 The striker, 23, had scored 18 goals in La Liga while on loan at Eibar.
A Spanish youth international who finished as top scorer at the 2009 Under-17 World Cup and a 2011 European Under-19 Championship winner, he had come through the ranks at Atletico but only made one senior league appearances before making a name for himself at Eibar.
"There is pressure, but it is good pressure," said Borja, full name Borja Gonzalez Tomas.
"I want to repay the transfer fee paid for me with good performances and results. Hopefully I can score a lot of goals.
"I want to settle and spend several years here. I am very happy to be here. I am eager to contribute to the success of the team."
With a four-year contract under his belt, he started the season on the bench and scored his first goal in October in a 3-2 defeat at Arsenal in new manager Bradley's first game in charge.
He struggled to force his way into the team though after just a handful of league starts that debut season and he was loaned to Málaga in La Liga for a year.
Both Swansea and Malaga were relegated that season and Borja found himself on loan again for another year, this time at Alaves.
He finally returned to Swansea at the start of the 2019-20 season, although the club made it clear that they needed to offload the high-earner as they looked to re-balance the books following relegation from the Premier League 12 months earlier.
Borja got off to a great start though and scored his first goal in nearly three years in the opening-day victory over Hull City.
The 27-year-old looked rejuvenated as he notched five Championship goals in as many games.
However, he scored just once after August and soon fell behind loans signings Sam Surridge and Rhian Brewster in the pecking order.
And, with his contract due to expire in the summer, the club didn't stand in his way when Premier League Aston Villa made an enquiry on transfer deadline day in January and he moved on a free transfer having made 38 league appearances and scored seven goals.
The club's final Spanish recruit, Roque Mesa, had been and gone by the time Borja made his surprise move to the Midlands.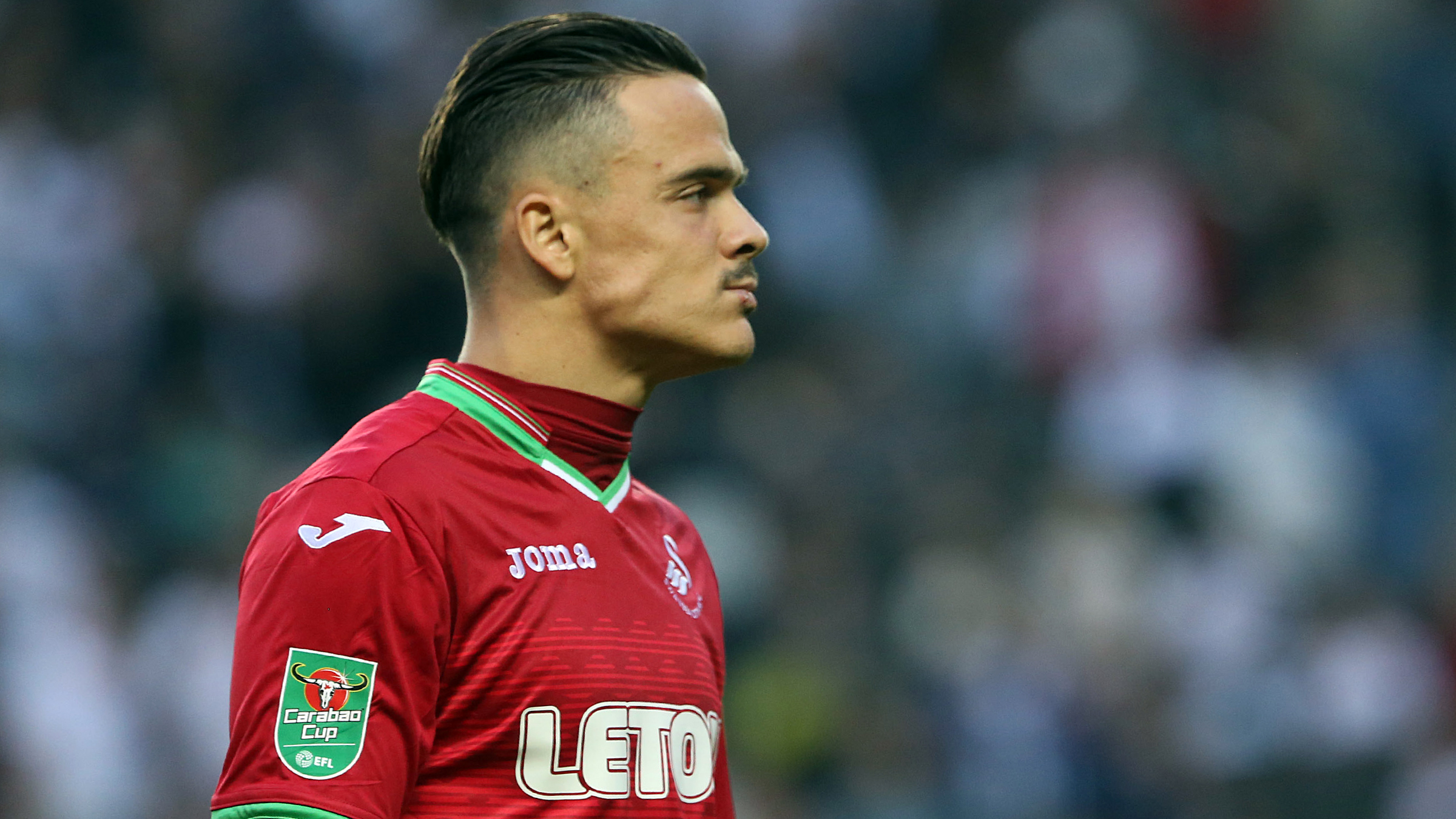 Mesa was born in Gran Canaria and developed his career in Levante's youth team before going on to play over 50 games in the first team.
Spells at Huracan, Tenerife B and finally Las Palmas followed where the midfielder helped guide them into La Liga for the first time in 13 years.
He became a regular performer in the Spanish top division over the following two seasons before the Swans came calling in July 2017 with £11m.
"I saw Roque a number of times in La Liga," said Rangel after his unveiling.
"The game that really stands out for me was that match at Real Madrid. When you see a midfielder who isn't the tallest but is running the show against world-class players who have won the World Cup and Champions League, it gives you an indication of his quality.
"Hopefully he can show his quality in the Premier League and help us to achieve something special."
Mesa certainly had high hopes of hitting those heights again.
"I like Swansea. My family like it too. It's a calm place – a very good place to play football – and I am happy here," he said.
"The Premier League is very different from La Liga. At Las Palmas, it's always tiki-taka, tiki-taka – calm and tranquil play.
"In the Premier League it's different, it's box-to-box and it's very quick. For me it's not easy to get used to because I am used to a different kind of football. But I will try to adapt as soon as possible because I like the Premier League very much."
His debut came against Manchester United at the Liberty Stadium in the August, but the man who vowed not to shave off his 1920s film star-like moustache until he earned an international cap for Spain never became a regular in the side.
He joined Sevilla on loan before completing a permanent move having made just 11 league appearances for the Swans. He is currently on loan at CD Leganes in the top-flight in his homeland.
His departure, and that of Borja, brought Swansea's remarkable two-decade Spanish connection to a close - for now at least - without a sombrero in sight!