Swansea City continue to back The Boot Room as initiative expands
23rd September 2020
Club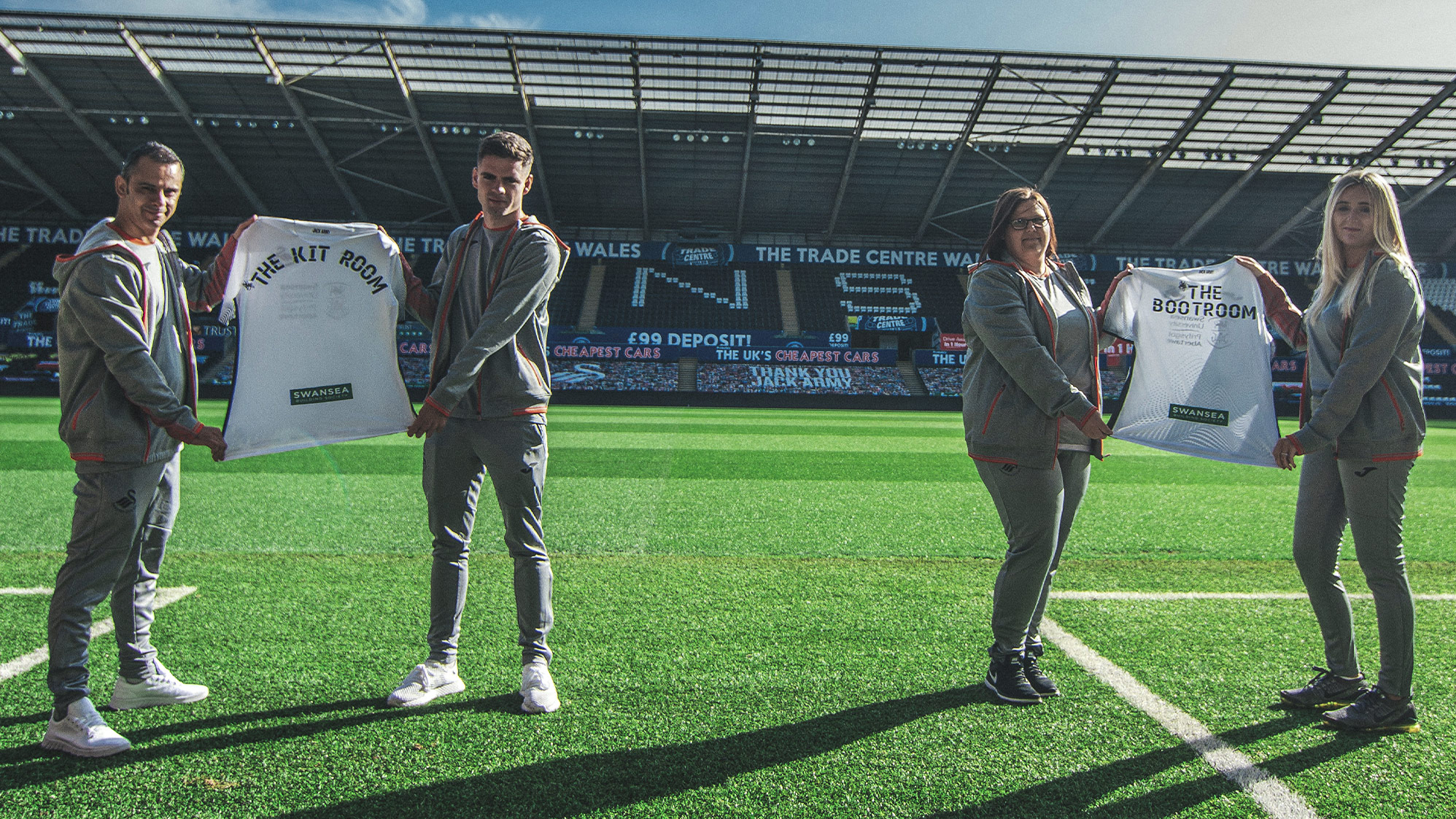 Swansea City will be backing the expanded Boot Room initiative for a second season after a fantastic response to the 2019-20 campaign.
The Boot Room is the idea of Swans fan Carl Bradley, who wanted to help provide football boots for children whose families were unable to afford to kit out their young footballers.
Looking to ensure the community's young players were not prevented from participating in the game they love due to a lack of equipment, Swansea City and a number of local businesses backed the scheme by acting as drop off points for donated boots.
The initiative to help children and young adults in Swansea and the surrounding community has now been extended to include The Kit Room for the 2020-21 season.
The Kit Room launched in August 2020 and runs alongside The Boot Room. It will allow families to have access to kit and boots for their children should they have financial restrictions and need support.
The Swans have a drop off point at the Liberty Stadium club shop for supporters to drop off any unwanted football boots and kit which are in good condition. All sizes are welcome for children and young adults.
All donated football boots and kit can be dropped off at the club shop on a Friday and Saturday between 9.30am and 5.30pm during an away match week.
Alternatively, donations can be made at the club shop between 9.30am and 5.30pm on Thursday and Friday during home match weeks.
If you are a parent or child in need of boots or kit, or feel you can assist Carl with his worthy project, please contact Carl on Facebook HERE.
"The last year has been a whirlwhind and I would like to thank Rebecca Edwards-Symmons and the Swans for believing in the project and giving us full support in everything we have needed," said Carl.
"If it wasn't for Rebecca and the club we wouldn't be where we are today with the project.
"We owe a lot of thanks to her, her team and the club for our success.
"The Swans have helped kitting us out, designing and printing flyers, supplying a drop off and pick up location at the stadium, and assisting with our launch party."
Drop-off locations
All Pinetree Cars Locations
The Wave & Swansea Sound, SA4 3AB
Liberty Stadium club shop, SA1 2FA
DJ Boxing Gym, Clydach, SA6 8RX
YMCA, Neath, SA11 3HG
Macron, Neath, SA10 7BR
The Vernon Place Hub, SA11 2JJ
Collection points
Let's Personalise It, Port Talbot, SA13 1RF
Gower Gas & Oil, Swansea Enterprise Park, SA7 9FX
Demy Hair Design, Sketty, SA2 9DE
Meadow View Sports Complex, Swansea SA1 6RZ
PlayFootball Swansea, SA5 7HR
Parc y Scarlets, Llanelli, SA14 9UZ
The Vernon Place Hub, SA11 2JJ