Swansea City delighted to attend Margam YC Stags inclusion football session
16th December 2020
Club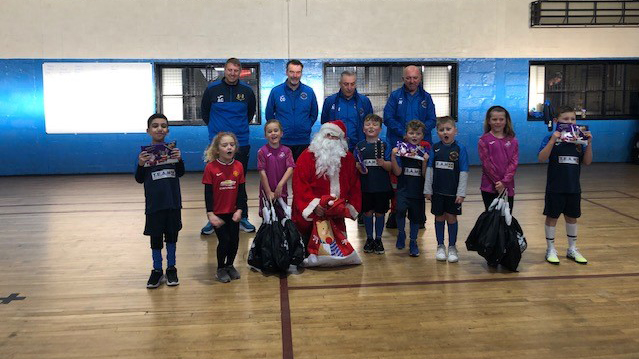 Swansea City was delighted to be able to attend a recent training session for the Margam YC Stags inclusion football team.
Catherine Thomas, the club's head of fan engagement, was invited along to attend the weekend session near Port Talbot.
Margam YC Stags and the Ray Davies Foundation are seeking to fulfill the vision for a completely inclusive football club for all people in Port Talbot and the surrounding areas.
John Heycock has set up the projects following his affiliation with the successful Bootle Bucks Inclusion FC in Liverpool.
"I realised that there were virtually no facilities for disabled or challenged young people and adults to become involved with grassroots football in the Port Talbot area, or to engage with local clubs in any organised sporting formats," he said.
"After much discussion and observation of Bootle Bucks Inclusion FC, I decided to do something about it."
The objectives are to provide a relaxing, fun environment for all boys and girls to receive football coaching. It is hoped involvement within the club will enhance friendships for the children and their parents, and promote self-confidence.
Heycock has high ambitions for the Margam YC Stags and the Ray Davies Foundation and, in the New Year, he and fellow volunteers will embark on various fundraising activities.
Heycock and 11 others will be running from Bootle Bucks Inclusion FC to Margam YC Stags over a 48-hour period. The runners are made up from the Margam YC seniors and friends at Bootle Bucks Inclusion FC.
A Go Fund Me page has been set up and the Jack Army can support this amazing project HERE.
"It was great to see the coaches and the children in their session," said Thomas.
"What John and the other volunteers are have achieved so far is incredible and what they are doing in the community is something really special."
Thomas handed out goodie bags on behalf of Swansea City, but was upstaged when Father Christmas himself attended with his own gifts!
For further information on this scheme, or if you wish to get involved please email us at accessibility@swanseacity.com.
If you have an inclusion football team that you wish to speak to the club about, please email us on accessibility@swanseacity.com.