Swansea City help launch Matt's Laundry
11th March 2020
Club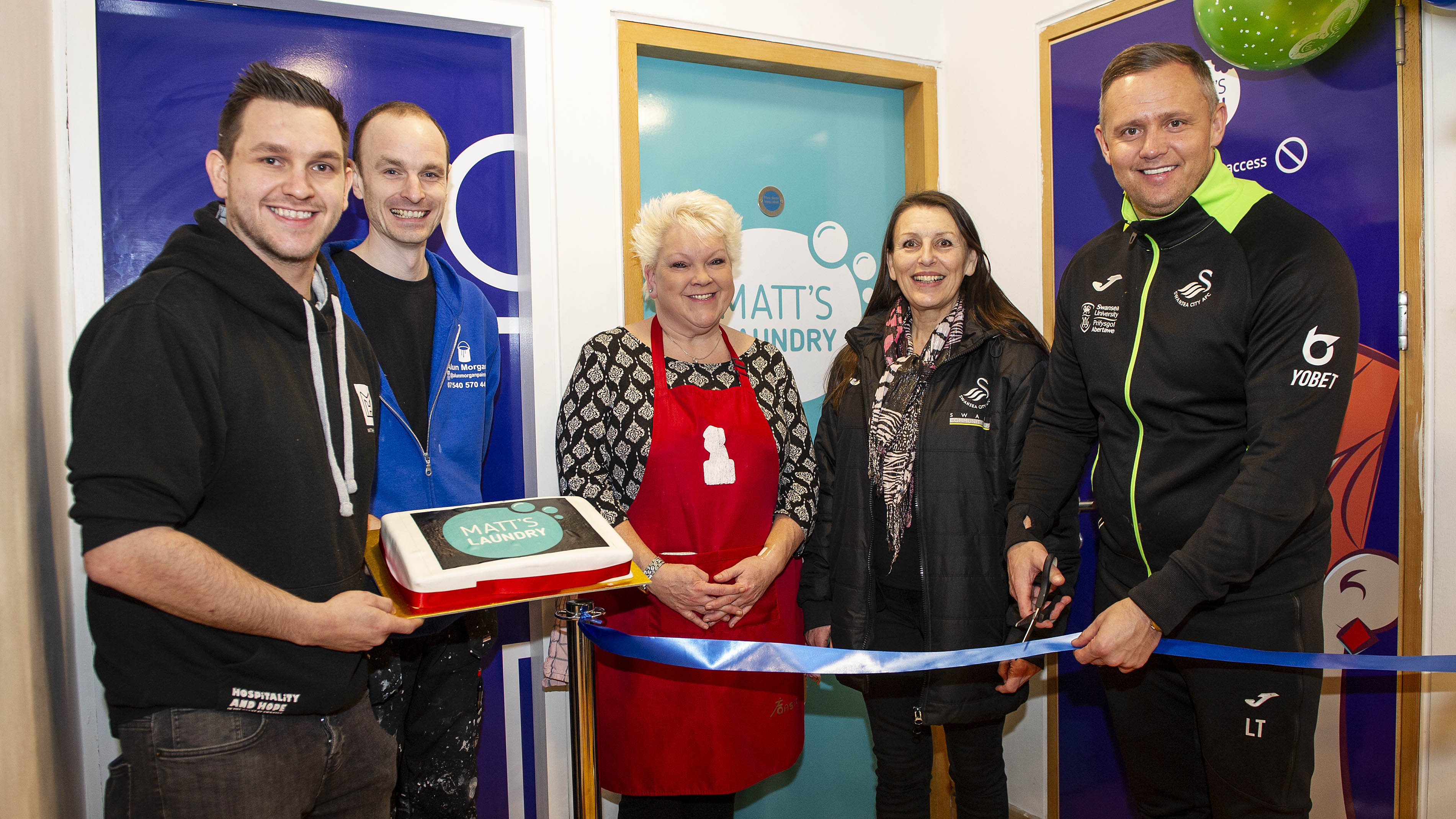 Swansea City have helped charity Matthew's House launch Matt's Laundry - a safe place for the homeless and vulnerable of Swansea to wash and dry their clothes.
The laundry room is the latest project of Matthew's House which was one of the Swans' designated charities last season. Working on a referral basis for rough sleepers, the facility will also be available for homeless people in hostels and individuals from a range of other places on a donation basis.
The charity are working closely with agencies in the local area including Zac's Place, the Wallich and Caer Las Access Point to ensure the laundry room can help as many people in need as possible.
The Swans helped bring the project to fruition through financial support by funding two washing machines, two dryers and lockers, and also ran work days in Matthew's House to make the facility possible.
Based on High Street, near Swansea railway station, Matthew's House provides a warm and welcoming home in the heart of the city to assist the homeless and most vulnerable in the community.
The charity is already home to Matt's Cafe, a pay-as-you-feel cafe run by volunteers which intercepts donated and perfectly edible food waste from local supermarkets and businesses destined for landfill to turn in to delicious meals available to all, particularly those who are homeless or vulnerable. The launch day of the laundry room also celebrated another milestone as it marked 60,000 meals served by Matt's Cafe.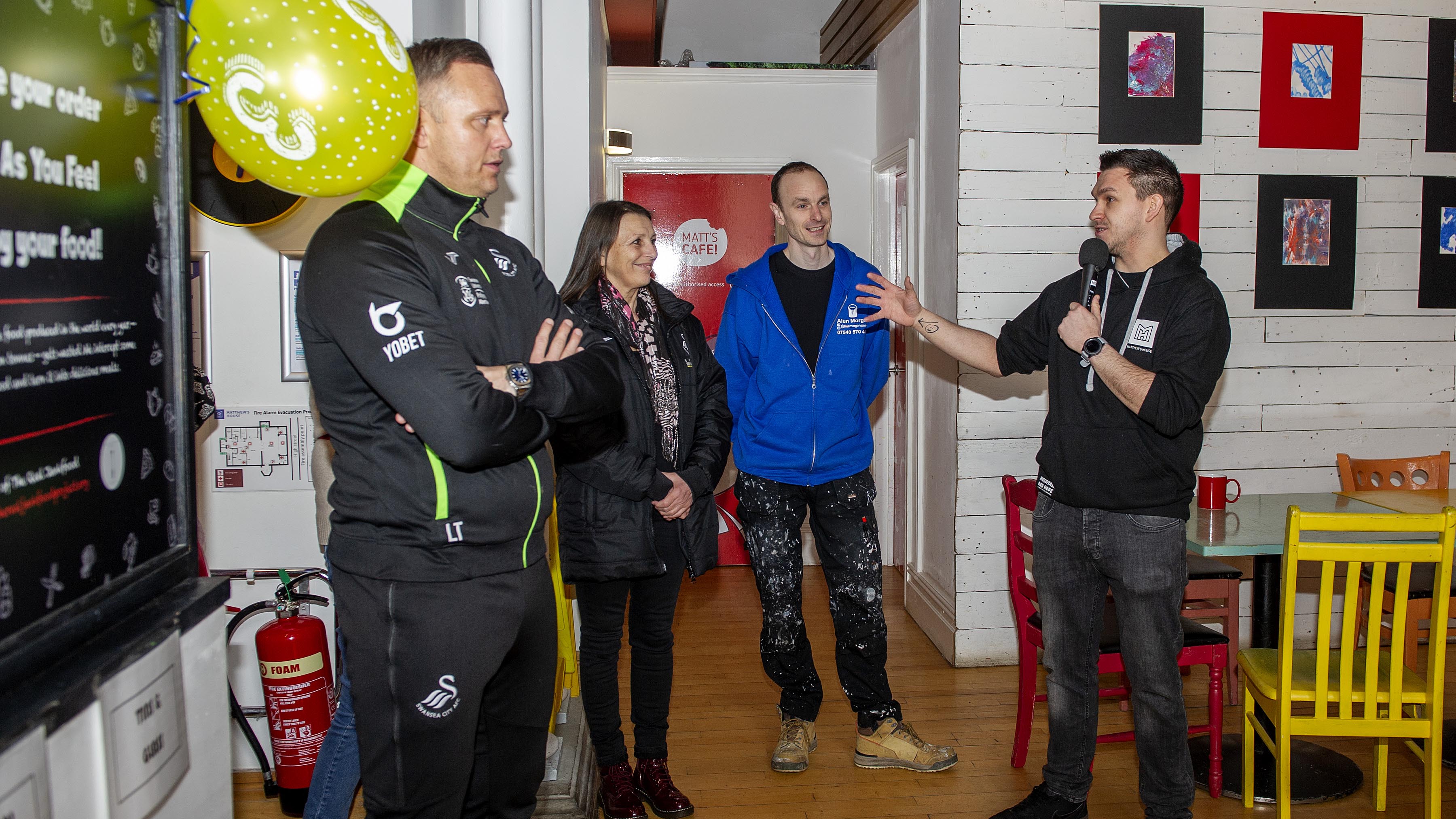 "Matt's Laundry is an expression of Matthew's House. We call them expressions because they are expressions of how we give hope," said Thom Lynch, manager of Matthew's House.
"Our aim is to help people with their lives, through troubles and difficult times and to just make things a little better.
"People will be able to get their clothes cleaned, dried and at the same time they can sit and have a three course meal while all that is happening.
As well as the helping hand from the Swans, Matthew's House were also supported by M&S Neath, painter and decorator Alun Morgan and Swansea Home Improvements, who also donated funds and helped bring the space to life.
"We had the challenge that as we grew as a charity, our volunteer numbers grew and we needed to keep the space safe for our volunteers," he added.
"We made connections with Helen Elton at the Swans Community Trust, had some great conversations and she jumped at the chance to support the project and got the club involved.
"As well as the washing machines and dryers, the club helped us buy lockers for our volunteers. This has ensured that when our volunteers are here, they have a safe space as well.
"The facility will make a huge difference to some people in need in Swansea, and something like this could change a person's life. If it changes just one person's life then that is vitally important for the city.
Head of Swansea City Community Trust, Helen Elton, was instrumental in informing the club about the crucial work the charity does in the local community and was also present at the launch of the laundry room along with club ambassador Lee Trundle.
"As soon as I heard about the project, it just seemed so important to me and I was blown away by Thom's commitment and passion for it," said Helen.
"I thought it was something that we should be involved with in some way because there are rising numbers of people with issues surrounding homelessness and a lot of people who are not engaged in society.
"Something like this gives people a feeling of belonging and something to congregate around. It's such an important project to have in this city."
For more information on Matthew's House, please visit matthewshouse.org.uk.