Swansea City proud to support 'Weeks of Action' campaign
26th February 2022
Club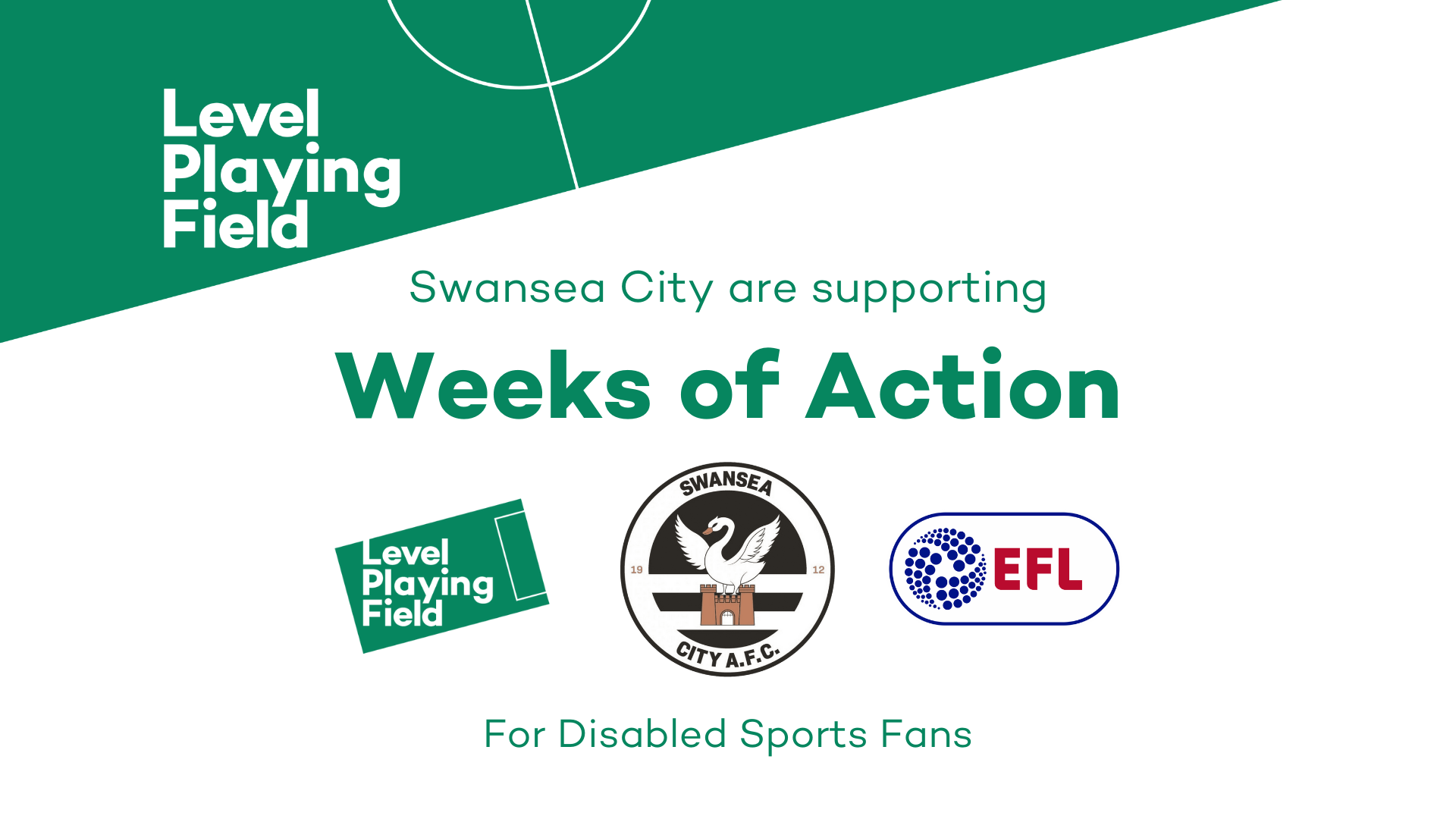 Swansea City is proud to be supporting Level Playing Field's 'Weeks of Action' campaign.
Disability charity Level Playing Field are celebrating their 18th 'Weeks of Action' campaign from Saturday, February 26 to Sunday, March 13, which aims to showcase the good work being done by clubs and organisations to improve accessibility and inclusion across all sports.
This year's theme celebrates the return of fans to stadiums, with supporters having previously been unable to attend games from the outset of the pandemic.
To support the campaign, Swansea City is getting involved by helping our disabled supporters learn about Level Playing Field and understand what they do, what their aims are to improve accessibility and inclusion, and how they can assist disabled fans.
During this period, Swansea City will be sharing news, information and exciting developments on all matters related to accessibility at the Swansea.com Stadium. Swansea City would like to thank the club's Disabled Supporter Association for their tireless work and efforts in making football at the Swans accessible to all.
Who are 'Level Playing Field'?
Level Playing Field is a sports charity that acts as a campaigning and advisory organisation for disabled sports fans. 
The charity supports disabled sports fans through the following channels:
Membership programme
As a user-led organisation, Level Playing Field's members are always at the heart of what they do. Their shared passion for sport and equality really drives them to influence long-term change and improve the spectator experience for all disabled fans.
The Level Playing Field fan membership is free to sign up for, and includes the following benefits:
Weekly matchday newsletter with general LPF updates.

Quarterly fan specific exclusive newsletter.

Invites to take part in annual events such as Weeks of Action and regional/national forums.

Official membership certificate.
Other benefits include:
Access to independent, expert advice and guidance on access and inclusion issues.

Opportunity to feedback on access and inclusion through LPF's annual survey.

Opportunity to network with other disabled fans, fan groups and disability/sports organisations.
To become a Level Playing Field member, click below or contact ben@levelplayingfield.org.uk.
Active Level Playing Field initiatives
Level Playing Field runs a range of initiatives for disabled sports fans, working to improve the matchday experience.
Active Level Playing Field initiatives include:
The Level Playing Field podcast

– A monthly podcast series with guests from across the sporting community.

Have Your Say

– We ask disabled fans for their feedback, whether it's positive or negative, from their experience at live sports events

Talking Sport

– During the pandemic LPF launched the Talking Sport initiative, where fans could chat to a member of the team in a bid to battle loneliness. After great success LPF has continued the initiative and continue to welcome fans to get in touch!
To find out more about the above, contact liam@levelplayingfield.org.uk.
Level Playing Field's work
Level Playing Field work behind the scenes with clubs to help improve accessibility at sports venues to ensure disabled supporters can experience the best possible matchday. Common areas of improvement are sensory rooms, accessible toilets, audio commentary, and accessible club shops and food concession stands that include drop-down counters.
Areas of improvement can be highlighted by clubs through Level Playing Field services such as:
Access Audits

by NRAC (National Register of Access Consultants).

 

Club staff training.

Expert advice and guidance.
If you would like to keep updated with Level Playing Field's work, follow them on social media.
Thank you for taking the time to read a bit about Level Playing Field!