Swansea City sensory room helps lifelong fan Nicola enjoy matchday experience
19th May 2023
Fans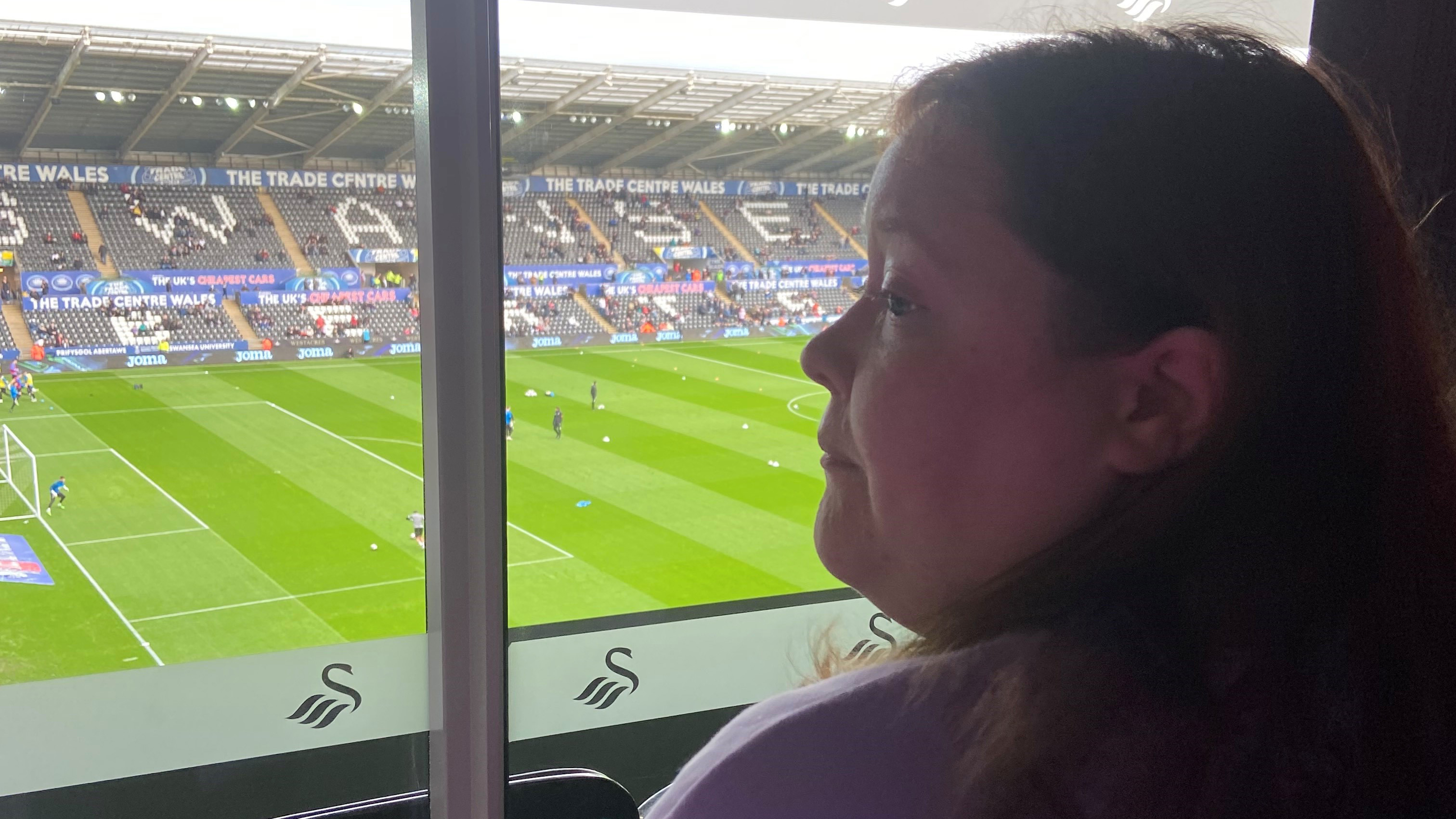 Nicola Dyer has been a Swansea City fan since the age of 10, but attending matches can be more challenging for her than many other supporters.
Nicola can find busy, confusing environments extremely difficult to navigate.
In order to attend games at the Swansea.com Stadium – which she was desperate to do – she would have to arrive before the crowds - something the club supported her with - by coming through the turnstiles up to two hours before kick-off.
With the help of feedback from supporters like Nicola and the club's Disabled Supporters' Association, Swansea City installed a sensory room at the Swansea.com Stadium in October 2019. One of the hospitality boxes was converted into a bespoke space for fans who may require additional support when attending games.
The room acts as a quiet space if the sounds of the stadium become too much, but also includes a hurricane tube, fibre-optics and a music player to provide a soothing sensory experience.
The glass doors mean it is possible to watch the game from inside the box, while you can also go through those doors if you prefer to enjoy the atmosphere.
For Nicola, the sensory room made it possible for her attend football matches again after Covid-19 lockdowns had made it so much harder for her to return to crowded places.
"I come to games with my mum, dad and brother," she explained.
"I love football, but I have missed it since 2020, so it was nice to come back. I hadn't attended a game since March 2020 and the sensory room allowed me to come back to football.
"The best thing is that you are in your own part of the stadium. You can watch the football, but behind closed doors.
"I love supporting the Swans. It makes my weekend, especially when we win, but before the sensory room was introduced, I'd be at the stadium really early and I found it stressful and upsetting.
"It would take me a while to relax and I usually wouldn't enjoy the game until about the 60th minute.
"If anyone is thinking of attending a match using the sensory room, I would say to take up the opportunity. It's very inclusive, especially if you struggle in the stands of at football grounds in general.
"I fell in love with football at the age of 10, and I love going to games!"
Click here to find out more about accessible facilities at the stadium. If you would like to make use of the sensory room during the 2023-24 season please email accessibility@swanseacity.com to register your interest.