Swansea City sign Hafal as main charity partner
12th November 2019
Club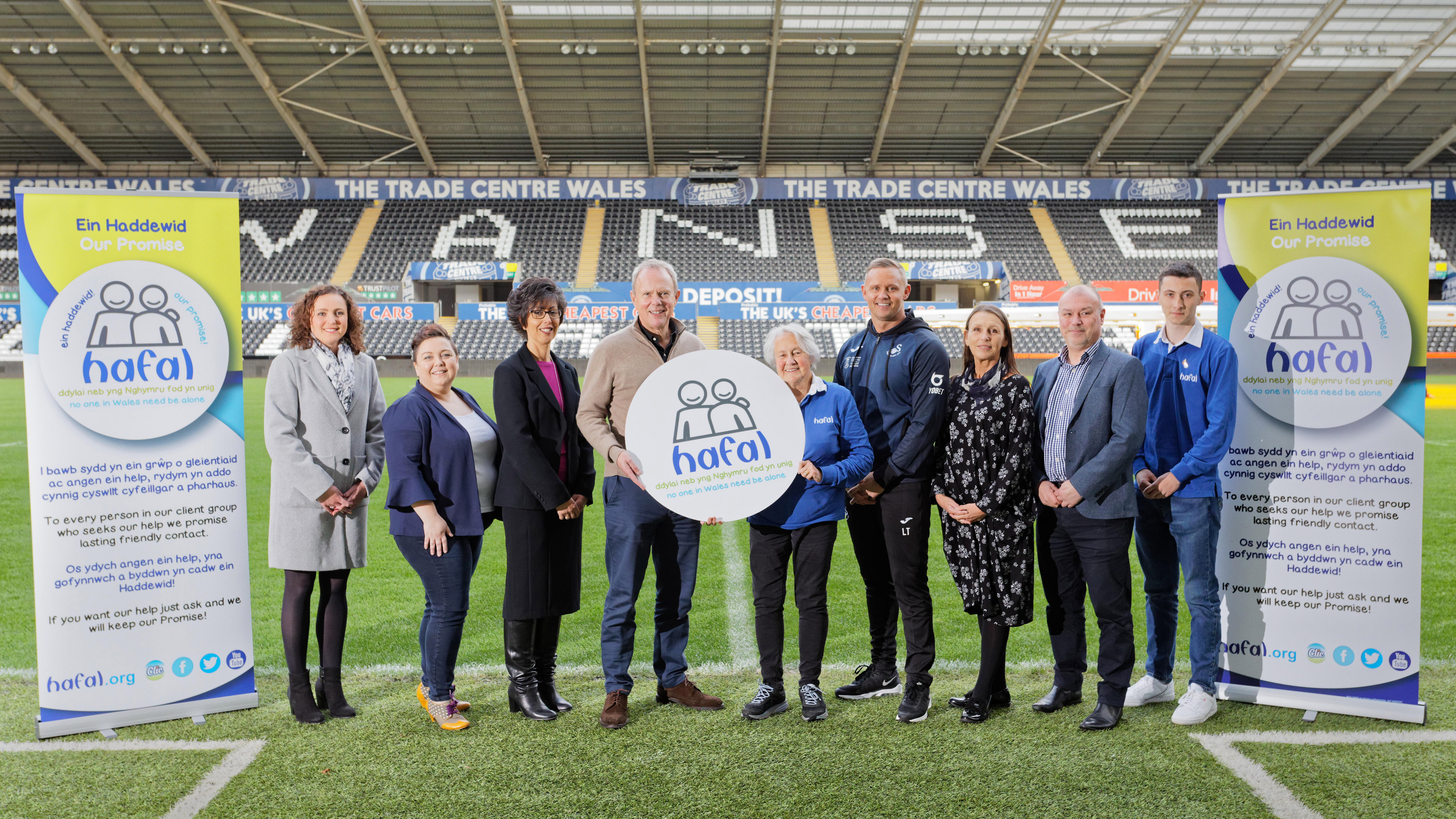 Swansea City is pleased to announce that Welsh mental health charity, Hafal, will become our main charity partner for the rest of the season.
Hafal, which is Welsh for equal, is the principle organisation in Wales working with people recovering from serious mental illness, as well as their families and friends.
Every day their 350 staff and 100 volunteers provide help to over 4,000 people affected by mental health and their families and carers across Wales, including those dealing with schizophrenia, bipolar disorder and other diagnoses which typically involve psychosis or high levels of care or hospital treatment.
With their head office based in Swansea, Hafal is unique in that it is run by the people that it supports – those with mental illness, their families, friends and carers.
The charity is founded on the belief that people who have direct experience of mental illness know best how services can be delivered. They aim to empower those people who need help to enjoy equal access to health and social care, housing, income, education and employment to achieve a better quality of life, fulfil their ambitions for recovery and fight discrimination.
Hafal's promise is that 'no-one in Wales needs to be alone' and they will never turn away anyone in their client group. Help can be attained by phone, in person, via email, social media or a unique online community group called Clic.
All services are based on their unique 'Recovery Programme' which creates a step-by-step plan identifying goals in key areas of life and the supporters who can assist in achieving those goals. This includes direct support and advice, support in a crisis, contact with others by phone, advocacy, support in a group setting, introductions for befriending, and employment and training projects.
Hafal will also work closely with the club's Community Trust on developing mental health projects and initiatives to benefit the local community.
Mair Elliott, Chair of Hafal, said: "We are absolutely thrilled to be announced as Swansea City's main charity partner for 2019-20.
"To partner with a club that is committed to bringing about positive social change through football is a perfect fit. The Swans have been so supportive of our work and always come along to our South Wales Physical Health Awareness event to promote better health for our clients and members.
"We look forward to working with the Swans in the coming year to raise the profile of our vital work across Swansea and beyond. And we welcome the opportunity to break down the stigma surrounding mental illness so that more people – particularly young men – feel able to talk about their mental health."
Swansea City chairman, Trevor Birch, added: "We are delighted to make Hafal part of our team with mental health such an important topic in today's society.
"One in four of us will experience a mental health problem every year. That's hundreds of footballers and thousands of football fans, including those who regularly visit the Liberty Stadium to support the Swans.
"It's important as a football club that we use our popularity and influence to raise awareness of mental health issues and encourage people to talk about any concerns they may have. Professional organisations like Hafal are there to help and we want to utilise that expertise to assist our supporters.
"Hafal's promise that 'no-one needs to be alone' resonates with the club's belief that we are all in this together and we are stronger with everyone supporting each other. No-one should stand alone.''
Further details on how the club and Hafal will be working together will follow.
For more information on Hafal or to access their services, visit hafal.org; email hafal@hafal.org, call 01792 816600 or follow on Facebook and Twitter.