Swansea City slash early bird season-ticket prices for young supporters
27th November 2019
Ticketing News
Swansea City will be slashing the early bird price of season tickets for its young fans for the 2020-21 campaign at the Liberty Stadium.
While early bird adult prices will be frozen for the eighth consecutive campaign, the club will be reducing the price of season tickets for fans under the age of 18 by up to £70 across the North, West and East Stands at the stadium.
There will also be a further reduction of up to £20 for the South 'Family' Stand.
It means an initial early bird price of just £49* (£2.13 per game) in the South Stand, or £139* (£6.04 per game) across the rest of the stadium.
As in previous seasons, the first early bird renewal period will run from December 2 to January 31, with the second and final renewal window closing on March 31.
The early bird offering has proved popular in the past with supporters looking to secure that perfect Christmas gift for their Swans loved ones.
Adult season tickets remain fantastic value from just £399* which, after a price drop in 2015, remain cheaper now than in 2012-13. Seniors** and full-time students begin at £269*, while the most expensive adult season ticket at the Liberty remains fixed at £489* if purchased before March 31.
The club will also be introducing a new term-time season ticket for students, which will start from October and be based on 16 league games to fit around their academic timetable.
"Our young fans will be at the heart of our season ticket campaign next season,'' declared Swans chairman Trevor Birch.
"While young supporters have always had a fantastic deal in the South 'Family' Stand, especially after we recently increased the age group from under 16 to under 18, we were keen to extend that discount across the whole of the stadium.
"Not only is it a lot fairer and affordable for those families who prefer to sit in the East, West or North Stands, it is vital we encourage as many young fans to support the Swans as possible.
"They are our fans of the future and it is important we look after them and encourage them to support the Swans wherever we can.''
Those supporters who renew will also have the opportunity at the renewal stage to purchase additional season tickets for family and friends at the early bird price.
The club will then endeavour to sit any additional season ticket holders next to an existing seat (in a non-season ticket seat) or relocate the whole group to their preferred area before tickets go on general sale.
Supporters will be able to renew their season ticket from Monday, December 2 at 10am. All you need to do is log in to your Swans Club Account from 10am and go to your "My Seat" page of your profile to view your personalised renewal details. Supporters can also renew by calling 01792 616400 or visiting the ticket office during opening hours.
For supporters who want to renew their season ticket using alternative payment plans, two instalment options are available with our 5 & 10 month plans.
All you need to do is choose the Instalment Plan when making your purchase. Upon selecting this option, supporters will receive their contract via email which will need to be completed and returned to V12 Retail Finance. The Season Tickets will only be secured once this contract is completed and returned to V12 Retail Finance.
An administration fee of either £26 (5 month plan) or £38 (10 month plan) will be payable in full with the first monthly instalment.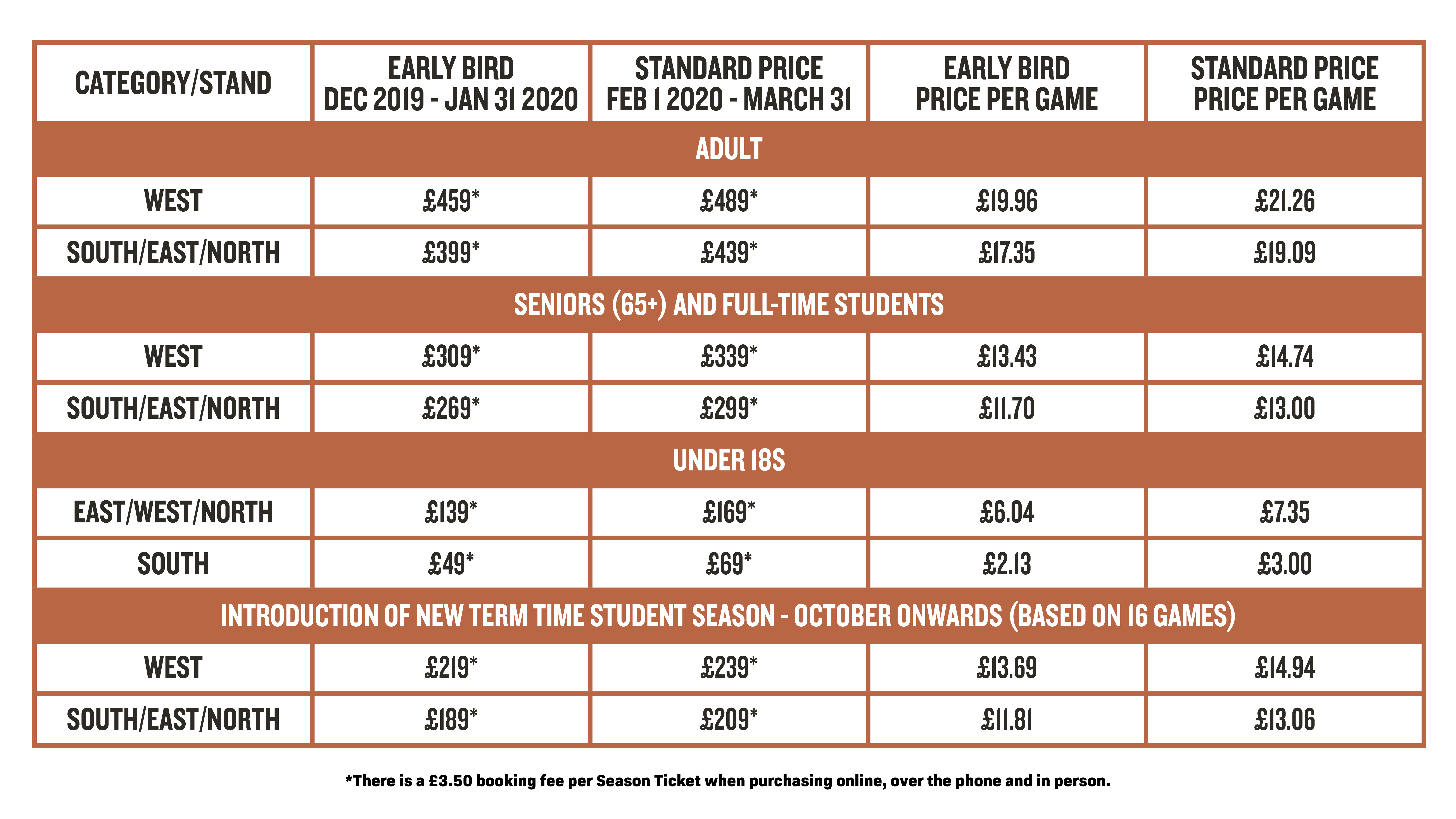 *There is a £3.50 booking fee per Season Ticket when purchasing online, over the phone and in person.
** SENIORS: Supporters are advised that the club made a significant change to the 'seniors' age category for the 2019-20 season; increasing the senior age from 60 to 65 to fall in line with the vast majority of clubs across the country.
The club honoured those season tickets holders who were 59 years old and due to qualify for the 'seniors' rate for the first time in season 2019-20.
For clarity, if you are currently a 'seniors' season ticket holder aged under 65, then you will remain on the seniors rate as long as you renew annually.