Ticketing update
5th July 2022
Ticketing News
Swansea City would like to provide supporters with an update regarding ticketing for the upcoming 2022-23 season.
Season tickets
Season tickets are still available to purchase until Friday, August 5. Supporters can purchase a season ticket and enjoy every home league game at the Swansea.com Stadium for the 2022-23 campaign. These can be purchased until 5pm on Friday, August 5 over the phone and in the ticket office, and online HERE. The adult season ticket price is equivalent to only £15 per game (all stands) with the child season ticket equivalent to only £3 per game (in the south stand).
Season tickets start from just £69 for under-12s, with finance options available for supporters who wish to pay for their season ticket over a five or 10-month period.
Not sure what stand would best suit you? Head to our dedicated season ticket page and take our handy quiz to find out!
Season ticket cards
A full update was provided to supporters on Thursday, 30 June regarding season ticket cards.
Supporters who have renewed in the same seat at the same price class as the previous season can use their existing season card and this will be reactivated over the coming weeks.
New purchases, seat moves or price class changes will result in new cards being sent out to supporters over the next three weeks. We would strongly advise supporters to log into their online accounts to ensure their home address is up to date to so that there are no complications in receiving cards.
Jack Army membership
Jack Army memberships are still available to purchase for the 2022-23 season. Find out more and purchase HERE.
Match day ticketing prices
Ticket prices for the 2022-23 campaign are as follows: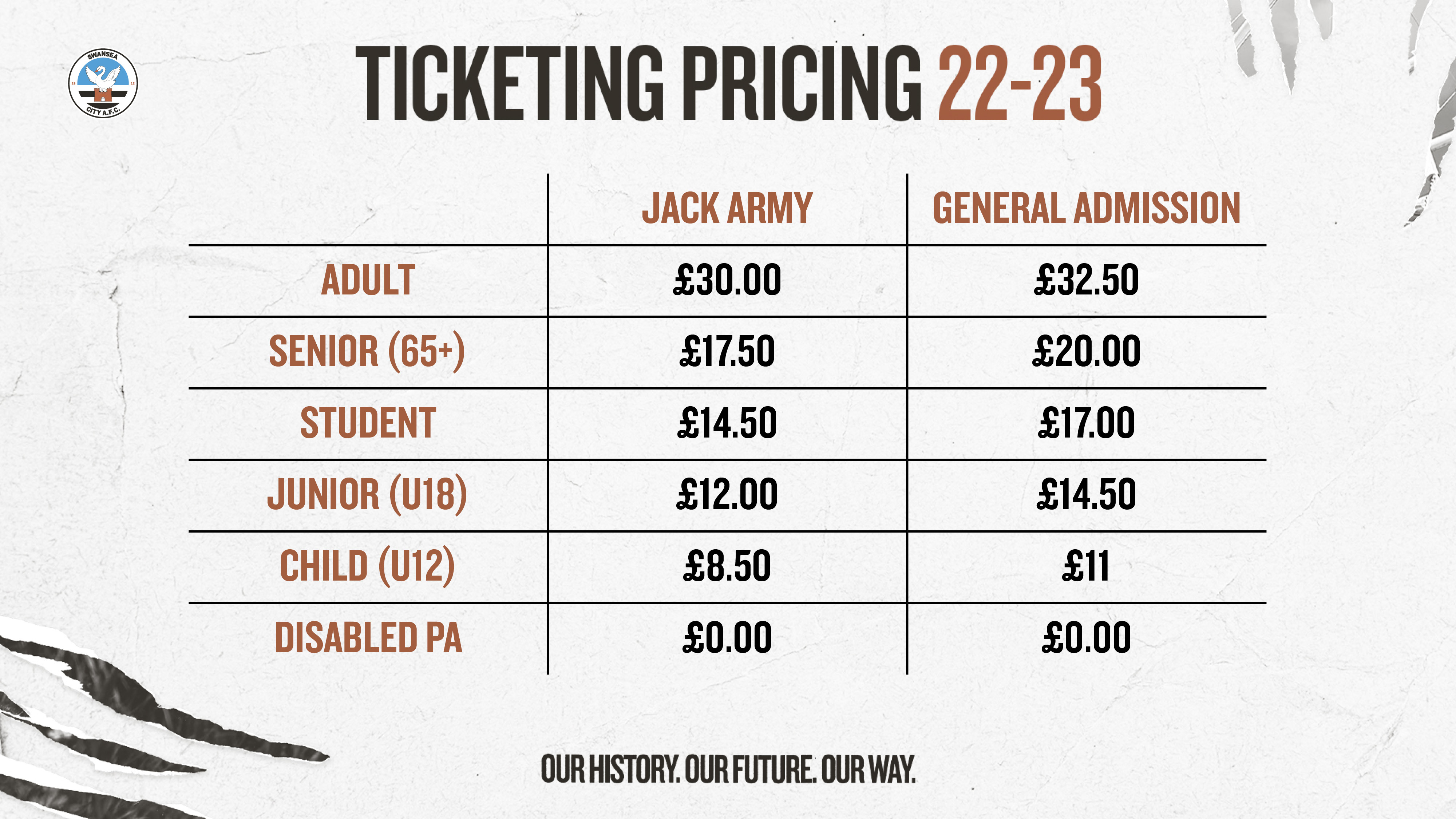 We are pleased to now offer an additional price category for the 2022-23 campaign. Supporters who are currently serving (or are veterans) in the armed forces (including military, RAF and Navy) are eligible to receive a discounted rate on ticket prices. Tickets for home fixtures will be priced at £20 and to claim the discount you must call the ticket office on 01792 616400 (option 1) and will be asked to supply us with supporting documentation.
Supporters can also expect to see a range of ticketing initiatives for the 2022-23 season, including the extremely popular 'kids for a quid' and 'bring a mate for £8', more of which will be communicated in due course as and when a fixture goes on sale.
The club has been fortunate to not have to increase ticket prices for many years. However, due to the increases we are facing as a business across staffing costs with wage increases, food costs and utility bills, we have to bring our prices up across the board. That said, the increases we have made still show that we are one of the cheapest in the Championship. For example, only two clubs are cheaper than us for senior tickets and four clubs are cheaper than us for adult and junior priced tickets.
Reading fixtures
The club wanted to make supporters aware that we have agreed a reciprocal arrangement with Reading Football Club that offers supporters £20 tickets for our away fixture on Boxing Day and Reading's visit to the Swansea.com Stadium on Tuesday, October 18.
Hospitality
Match-by-match hospitality bookings and mascot packages are now available to purchase for the 2022-23 campaign.
Mascot packages can only be purchased online. Click below to read more information and purchase a package.
To book hospitality call the team on 01792 616628 or email hospitality@swanseacity.com and a member of the team will be in touch.
Ticket Office opening times
The ticket office will be open only on Thursdays and Fridays from 9am to 5pm, as well as on home matchdays from 9am until half-time. This also covers weekday matches. Between Monday and Friday you may either email ticketing@swanseacity.com or ring 01792 616400 (option1) between the hours of 9am and 5pm.