Tickets on sale for Bournemouth Carabao Cup tie
17th August 2023
Ticketing News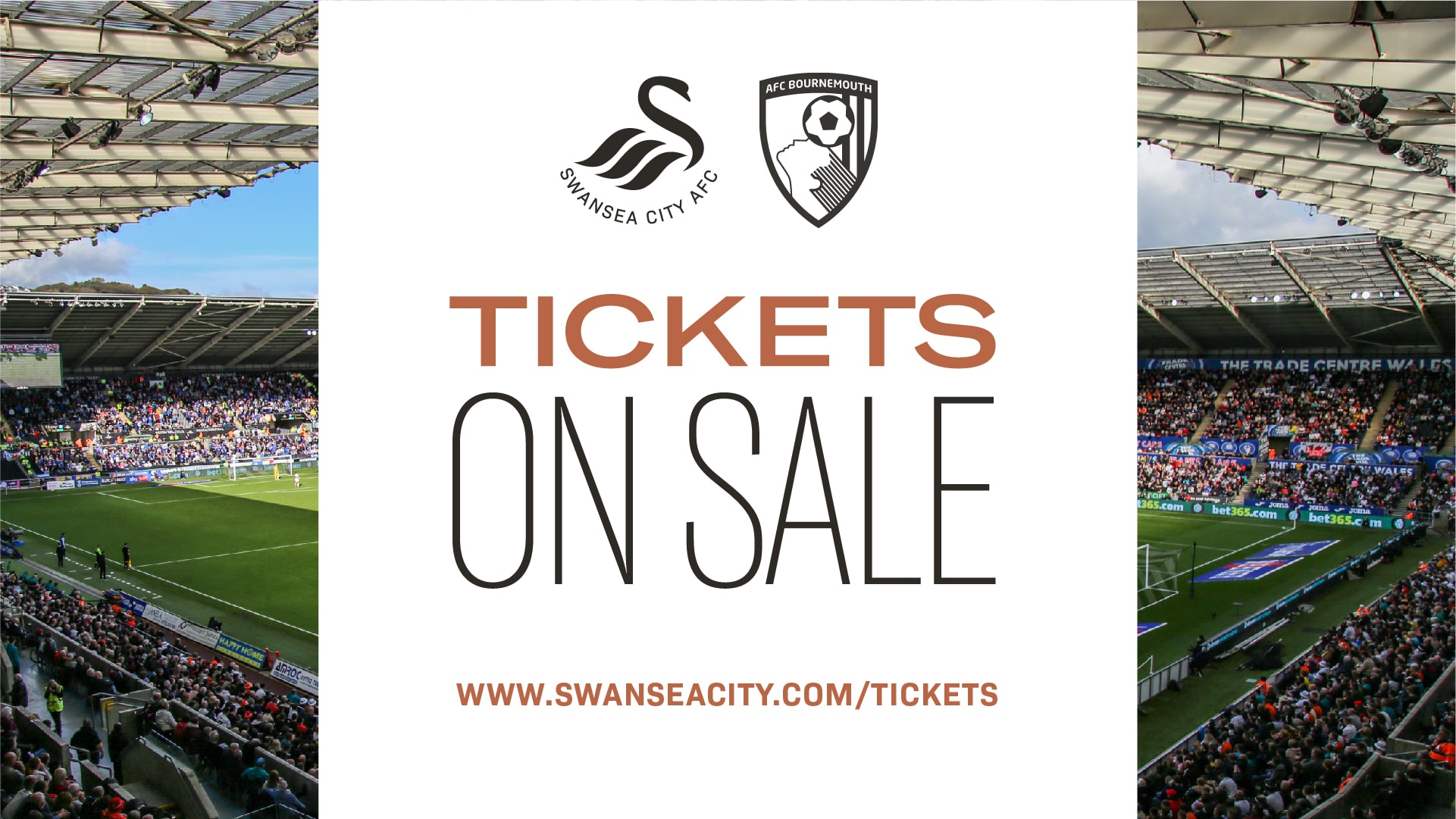 Tickets for Swansea City's Carabao Cup second round fixture at home to AFC Bournemouth are now on sale.
Swansea City welcome the Cherries to the Swansea.com Stadium on Tuesday, August 29, with kick-off at 7:30pm.
All Season-ticket holders and all Jack Army members can enjoy discounted ticket pricing for this game, as the Swans look to claim a Premier League scalp.
Tickets for this fixture are now on sale to season ticket holders and Jack Army members, with pricing and full ticketing information provided below.
Hospitality packages are also available, with prices starting from just £5 for children and £20 for adults.
TICKET PRICING
All Season Ticket Holders + All Jack Army Members
Adults: £10
Over-65s + Under 21s: £8.00
Under-18s: £5
Under-12s: £1
General Sale
Adults: £15.00
Over-65s + Under-21s: £10
Under-18s: £8
Under-12s: £2
Supporters are advised that all price classes above the under-12 band will increase by £3 on matchday.
ORDER OF SALE
Thursday, August 17 – 10am
All Jack Army members and all season ticket holders. There is a limit of one ticket per member during this window.
Friday, August 18 – 10am
General sale.
Please note any under-14 tickets must be sold with an accompanying adult.
Tickets can be booked online with no booking fees applied, and tickets will be sent digitally. Supporters should note there is a £2.50 booking fee per ticket for all telephone sales and counter transactions.
The club therefore encourages supporters to purchase online, with all tickets purchased online being sent to you via your Swans App or to print-at-home. This is the fastest and most convenient method to secure your seat. The ability to purchase online and load your tickets in the app or select print-at home tickets will remain available until kick-off.
Please note all digital tickets will be sent 72 hours before kick-off and will load in the app once received.
Supporters are advised the best way to secure your favourite seating is by purchasing a 2023-24 Jack Army membership. Not only will you receive priority seating and discounted ticket prices, but it will also entitle you to Swans Cash and access to the Your Jack Benefits (YJB) scheme.
HOSPITALITY
Hospitality is now available to purchase online for this fixture.
A hospitality ticket will gain you access into one of the stadiums premium suites, with pay bar facilities to purchase drinks and refreshments. The comfort of your premium surroundings is available to you an hour-and-a half prior to kick off, at half-time and for an hour post match. Enjoy the match from the padded hospitality seat.
Prices are as follows:
Adult: £20 (JA & STH) / £25 (GA)
Over-65s & Under-21s: £18 (JA & STH) / £20 (GA)
Under-18s: £15 (JA & STH) / £18 (GA)
Under-12s: £5 (JA & STH) / £5 (GA)
Doors open for hospitality 90 minutes before kick-off and will remain open for an hour after full-time.
There will be no hospitality sales on the day so supporters interested in hospitality are strongly advised to book in advance.
Supporters who are also interested in purchasing an Executive Box for this game are advised to please contact the hospitality team on 01792 616628. Prices start at £650 (inc VAT) and include a one-course meal.
Seasonal hospitality guests will be contacted shortly by the hospitality team to reserve their seats.
PARKING
Seasonal parking members who have renewed their parking spaces for the 2023-24 season are advised this cup fixture is not included in the package. Parking for this fixture will be sold at £5 per space on a first come first served basis on the night, but accessibility parking can be booked in advance by calling the ticket office on 01792 616400 (option 1).
The club is delighted to announce the addition of a new parking arrangement that will see new facilities open for supporters visiting the Swansea.com Stadium. The club's usual parking arrangement with the Landore Park and Walk will now be supplemented with new parking offered by our partners at Event Support Team Ltd.
Supporters can pre-book parking at this new facility by clicking on the following link, with the parking located at the old Virgin Media site, a 15-minute walk from the stadium.
SEASON TICKETS
Season tickets remain on general sale for the 2023-24 campaign and remain the most affordable way to watch the Swans this season. With strong sales numbers in the build up to the campaign, supporters who wish to purchase the best available seating are advised to act now to secure their seat to watch Michael Duff's first season in charge of the Swans.
Prices start from £345* for an adult up to £399 and £79 for under-12s. Full season ticket information can be found here.
*Only when purchased with an under-12 season ticket in the South Stand.