Tickets on sale for Ipswich Town away fixture
13th October 2023
Ticketing News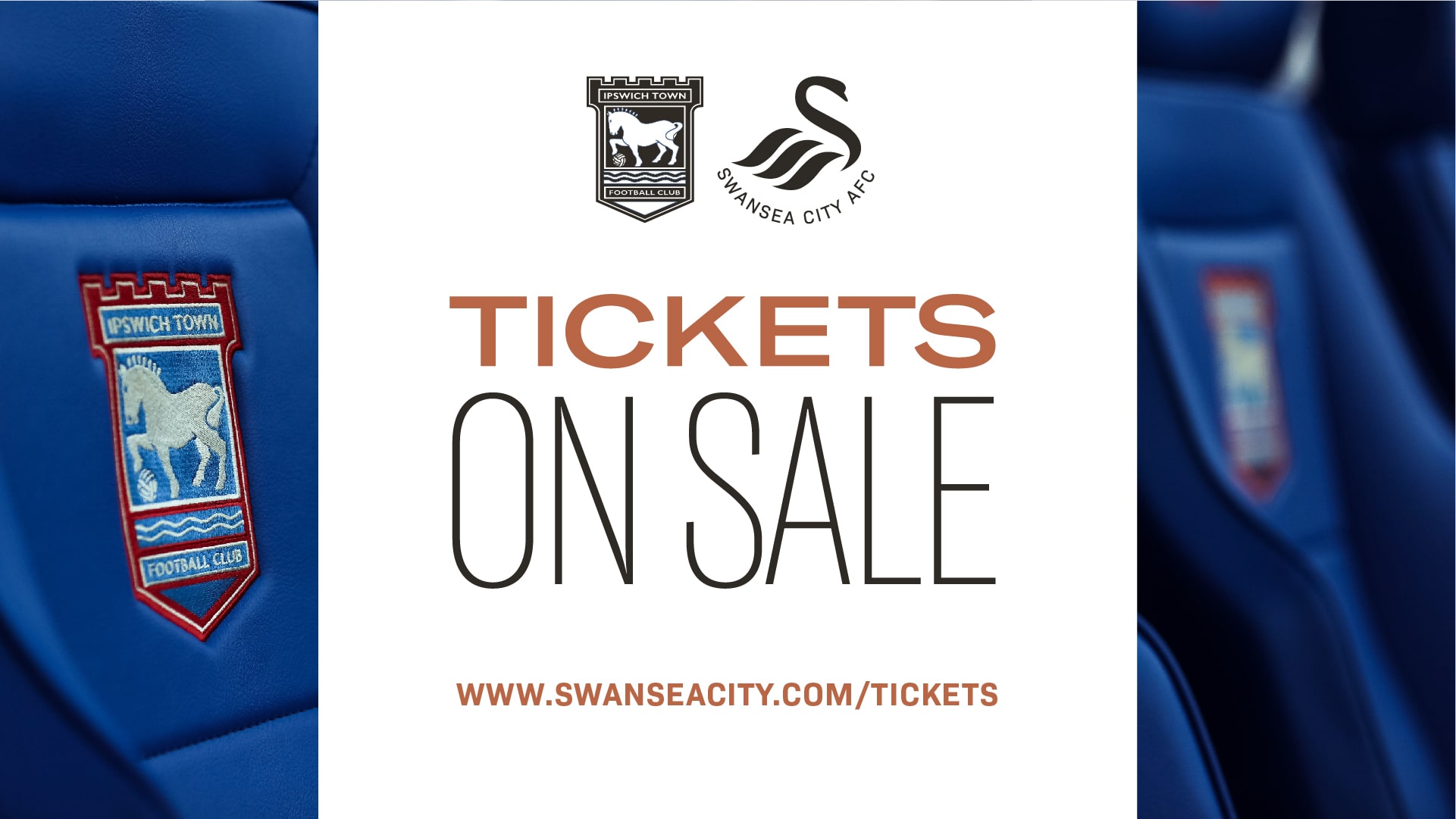 Tickets for Swansea City's away fixture at Ipswich Town are now on sale to season ticket holders who are also Jack Army members.
The club has received an allocation of 1,059 tickets for this fixture, which will take place at Portman Road on Saturday, November 11 (3pm kick-off).
Jack Army members will receive priority access to purchase tickets. If you are not yet a member but wish to sign up, click below to learn more.
If you are a Jack Army member you must log in to your account to access the priority window.
Supporters are also advised children under the age of 14 must be accompanied by an adult over the age of 18 to attend this fixture.
Supporters under the age of 14 may be refused access if they try to access away travel or enter the host stadium unaccompanied.
Tickets can be purchased online, in-person during ticket office open times, and over the phone.
Please note telephone sales and over-the-counter sales incur a £2.50 booking charge per ticket. Full ticketing details can be found below.
Ticket prices are as follows:
General Admission
Adults – £31                                                 
Senior 65+ - £24
Under-23s – £18
Under-19s – £10
Ambulant Pricing
Adults – £26                                                 
Senior 65+ - £21
Under-23s – £17
Under-19s – £9
Wheelchair Pricing
Adults – £23                                                 
Senior 65+ - £20
Under-23s – £17
Under-19s – £9
Under 12s - £6
Prices exclude a postage fee of £1.25 online per order/delivery and £2.50 per ticket over the phone with the ticket office.
All supporters can book tickets online, however supporters with accessibility requirements, or those who require a wheelchair, may call the ticket office on 01792 616400 and select option 1.
ORDER OF SALE
From 10am on Friday, October 13
Jack Army Members who are season ticket holders
From 10am on Monday, October 16
All Jack Army Members
From 10am on Wednesday, October 18
General Sale
Please note during the Jack Army window, there is a limit of one ticket per member. Jack Army members will be awarded three points for this fixture.
POSTAGE/ DELIVERY DETAILS
All tickets purchased before 5pm on Wednesday, November 8 will be posted out first class, with any tickets purchased after this point being available to collect on Thursday, November 9 and the morning of Friday, November 10.
If your tickets have not arrived in the post by 10am on Friday, November 10, please let the ticket office know by emailing ticketing@swanseacity.com and including your customer number or booking reference, and the club will arrange duplicate tickets for you to collect at the host club.
The club encourages supporters to purchase online, with all tickets purchased online being posted out. This is the fastest and most convenient method to secure your seat.
COACH TRAVEL
Travel packages are now on sale, with return Turners Coach travel priced at £43 per person for this game.
Parking for supporters using the travel service is available onsite in the North car park.
Coaches are departing at 6am from Rossi's, facing the stadium. Please click here to book coach travel.
ACCESSIBILITY 
The club has received an allocation of five wheelchair bays and accompanying carer tickets, which can be purchased via our ticketing website using the accessibility ballot. These wheelchair bays are located in the Magnus Carlson West Stand (Block DA) in a mixed home/away accessible area and are not located with the main allocation.
Ipswich Town have also advised us of specific seats that are suitable for supporters with accessible needs located in Block S of the Cobbold Stand Lower Tier. This allocation is located separate to the general admission allocation in the upper tier. Ambulant supporters wishing to sit in the upper tier can do so, but please note that there is no lift access or accessible toilet facilities in this area. To book in the upper tier, please call the office directly on 01792 616400 (option 1)
There is a very limited amount of onsite accessible parking spaces available at Portman Road. Please email ticketing@swanseacity.com for more information.
PAY ON THE DAY
There will be no pay on the day facility and this fixture is strictly an all-ticket event.