Vetch Field | The Final Season | Part Four
14th May 2020
Club
May 11 marked 15 years since Swansea City played their final game at their old Vetch Field home. To mark the anniversary we are running a series of features about that final 2004-05 campaign under the guidance of Kenny Jackett.
Today, we move on to part four, where a blip from the Swans sees them fall out of the automatic promotion places, but set up a tense and emotional final league game at the Vetch.
That hard-fought victory at Boston, complete with last-gasp spot-kick winner and post-match ruckus, left Swansea City firmly ensconced in the automatic promotion places.
Indeed, they had been in the top three for some five months, and sat second, a place they retained with a 3-0 win over Chester in which a Lee Trundle brace and Paul Connor's strike did the damage.
But, just as the prospect of automatic promotion looked to be well within their grasp, Kenny Jackett's side had a costly wobble that threatened to derail so much of the good work that had gone before.
The Swans would win just one of their next nine league games, falling to fifth at one stage.
It was a defeat at Darlington that dropped them out of the top three for the first time since September, shortly after the club had sealed moves for Kevin McLeod and Lee Thorpe from QPR and Bristol Rovers.
How did Jackett and his players handle the setback?
"I think we were confident that we would bounce back after that loss, in those leagues you are going to have bad patches as well as the good spells," says Trundle.
"It's just about going on to the next game because in that league, the games come thick and fast.
"Thinking back on my personal view of it, even though we dropped out of the top three, I was never worried.
"I always believed we were good enough to get promoted even though it was a lot closer than I thought it was going to be. I always thought in my head that we were going to do it."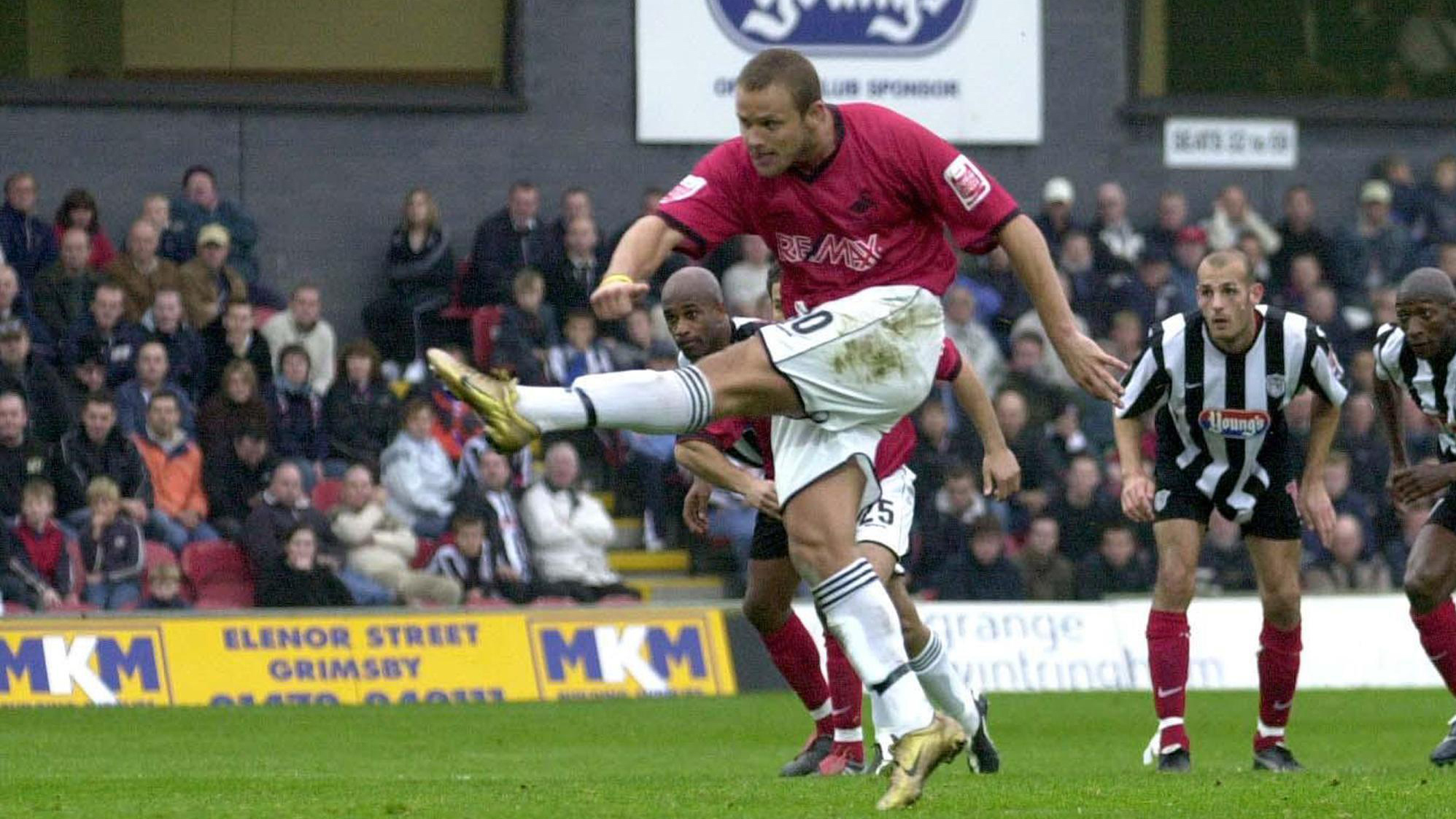 For Alan Tate and some of the younger members of the dressing room, it was about looking to the more experienced heads to lead by example in an unfamiliar situation.
"You are always looking to the senior guys to step up in those situations," he said.
"We had Andy Gurney, who had been in promotion fights with Swindon - he was a big influence for us as he knew the league.
"Willy (Gueret) had been promoted with Millwall and you look to them, and I think guys like myself Garry Monk and Leon Britton took that on later.
"Trunds knew how to get promoted, he had done it with Wrexham, so you look to them to lead down the path and you follow.
"You're hoping that the fact they have done that means they are on the right track."
Victory over Scunthorpe lifted spirits, but defeat to Notts County and draws with Rochdale and Northampton followed.
"I think confidence took a dent, no doubt, recalls Adrian Forbes.
"We'd been up there all year and maybe there was a bit of over-confidence.
"There was a lull in performances, but we did work really hard on the training ground to try and get things back on track.
"I won't lie, and I'll admit there were a few trips to Wind Street to get that camaraderie and togetherness back there too."
While the Swans sought to click back into gear, Trundle created a little bit of history in unlikely fashion.
The striker had hit a purple patch during Swansea's good run, and it was a blow when he saw red in a remarkable draw at Rochdale, where a late Rickie Lambert effort denied the Swans all three points as both sides ended with 10 men and Grant Holt scored at both ends.
But Trundle's dismissal was quickly rescinded, and he was free to play at Northampton in the following game, scoring to take his tally to 20 league goals for the season.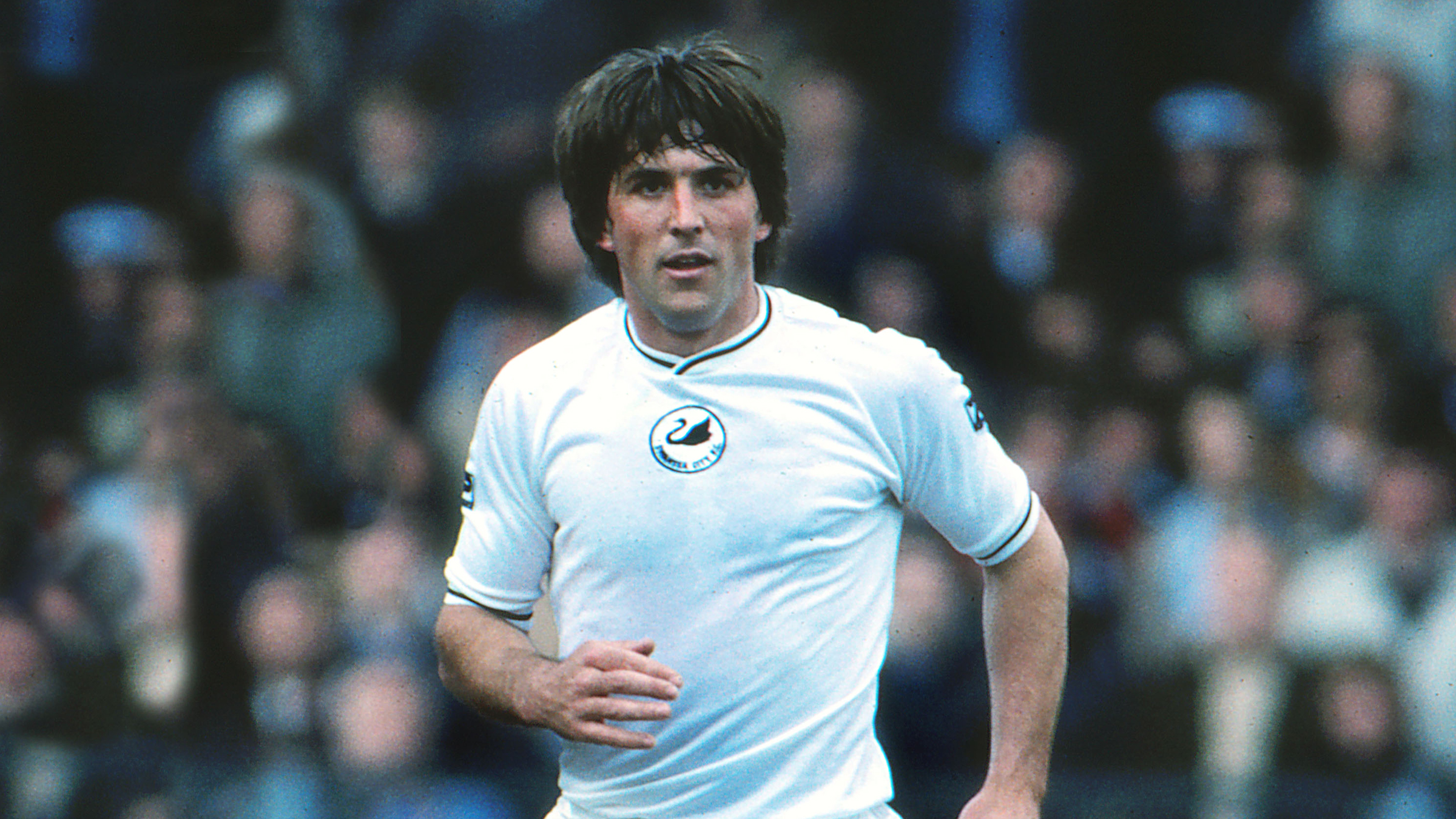 It made him the first Swansea player since Bob Latchford – in 1981 – to achieve the feat.
"With the red card, I thought it was harsh," says Trundle.
"I think the ref thought it was a scissor tackle, it looked worse than it was. I didn't touch him - I got the ball. Luckily, it got rescinded and I could play again.
"Then the next week I scored and getting to 20 goals was important to me.
"I was aware that no-one had done it since Bob Latchford, who is also an Everton legend and I'm an Evertonian myself, and it meant a lot.
"It felt crazy to me that 24 years had passed with no-one at the club scoring that many.
"It just added to the way the fans felt about me, I was proud of it because to do that at a club where it had not been done for so long was a real achievement."
But one man having a tougher time of things was Tate.
Having played in a number of positions over the season, including centre-back, right-back and midfield, the win at Scunthorpe would prove to be his 23rd and final league appearance of the campaign as he fell out of favour.
And the current Swans first-team coach admits he is not proud of how he reacted to his disappointment.
"I dealt with it terribly. I look back at my younger self and know if I had been a bit older I would have handled it completely differently," he says.
"I sulked too much, which probably got me more games out of the side. I had only myself to blame.
"You only learn those things through experience, but I still cringe.
"As a coach now, when young lads get left out I can try and guide them the right way because I was in that situation. It helps.
"I did not help myself. I remember us training before a game at Lincoln, and Kenny had told the lads who were starting they could go in.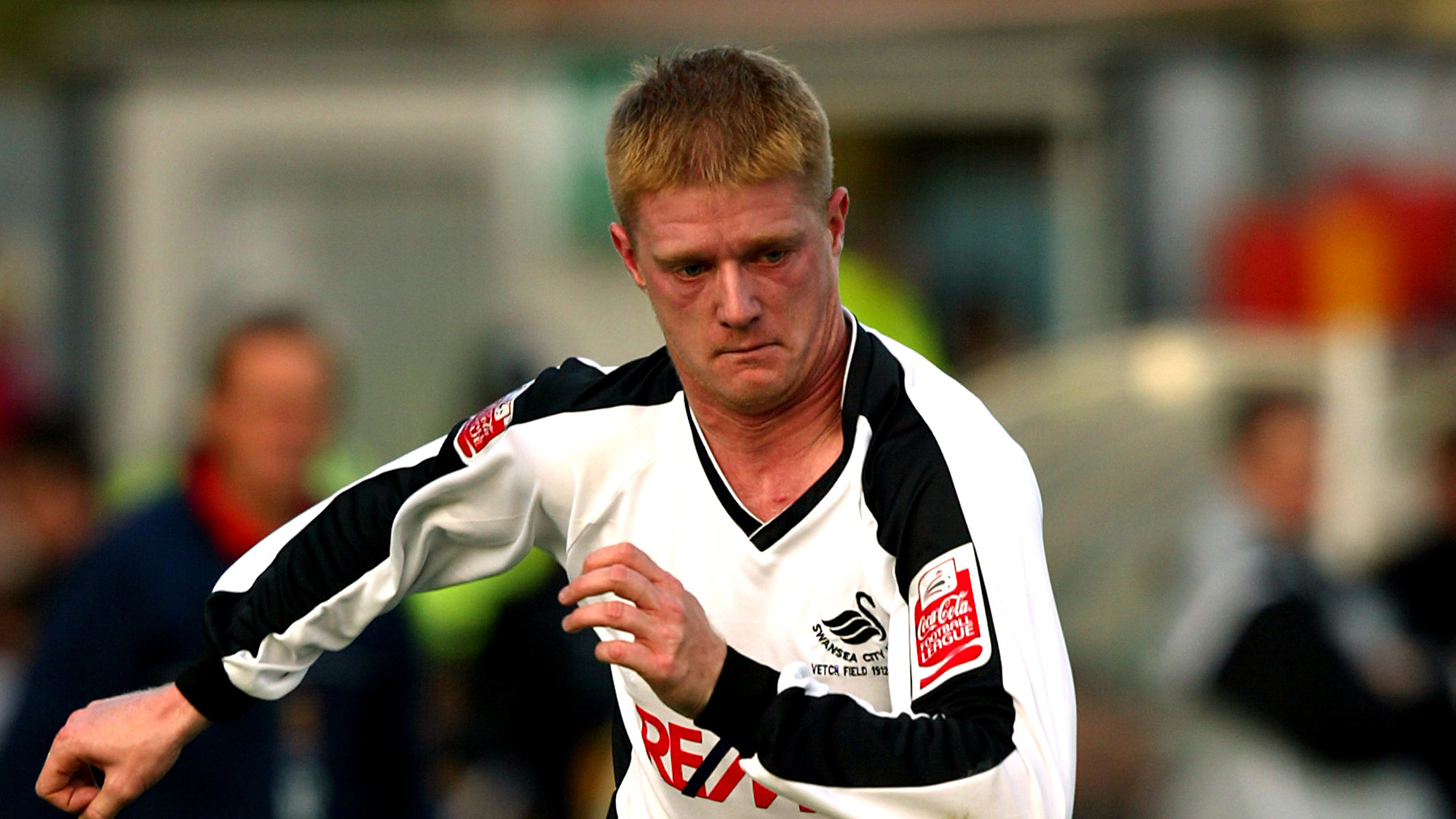 "I muttered under my breath 'so, the rest of us don't matter, do we not?' And he heard me.
"He had a go at me, he sent me in and left me out of the squad, but he made me travel up on the bus.
"My father came to the game, and I told him to take me home before kick-off. Lincoln was only a couple of hours from where I am from, so I went home and had a night out in either Sunderland or Newcastle with my friends.
"I came back to Swansea on Sunday night and went in on Monday morning. The first thing Kenny said to me was 'Where were you Saturday? Did you watch the game or did you go home?'
"I told him I had watched the game in the stand and then gone home, but I think he knew I had left but he couldn't prove it.
"But I look back and think 'what an idiot you were'."
But the Swans would start to recover. The end of March and start of April saw wins over Macclesfield, Cheltenham – with Kris O'Leary making two vital blocks to preserve victory - and Cambridge; the latter moving the Swans back into the top three.
Defeat at Lincoln would follow before the final match under the Vetch Field lights arrived, with Oxford the visitors to SA1 on Friday, April 15.
It was a tight and nervy affair, refereed by future top-flight official Kevin Friend, and it was settled by an unlikely source, as Monk remembers.
"Everything was really on the line at the time. Everything was done on margins," he said.
"All the discipline that Kenny instilled in us, now we would rely on it.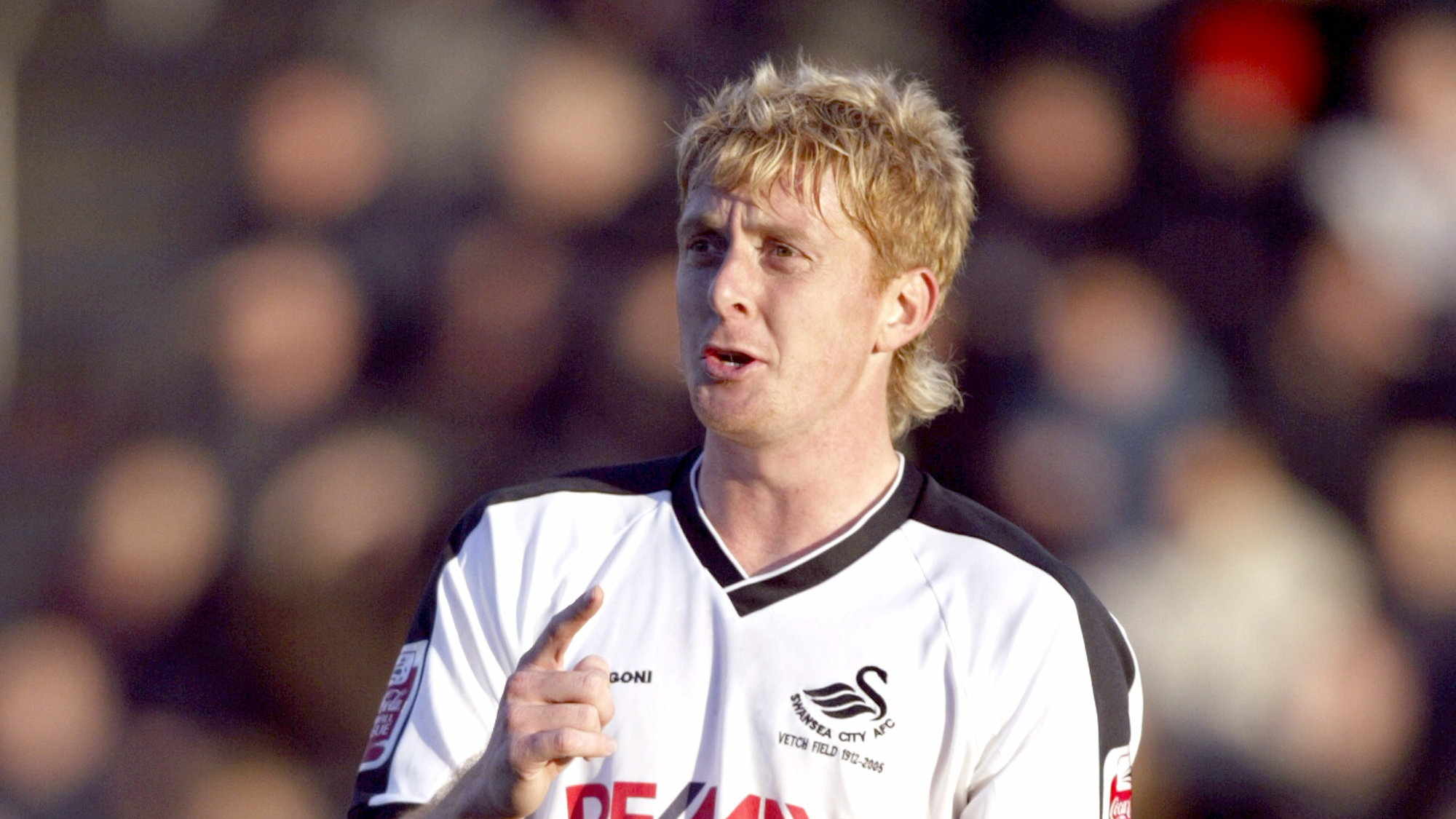 "We needed that organisation and discipline at that point, it was a case of who blinked first.
"We relied on our defensive organisation and focus, and then we needed to take our chance, which we did.
"It was a dangerous game, but we were confident we could keep clean sheets.
"I can visualise that Oxford game now. It was tight but we had the likes of Trunds, Robbo, Paul Connor, Forbesy – players who could take a chance – on the pitch.
"As it was, Kris O'Leary scored the goal. He didn't score many, but it was an important one.
"Kris was a leader but in a different way. He wasn't very vocal like Tatey or Robbo, but when he spoke – with the knowledge of the club he had – we would always listen.
"On the pitch he was an organiser, very disciplined and his versatility was a big bonus. As a manager now, I can appreciate that more.
"What he said was information, and information that you needed to know."
O'Leary would end up with over 300 Swansea appearances to his name, and 11 goals.
But there's no doubt that April night in 2005 stands out.
"I didn't score many but that goal meant so much," he said.
"It was the last league game under the lights, and a night game was always a special occasion. It had the buzz.
"For it to be the last one, score and win was special.
"We desperately needed to win to keep us on track for promotion.
"I have a photo from after the game which is the favourite photo of my career. The photographer threw me a scarf as I was walking off the pitch. I held it above my head and it read 'Swansea City, Vetch Field, 1912'.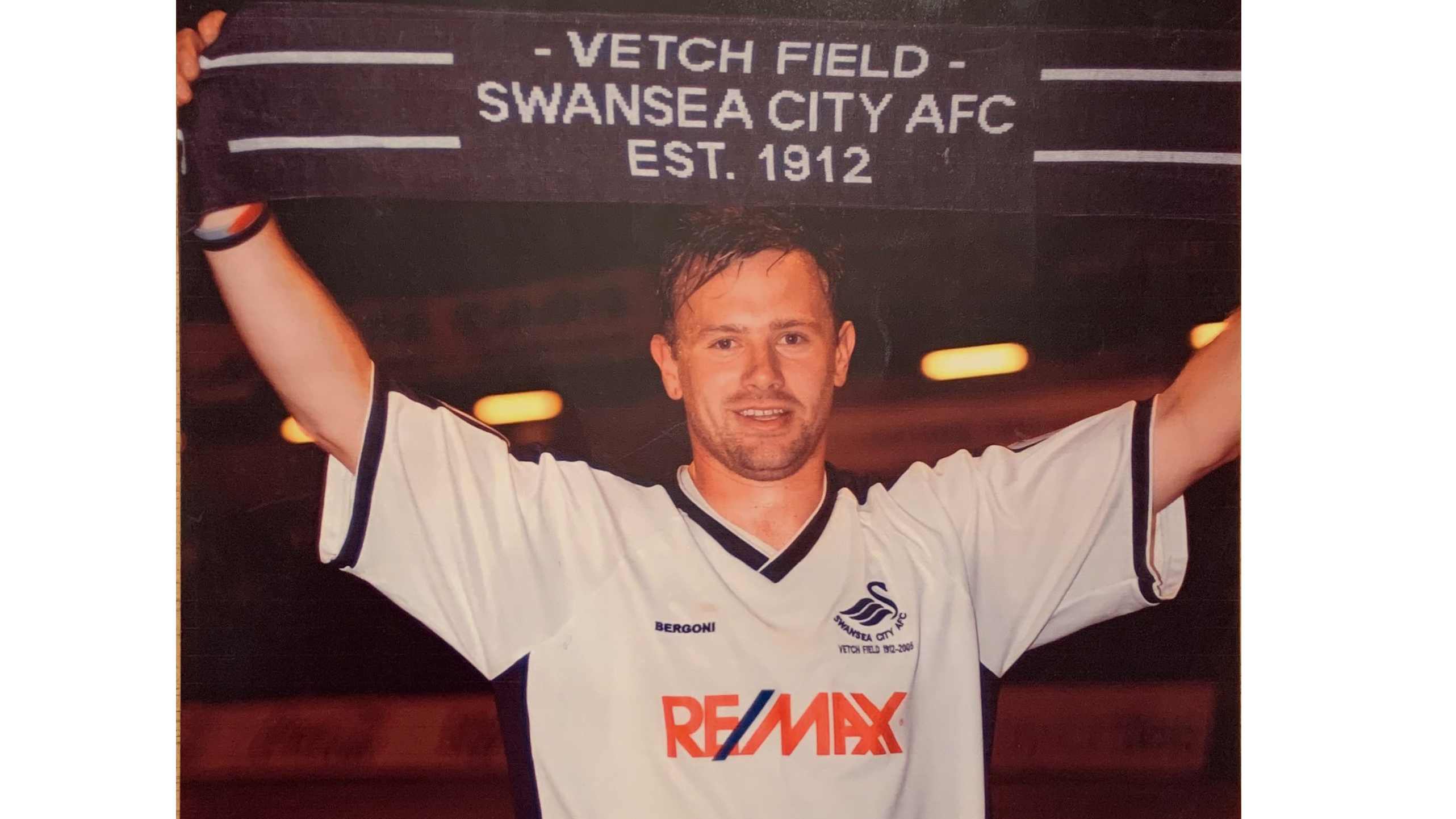 "A friend of mine got the game on DVD for me the other day, and I've watched it back a few times.
"It was a better finish than what I remember! I hit a volley and the keeper made a good save, then I took a touch past the defender and hit it first time.
"The away end was the only place I'd scored at the Vetch, which meant I could head towards the North Bank to celebrate.
"It's funny because when I look back at goals I'm never part of the celebrations – bar one or two of Trunds' goals – because my mindset was 'okay, we've scored, what do we do now and don't concede.'
"I wish I would have celebrated the goals more when I think about it."
And it seemed somehow fitting that a young man who had gone from being a supporter to a player, playing in any number of positions to help the cause, should net such an important goal in the final chapter of a ground where O'Leary had spent so much of his youth.
"Over the years, the most successful teams have versatile players," added O'Leary.
"I remember during my time coaching with the Swans, I was talking to Huw Jenkins about the lack of versatility in our squad.
"In my days, there were the likes of me and Tatey who could play everywhere. I enjoyed the challenge of playing in different positions.
"I loved playing in midfield because I read second balls, I was physically strong and loved a tackle and making a block – I got as much joy from that as I did a goal.
"We beat Scunthorpe that season and I remember making two massive blocks, but then forgot Trunds had scored the goals.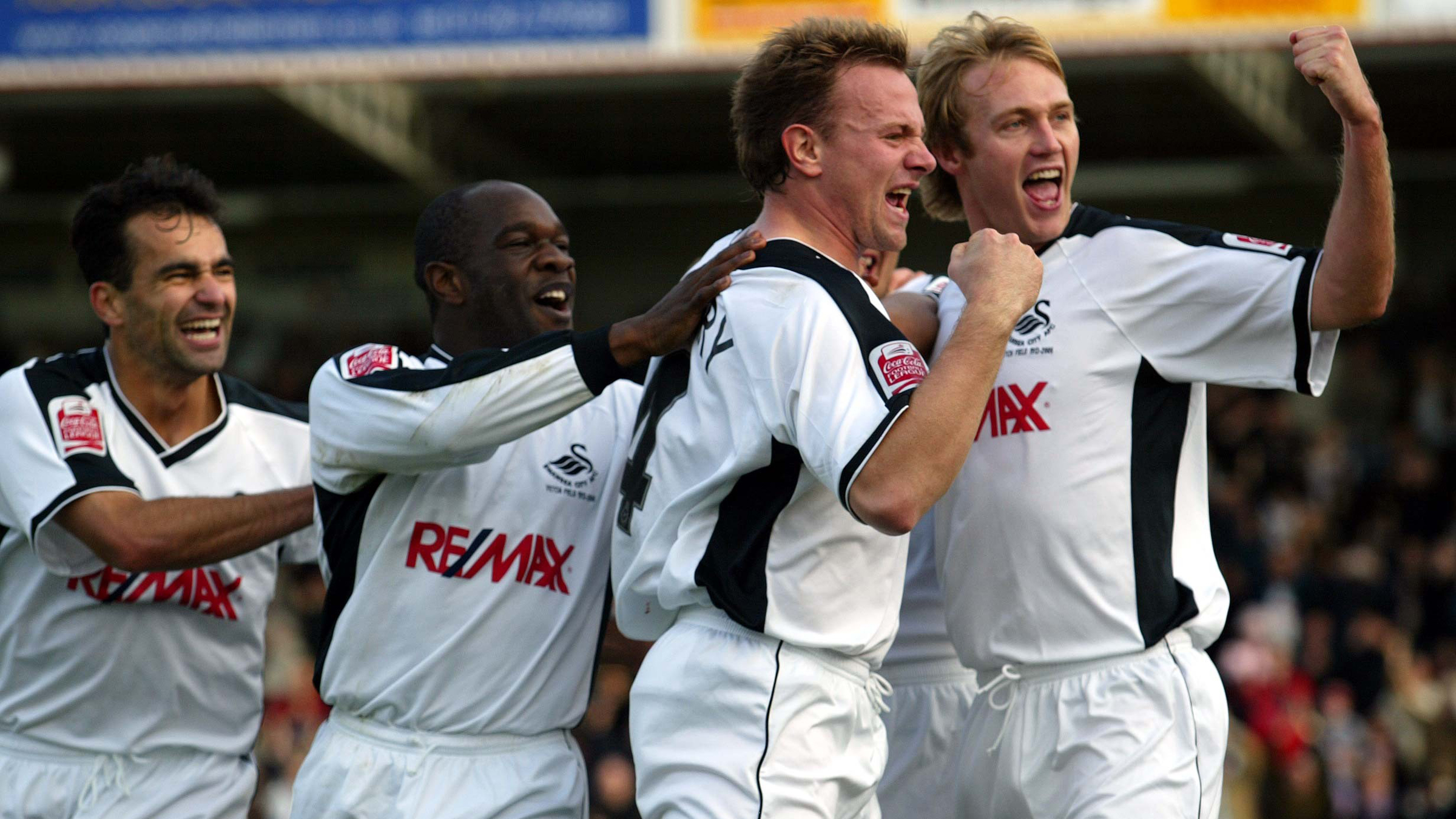 "It was the same during a game against Cheltenham – we were 2-1 up and their lad was in on goal. I didn't give up and got a great challenge in to deny him.
"That always sticks in my mind because they are huge moments in a game – as big as a goal.
"Apart from goalkeeper, I played in every position for the Swans. People probably won't remember me playing up front, but I did under John Hollins in a FAW Premier Cup game!"
But the joy of that night would be short-lived, defeat at Bristol Rovers dropped the Swans down to fourth with just two games remaining.
To top it all, they would be without Andy Robinson after the eight-goal midfielder saw red at the Memorial Stadium for a headbutt. His league season was over.
There were two huge games to decide Swansea's fate; the visit of Shrewsbury for the last league game at the Vetch, and a final day trip to Bury.
Could Jackett's men keep their nerve and get the job done?