Virtual match sponsor | Mercuryo
5th April 2021
Club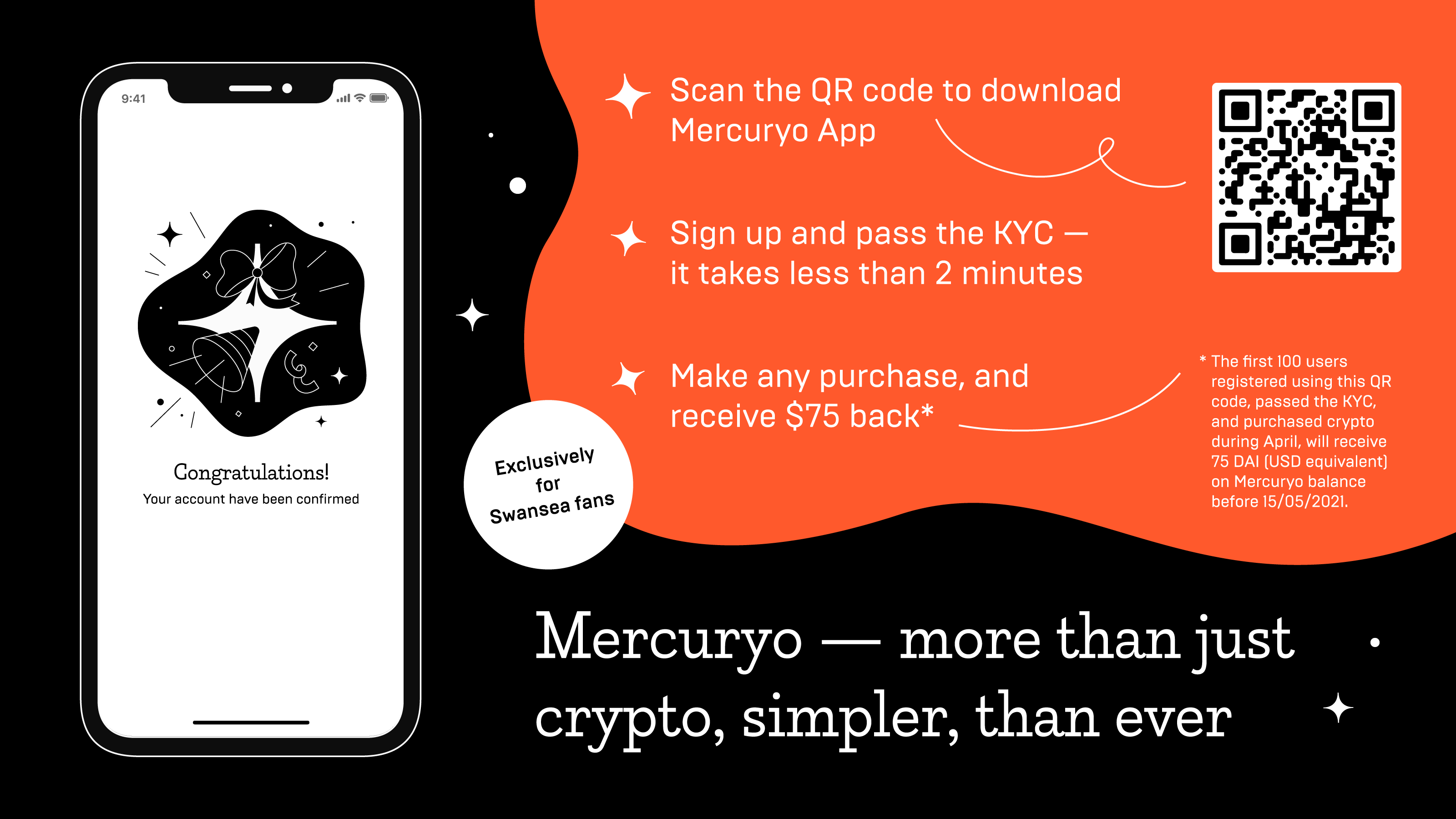 Mercuryo are the virtual match sponsor for today's game against Preston.
Our match day partner Mercuryo is a fast-growing payment network providing global access to fast, cheap, and secure money transfers using cryptocurrency. 
Why Mercuryo? Because we share common values.
Trust
Is there anything more important than trust in the world of football? We know how our fans are concerned about the players and live through every loss and victory. At the same time, we understand that these feelings are driven by trust in scoring together.
The same goes for the world of finance. We are worried about ourselves and our families' financial well-being, and therefore, cannot trust just about everyone with our material assets.
With Mercuryo, things go the other way around. Together with over 200 financial market leaders, we are confident that Mercuryo is trustworthy. The design made for people, the support service that cares, and a security system that works better than a bank with a long history – every little detail tells a story of hard work and determination. Putting customers' trust first is what matters to Mercuryo, and we surely can relate to that. 
Disruption
Our fans can witness firsthand how fast we're growing. Swansea is undoubtedly one of the fastest-growing and most visible clubs in the UK. None of this could be possible without the support of our fans. And new heights are just around the corner.
Much as Mercuryo - the company has grown from a small startup to a large payment network with investments from major European funds, expanding to Europe, the USA, Asia, and Africa. The company aims to make a product that will not restrict people but creates more opportunities. While over 1,7 billion people still do not have access to traditional financial instruments, Mercuryo is building tools to fight the issue. Instead of promising, the company takes action – and now thousands of emerging market clients are finally gaining access to the global financial system.
Mutual support
When we announced our partnership in December 2020, we talked about the importance of synergy in growing projects. Since then, we've won some epic battles and have strengthened the relationships with our fans even more.
What about Mercuryo? The company's team has doubled, and the number of customers is growing by dozens of percent each month. People have started leaving mainstream platforms for Mercuryo, as they can sense a better attitude towards them.
These victories have become possible because two strong players once decided to ally. The team game is what it is all about. And our fans are an integral part of it.
Promo offer for the Swansea fans
Mercuryo is a genuinely awesome product. If you've been curious about crypto, this is your chance to give it a try.