Wayne Routledge | If any game means more than three points, it's this one
24th October 2019
First team
Wayne Routledge knows better than most the emotions that swirl around a South Wales derby, and the Swansea City winger admits that while the victor only gets the standard three points, success in these fixtures means so much more.
The 34-year-old winger is one of three players in the Swans squad who has previously played in the 107-year-old rivalry; Nathan Dyer and Declan John are the others.
The last time Swansea City and Cardiff City met – over five-and-a-half years ago in February 2014 – Routledge played a key role.
He opened the scoring in the 3-0 win, and provided an assist for close pal Dyer's header before Wilfried Bony sealed the deal.
Routledge has also played in several London derbies, but he acknowledges there is a special character about this particular domestic dust-up.
So, ask him how he would sum up a South Wales derby to his younger team-mates, and – after some thought – his initial response is one word: "Fireworks".
"Every derby is different, with its own character, including this one. This is almost like a national derby because of the profile it has in Wales," he added.
"It's Swansea and Cardiff, and it's a big occasion. There is no getting away from that, or beating around the bush about it.
"If there is any game that means more than three points, it is this one.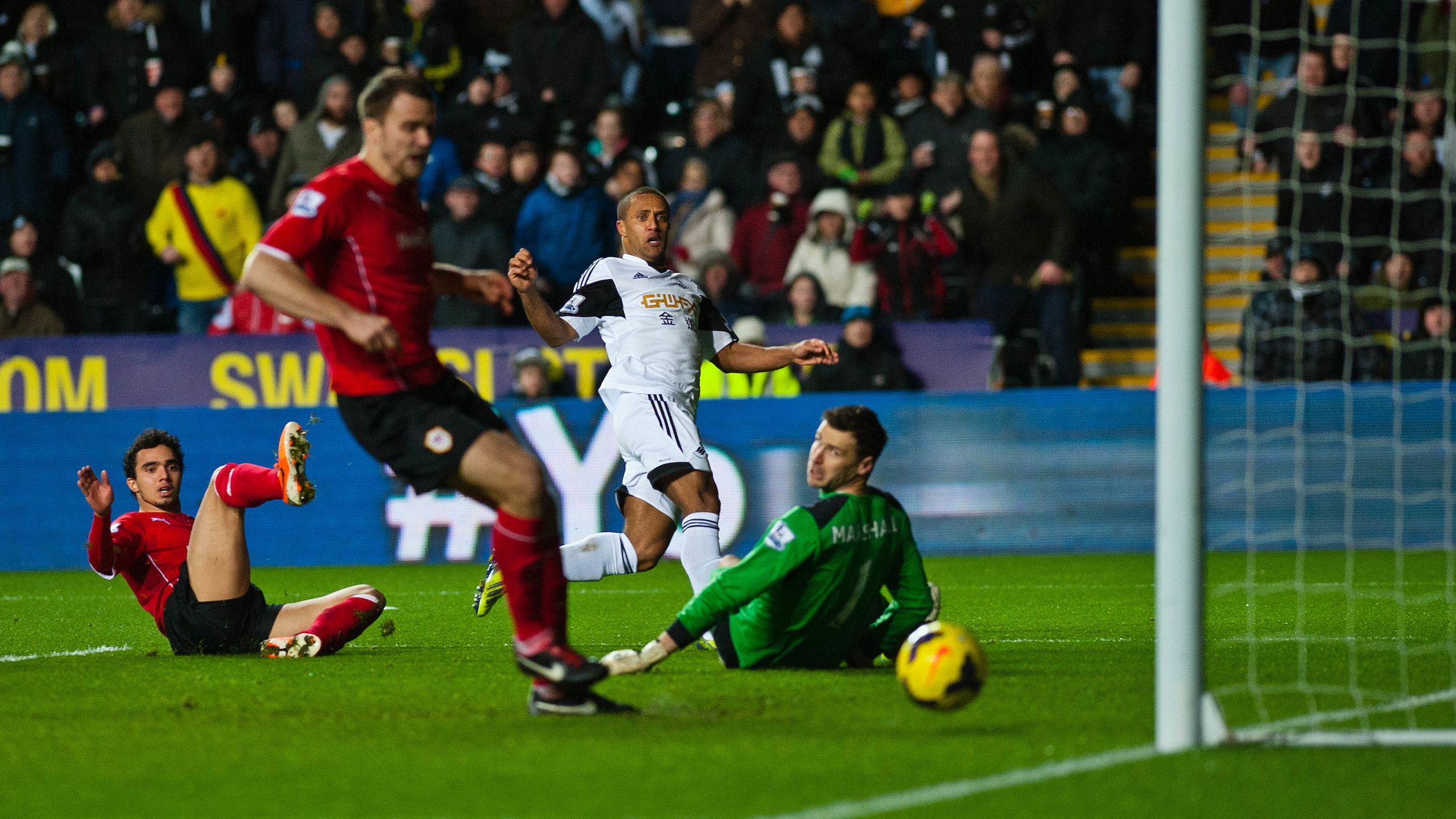 "It's a cliché to say you take it game by game, and one at a time. But, at the back of your mind, there is always that knowledge of the importance of the Cardiff game.
"In the context of a season, being at home, it means more.
"Last time we played them it was in the Premier League. We won 3-0, we did the job and it was a great day.
"We saw what it meant to everybody to win that game, especially with the position we were in at the time. It meant a little bit more.
"But I can tell you, we all know what it means. The players, the staff, the fans… I think everyone in Wales knows what this game means."
Routledge has featured for both clubs in this fixture, but there is no doubting his most memorable contribution came in a Swansea jersey in that 2014 meeting.
It was Swansea's biggest win in the fixture since 1995, and came at the end of a week where Garry Monk had been placed in charge following the departure of Michael Laudrup.
It was an emotionally charged occasion, exemplified by captain Ashley Williams nearly knocking Monk off his feet as he celebrated the opener on the touchline.
And, having suffered defeat in the reverse fixture, the Swans were desperate to avoid becoming the first side to lose both league fixtures in the same campaign.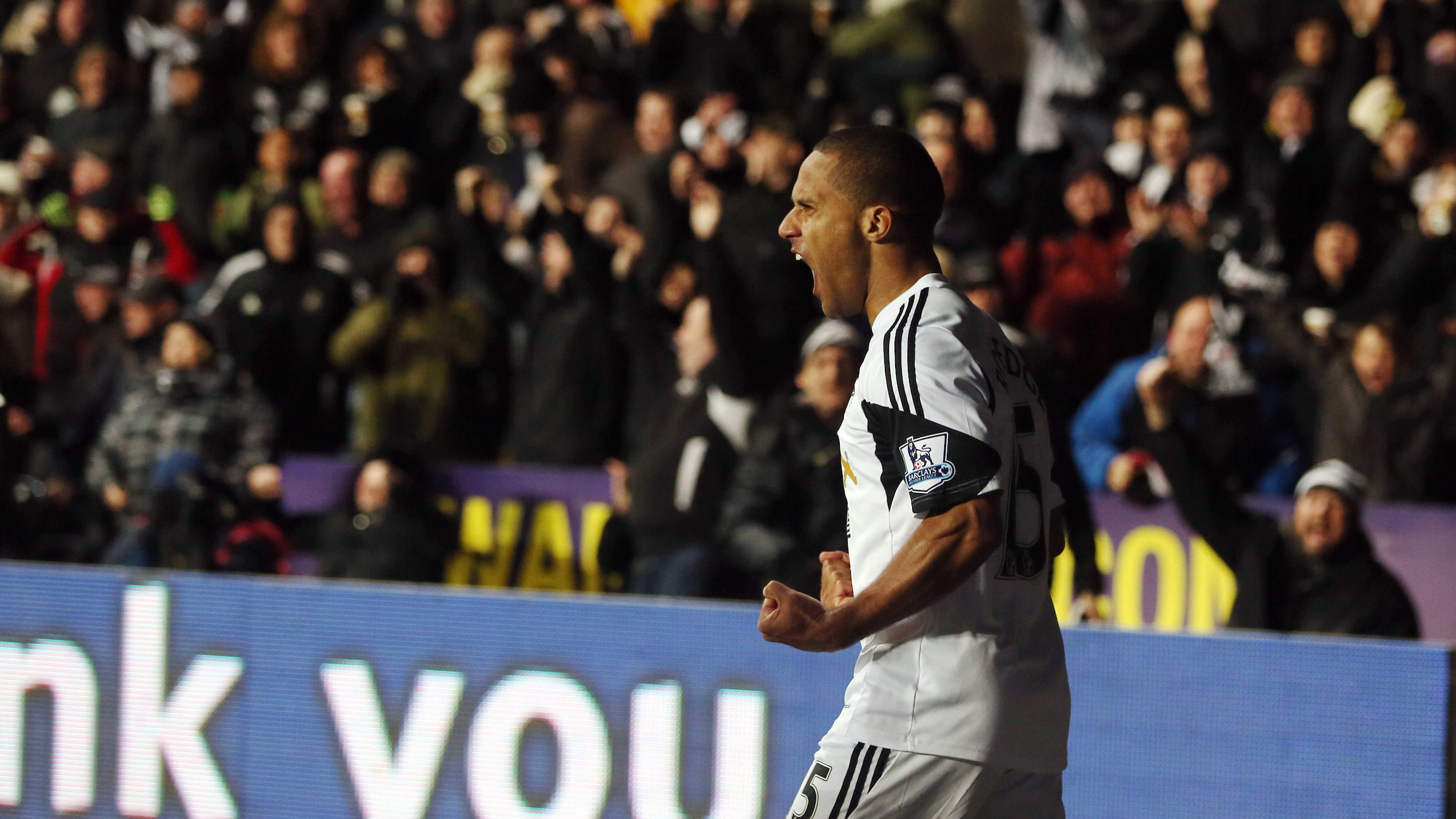 "The memory I have of that day is scoring the goal and winning, but more than that was just the impression that everyone was at it right from the start," said Routledge.
"It was Monk's first game, and the fact he had been given his chance told you that things had not been going too well before that.
"Everyone was fully aware of what was at stake, you can talk about a new manager bounce but we were just absolutely at it as a team. We got what we deserved that day.
"There was a lot on the line.
"You don't want to be the first side to lose a league double in the fixture. We had played at Cardiff City Stadium earlier in the season, we had lost and we did not give a performance.
"We had to right that wrong at the Liberty.
"If everyone is at it, you have a chance. If you take those chances you are probably going to win.
"I remember the goal. Pablo is a very talented player and that is clear to see in what he is doing now.
"His vision to see the pass, and the unbelievable weight of the pass… I can remember just taking it perfectly into my feet and finding the far corner. The rest is history."